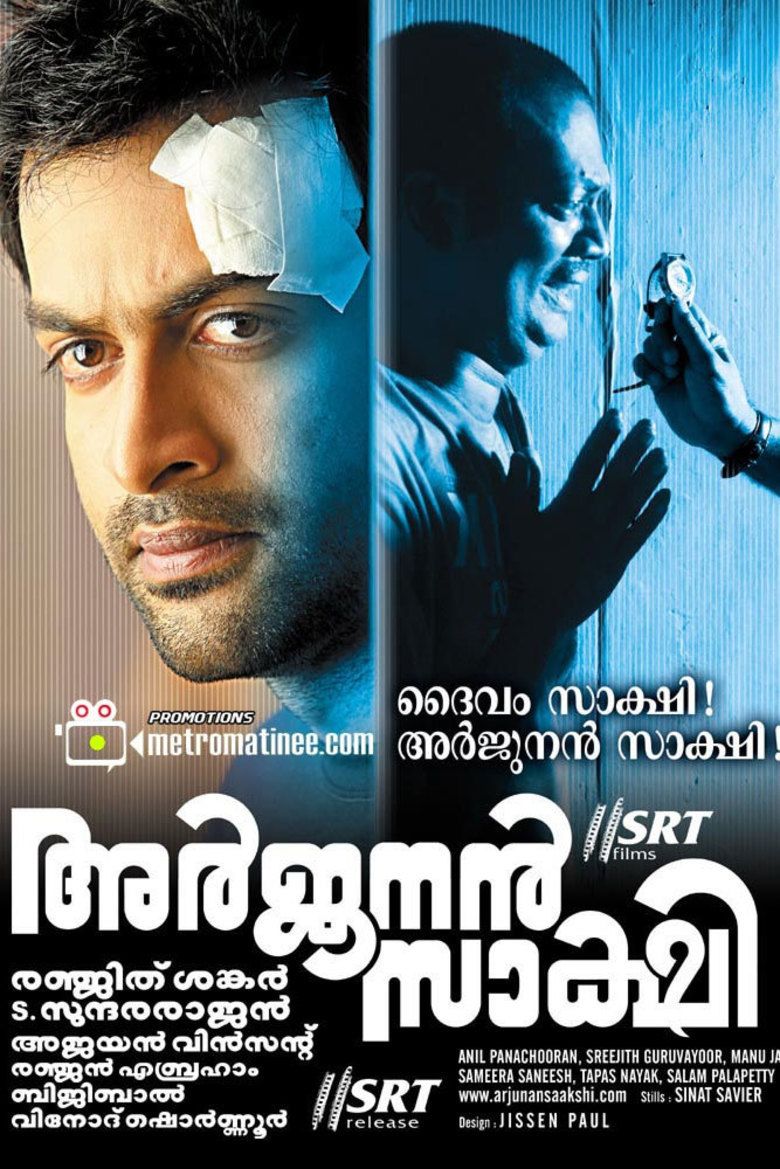 Roy Mathew (Prithviraj), a young architect who has spent his entire life abroad, finally arrives in Cochin with dreams of starting a life afresh. But he soon realises that the city that he gets to live in is radically different from the one that he had seen in his dreams.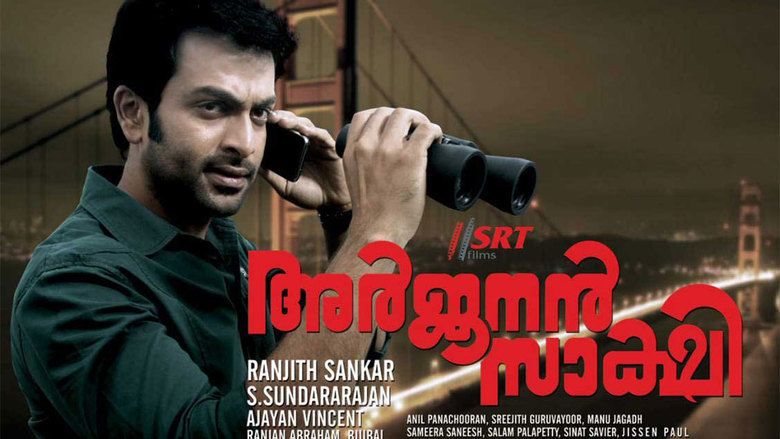 By coincidence he is mistaken for a witness to a sensational crime involving top brass of industrialists and political class. Roy has to prove not just his true self and save himself and his dear ones from the looming threat, but also set things right.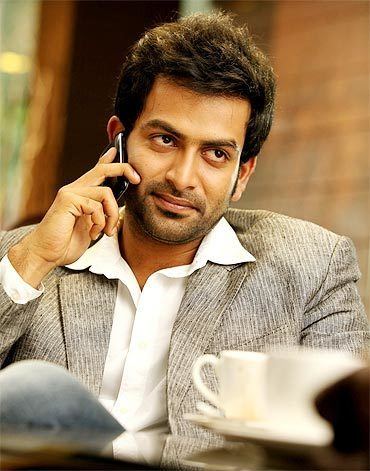 Prithviraj as Roy Mathew
Ann Augustine as Anjali Menon
Mukesh as Firoz Moopan
Jagathy Sreekumar as Dr. Ibrahim Moopan
Salim Kumar as Mechanic Jackson
Suraj Venjaramoodu as Thankappan
Nedumudi Venu
Ramu
Vijayaraghavan
Biju Menon as Aby Abraham
Suresh Krishna as Salim Memmen
Mithun Nair as Anjali's brother
Damu
Vijeesh
Ambika Mohanas Anjali Menon's mother
Arjunan Saakshi is the second film by Ranjith Sankar, whose previous film Passenger, another thriller, was met with positive reviews for its novelty and was a box office hit. Ranjith Sankar announced this project on December 2009 with Prithviraj in the lead. The director says that the story of Arjunan Saakshi had been in his mind quite a while when he happened to see an article about a project for a tram network in Kochi, which didn't work out. The strange title of the film find more meaning, as the film progresses, according to the director. According to Prithviraj, Arjunan Saakshi is a contemporary film. He says: "It deals with how we evade our responsibility towards society. We often blame others for everything that goes wrong, but how often do we take responsibility for our actions? We are not ready to sacrifice anything but we tend to forget that we enjoy freedom because people risked their lives to attain it for us."
In Arjunan Saakshi, the lead character Roy Mathew is played by Prithviraj, who started working on the film much before the completion of Santosh Sivan's Urumi and Lijo Jose Pellissery's City of God. Ann Augustine, who debuted through Lal Jose's Elsamma Enna Aankutty in 2010, plays the role of an investigative journalist and a city-bred youngster Anjali Menon, who happens to get involved in certain social issues. The supporting cast includes Jagathy Sreekumar, Nedumudi Venu, Vijayaraghavan, Biju Menon, Suresh Krishna and Vijeesh.
The film was launched on 1 November 2010 in Kochi. The filming occurred at various parts of Kochi. Ajayan Vincent handled the camera while Bijibal composed the music, with lyrics written by Anil Panachooran. The editor of the film was Ranjan Abraham. The costume designer of the film was Sameera Saneesh.
The film released on 28 January 2011 in 70 theatres It got positive reviews from the critics, but was a failure at the box office. Prithviraj rated it among his personal favourites and that Arjunan Saakshi was one film he was proud of doing.
Veeyen of Nowrunning.com gave the film 2.5 out of 5 stars, stating, "It is a multi-pointed critique that brings everyone around – the administration, the police force, the state, the media and the general public – under the scanner and unveils a startling story of victims and perpetrators."