Aragua State (Spanish: Estado Aragua, [esˈtaðo aˈɾaɣwa]) is located in the north-central region of Venezuela. It has plains and jungles and Caribbean beaches. The most popular are Cata and Choroni. It has Venezuela's first national park which is called Henri Pittier.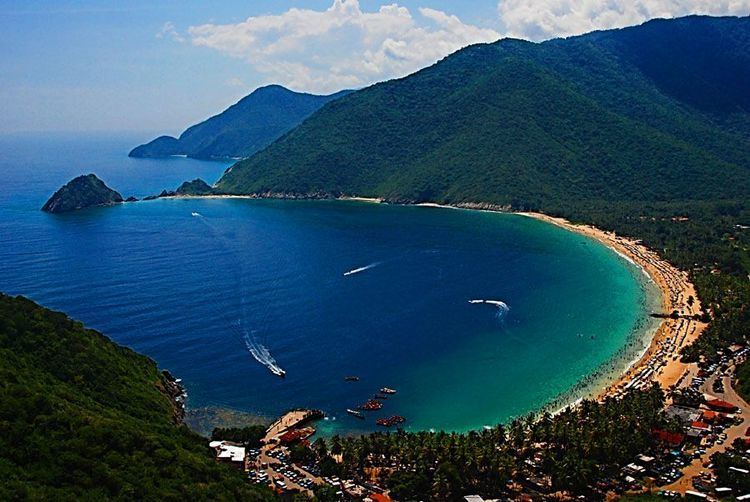 The capital is Maracay, other important cities include Turmero and El Limón.
Aragua State covers a total surface area of 7,014 km² and, based on the 2011 census information, the estimated population of Aragua State in 2012 is 1,630,308 inhabitants.
The name Aragua is said to derive from a Cumanagota word for a type of palm, roystonea oleracea.
Aragua was part of the Province of Caracas until 1848, when the Province was split into three parts, one being Aragua Province. The Province became a state in 1864. Some mergers and demergers with other states followed, until Aragua became an autonomous state again in 1901. Its capital until 1917 was La Victoria (site of the Venezuelan War of Independence's Battle of La Victoria), when the capital was moved to Maracay.
Aragua borders the Caribbean Sea to the north, with its coastline backed by the fast-rising central Cordillera mountain range. Codazzi Peak reaches over 2400 m above sea level. Much of the rest of the state is made up of fertile valleys used for intensive agriculture, apart from in the extreme south where the flats of the central Llanos region begin. On the western border is Lake Valencia.
The main rivers in the state are the Aragua, the Guárico, the El Limón, the Tuy, the Pao and the Turmero. They flow into the Caribbean Sea, Lake Valencia, or feed the vast Orinoco River network. The Camatagua reservoir is one of the main reservoirs supplying Caracas.
Aragua comprises eighteen municipalities (municipios):
Bolívar (San Mateo)
Camatagua (Camatagua)
Francisco Linares Alcántara (Santa Rita)
Girardot (Maracay)
José Angel Lamas (Santa Cruz)
José Félix Ribas (La Victoria)
José Rafael Revenga (El Consejo)
Libertador (Palo Negro)
Mario Briceño Iragorry (El Limón)
Ocumare de la Costa de Oro (Ocumare de la Costa)
San Casimiro (San Casimiro)
San Sebastián (San Sebastián)
Santiago Mariño (Turmero)
Santos Michelena (Las Tejerías)
Sucre (Cagua)
Tovar (Colonia Tovar)
Urdaneta (Barbacoas)
Zamora (Villa de Cura)
According to the 2011 Census, the racial composition of the population was:
Since direct elections for Venezuela state governors in 1989, Aragua has been governed by the Movement for Socialism and PODEMOS (1989 - 2008). Since 2008 the governor is Rafael Isea for the United Socialist Party of Venezuela (PSUV).
The Tigres de Aragua, a team of the Venezuelan Professional Baseball League, represents the state and plays in Maracay. Aragua F.C. Is A Soccer Club In Maracay