Occupation(s)

Musician




Name

Aquiles Priester




Instruments

Drums






Born

June 25, 1971 (age 44) Otjo, South Africa (

1971-06-25

)


Associated acts

Hangar, Angra, Freakeys, Di'Anno, Spartacus, Pistys Sofhia, Infra Blue, Midas Fate, Apocalipse Now, House Of Bones, Noturnall, Primal Fear, Tony Macalpine




Role

Drummer · aquilespriester.com




Music groups

Angra (2001 – 2008), Hangar (Since 1997), Primal Fear (2014 – 2015), Midas Fate, Freakeys (Since 2006)




Genres

Thrash metal, Heavy metal, Melodic death metal, Speed metal, Symphonic metal, Power metal, Progressive metal




Albums

Temple of Shadows, Rebirth, Aurora Consurgens, Rebirth World Tour – Live in, Last Time Was Just the Begin




Similar People

Eduardo Falaschi, Rafael Bittencourt, Ricardo Confessori, Felipe Andreoli, Fabio Laguna
Aquiles priester stillborn reason midas fate hd resolution
Aquiles Priester (born June 25, 1971) is a South African-born Brazilian drummer, currently the drummer of the Brazilian power metal band Hangar and progressive metal bands Midas Fate and Noturnall. In 2006, Aquiles participated in Fabio Laguna's Freakeys project. He is a former member of Angra.
Contents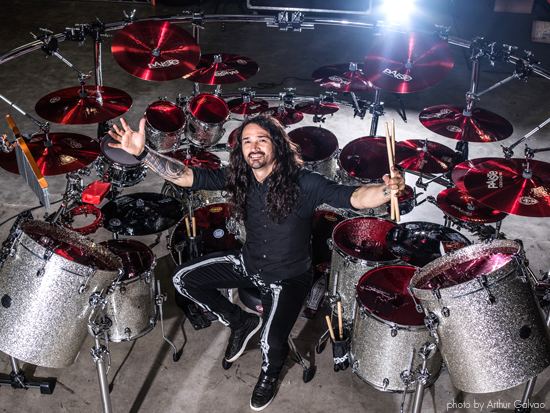 He plays Paiste cymbals and Evans drum heads.
Entrevista interview com with aquiles priester por by gilson naspolini
Biography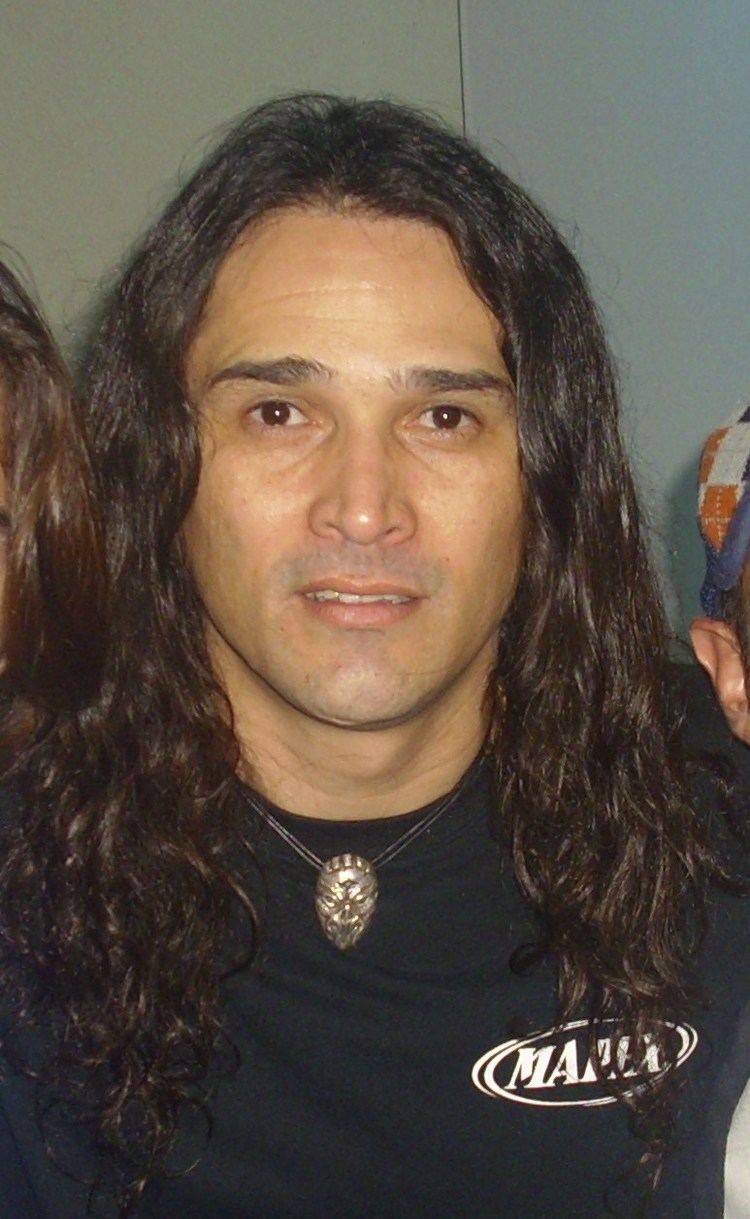 Aquiles Priester was born in Otjo, South Africa. His first exposure to the instrument was at age four while watching a jazz ensemble perform on television.
Aquiles moved to Brazil in 1977, and played football until 1985. In 1985 he attended the "Rock in Rio" festival where he decided to become a drummer. Although he began playing on cans, he would eventually assemble a set consisting of a snare, tom (which he borrowed from his school), bass drum, hihat, and a cymbal, which he hung from his roof. His biggest influences are Nicko McBrain of Iron Maiden and Deen Castronovo of Journey.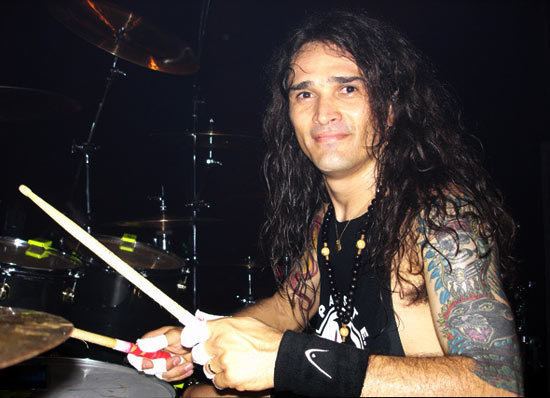 A local television band called The Tropical Band observed his performances and invited him to play a couple of songs; later the band Stylo Livre (freestyle) recruited him. Priester would struggle for years to come, but eventually find success with metal outfits throughout Brazil, and eventually receive the chance to audition for Angra, in 2000. He continued to play with Angra until their hiatus at the end of 2007 but eventually left the band to focus on his other band, Hangar. In 2010 he auditioned, along with six other drummers, for the chance to replace Dream Theater's former drummer, Mike Portnoy. The band ultimately decided to hire Mike Mangini as their new drummer.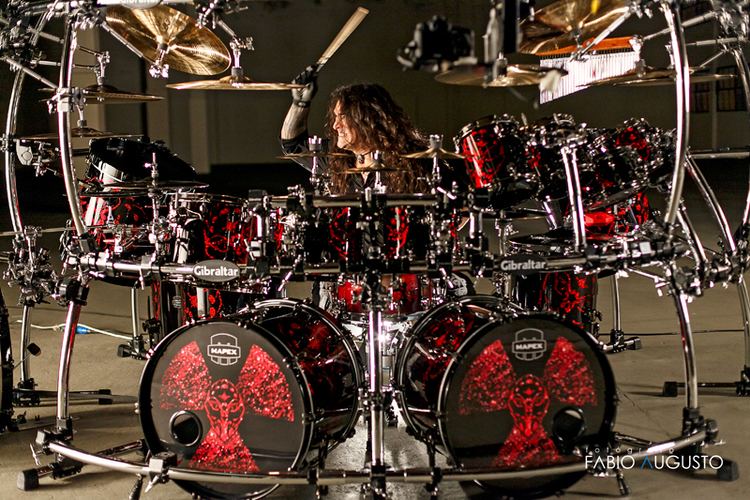 In 2013 it was announced that Aquiles had joined the prog metal band Midas Fate which also counts with Mike DiMeo on vocals.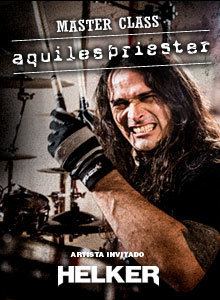 On September 9, 2014, Aquiles was announced as Primal Fear's new drummer on the band's official Facebook page but left the band only months after, due to conflicts with his other projects.
Equipment
Aquiles endorses: Paiste, Mapex, Evans, Pro-Mark, Audio-Technica, DW Pedals, Gibraltar Hardware, Zoom, Staff Drum, Santo Angelo, Urban Boards, Ciclotron, Shred Cases, AeroRic Custom Drums, Tander Tattoo Studio and Lady Snake Rock Wear.
With Hangar
Last Time (1999)
Inside Your Soul (2001)
The Reason of Your Conviction (2007)
Last Time Was Just the Beginning (2008)
Infallible (2009)
Acoustic, but Plugged In! (2011)
The best of 15 years: Based on a true history. (2014)
Our lives 13 years later. Aquiles Priester and Gustavo Carmo! (2014)
With Angra
Rebirth (2001)
Hunters and Prey (2002)
Live in Sao Paulo (2003)
Temple of Shadows (2004)
Aurora Consurgens (2006)
With Freakeys
Freakeys (2006)
With Noturnall
Noturnall (2014)
Apart from these acts, Aquiles Priester has also been involved in Di'anno (Nomad - 2000) and Serj (Liquid Piece of Me - 2007).
Videography
Inside My Drums (2004)
The Infallible Reason of my Freak Drumming (2010)
Aquiles Priester's TOP 100 Drum Fills (2014) - Daniel Pique as Video Director.
Songs
Bleeding Heart
Nova Era
Heroes of Sand
Waiting Silence
The Shadow Hunter
Late Redemption
Spread Your Fire
No Pain for the Dead
Acid Rain
Scream Your Heart Out
The Temple of Hate
Live and Learn
When Death Comes Knocking
King For A Day
Millennium Sun
Hunters and Prey
Angels and Demons
Winds of Destination
Rebirth
Ego Painted Grey
Running Alone
Gate XIII
The Infallible Emperor
Deus Le Volt!
Unholy Wars
Sprouts of Time
Kashmir
The Voice Commanding You
Abandoned Fate
Our Lives - 13 Years Later
Visions Prelude
Delivering The Black

References
Aquiles Priester Wikipedia
(Text) CC BY-SA