Covid-19
Classical music




OffTheRecords




Piano




Anne Riisnaes



April 15, 1951 (age 64) Oslo (

1951-04-15

)


Musician and musicologist




www.hf.uio.no/imv/personer/vit/anneeri
Anne Eline Riisnæs (born 15 April 1951 in Oslo, Norway) is a Norwegian pianist and piano pedagog, the daughter of pianist Eline Nygaard Riisnæs and sister of the jazz saxophonist Knut Riisnæs (1945–) and Odd Riisnæs (1953–).
Riisnæs debuted 1977 in Oslo, and the following year she received her diploma at Norges Musikkhøgskole. Later she studied in Wien, Austria and has held many concerts both in Norway and internationally as a soloist and accompanist. She has been a soloist with both Oslo-Filharmonien and Bergen Filharmoniske Orkester, and the symphony orchestras of Economics and Stavanger. Besides a number of recordings in NRK, she has done several school concert tours for Rikskonsertene. In recent years she has been involved in performance practice, and also plays the fortepiano. She has received a number of public and private grants.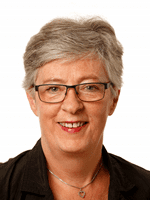 Riisnæs is employed at the Department of Musicology, University of Oslo, and at the Norges Musikkhøgskole, and debuted on record with Return where she played Sonata No. 62 in E flat major by Joseph Haydn, Fantasies op. 116 by Johannes Brahms, Sonata op. 1 by Alban Berg and Preludes by George Gershwin.
2011: Return (OffTheRecords), med Sonate nr 62 i Ess-dur av Joseph Haydn, Fantasier op. 116 av Johannes Brahms, Sonate op. 1 av Alban Berg og Preludier av George Gershwin
2010: Oboe Sonatas, med Brynjar Hoff
Sonata No 52 in E-Flat Major: III FinaleReturn: Haydn - Brahms - Gershwin - Berg · 2011
Sonata No 52 in E-Flat Major: II AdagioReturn: Haydn - Brahms - Gershwin - Berg · 2011
Fantasien - Op 116: VII Capriccio in D MinorReturn: Haydn - Brahms - Gershwin - Berg · 2011

Anne Eline Riisnæs Wikipedia