Years active

1995–present




Full Name

Angela Michelle Harmon

Born

August 10, 1972 (age 51) (

1972-08-10

)

Children

Emery Hope Sehorn, Avery Grace Sehorn, Finley Faith Sehorn

Parents

Daphne Demar Caravageli, Lawrence Paul Harmon

Movies and TV shows




Similar People






Profiles



Angie Harmon Talks Lesbian Tension On 'Rizzoli And Isles'
Angela Michelle "Angie" Harmon (born August 10, 1972) is an American actress and model. She was a professional model before gaining international fame for her roles in Baywatch Nights and as New York A.D.A. Abbie Carmichael on Law & Order. She also starred as Detective Jane Rizzoli on the TNT series Rizzoli & Isles.
Contents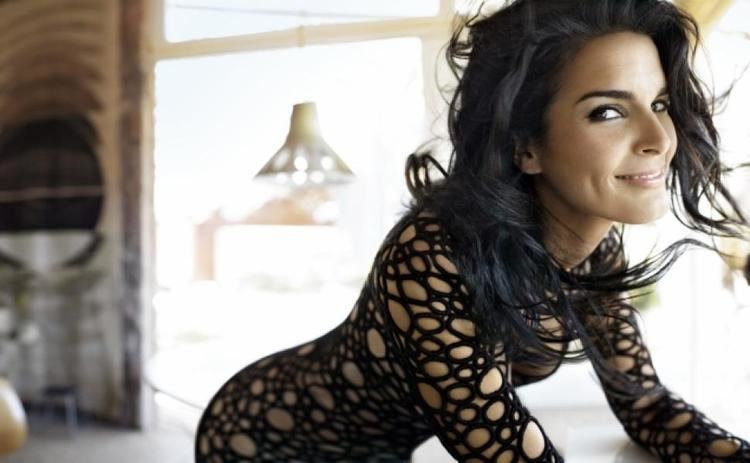 Angie Harmon Researches The Ways Of Real Men - CONAN on TBS
Early life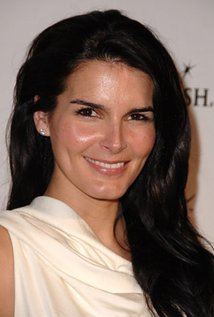 She was born on August 10, 1972 in Highland Park, Texas, the daughter of Daphne Demar (née Caravageli) and Lawrence Paul "Larry" Harmon, a hospital information network executive in Dallas, Texas. Her father has German and Irish ancestry, while her mother is of Greek descent. In an episode of Who Do You Think You Are?, Harmon found that she had a German ancestor who served in George Washington's army during the Revolutionary War, and that ancestor later acquired land in Mercer County, Kentucky. The land is still owned by a distant branch of her family.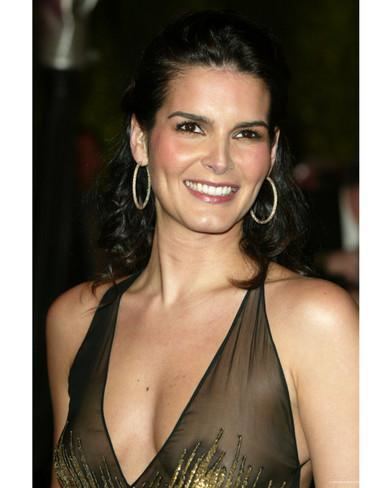 Harmon worked as a child model, and in 1987 won a Seventeen modeling contest. She attended Highland Park High School until 1990, where she was a member of the Highland Belles. She won a Spectrum Model Search contest shortly afterward, subsequently pursued a successful modeling career, and became well known in the early 1990s. She worked as a runway model for Calvin Klein, Giorgio Armani, and Donna Karan and appeared on the covers of ELLE, Cosmopolitan, and Esquire. She is signed with IMG Models in New York City.
Career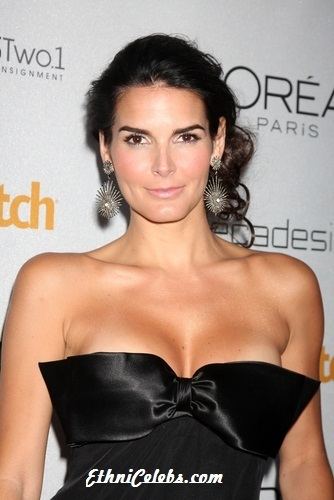 Harmon began acting in 1995 after being discovered on a plane by David Hasselhoff. She then starred in several television series, including Baywatch Nights, Baywatch, and the short-lived C-16. She also appeared in the 1998 film, Lawn Dogs, which received only a limited theatrical release. In the late 1990s, Harmon became better known by joining the long-running NBC series Law & Order, playing ADA Abbie Carmichael from 1998 to 2001. During this time, she also voiced Barbara Gordon in the animated film Batman Beyond: Return of the Joker, succeeding Stockard Channing in that role.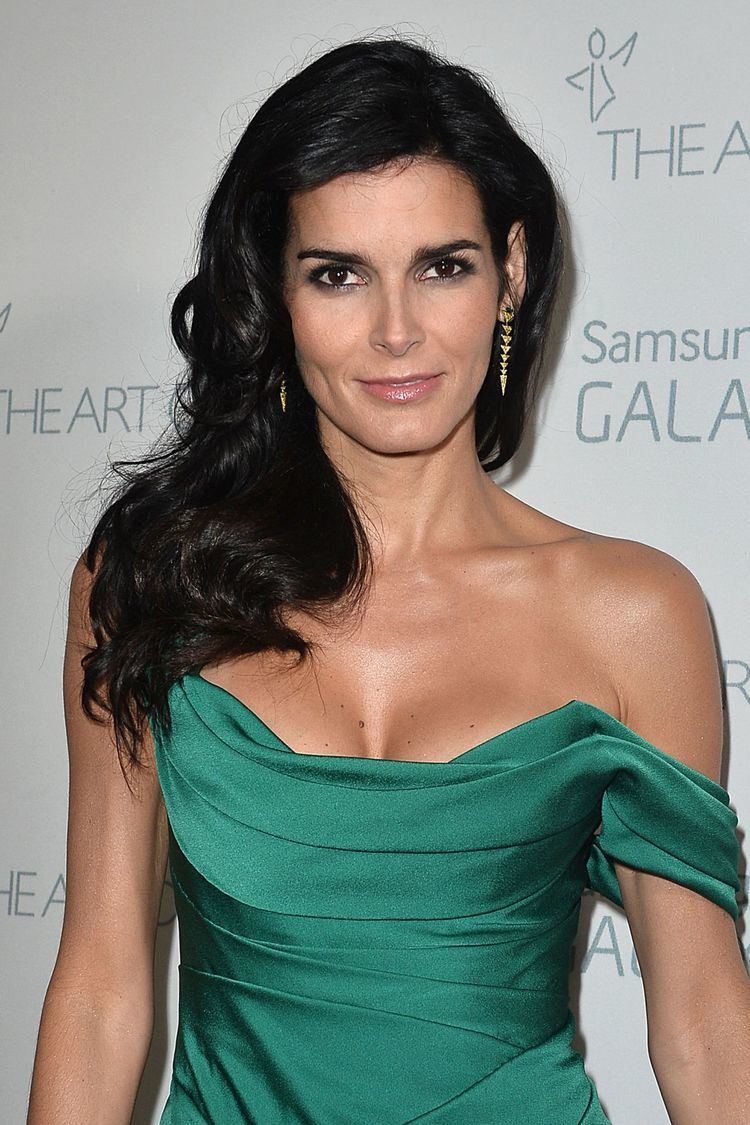 Harmon left Law & Order to concentrate on her film career, saying that she preferred working in film to television. After appearing in the 2001 direct-to-video film Good Advice, she had a supporting role in Agent Cody Banks (2003), playing the CIA handler of a teenage agent (Frankie Muniz). In 2006, Harmon co-starred with Cuba Gooding Jr. and James Woods in the direct-to-DVD political suspense drama End Game.
In 2006, Harmon starred in an ABC pilot Secrets of a Small Town, which did not go to series. She also starred in another failed television show on NBC, Inconceivable, which was canceled after two episodes. The following year, she starred in another ABC pilot, Women's Murder Club. The police drama was picked up, but only ten of the thirteen episodes aired.
Harmon was one of five actresses who posed discreetly nude for the May 2008 issue of Allure magazine, alongside Gabrielle Union, Zoe McLellan, Jill Scott, and Ana Ortiz.
In 2010 Harmon hosted an infomercial for "UpLiv", a stress management program and also appeared in an infomercial for Olay "Pro-X" wrinkle cream.
From 2010 to 2016, she co-starred with Sasha Alexander in the TNT crime-drama series Rizzoli & Isles, playing Boston, Massachusetts police detective Jane Rizzoli. The show premiered July 12, 2010. She directed the series' 100th episode.
Harmon appears in the music video for Craig Morgan's "This Ole Boy", released in January 2012.
In July 2012, during promotions for a new season of Rizzoli and Isles, Harmon revealed on Conan O'Brien's late night series that she was a fan of and very interested in playing a movie version of the She-Hulk from Marvel Comics should such a movie become available.
Harmon won Outstanding Female Actor in a Leading Role in a Drama Series for Rizzoli & Isles at the 2012 Gracie Allen Awards.
Personal life
On March 13, 2000, Harmon became engaged to former NFL player Jason Sehorn. She was appearing as a guest on The Tonight Show with Jay Leno when Leno called Sehorn out as a surprise guest. Sehorn immediately walked up to her, knelt down on one knee and proposed. They were married on June 9, 2001. They have three daughters: born October 2003, June 2005, and December 2008. In November 2014, Harmon and Sehorn announced their separation after 13 years of marriage. As of 2016, the couple are now divorced.
Harmon is a Republican. She and Sehorn supported President George W. Bush and delivered a speech at the 2004 Republican National Convention. She supported John McCain for president in 2008. Harmon is a devout Christian and has stressed the importance of prayer in her daily life.
Filmography
Actress
2022
Buried in Barstow (TV Movie)
as
Hazel King
2020
Cellmate Secrets (TV Series documentary)
as
Narrator (voice)
2017
Voltron: Legendary Defender (TV Series)
as
Lady Trigel
- Knights of Light, Part 2 (2018) - Lady Trigel (voice)
- Knights of Light, Part 1 (2018) - Lady Trigel (voice)
- The Legend Begins (2017) - Lady Trigel (voice)
2010
Rizzoli & Isles (TV Series)
as
Jane Rizzoli
- Ocean Frank (2016) - Jane Rizzoli
- Yesterday, Today, Tomorrow (2016) - Jane Rizzoli
- Stiffed (2016) - Jane Rizzoli
- For Richer or Poorer (2016) - Jane Rizzoli
- 65 Hours (2016) - Jane Rizzoli
- 2M7258-100 (2016) - Jane Rizzoli
- Dead Weight (2016) - Jane Rizzoli
- There Be Ghosts (2016) - Jane Rizzoli
- Shadow of Doubt (2016) - Jane Rizzoli
- Post Mortem (2016) - Jane Rizzoli
- Cops vs. Zombies (2016) - Jane Rizzoli
- Dangerous Curve Ahead (2016) - Jane Rizzoli
- Two Shots: Move Forward (2016) - Jane Rizzoli
- A Shot in the Dark (2016) - Jane Rizzoli
- Bomb Voyage (2016) - Jane Rizzoli
- East Meets West (2016) - Jane Rizzoli
- Scared to Death (2016) - Jane Rizzoli
- Hide and Seek (2016) - Jane Rizzoli
- Murderjuana (2016) - Jane Rizzoli
- 5:26 (2015) - Jane Rizzoli
- Fake It 'Til You Make It (2015) - Jane Rizzoli
- Sister Sister (2015) - Jane Rizzoli
- Love Taps (2015) - Jane Rizzoli
- Nice to Meet You, Dr. Isles (2015) - Jane Rizzoli
- A Bad Seed Grows (2015) - Jane Rizzoli
- Face Value (2015) - Jane Rizzoli
- Misconduct (2015) - Jane Rizzoli
- Imitation Game (2015) - Jane Rizzoli
- Deadly Harvest (2015) - Jane Rizzoli
- Bassholes (2015) - Jane Rizzoli
- The Platform (2015) - Jane Rizzoli
- Family Matters (2015) - Jane Rizzoli
- Bite Out of Crime (2015) - Jane Rizzoli
- In Plain View (2015) - Jane Rizzoli
- Gumshoe (2015) - Jane Rizzoli
- Foot Loose (2015) - Jane Rizzoli
- Bridge to Tomorrow (2015) - Jane Rizzoli
- Burden of Proof (2014) - Jane Rizzoli
- If You Can't Stand the Heat (2014) - Jane Rizzoli
- Phoenix Rising (2014) - Jane Rizzoli
- It Takes a Village (2014) - Jane Rizzoli
- Lost & Found (2014) - Jane Rizzoli
- Boston Keltic (2014) - Jane Rizzoli
- Knockout (2014) - Jane Rizzoli
- The Best Laid Plans (2014) - Jane Rizzoli
- Doomsday (2014) - Jane Rizzoli
- Too Good to Be True (2014) - Jane Rizzoli
- -Goodbye (2014) - Jane Rizzoli
- A New Day (2014) - Jane Rizzoli
- You're Gonna Miss Me When I'm Gone (2014) - Jane Rizzoli
- Food for Thought (2014) - Jane Rizzoli
- Just Push Play (2014) - Jane Rizzoli
- Tears of a Clown (2014) - Jane Rizzoli
- Partners in Crime (2013) - Jane Rizzoli
- Judge, Jury and Executioner (2013) - Jane Rizzoli
- Built for Speed (2013) - Jane Rizzoli
- No One Mourns the Wicked (2013) - Jane Rizzoli
- Cold as Ice (2013) - Jane Rizzoli
- All for One (2013) - Jane Rizzoli
- Somebody's Watching Me (2013) - Jane Rizzoli
- Dance with the Devil (2013) - Jane Rizzoli
- Killer in High Heels (2013) - Jane Rizzoli
- But I Am a Good Girl (2013) - Jane Rizzoli
- In Over Your Head (2013) - Jane Rizzoli
- We Are Family (2013) - Jane Rizzoli
- No More Drama in My Life (2012) - Jane Rizzoli
- Over/Under (2012) - Jane Rizzoli
- Virtual Love (2012) - Jane Rizzoli
- Love the Way You Lie (2012) - Jane Rizzoli
- Class Action Satisfaction (2012) - Jane Rizzoli
- Melt My Heart to Stone (2012) - Jane Rizzoli
- Home Town Glory (2012) - Jane Rizzoli
- Cuts Like a Knife (2012) - Jane Rizzoli
- Crazy for You (2012) - Jane Rizzoli
- Money Maker (2012) - Jane Rizzoli
- Throwing Down the Gauntlet (2012) - Jane Rizzoli
- Welcome to the Dollhouse (2012) - Jane Rizzoli
- This Is How a Heart Breaks (2012) - Jane Rizzoli
- Dirty Little Secret (2012) - Jane Rizzoli
- What Doesn't Kill You (2012) - Jane Rizzoli
- Burning Down the House (2011) - Jane Rizzoli
- Don't Stop Dancing, Girl (2011) - Jane Rizzoli
- Seventeen Ain't So Sweet (2011) - Jane Rizzoli
- He Ain't Heavy, He's My Brother (2011) - Jane Rizzoli
- Can I Get a Witness? (2011) - Jane Rizzoli
- Remember Me (2011) - Jane Rizzoli
- Gone Daddy Gone (2011) - Jane Rizzoli
- My Own Worst Enemy (2011) - Jane Rizzoli
- Bloodlines (2011) - Jane Rizzoli
- Rebel Without a Pause (2011) - Jane Rizzoli
- Don't Hate the Player (2011) - Jane Rizzoli
- Brown Eyed Girl (2011) - Jane Rizzoli
- Sailor Man (2011) - Jane Rizzoli
- Living Proof (2011) - Jane Rizzoli
- We Don't Need Another Hero (2011) - Jane Rizzoli
- When the Gun Goes Bang, Bang, Bang (2010) - Jane Rizzoli
- The Beast in Me (2010) - Jane Rizzoli
- I'm Your Boogie Man (2010) - Jane Rizzoli
- Born to Run (2010) - Jane Rizzoli
- I Kissed a Girl (2010) - Jane Rizzoli
- Money for Nothing (2010) - Jane Rizzoli
- She Works Hard for the Money (2010) - Jane Rizzoli
- Sympathy for the Devil (2010) - Jane Rizzoli
- Boston Strangler Redux (2010) - Jane Rizzoli
- See One, Do One, Teach One (2010) - Jane Rizzoli
2016
TNT Original Series: Frozen Moments (Video short)
2010
Chuck (TV Series)
as
Sydney Prince
- Chuck Versus Operation Awesome (2010) - Sydney Prince
2009
Samantha Who? (TV Series)
as
Gigi
- The Other Woman (2009) - Gigi
2008
Living Proof (TV Movie)
as
Lilly Tartikoff
2007
Women's Murder Club (TV Series)
as
Lindsay Boxer
- Never Tell (2008) - Lindsay Boxer
- And the Truth Will (Sometimes) Set You Free (2008) - Lindsay Boxer
- Father's Day (2008) - Lindsay Boxer
- FBI Guy (2008) - Lindsay Boxer
- To Drag & to Hold (2007) - Lindsay Boxer
- No Opportunity Necessary (2007) - Lindsay Boxer
- The Past Comes Back to Haunt You (2007) - Lindsay Boxer
- Play Through the Pain (2007) - Lindsay Boxer
- Maybe Baby (2007) - Lindsay Boxer
- Grannies, Guns and Love Mints (2007) - Lindsay Boxer
- Blind Dates and Bleeding Hearts (2007) - Lindsay Boxer
- Train in Vain (2007) - Lindsay Boxer
- Welcome to the Club (2007) - Lindsay Boxer
2006
Secrets of a Small Town (TV Series)
as
Bethany Steele
- Pilot (2006) - Bethany Steele
2006
Glass House: The Good Mother (Video)
as
Eve Goode
2006
End Game
as
Kate Crawford
2005
Inconceivable (TV Series)
as
Dr. Nora Campbell
- Sex, Lies and Sonograms (2005) - Dr. Nora Campbell
- To Surrogate, with Love (2005) - Dr. Nora Campbell
- Secrets and Thighs (2005) - Dr. Nora Campbell
- Pilot (2005) - Dr. Nora Campbell
- The Last Straw - Dr. Nora Campbell
- If You Prick Us, Do We Not Breed? - Dr. Nora Campbell
- From Here to Motility - Dr. Nora Campbell
- Face Your Demon Semen - Dr. Nora Campbell
- Between an Egg and a Hard Place - Dr. Nora Campbell
- Balls in Your Court - Dr. Nora Campbell
2005
Fun with Dick and Jane
as
Veronica Cleeman
2003
Agent Cody Banks
as
Ronica Miles
2002
Video Voyeur: The Susan Wilson Story (TV Movie)
as
Susan Wilson
2001
Good Advice
as
Page Henson
1998
Law & Order (TV Series)
as
ADA Abbie Carmichael
- Judge Dread (2001) - ADA Abbie Carmichael
- Deep Vote (2001) - ADA Abbie Carmichael
- School Daze (2001) - ADA Abbie Carmichael
- Brother's Keeper (2001) - ADA Abbie Carmichael
- All My Children (2001) - ADA Abbie Carmichael
- Whiplash (2001) - ADA Abbie Carmichael
- White Lie (2001) - ADA Abbie Carmichael
- Ego (2001) - ADA Abbie Carmichael
- Bronx Cheer (2001) - ADA Abbie Carmichael
- A Losing Season (2001) - ADA Abbie Carmichael
- Phobia (2001) - ADA Abbie Carmichael
- Teenage Wasteland (2001) - ADA Abbie Carmichael
- Sunday in the Park with Jorge (2001) - ADA Abbie Carmichael
- Whose Monkey Is It Anyway? (2001) - ADA Abbie Carmichael
- Hubris (2001) - ADA Abbie Carmichael
- Thin Ice (2000) - ADA Abbie Carmichael
- Amends (2000) - ADA Abbie Carmichael
- Burn Baby Burn (2000) - ADA Abbie Carmichael
- Return (2000) - ADA Abbie Carmichael
- Standoff (2000) - ADA Abbie Carmichael
- Dissonance (2000) - ADA Abbie Carmichael
- Turnstile Justice (2000) - ADA Abbie Carmichael
- Endurance (2000) - ADA Abbie Carmichael
- Vaya Con Dios (2000) - ADA Abbie Carmichael
- Stiff (2000) - ADA Abbie Carmichael
- High & Low (2000) - ADA Abbie Carmichael
- Narcosis (2000) - ADA Abbie Carmichael
- Untitled (2000) - ADA Abbie Carmichael
- Surrender Dorothy (2000) - ADA Abbie Carmichael
- Mega (2000) - ADA Abbie Carmichael
- Black, White and Blue (2000) - ADA Abbie Carmichael
- Trade This (2000) - ADA Abbie Carmichael
- Fools for Love (2000) - ADA Abbie Carmichael
- Entitled (2000) - ADA Abbie Carmichael
- Panic (2000) - ADA Abbie Carmichael
- Mother's Milk (2000) - ADA Abbie Carmichael
- Collision (2000) - ADA Abbie Carmichael
- Loco Parentis (2000) - ADA Abbie Carmichael
- Sundown (1999) - ADA Abbie Carmichael
- Blood Money (1999) - ADA Abbie Carmichael
- Patsy (1999) - ADA Abbie Carmichael
- Marathon (1999) - ADA Abbie Carmichael
- Justice (1999) - ADA Abbie Carmichael
- Merger (1999) - ADA Abbie Carmichael
- DNR (1999) - ADA Abbie Carmichael
- Killerz (1999) - ADA Abbie Carmichael
- Gunshow (1999) - ADA Abbie Carmichael
- Refuge: Part 2 (1999) - ADA Abbie Carmichael
- Refuge: Part 1 (1999) - ADA Abbie Carmichael
- Admissions (1999) - ADA Abbie Carmichael
- Ambitious (1999) - ADA Abbie Carmichael
- Empire (1999) - ADA Abbie Carmichael
- Tabula Rasa (1999) - ADA Abbie Carmichael
- Juvenile (1999) - ADA Abbie Carmichael
- Shield (1999) - ADA Abbie Carmichael
- Harm (1999) - ADA Abbie Carmichael
- Disciple (1999) - ADA Abbie Carmichael
- Sideshow (1999) - ADA Abbie Carmichael
- Hunters (1999) - ADA Abbie Carmichael
- Haven (1999) - ADA Abbie Carmichael
- Ramparts (1999) - ADA Abbie Carmichael
- Hate (1999) - ADA Abbie Carmichael
- True North (1998) - ADA Abbie Carmichael
- Punk (1998) - ADA Abbie Carmichael
- Venom (1998) - ADA Abbie Carmichael
- Scrambled (1998) - ADA Abbie Carmichael
- Agony (1998) - ADA Abbie Carmichael
- Flight (1998) - ADA Abbie Carmichael
- Bait (1998) - ADA Abbie Carmichael
- DWB (1998) - ADA Abbie Carmichael
- Cherished (1998) - ADA Abbie Carmichael
2000
Batman Beyond: Return of the Joker (Video)
as
Barbara Gordon (voice)
2000
Batman Beyond (TV Series)
as
Commissioner Barbara Gordon
- Betrayal (2000) - Commissioner Barbara Gordon (voice)
- Speak No Evil (2000) - Commissioner Barbara Gordon (voice)
- King's Ransom (2000) - Commissioner Barbara Gordon (voice)
1999
Law & Order: Special Victims Unit (TV Series)
as
ADA Abbie Carmichael / ADA Abigail 'Abbie' Carmichael
- Entitled (2000) - ADA Abbie Carmichael
- Bad Blood (2000) - ADA Abbie Carmichael
- Closure (2000) - ADA Abbie Carmichael
- Sophomore Jinx (1999) - ADA Abbie Carmichael
- A Single Life (1999) - ADA Abigail 'Abbie' Carmichael
- Payback (1999) - ADA Abigail 'Abbie' Carmichael
1997
C-16: FBI (TV Series)
as
Amanda Reardon
- Hitting Olansky (1998) - Amanda Reardon
- El Nino (1998) - Amanda Reardon
- Russian Roulette (1998) - Amanda Reardon
- Green Card (1998) - Amanda Reardon
- My Brother's Keeper (1998) - Amanda Reardon
- The Art of War (1998) - Amanda Reardon
- Russian Winter (1997) - Amanda Reardon
- Eight Pounds of Pressure (1997) - Amanda Reardon
- Orange Kid (1997) - Amanda Reardon
- The Sandman (1997) - Amanda Reardon
- Radio FBI (1997) - Amanda Reardon
- Pilot: Part 2 (1997) - Amanda Reardon
- Pilot: Part 1 (1997) - Amanda Reardon
1997
Lawn Dogs
as
Pamela 'Pam' Gregory
1995
Baywatch Nights (TV Series)
as
Ryan McBride
- A Thousand Words (1997) - Ryan McBride
- The Vortex (1997) - Ryan McBride
- Hot Winds (1997) - Ryan McBride
- The Eighth Seal (1997) - Ryan McBride
- Symbol of Death (1997) - Ryan McBride
- The Servant (1997) - Ryan McBride
- Zargtha (1997) - Ryan McBride
- The Mobius (1997) - Ryan McBride
- Ascension (1997) - Ryan McBride
- Nights to Dragon One (1997) - Ryan McBride
- Frozen Out of Time (1997) - Ryan McBride
- Possessed (1997) - Ryan McBride
- Space Spores (1997) - Ryan McBride
- Night Whispers (1996) - Ryan McBride
- Last Breath (1996) - Ryan McBride
- Curse of the Mirrored Box (1996) - Ryan McBride
- The Cabin (1996) - Ryan McBride
- Circle of Fear (1996) - Ryan McBride
- The Strike (1996) - Ryan McBride
- The Rig (1996) - Ryan McBride
- The Creature (1996) - Ryan McBride
- Terror of the Deep (1996) - Ryan McBride
- Heat Rays (1996) - Ryan McBride
- A Closer Look (1996) - Ryan McBride
- Rendezvous (1996) - Ryan McBride
- Epilogue (1996) - Ryan McBride
- Vengeance (1996) - Ryan McBride
- Code of Silence (1996) - Ryan McBride
- The Curator (1996) - Ryan McBride
- Thief in the Night (1996) - Ryan McBride
- Backup (1996) - Ryan McBride
- Payback (1996) - Ryan McBride
- Thin Blood (1996) - Ryan McBride
- Takeover (1996) - Ryan McBride
- Kind of a Drag (1995) - Ryan McBride
- Blues Boy (1995) - Ryan McBride
- Balancing Act (1995) - Ryan McBride
- Pressure Cooker (1995) - Ryan McBride
- 976 Ways to Say I Love You (1995) - Ryan McBride
- Just a Gigolo (1995) - Ryan McBride
- Deadly Vision (1995) - Ryan McBride
- Silent Witness (1995) - Ryan McBride
- Bad Blades (1995) - Ryan McBride
- Pursuit (1995) - Ryan McBride
1996
Baywatch (TV Series)
as
Ryan McBride
- Sail Away (1996) - Ryan McBride
1995
Renegade (TV Series)
as
Debbie Prentice
- Offshore Thunder (1995) - Debbie Prentice
Director
2016
Rizzoli & Isles (TV Series) (1 episode)
- 2M7258-100 (2016)
Producer
2022
Buried in Barstow (TV Movie) (executive producer)
Self
2022
Ok! TV (TV Series)
as
Self
- Lifetime Special (2022) - Self
2003
Entertainment Tonight (TV Series)
as
Self
- Episode #41.224 (2022) - Self
- Halloween Kills Exclusive! (2020) - Self
- Episode dated 19 July 2010 (2010) - Self
- Episode dated 10 April 2009 (2009) - Self
- Episode dated 20 February 2009 (2009) - Self
- Episode dated 15 September 2008 (2008) - Self
- Episode dated 16 April 2008 (2008) - Self
- Episode dated 3 August 2007 (2007) - Self
- Episode dated 21 May 2007 (2007) - Self
- Episode dated 11 October 2003 (2003) - Self
2011
The Talk (TV Series)
as
Self - Guest / Self
- Angie Harmon (2022) - Self
- Angie Harmon/Shelley Wade (2016) - Self - Guest
- Angie Harmon/Cameron Mathison (2016) - Self - Guest
- Guest Co-Hostess Melissa Rivers/Angie Harmon/Jason Derulo/Louis Aguirre (2015) - Self - Guest
- Angie Harmon/Kevin Frazier/Chef Jet Tila (2014) - Self
- Episode #1.54 (2011) - Self - Guest
2022
Inside of You with Michael Rosenbaum (Podcast Series)
as
Self
- Angie Harmon: From Rags to Rizzoli & Isles (2022) - Self
2020
My Big Italian Adventure (TV Series)
as
Self
- Episode #1.3 (2020) - Self
- Episode #1.1 (2020) - Self
2020
Match Game (TV Series)
as
Self - Celebrity Panelist
- Shooting Blanks (2020) - Self - Celebrity Panelist
2016
Access Daily (TV Series)
as
Self
- Episode dated 25 July 2016 (2016) - Self
2007
Rachael Ray (TV Series)
as
Self
- It's an Italian-American Throwdown! (2015) - Self
- Episode dated 18 January 2012 (2012) - Self
- Angie Harmon (2010) - Self
- Episode #2.34 (2007) - Self
2012
Conan (TV Series)
as
Self - Guest
- Jeff Garlin/Angie Harmon/Tim Minchin (2015) - Self - Guest
- Jeff Goldblum/Angie Harmon/Isaac Witty (2014) - Self - Guest
- The Slowly Bobbing Adventures of Buoy Boy (2013) - Self - Guest
- Jolt Cola Explosion at the Old Reference Factory (2012) - Self - Guest
2015
Talk Stoop (TV Series)
as
Self
- Strike a Pose (2015) - Self
2015
The 5th Annual Critics' Choice Television Awards (TV Special)
as
Self
2015
Oprah: Where Are They Now? (TV Series)
as
Self
- Oprah Talks to Andrea Yates' Husband; Actress Angie Harmon & Apollonia (2015) - Self
2015
Who Do You Think You Are? (TV Series documentary)
as
Self
- Angie Harmon (2015) - Self
2011
Live with Kelly and Mark (TV Series)
as
Self / Self - Guest
- Dylan McDermott/Angie Harmon (2015) - Self
- Episode dated 28 November 2011 (2011) - Self - Guest
2015
Late Night with Seth Meyers (TV Series)
as
Self
- Wanda Sykes/Angie Harmon/Two Gallants (2015) - Self
2014
Stand Up to Cancer (TV Special)
as
Self
2007
Jimmy Kimmel Live! (TV Series)
as
Self
- Justin Theroux/Angie Harmon/5 Seconds of Summer (2014) - Self
- Episode #6.65 (2008) - Self
- Episode #5.68 (2007) - Self
2014
The 4th Annual Critics' Choice Television Awards (TV Special)
as
Self
2004
The View (TV Series)
as
Self
- Guest Co-Hosts Will Cain and Candace Cameron Bure/Angie Harmon/Jenny Mollen (2014) - Self
- Episode dated 12 July 2010 (2010) - Self
- Episode dated 12 October 2007 (2007) - Self
- Episode dated 26 October 2004 (2004) - Self
2014
Today (TV Series)
as
Self
- Episode dated 17 June 2014 (2014) - Self
2014
Hell's Kitchen (TV Series)
as
Self - Restaurant Patron
- 10 Chefs Again (2014) - Self - Restaurant Patron
2014
Hollywood Game Night (TV Series)
as
Self - Panelist
- How I Met Your Buzzer (2014) - Self - Panelist
2013
Home & Family (TV Series)
as
Self - Guest
- Episode #2.32 (2013) - Self - Guest
2010
Chelsea Lately (TV Series)
as
Self - Guest
- Episode #7.97 (2013) - Self - Guest
- Episode #4.129 (2010) - Self - Guest
2013
The Late Late Show with Craig Ferguson (TV Series)
as
Self - Guest
- Episode dated 18 June 2013 (2013) - Self - Guest
2013
The 38th Annual Gracie Awards (TV Special)
as
Self
2013
Paula's Best Dishes (TV Series)
as
Self
- Chocolate Is a Girl's Best Friend (2013) - Self
2012
Fox and Friends (TV Series)
as
Self
- Episode dated 18 January 2013 (2013) - Self
- Episode dated 26 November 2012 (2012) - Self
2012
The 37th Annual Gracie Awards (TV Special)
as
Self
2010
Late Night with Jimmy Fallon (TV Series)
as
Self
- Episode dated 4 June 2012 (2012) - Self
- Episode dated 12 July 2010 (2010) - Self
2011
Lopez Tonight (TV Series)
as
Self - Guest
- Episode dated 15 August 2011 (2011) - Self - Guest
2011
The Nate Berkus Show (TV Series)
as
Self - Guest
- Nate to Go with Dr. Ruth (2011) - Self - Guest
2011
17th Annual Screen Actors Guild Awards (TV Special)
as
Self
2004
The Oprah Winfrey Show (TV Series)
as
Self
- Episode dated 27 September 2010 (2010) - Self
- Episode dated 12 February 2004 (2004) - Self
2010
E! True Hollywood Story (TV Series documentary)
as
Self
- Charlie Sheen (2010) - Self
2009
Hope and Miracles: The Making of 'Living Proof' (Video documentary short)
as
Self
2009
The Morning Show with Mike & Juliet (TV Series)
as
Self
- Episode dated 29 May 2009 (2009) - Self
2009
The Bonnie Hunt Show (TV Series)
as
Self
- Episode dated 17 March 2009 (2009) - Self
2008
Stand Up to Cancer (TV Special)
as
Self
2006
Kathy Griffin: My Life on the D-List (TV Series)
as
Self
- Red State, Blue State (2006) - Self
2006
CMT: The Greatest - Sexiest Southern Women (TV Special)
as
Self
2005
Young Hollywood Awards (TV Special)
as
Self
1996
The Tonight Show with Jay Leno (TV Series)
as
Self
- Episode #13.169 (2005) - Self
- Episode #10.7 (2002) - Self
- Episode #8.43 (2000) - Self
- Episode #7.92 (1999) - Self
- Episode #4.84 (1996) - Self
2004
The Factor (TV Series)
as
Self
- Episode dated 31 August 2004 (2004) - Self
2000
The Rosie O'Donnell Show (TV Series)
as
Self
- Episode dated 14 January 2002 (2002) - Self
- Episode dated 2 May 2000 (2000) - Self
2001
VH1/Vogue Fashion Awards (TV Special)
as
Self
2001
VH1 Divas Live: The One and Only Aretha Franklin (TV Special)
as
Self
2001
7th Annual Screen Actors Guild Awards (TV Special)
as
Self - Nominee
2000
VH1/Vogue Fashion Awards (TV Special)
as
Self
2000
Larry King Live (TV Series)
as
Self
- Episode dated 12 April 2000 (2000) - Self
1999
1999 MTV Video Music Awards (TV Special)
as
Self
1999
5th Annual Screen Actors Guild Awards (TV Special)
as
Self - Nominee
1996
65th Annual Hollywood Christmas Parade (TV Special)
as
Self
1989
The More You Know (TV Series)
as
Self
Archive Footage
2015
Entertainment Tonight (TV Series)
as
Self
- Episode #41.228 (2022) - Self
- Episode #40.96 (2021) - Self
- Episode #40.42 (2020) - Self
- Episode dated 1 June 2015 (2015) - Self
References
Angie Harmon Wikipedia
(Text) CC BY-SA