Written by

Kaori Yuki




English publisher

Viz Media




Directed by

Kiyoko Sayama




Music by

Masumi Itō




Studio

Hal Film Maker




Published by

Hakusensha




Demographic

Shōjo




Adaptations

Angel Sanctuary (2000)




Magazine

Hana to Yume




Publisher

Hakusensha






Original run

July 1994 – October 2000




Genres

Fantasy, Romance novel, Supernatural, Psychology




Similar

Earl Cain, Chrono Crusade, Ceres - Celestial Legend, All Purpose Cultural Cat Girl N, Descendants of Darkness
Angel sanctuary somewhere
Angel Sanctuary (Japanese: 天使禁猟区, Hepburn: Tenshi Kinryōku) is a fantasy shōjo (targeted towards girls) manga series written and illustrated by Kaori Yuki. Appearing as a serial in the manga magazine Hana to Yume from July 1994 to October 2000, the 120 chapters were collected and published in twenty bound volumes by Hakusensha from February 1995 to February 2001. It focuses on Setsuna Mudo, a teenager who learns that he is the reincarnation of an angel who rebelled against Heaven. After the death of his sister, he travels through Hell and Heaven to reunite with her.
Contents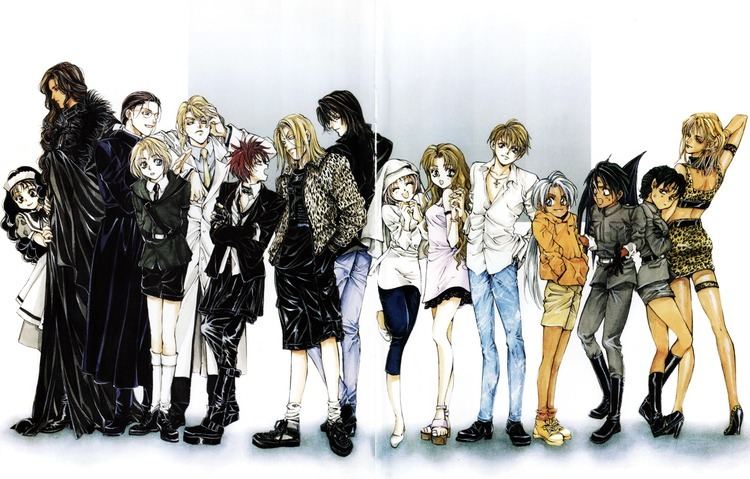 Angel Sanctuary is licensed by Viz Media for an English-language release in North America. Viz published it from March 2004 to June 2007. The manga was adapted into a three-episode original video animation (OVA) by Bandai Visual and Hal Film Maker. Originally licensed by Central Park Media, the OVA is currently licensed by Media Blasters. A series of drama CDs based on the other story arcs was also released.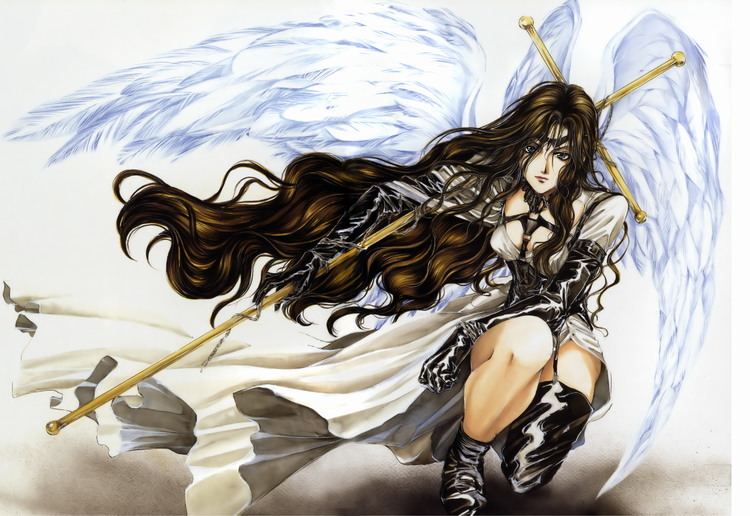 Angel sanctuary manga capitulo 4
Plot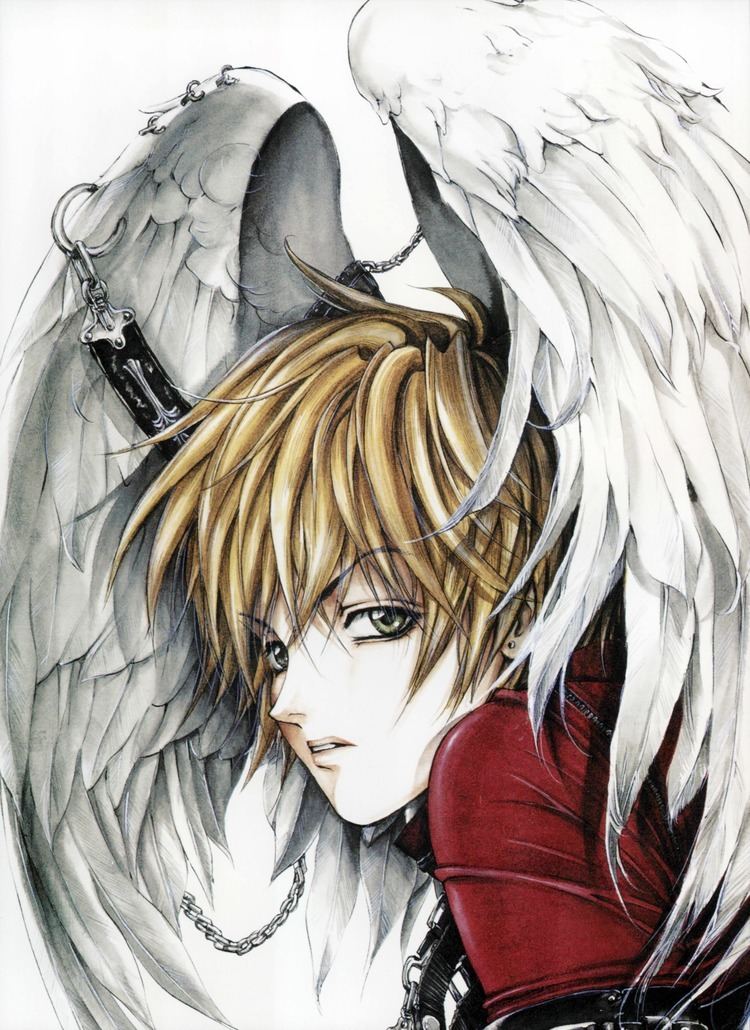 Beginning in late twentieth-century Japan, Angel Sanctuary focuses on Setsuna Mudo, a 16-year-old troubled high-school student who is in love with his 15-year-old sister Sara. While struggling with his incestuous feelings for his sister, he learns that he is the reincarnation of Organic Angel Alexiel, who led a rebellion against her fellow angels after witnessing their slaughter of the Evils, a group of demons, after God's disappearance. At the conclusion of the revolt, she sealed away her younger twin brother, Inorganic Angel Rosiel, within the Earth, emotionally unable to fulfill his request to be killed before he became insane and destructive. Captured and branded a fallen angel, Alexiel is punished by having her body frozen and her soul endlessly reincarnated as a human whose life is full of misery.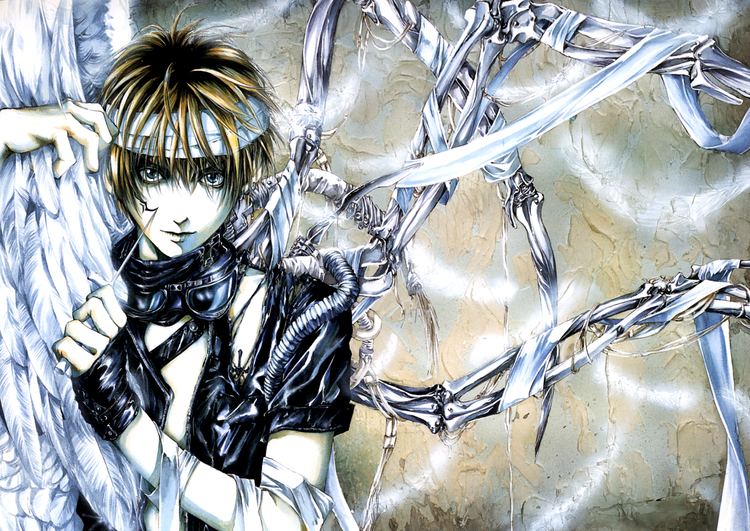 While Rosiel is freed by his subordinate Katan, Setsuna finds his life and Sara's endangered by various attempts to awaken Alexiel's dormant soul within him. Realizing they cannot bear to be separated, Setsuna and Sara run away together and consummate their love, in hope of starting a new life together. Sara eventually dies protecting Setsuna from one of Rosiel's subordinates. Devastated, Setsuna awakens Alexiel's soul, causing widespread damage. Adam Kadamon, the angel closest to God, intervenes by turning back time to just after Alexiel's awakening and freezing time on Earth; she then tasks him with freeing her from her imprisonment. To search for Sara's soul, sent to Hell for incest, Setsuna's body enters a near-death state, and his soul searches for hers, eventually learning that it has been taken to Heaven. Sara, meanwhile, awakens in the body of Jibriel, the archangel of water held captive; revealed to be her reincarnation, Sara is eventually returned to her original body, but finds herself impregnated by the angel Sandolphon, whose soul resides in his brother's body and who hopes that she will bear him a body. After Rosiel absorbs him to gain his power, an act which speeds up his physical and mental decay, Sandolphon's remnants possess her, causing her to see Setsuna as a monster.
Assisted by Lucifer, ruler of the demons who loves Alexiel, Rosiel unseals the Tower of Etenamenki, where God rests, with Alexiel's body. Intent on restoring the Earth, Setsuna follows him, with Kurai and the archangels of fire and earth; along the way, he aids an injured Katan, who hopes to save Rosiel before he loses his free will to do so. At the tower, Rosiel kills Katan, only to realize that he had killed the one he loved and tried to protect from himself; he then goes into a state of destructive despair. Awakening in her own body with Setsuna's help, Alexiel reveals to him that she had always loved him: because he had been born the opposite of his healthy sister, she bargained with God to save his life in exchange for her imprisonment, from which she later escaped with Lucifer, and an agreement to never show him any compassion. She then kills him, and absorbs him into her womb so that they will never be apart again. Before dying, Rosiel passes along his power to Setsuna.
Setsuna and his group find Adam Kadamon's head, used to nourish the unborn angels, and learn that she attempted to prevent God's plan of destroying humanity by hiding him and the tower from the angels and freezing time in hopes that Alexiel's reincarnation could save them. Because God draws power through Adam Kadamon, the archangels and Kurai seal her up, while Setsuna confronts God and encounters Sara and Lucifer there. Sara overcomes her possession to cast out Sandolphon, and Setsuna defeats God with Lucifer's help. Time returns to normal on Earth, where Setsuna and Sara joyfully reunite at last.
Development
According to manga artist Kaori Yuki, the concept for Angel Sanctuary has been with her "for the longest time." Yuki conceived Angel Sanctuary after reading Nocturne, a book which focuses on an idol singer possessed by a demon, which a demon prince and princess wish to destroy; she was inspired to write about angels and demons in Tokyo. Later, she chose Setsuna for the protagonist of the series. During her research on angels, she learned about the Christian angelic hierarchy, which she included in the series. The first character Yuki designed was Sara, originally named Sana, while the first episode imagined was one in which the protagonist's love interest "was actually a living angel." The original title for the series was Coming of the Seraphim, which Yuki later decided against in favor of Angel Sanctuary, as she thought that "angel" should be included in the title and "sanctuary" had a sense of something "forbidden" or "against God". She decided to set Angel Sanctuary in Japan in "near future," partially because the setting would be largely unchanged and partially because she had a wish to draw modern clothing styles and sailor uniforms.
As she had been already working on a successful serial, the gothic mystery manga Earl Cain, she faced opposition towards her wish to begin another. Initially, she was allowed only ten installments of Angel Sanctuary, which led her to worry about being able to properly end the story. At that time, she had the character development up to Zaphikel's death scene and fragments of the plot. She found it difficult to construct a story to join the scenes she wanted to draw. Additionally, the original character designs underwent changes, only Kato's remained unchanged. Several angels were planned to make an appearance, but never did; among them were the Angel of the Yoke and the leader of the angels, Sakaki.
During the serialization of Angel Sanctuary, she mistakenly titled the Gehenna story arc as the Yetzirah arc, and was unable to correct it as several chapters had already appeared under the title; she corrected it for the tankōban release. As the manga takes place in July 1999, Yuki expressed a goal to complete the series by then. For the conclusion, she originally had planned to use a tragic ending, but decided against it in favor of a happy one, because she thought that it would be too upsetting for the fans to read after twenty volumes. She wrote in her final afterword that Setsuna and Sara have reached emotional maturity after their adventures and will live happily together.
Cultural references and influences
In Angel Sanctuary, Yuki incorporated references to several mythologies. The series includes references to Greek mythology, with allusions to the Orpheus' descent to the underworld, the mythical location Hades, Pandora's box, and Prometheus. Additionally, the transgender demon Arachne takes her name from the weaver Arachne. References to Norse mythology also appears, with allusions to Yggdrasil and the dragon Nidhogg. Other mythologies alluded to include Jewish and Christian mythology; Yuki used quotes from the Bible periodically in the series.
Additionally, Yuki included references to real-life people, literature, and music. The character Katan shares his name with Katan Amano, a dollmaker. Kira's name is a reference to Japanese music group Zabadak's Tomohiko Kira, while the minor character Kirie takes her name from a Mr. Mister song. Moonlil, another minor character, was based on Japanese idol singer Hirosue. Carlsen Verlag, Yuki's German publisher, wrote that the Goth subculture in Tokyo, Japan, and rock bands with androgynous musicians influenced the clothing of the angels and demons in the series. References to literature appeared in the series, such as Lewis Carroll's children's novel Alice's Adventures in Wonderland and the Brothers Grimm fairy tale "Rapunzel".
Themes
According to Yuki, "forbidden love" served as the theme of Angel Sanctuary. Reviewers have focused on a range of themes. Melinda Beasi, who has reviewed for PopCultureShock and About.com, wrote that the theme of "gender, and particularly unhappiness with one's biological gender," appears in the series. Active Anime's Holly Ellingwood commented that the issues examined in the series included unconditional love, "good and evil, the nature of humanity, and the essence of one's soul". Jason Thompson states that Angel Sanctuary's portrayal of incest adhered to "a more classical tormented sense" which results in "guilt, madness, and the punishment of heaven" for the characters.
Manga
The chapters of Angel Sanctuary appeared twice a month as a serial in the manga magazine Hana to Yume from the 5 July 1994 issue to the 20 October 2000 issue. Hakusensha collected and published the 120 chapters in twenty bound volumes from 17 February 1995, to 19 February 2001. Hakusensha later re-released the series in ten volumes from 14 June 2002, to 13 June 2003.
Angel Sanctuary is licensed by Viz Media for an English-language release in North America, and published the series from 25 February 2004 to 12 June 2007. A digital edition was also published. Angel Sanctuary has been translated into a variety of languages, among them Chinese, German, Italian, Polish, Hungarian, French, Russian, and Spanish.
Audio drama
Yuki participated in selecting voice actors for the audio drama adaptation of Angel Sanctuary; around two to three auditioned for each role. Ten, however, auditioned for the role of Setsuna, with Kenji Nojima ultimately chosen. Ayako Kawasumi provided the voice of Sara, while Takehito Koyasu and Yuuko Miyamura voiced Sakuya Kira and Kurai, respectively. For Arachne, Yuki envisioned a transvestite voice actor, which proved to be impossible. The antagonists Katan and Rosiel were voiced by Shin-ichiro Miki and Nozomu Sasaki, respectively. Yuki attended several sessions, during which she directed the voice actors and helped them with their interpretations of the characters.
A total of fifteen audio drama CDs, divided into six arcs, were released for Angel Sanctuary. The first arc, Assiah was published by Bandai Music Entertainment in four parts between December 16, 1998 to March 21, 1999. It featured a number of songs by Kuroyurishimai and a soundtrack that included all the songs was released on April 21, 1999. The soundtrack was composed by Hikaru Nanase.
The rest of the drama CDs were published by Lantis. Hades was released in three parts between August 3 to October 25, 2000. The remaining four arcs were released in two parts. Gehenna was released on December 21, 2000 and January 24, 2001, followed by Yetzirah on March 21 and April 25, 2001, and Beri'ah on June 27 and July 25, 2001. The final arc Atziluth was released on August 29 and September 29, 2001.
The first four CDs (Assiah) and soundtrack originally published by Ayers were re-released by Prhythm on March 17 and April 21, 2004.
OVA
The three episode Angel Sanctuary OVA was produced by Bandai Visual and Hal Film Maker. Bandai Visual released the three episodes from May 25, 2000 to August 25, 2000.
The English-language release was originally licensed in North America by Central Park Media, which released the OVA in 2001 as well as rereleasing it in 2005. After the license expired, Media Blasters acquired the license for the OVA and released it in 2008 with new cover art in addition to extras.
Art books
Hakusensha published two Angel Sanctuary art books. The first, The Art of Angel Sanctuary: Angel Cage (由貴香織里画集 天使禁猟区 ANGEL CAGE, Yuki Kaori Sato Gashū Tenshi Kinryō Ku Angel Cage), was released on July 25, 1997, and the second, The Art of Angel Sanctuary 2: Lost Angel (由貴香織里画集 天使禁猟区II 失墜天使 Lost Angel, Yuki Kaori Sato Gashū Tenshi Kinryō Ku II Shittsui Tenshi Lost Angel), followed on September 27, 2000. Viz Media released both from September 6, 2005 to October 30, 2007. Both feature an interview with Kaori Yuki and series information along with artwork from the series.
Sales
The series has been well received by English-language readers, with fifteen volumes appearing in ICv2's list of the 100 bestselling graphic novels. The first volume appeared at the 49th place for March 2004, with an estimated 1,767 copies sold. In May 2004, the second volume sold 1,768 copies, putting it in 42nd place. The third sold 1,567 copies, reaching the 61st spot for July 2004; it also appeared on BookScan's list of the top 50 graphic novels for August 2004. In October 2004, the fourth volume sold 1,819 copies, placing 71st. The fifth sold 1,644 copies in December 2004, placing 65th. The sixth ranked 75th, selling 1,439 copies in February 2005. The seventh sold 1,465 copies, ranking 65th. The eighth sold 1,472 copies, ranking 79th. The ninth reached the 74th spot with 1,481 copies sold. The tenth placed 75th for September 2005, with an estimated 1,247 copies sold. The eleventh volume appeared at the 76th spot for December 2005, with an estimated 1,351 copies sold. Selling an 1,239 estimated copies, the thirteenth placed 75th for the April 2006 list, and the fourteenth volume appeared at the 83rd place for the June 2006 list, with an estimated 1,186 sold. The seventeenth volume sold an estimated 1,239 copies and placed 77th on the December 2006 list, while the eighteen volume sold an estimated 1,081 copies, placing 90th for the February 2007 list.
Manga
In her review of the first volume, Sheena McNeil praised the series for its beautiful art and suspenseful plot. Another reviewer enjoyed the second volume, finding her art "lovely" and the story enjoyable. Anime News Network's Liann Cooper enjoyed the art and plot of the second volume, writing that the backstory of the series helped to create interest for the reader. In her follow-up review of the third volume, Cooper wrote: "Yes, this is a weird manga and if there were an award for most messed-up plot, Angel Sanctuary would be a strong contender. But, amidst all of the bizarro relationships and religious references you become acutely aware that this title has a sinful appeal that just makes you desire more." Holly Ellinwood of Active Anime described the "heavy crossover of religions combined with social issues and personal lines of integrity" as "spellbinding". Ellingwood also praised that art as "absorbing.... more detailed than most, beautifully Gothic even when depicting the most foul horrors" and noted that the series focused on unconditional love. Although Manga Life's Kat Collyns praised Yuki's art as beautiful, Collyns found the plot "confusing" at times and wrote that the series' issues of gender and incest might discourage readers. Another reviewer stated: "Angel Sanctuary, both the story and the art, is overly crowded, somewhat confusing, mildly disturbing, and potentially addicting." In Manga: The Complete Guide, Jason Thompson rated Angel Sanctuary 3 out of 4 stars, describing it as "The archetypical 1990s goth manga." While he enjoyed the art, he wrote that the plot proved difficult to follow because of the page layouts, the large cast of androgynous characters, and the "barrage of events and names".
In his review of The Art of Angel Sanctuary 2: Lost Angel, A.E. Sparrow of IGN praised the artbook, describing it as "more of an encyclopedia or compendium for the series". He complimented the artwork, stating,"I was absolutely blown away with each turn of the page, figuring it couldn't get any more brilliant, and was proven wrong every time. If I had any complaint, it would be that the artwork doesn't go on long enough." McNeil shared his views, greatly enjoying the artwork.
OVA
The OVA received mixed reviews. Rating the OVA an A-, Chris Beveridge of Mania Entertainment recommended it, praising the animation quality, and considered the plot "an extended prologue" to the events of the manga. Anime News Network's Theron Martin rated it as a B, describing it as "a sharp, great-looking series which mixes shojo elements with sometimes intensely graphic violence, but this was not a production meant to stand on its own." Martin noted that Yuki's interpretation of Judeo-Christian elements had the potential to be offensive to Christian or Jewish viewers. Rating it one out of five stars, Dave Merrill of Anime Jump criticized Angel Sanctuary as a "pretentious, confusing claptrap", and found the inclusion of incest objectionable. Aimée Schafer of THEM Anime Reviews rated it similarly, and criticized Sara and Setsuna's relationship as "completely unnecessary and totally ruined what could otherwise have been a solid and, I dare say, good story."
References
Angel Sanctuary Wikipedia
(Text) CC BY-SA