NYPD Blue Andy Sipowicz Gets Promoted to Sergeant
Andrew "Andy" Sipowicz is a fictional character and protagonist on the popular ABC television series NYPD Blue. Dennis Franz portrayed the character for its entire run.
Contents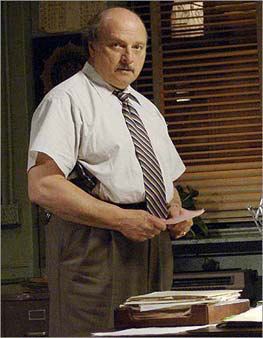 Character overview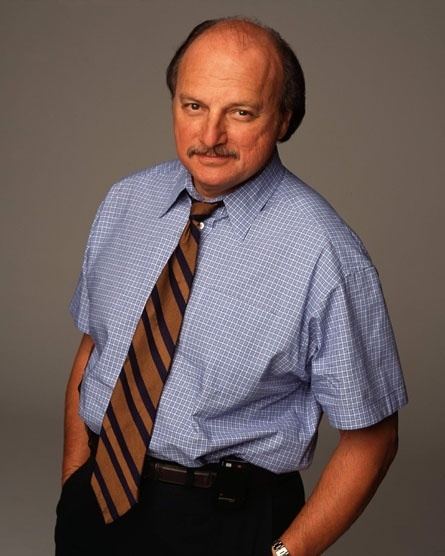 Sipowicz was a New York City police Detective working in the detective squad of the fictitious 15th Precinct of the NYPD, placed on the lower east side of Manhattan. He was the central character of the show during its twelve-year run, and the only one to have been a regular cast member in every episode. (Detective Greg Medavoy (Gordon Clapp) did not appear until episode 3 of the first season and did not become a regular until the start of season 2)
Background and personality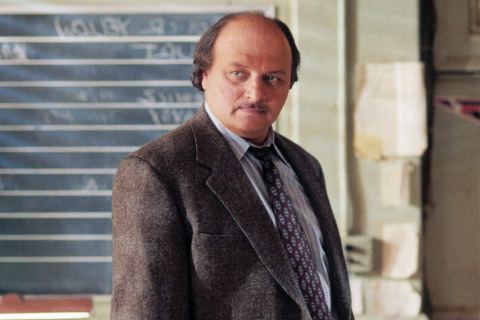 Jason Gay of The Boston Phoenix described Sipowicz as a "drunken, racist goon with a heart of gold" who was "the moral core" of NYPD Blue. In 1997, he described Sipowicz as becoming "sobered up" and that Sipowicz "won't ever go totally soft." Gay describes Dennis Franz as adding "underrated, edgy mixture of grit and sensitivity" to Sipowicz.
According to a second season episode aired in 1995, Sipowicz was about to celebrate his 47th birthday on April 7, implying he was born in 1948. (This would make the character three and a half years younger than the actor.) He is from Brooklyn, where he worked in a local candy store as a boy, later returning under sad conditions when a son of the shop owners organized a robbery that led to his mother's death. Both his mother and father were of Polish origin and had blue-collar backgrounds. His father was an alcoholic whose frequent drunkenness cost him his job as a meter reader. He defiantly returned to finish his route after dark, but was stabbed in the eye by a black man who mistook him for a robber. He claimed that the black man had tried to rob him; Andy grew up hearing the story, which was the basis for his racism. In season 6, however, he realizes that his father was lying, and begins to question the values he was raised with.
Before becoming a policeman, Sipowicz served in the U.S Army, serving an 18-month tour in Vietnam that he did not talk much about, however it is an underlying theme in the show. He once became incensed when an obnoxious fellow cop named Sgt. Ray Collins lied about being a combat veteran in the Vietnam War, and told the man that he could lie to his heart's content about anything else, but he would not let anyone lie about serving in the Vietnam War. Although it is unclear at what point he joined the NYPD, it is most likely in the early 1970s. One of his early police assignments was infiltrating the Black Panthers organization and posing as a white leftist radical (this is probably derived from real-life experiences of NYPD Blue writer Bill Clark, a retired NYPD detective). These events accentuated his already-developing racist tendencies.
At some point in his police career, Sipowicz worked in the Robbery Squad, but he transferred to the 15th by the mid-1980s, since he was already well established there by 1993 when NYPD Blue began to air. He received the gold shield of Detective Third Grade (the "beginning" rank) in 1978.
Sipowicz carries a .38 Caliber Smith & Wesson Model 36 five-shot revolver as his main sidearm. This shows his "old school" approach as most of his fellow officers carry Glock pistols. The Model 36 was at one time an approved sidearm for NYPD Detectives until the switch to semi autos in 1994. Older officers were allowed to retain their revolvers if they so chose.
Role within the show
In the first season of NYPD Blue, Sipowicz's partner is John Kelly, who leaves the force in 1994 after withholding evidence in a murder investigation of his lover Janice Licalsi. After Kelly's resignation, Bobby Simone becomes Sipowicz's partner. They soon becomes best friends; Sipowicz is devastated when Simone dies of a heart infection. In 1994, Andy begins to date Assistant District Attorney Sylvia Costas, with whom he previously clashed due to professional differences (Sipowicz calls her a "pissy little bitch" in the pilot episode). They get married in 1995 and have a son, Theo, in 1996.
Andy was married to Katie Sipowicz for 12 years and they had a son, Andy Jr. (born 1973). However, by 1993 both his ex-wife and son were estranged from him, due to his heavy drinking. After being shot six times in an ambush by a mobster named Alphonse Giardella and almost dying, Sipowicz decides to change his life. He stops drinking, focuses on the job, and rebuilds his relationship with his son.
On his route to becoming a better man, Sipowicz struggles to overcome his bigotry with the help of his black precinct chief, Lieutenant Arthur Fancy. He also eventually comes to terms with his homophobia, mainly due to his initially grudging friendship with precinct receptionist John Irvin. With the birth of his second son, Sipowicz's life seems to be going well. However, a series of devastating personal tragedies over the next few years arise: in May 1996, Andy Jr., who is about to start work as a policeman in Hackensack, New Jersey, is shot and killed while trying to stop a robbery. The shooting sends Andy Sr. into an alcoholic relapse, during which Sylvia briefly throws him out of the house. In November 1998, Bobby Simone dies of an infection caused by heart transplant complications, and less than a year later in May 1999, Sylvia is accidentally killed by the distraught father of PAA Dolores Mayo (whose killer she had been prosecuting) in a courtroom. This is then followed by the disappearance and subsequent murder of Simone's successor Danny Sorenson during an undercover assignment in 2001. He also survives a serious bout with prostate cancer in 1998. With the exception of Andy Jr.'s death, however, Sipowicz remains sober in the face of all of these tragedies. He also has to deal with the fact that he had been instrumental in putting an innocent black man in prison for 15 years for the murder of a teenager, remembering that he had no experience as a detective and deferred to a lazy veteran cop. He is the only cop to apologize when the man is released (he learns that the perpetrator was a white man who later died of a drug overdose, and while Sipowicz and the now-retired veteran cop basically knew he'd been murdered, the end result of the case was left unresolved).
In 2003, Sipowicz marries for the third time, this time to a fellow detective named Connie McDowell, who had recently joined the squad. In 2004, Connie's pregnant sister is killed by her abusive husband. The baby survives, so Connie and Sipowicz take custody of the child and name her Michelle, after her mother. Soon after, Connie, who had believed she could not have children due to scarring of her Fallopian tubes, becomes pregnant and gives birth to a baby boy named Matthew. With two infants to raise, Connie resigns from the police force to be a stay-at-home mother. Later that year, Sipowicz, after overcoming a personality clash with new Lt. Thomas Bale, is promoted to the rank of sergeant, becoming the new squad commander.
"The Sipowicz"
Sipowicz was often shown dressed in a tie and short sleeved shirt, coining the term "The Sipowicz" to describe such attire.
Partners
Reception
In 1999, TV Guide ranked him # 23 on its 50 Greatest TV Characters of All Time list.
References
Andy Sipowicz Wikipedia
(Text) CC BY-SA