He was a former England cricket coach as well.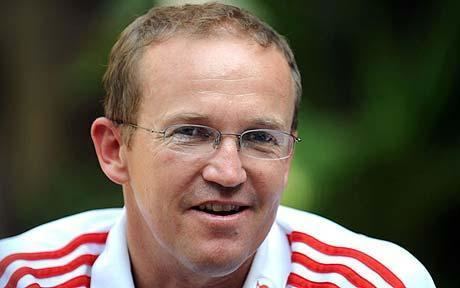 Flower was born in Cape Town, South Africa, and starting from his high school days at Oriel Boys' High School and Vainona High School played most of his career alongside his younger brother Grant Flower. He is considered to be one of the best wicket-keeper batsmen, alongside players such as Australian Adam Gilchrist. Flower made his international debut in a One Day International against Sri Lanka at New Plymouth, New Zealand, in the 1992 Cricket World Cup. A good player of spin, he made 550 runs in a Test series against India in 2000/01. This tally came in just four innings and he was only dismissed twice. He is one of the few players to score a century on ODI debut.
Towards the end of his career, Flower achieved international recognition when he and teammate Henry Olonga wore black armbands during the 2003 Cricket World Cup match against Namibia to protest against Robert Mugabe's policies. He and Olonga released a statement on 10 February, stating in part:
In all the circumstances, we have decided that we will each wear a black armband for the duration of the World Cup. In doing so we are mourning the death of democracy in our beloved Zimbabwe. In doing so we are making a silent plea to those responsible to stop the abuse of human rights in Zimbabwe. In doing so, we pray that our small action may restore sanity and dignity to our Nation.
This act led to pressure from Zimbabwe's government and Flower's retirement from Zimbabwean cricket. He later played an English county cricket season for Essex and an Australian domestic season for South Australia.
Flower played 63 Test matches for Zimbabwe, scoring 4,794 runs at an average of 51.54 and taking 151 catches and 9 stumpings, and 213 One Day Internationals, scoring 6,786 runs at an average of 35.34 and taking 141 catches and 32 stumpings. He holds the Zimbabwean records for the most Test career runs, the highest Test batting average, and most ODI career runs. He is the only Zimbabwean in the ICC's Top 100 All-time Test Batting rankings at number 31 (November 2013), putting him in the company of Brian Lara (ranked 23), Sachin Tendulkar (29), Steve Waugh (equal 31 with Flower on 895 points) and Rahul Dravid (33).
His aggregate score of 341 in the first Test against South Africa in 2001 is the second highest ever by a batsman on the losing side.
Andy Flower is also the only player to score an ODI hundred on debut in a world cup match He's also having the record for the most number of matches(149) to score his second ODI ton after scoring a century on debut, when he did it in only in his 150th ODI.
He's also having the record for the highest ever test score posted by a wicketkeeper batsman in an innings of a test(232*).
On 7 May 2007, Flower was appointed Assistant Coach of the England team, replacing Matthew Maynard. The Zimbabwean joined up with Peter Moores and the rest of the squad for the first Test match against the West Indies at Lord's on 17 May 2007. Upon his appointment to this role with the ECB, Flower, having not played that season due to injury, ended his playing spell at Essex, bringing his playing career to a close.
On 15 April 2009, following England's Caribbean tour, for which he was installed as interim team director following the departure of Peter Moores, he was appointed full-time team director. In the Summer of 2009, during his tenure as team director, England won The Ashes, beating Australia by two Test matches to one. In May 2010, they won the 2010 ICC World Twenty20 tournament in the West Indies. In November–January 2010/2011 England won the Ashes in Australia by three Test matches to one.
Flower was appointed Officer of the Order of the British Empire (OBE) in the 2011 Birthday Honours for services to sport.
On 13 August 2011 Flower led the England cricket team to become the number one ranked team in terms of test playing countries. On 22 December 2011, he was awarded the 2011 Coach of the Year in the BBC Sports Personality of the Year awards.
He also successfully led England to Ashes victory in July–August 2013 winning the test series 3–0.
A major blip in his coaching career was the 5–0 drubbing by Australia in November–January 2013 – 2014 Ashes series. On 31 January 2014, Flower stepped down as head coach, a position he had held for five years. From March 2014, he continued his employment with the England and Wales Cricket Board as its 'Technical Director of Elite Coaching', a role that has involved mentoring English county coaches and looking at best practice in coaching and performance in other organisations. Since July 2014, this role has also encompassed him being head coach of the England Lions team, most recently leading the side on an ODI tour of the UAE in January 2016.
He along with Heath Streak set the record for the highest 7th wicket partnership for Zimbabwe in ODIs(130)
In 2016 He is appointed as Batting Coach Of Peshawar Zalmi.
In September 2007, Flower became an Ambassador for the children's charity, Hope for Children, and has assisted in raising thousands of pounds for needy children in Zimbabwe and around the world. In July 2011, Flower became an Ambassador for the malignant melanoma support group, Factor 50, having suffered from the illness himself. He underwent surgery to remove a melanoma from his right eye in 2010. In the summer of 2012 Andy agreed to undertake another term as Ambassador to Factor 50. Having run the marathon in April 2012 Andy said "It wasn't a hard decision for me to continue in my role as Ambassador to Factor 50. They do an excellent job in patient support, fund raising and raising awareness of the dangers of the sun. I wish them continued success in the coming year and who knows, another marathon might be on the cards!"
In the column Runs, * indicates being not out
The column title Match refers to the Match Number of the player's career
In the column Runs, * indicates being not out
The column title Match refers to the Match Number of the player's career