1965-1993





General




Andreas Liebenberg





18 April 1938 Upington, Cape Province, Union of South Africa (

1938-04-18

)


23 May 1998(1998-05-23) (aged 60) Pretoria, Gauteng, South Africa




Republic of South Africa




Chief of the South African Defense Force (1990–1993) Chief of the South African Army (1985–1990) GOC Special Forces (1982–1985)




South African Army



General Andreas ('Kat') Liebenberg SSAS SD SOE SM MMM (1938–1998) was a South African military commander. He joined the army in 1955 after obtaining a BA Law degree at the University of Stellenbosch and was commissioned in 1961.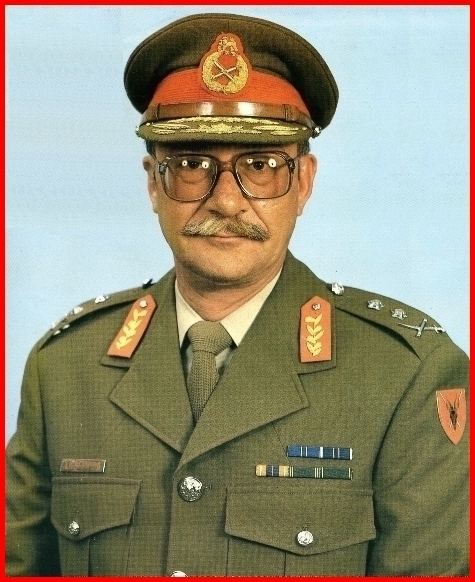 He was posted to London as a military attache in 1969. In 1972 he returned from London to become second in command of the Army Gymnasium. Two years later he was back at Army Headquarters as a Staff Officer before becoming Director Infantry, and in December 1977, as a colonel, Officer Commanding 2 Military Area (later called Sector 10) at Oshakati. He stayed there till January 1980, when he became Director of Operations at Army Headquarters in the rank of Brigadier.
He served as GOC Special Forces from 1982 to 1985, as Chief of the Army from 1985 to 1990, as Chief of Defence Force Staff for a few months in 1990, and then as Chief of the SADF from 1990 to 1993. He was a member of the defence committee of the Transitional Executive Council which supervised the South African government during the final months leading up the first democratic election in 1994.
In 1995, he, former defence minister, General Magnus Malan, and former defence force chief, General Jannie Geldenhuys were tried for murder, as a result of a military operation in which several civilians had been killed. They were all acquitted.
Star of South Africa, Silver (SSAS)
Southern Cross Decoration (SD)
South African Police Star for Outstanding Service (SOE)
Southern Cross Medal (SM)
Military Merit Medal (MMM)
Pro Patria Medal
Southern Africa Medal
General Service Medal
Good Service Medal, Gold (30 Years)
Good Service Medal, Silver (20 Years)
Good Service Medal, Bronze (10 Years)
Order of the Cloud and Banner - with Grand Cordon (2nd Grade) (ORB)(Taiwan)
Andreas Liebenberg Wikipedia