She is the first woman to lead the Ontario New Democratic Party, and one of only three women to serve as leader of a political party with representation in the provincial legislature (Liberals Kathleen Wynne and Lyn McLeod are the other two).
Horwath was born and raised in Hamilton, Ontario, and has a Bachelor of Arts degree in Labour Studies from McMaster University in that city. She worked part-time as a waitress to pay her way through university. Her father Andrew, an ethnic Hungarian, had immigrated to Canada from Slovakia, and worked on the assembly line at the Ford Motor Company plant in Oakville, Ontario. Her mother is of French and Irish descent.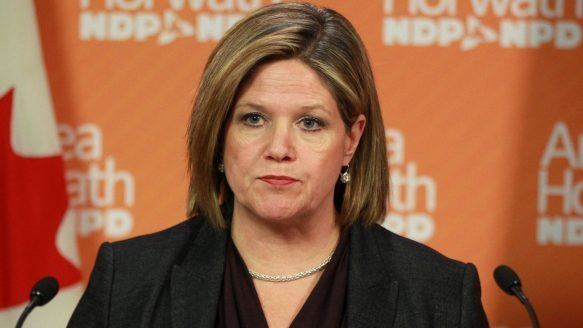 She worked closely with the Hamilton labour movement for several years, programming and providing literacy, numeracy and ESL training for workers. She subsequently got involved in the cooperative housing movement in Welland, and later became a community development coordinator for Hamilton's McQuesten Legal & Community Services, providing public legal education to groups working with tenants, injured workers and people with disabilities.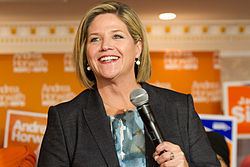 In 1996 Horwath earned a certificate of achievement in anti-racism training, and was an organizer of Hamilton's Days of Action campaign against provincial government cutbacks announced by Mike Harris. That year she received the Woman of the Year Award in Public Affairs from the Hamilton Status of Women Committee, in recognition of her work in the community. She also dedicated her time and efforts toward the field of social housing, and was subsequently awarded the Graham Emslie Award for Community Development in Housing by the Canadian Housing and Renewal Association.
She lives in Hamilton with her son Julian (born November 1992). In a March 2011 interview with the Toronto Star, she spoke publicly for the first time about the breakup of her longtime relationship with Julian's father, Hamilton businessman Ben Leonetti. Horwath had met Ben Leonetti in her university years, when she was working part-time as a waitress and he was a jazz musician. The two lived together for 25 years without getting married, and split up in 2010.
In the Canadian federal election of 1997, she was the NDP candidate against incumbent Liberal Stan Keyes in the riding of Hamilton West. Although unsuccessful, her second-place finish was a significant improvement on previous NDP efforts in the riding, and gave her an increased level of prominence in the city.
Later in 1997, she was elected to Hamilton City Council for Ward Two, outpolling two incumbents who had represented the area for more than 20 years. She emerged as a prominent voice for the political left in the city, and was re-elected to council in 2000 and 2003. During her three terms as city councillor, she chaired the solid waste management committee and the municipal non-profit housing corporation.
Horwath was elected to the Legislative Assembly of Ontario in a 2004 by-election in the then-extant provincial riding of Hamilton East, defeating Liberal candidate Ralph Agostino to succeed the deceased Liberal member Dominic Agostino, Ralph's brother. Winning 63.6 per cent of the vote, up from the NDP's 29.4 per cent in that riding six months earlier, her landslide victory boosted the NDP's seat count over the threshold for official party status in the legislature, and helped give the federal New Democratic Party a bounce in Hamilton that would continue into the federal election shortly thereafter.
In the 2007 election, Horwath ran in the new riding of Hamilton Centre, due to redistricting that divided her former Hamilton East riding between Hamilton Centre and the new riding of Hamilton East—Stoney Creek. Horwath's new Hamilton Centre riding included approximately half of her former riding as well as a portion of the former Hamilton West riding where she had run federally in 1997. It also included her entire former city council ward.
In the leadup to the campaign, Horwath was expected to face Hamilton West Liberal incumbent Judy Marsales. However, Marsales opted not to run for another term, and Horwath easily defeated Liberal candidate Steve Ruddick on election day.
On November 7, 2008, Horwath officially launched her campaign to win the party's leadership. The leadership election was held March 6–8, 2009. Horwath led on the first two ballots, and won on the third ballot with 60.4% of the vote defeating Peter Tabuns, Gilles Bisson and Michael Prue.
The 2011 provincial election saw a rise in support for the NDP under Horwath's leadership. The party won more than 20% of the popular vote for the first time since 1995 and almost doubled its seats to elect 17 members of the legislature. The election also resulted in the Liberal government of Dalton McGuinty being reduced to a minority government with the NDP holding the balance of power.
In April 2012, Horwath passed a leadership review at the party's convention with 76% support.
In the 2014 provincial election, the NDP was able to maintain its seat count of 21 at dissolution despite the loss of three seats in Toronto, but lost the balance of power when the Liberals took a majority win in the election. Horwath has faced criticism from some party members and progressives for running a populist campaign which they described as right-wing. Despite criticism of her leadership from some quarters, Horwath received a slightly increased level of support, 77%, at the party's post-election convention held on November 15.
In March 2012, Horwath received the EVE award which is sponsored by Equal Voice, a non-profit organization focused on promoting women in politics. Past recipients have included women from every level of government.
Source: "Declared Candidates," The Hamilton Spectator July 23, 2011, A6, News,
Teri Pecoskie. "Liberals give lawyer Hamilton Centre nod," The Hamilton Spectator August 22, 2011, News