Name

Andrea Bowers







Drawing lessons with andrea bowers and suzanne lacy
Andrea Bowers (born 1965) is a Los Angeles-based American artist working in a variety of media including video, drawing, and installation. Her work has been exhibited around the world, including museums and galleries in Germany, Greece, and Tokyo.
Contents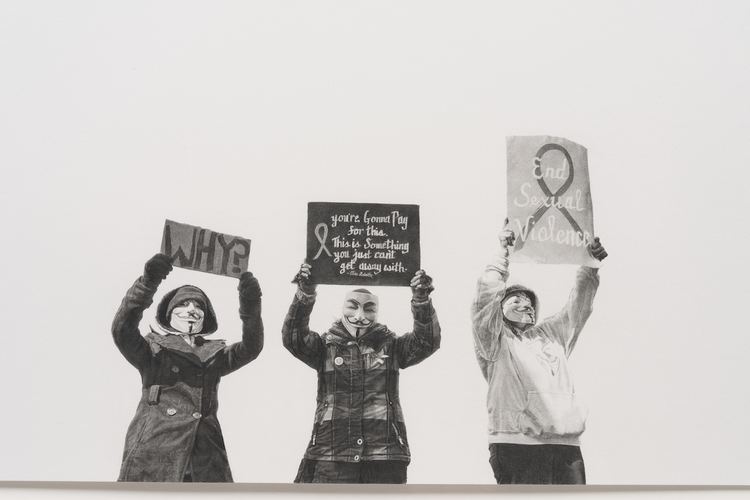 As a feminist and social activist, Bowers' work often invokes contemporary political issues, American history, and protest. Her work was included in the 2004 Whitney Biennial and 2008 California Biennial. She is on the graduate faculty at Otis College of Art and Design.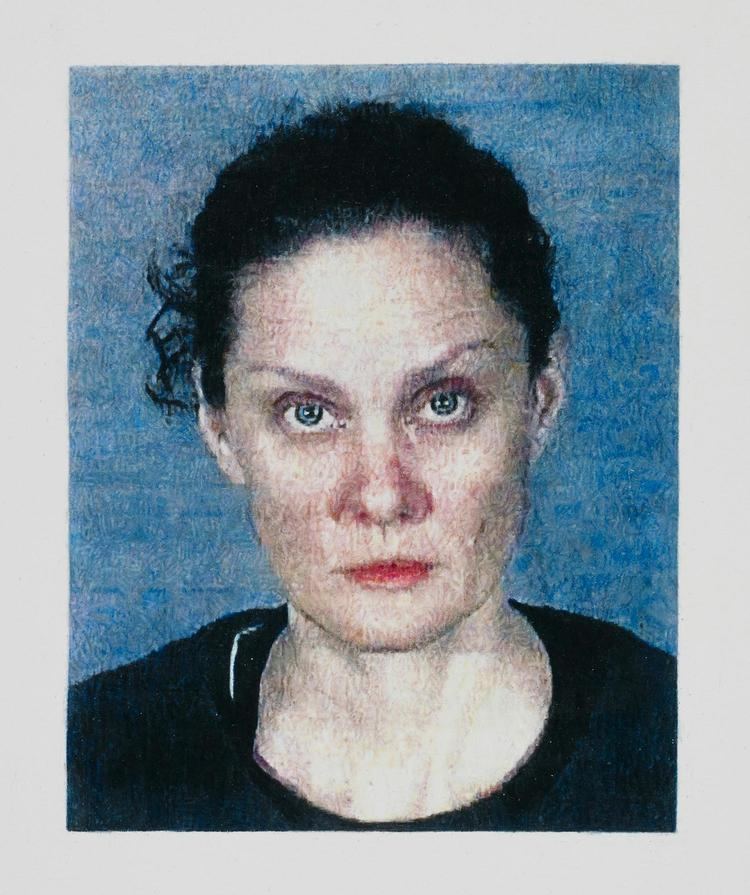 Early life and education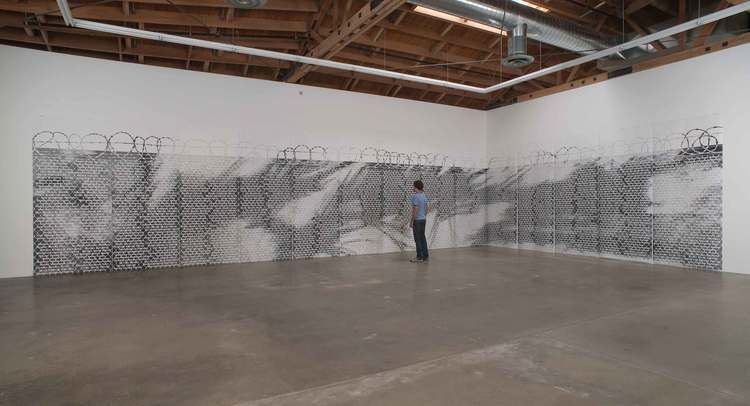 Andrea was born in Wilmington, Ohio, and grew up in "an apolitical Republican family." She holds an MFA degree from California Institute of the Arts. She also holds a BFA degree from Bowling Green State University, Bowling Green, Ohio.
Work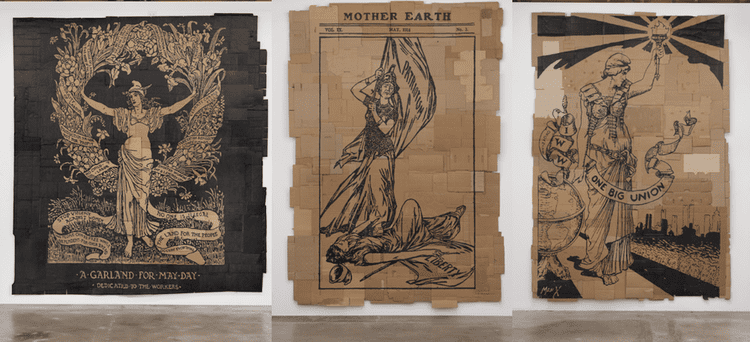 Bowers' recent work addresses such topics as immigration, environmental activism, and rape.
A 2014 solo exhibition at the Pomona College Museum of Art, #sweetjane, drew on research the artist conducted on the 2012 Steubenville High School rape case in Ohio. This exhibition draws attention to women's rights and rape culture, highlighting experiences of violence against women.
Although Bowers' works have been strongly political for most of the last decade, the tone is generally meditative rather than contentious. Her art bears witness to the human cost of ideological conflict, often revealing divisions among allies and the ways good intentions don't ensure open communication. In the video Circle (2009), four generations of women from the Native Alaskan Gwich'in people speak about their ambivalent relationship with other, non-local, activists against oil drilling in the Arctic National Wildlife Refuge. Shots of a vast Arctic landscape suggest that petty differences may mean little in the context of the immensity that unites them. Bowers' focus on individual voices humanizes what might otherwise read as petty squabbling in the face of enormous challenges.
Bowers employs negative space in her work in subtle and potent ways. A compelling instance of this is found in a growing body of drawings Bowers has made over the years, based on photos of women taken at immigrant rights marches, feminist rallies, gay rights protests and environmentalist actions. In these drawings, individual figures and the signs they carry are removed from their original contexts, leaving them isolated and vulnerable, while foregrounding their individual identity. In Girlfriends (May Day March, Los Angeles, 2011) this feeling is particularly strong, as each of two smiling women is segregated onto her own sheet of paper, with a tiny but unbridgeable gap. The placement of these drawings among much larger works in her last solo exhibition at Andrew Kreps in New York only served to reinforce the strangely ambivalent mood they evoke.
Bowers has also explored and critiqued the nexus of space, freedom, openness with political and financial self-interest. In a video titled The United States v. Tim DeChristopher (2010) that was also displayed in "The Political Landscape," environmental activist Tim DeChristopher speaks on camera about his sabotage of a 2008 government auction that made 150,000 acres of untouched Utah land available for oil and gas drilling. His account of deliberately fraudulent bidding is intercut with panoramic footage of the territory that was up for grabs; in each sequence, a tiny speck in the distance grows until the viewer can see that it is Bowers herself, carrying a slate on which she writes that location's parcel number.
In contrast, her 2007 film Sanctuary comments on the ways marginalized people create spaces of refuge against overwhelming cultural and political forces. The silent film features Elvira Arellano, an undocumented immigrant who sought refuge in Chicago's Adalberto United Methodist Church for over a year, as she sought to avoid deportation and separation from her eight-year-old son Saul, a U.S. citizen (she was eventually arrested and deported, just three weeks after Bowers met with her). As with so much of Bowers' work, Sanctuary disrupts entrenched political ideologies and contentious issues by focusing on individual, subjective experience.
Social practice
Throughout the last decade, Bowers has followed a relatively clear path from observer and commenter to committed activist. This progression is documented in a series of works that go back to the 2003 video Vieja Gloria, which dealt with the first suburban tree sit in the United States. Vieja Gloria describes the clash between activist John Quigley and Los Angeles County authorities over the proposed removal of "Old Glory," a 400-year-old oak located in Valencia, California. Quigley later convinced Bowers to undergo training in tree climbing and occupation, which she documented in the video Nonviolent Civil Disobedience Training-Tree Sitting Forest Defense (2009); in early 2011 she took part in a tree sit in Arcadia, which she also documented.
Some of Bowers' most fascinating works are those that attempt to erode the traditional barrier between the art world and the larger society in which it exists. Her tactic is simple but effective: She invites people who have a stake in the issues that concern her to enter the gallery space and directly engage with art-world regulars. Examples of this include a series of activist events that took place at Susanne Vielmetter throughout the run of "The Political Landscape," and her decision to link the opening reception for her 2009 show "Mercy Mercy Me" at Andrew Kreps with an international day of action proposed by climate activist organization 350.org. At times, these intrusions of activism into the artificially tranquil white-box gallery environment have proved disconcerting to the usual art crowd, and Bowers has had to assume the role of matchmaker, gently guiding people into her temporarily radicalized gallery spaces and reassuring them that it was OK to mingle with the members of the activist community who had showed up.
The latest iteration of this community-bridging tactic is the mobile installation Transformer Display for Community Fundraising (2011), created in conjunction with artist Olga Koumoundouros. Initially staged in Los Angeles, it consisted of a bricolage-based transient sculpture designed to raise money for and disseminate information about local activist organizations and neighborhood-based charities. In its most recent incarnation near Art Basel Miami Beach 2011 (under the name Transformer: Display of Community Information And Activation), it took the form of a cluster of activist kiosks and a replica of the semi-legendary Miami homeless camp Umoja Village, which burned down mysteriously in 2007 after the city's efforts to remove it via legal means proved ineffective.
Despite its presence as an officially sanctioned part of Art Basel–or perhaps because of it–this latest version of Transformer stood out as a rare voice of political engagement in a year when nervous speculation ran high over the possibility of an Occupy-style disruption of business as usual. Though it was fairly gentle as protests go, Transformer provided a fascinating counterpoint to the aura of excess that often pervades the Miami fairs. If nothing else, its embrace of the Occupy movement's spirit of local action and communal solidarity hinted at a model by which the art world might contribute to positive social change without co-opting activism or transforming its message into just another stream of precious and sale-able objects.
#sweetjane
#sweetjane explores the Steubenville, Ohio, rape case and the social media-driven activism that brought the young men responsible to trial. At the Pitzer College Art Galleries was installed a 70-foot-long drawing of the text messages sent between the teenagers in the 48 hours after the assault on the young woman, who is known in the media and throughout the trial as Jane Doe.
The Pomona College Museum of Art housed a video installation comprising appropriated media footage and billboard-size photographs of disguised Anonymous protestors at the trial. Taken together, the installations create an incredibly damning document, not only of the events and of the young men, who were depicted sympathetically by the media, but also of the significant tolerance in this country toward sexual assault. Bowers' activities in creating this work reflect the fluidity between art and activism that is a hallmark of her practice, as well as her belief that art can bear witness to the individual gestures and commitments that collectively enact significant social change.
No Olvidado (Not Forgotten)
No Olvidado (Not Forgotten) is the title of one of Andrea Bowers' largest and most well-known works, but the phrase could easily serve as a statement of purpose for a great deal of her artistic output. Covering three walls of her 2010 exhibition "The Political Landscape" at Susanne Vielmetter Los Angeles Projects, the piece consisted of a massive 10-foot-tall drawing that stretched for almost 96 feet. Against a smudgy graphite background, it portrayed the white ghost of a chain-link fence topped with coiled barbed wire, through which shone hundreds of names; each represented someone who died while trying to cross the Mexico/U.S. border.
The list of names featured in the work was sourced from Border Angels, an organization that aims to protect those traveling through the Imperial Valley desert region, the mountains around San Diego County, and the border region itself. However, this roll call remains incomplete because so many casualties of the attempted transition remain unidentified. Although the format echoed that of Maya Lin's Vietnam Memorial Wall, the delicate materials and haunting imagery in Bowers' piece provided a more subtle comment on the tenuous, shadowy lives of undocumented immigrants in the U.S. Like many of her works, No Olvidado served as a deliberately fragile and transient monument to the marginalized and forgotten, a surrogate for voices mostly consigned to oblivion by a society that finds their presence unsettling and inconvenient.
Letters to an Army of Three
Bowers was alerted to a collection of letters from women seeking abortions prior to Roe v. Wade addressed to the Army of Three, a group of 3 activist women who advocated for the legalization of abortion in the United States in the decade preceding the Supreme Court decision. The Army of Three had assembled a list of doctors who would provide abortions for women in need. Bowers employed what she describes as the "power of storytelling" in the video installation, Letters to an Army of Three, in which actors read the letters aloud. The video was installed in her solo show at REDCAT. Bowers work has been credited with influencing political debates regarding reproductive rights. Though her work originated in response to the Bush Administration's position against abortion, it continued to be cited afterward.
Exhibitions
She has exhibited at venues including:
the Vienna Secession
REDCAT
Santa Monica Museum of Art
Whitney Museum of American Art
Bard College
Kunsthalle Basel
the Museum of Contemporary Art in Los Angeles
the Museum of Contemporary Art in Chicago
New Museum
Frankfurter Kunstverein
Stedelijk Museum voor Actuele Kunst (Museum of Fine Arts)
Hammer Museum
Kunstmuseum Bonn
The Jewish Museum
Awards and grants
2009
Louis Comfort Tiffany Foundation Biennial Award
2008
United States Artists Broad Fellow
2003
City of Los Angeles (C.O.L.A.) Fellowship Recipient for Visual Arts
1998
Nominee: Fondazione Sandretto Re Rebaudengo per larte Prize
WESTAF/NEA, Regional Fellowship for Visual Arts in Sculpture
References
Andrea Bowers Wikipedia
(Text) CC BY-SA