Prime Minister

Manmohan Singh




Succeeded by

Kapil Sibal




Nationality

Indian




Party

Dravida Munnetra Kazhagam




Children

Mayuri Raja




Preceded by

Dayanidhi Maran




Full Name

Andimuthu Raja




Occupation

Politician




Siblings

Andimuthu Kaliaperumal






Born

26 October 1963 (age 53) Velur, District Perambalur, Tamil Nadu, India (

1963-10-26

)


Political party

Dravida Munnetra Kazhagam




Spouse

M.A. Parameswari (m. 1996)




Education

Government Law College, Tiruchirapalli, Government Law College, Madurai, Government Arts college




Similar

Kanimozhi, Dayanidhi Maran, Shahid Balwa, Karunanidhi, Suresh Kalmadi
Andimuthu Raja (born 26 October 1963) is an Indian politician from the Dravida Munnetra Kazhagam (DMK) political party. He was a member of the 15th Lok Sabha representing the Nilgiris constituency of Tamil Nadu and had been elected to house for four times since 1996. Raja is an advocate by profession and he did his masters from Government Law College in Tiruchirappalli. He is an important leader of the DMK party. Raja was born in Velur in Perambalur District in the South Indian state of Tamil Nadu.
Contents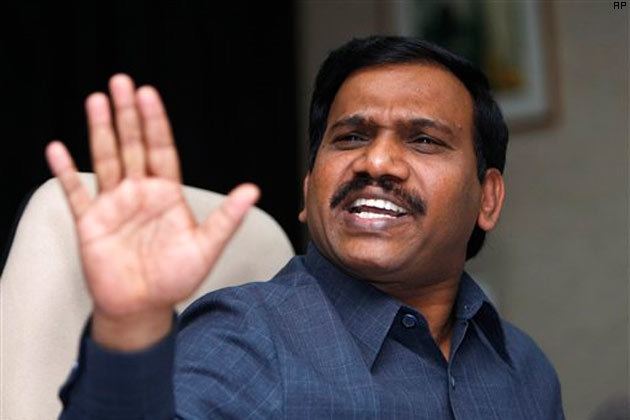 Raja was first elected to Parliament as a member of Lok Sabha in 1996 from the Perambalur constituency and was reelected from the same constituency in 1999 and 2004 elections and from Nilgris constituency in 2009. He was Minister of State for Rural development from 1996 to 2000, Minister of State, Health and Family Welfare from September 2000 to May 2004 and a cabinet minister for Environment and Forests from May 2004 to May 2007. He became the cabinet minister for Communication and Information Technology from May 2007, following the resignation of Dayanidhi Maran. Raja is primarily accused to have conspired the 2G Spectrum scam, where two other members from DMK, namely, Dayanidhi Maran and Kanimozhi are also accused. Raja and two of his former associates were arrested on 2 February 2011 and was placed for a period 15 months in judicial custody at Tihar Jail.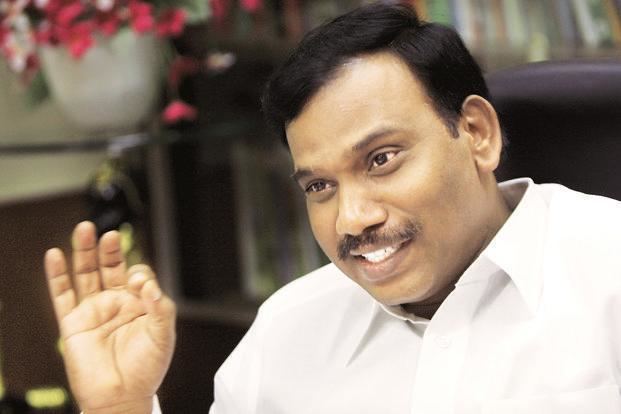 Early life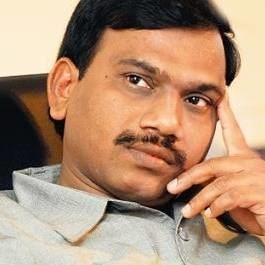 Raja was born to S.K. Andimuthu and Chinnapillai in Velur in Perambalur District in the South Indian state of Tamil Nadu. He did his Bachelor of Science from the Government Arts College in Musiri. He completed his graduation in law from the Government Law College in Madurai and his masters from Government Law College Tiruchirapalli. He is married to M. A. Parameswari and the couple have a daughter named Mayuri.
Political career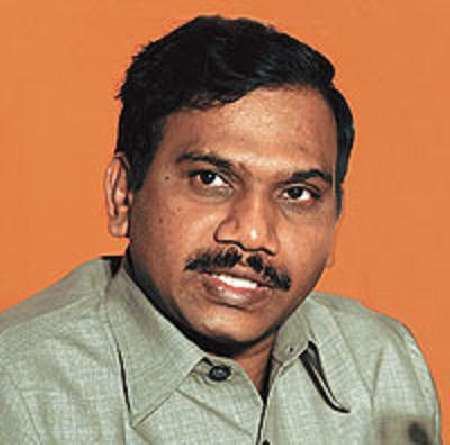 Raja started his political career as a student politician. He is from the Dalit community and quickly rose in party ranks of the Dravida Munnetra Kazhagam.
Positions held
1996: Elected to Lok Sabha (Eleventh) for the 1st time
13 October 1996-29 September 2000: Minister of State, Rural Development
May 1999: Elected to Lok Sabha (Thirteenth) for the second time
30 September 2000-21 May 2004: Minister of State, Health and Family Welfare
May 2004: Elected to Lok Sabha (Fourteenth) for the third time from Perambalur
23 May 2004-17 May 2007: Cabinet minister for Environment and Forest
18 May 2007-31 May 2009: Cabinet minister for Communication and Information Technology
May 2009: Elected to Lok Sabha (Fifteenth) for the fourth time from Nilgiris
As a minister
Raja was deputed as the Minister of State, Rural Development on 13 October 1996 and he continued to retain the post till 29 September 2000. On 30 September 2000, he was deputed as the minister of state for Health and Family welfare during the National Democratic Alliance. In December 2003, the DMK pulled out of the alliance and Raja resigned his minister's post along with his other DMK colleagues. He continued with the same ministry after the 2004 elections which was won by the Congress led alliance, which included the DMK. His tenure as an Environment ministry came under intense scrutiny in 2011 during the 2G Spectrum scam. His association with key accused in the 2G scam, Unitech and DB Realty, was rooted to 2004 when he was the Environment minister. One of the key points out of the CBI is the approval of 2016 clearances given by his ministry in a span of two years from 2006 to 2008, some of which were associated with trading of hazardous waste. The other issue raised was about the large majority of Raja's supporters in the expert appraisals committee (EAC), responsible for granting clearances to various sectors.
In 2007 May, Dinakaran, the newspaper run by Kalanidhi Maran, the elder brother of Dayanidhi Maran who was the central minister for IT and Communication, ran into a controversy when it published the results of a series of opinion polls which showed M. K. Stalin, the second son of Karunanidhi, having more approval (70%) than his elder brother M. K. Azhagiri (2%) as the political heir of Karunanidhi. It also showed others as 20%, possibly indicating Dayanidhi Maran and Kanimozhi. The Madurai office of Dinakaran was fire bombed by supporters of Alagiri and three employees were killed The Sun TV office in Madurai was also attacked by the perpetrators. A day after the incident, Prime Minister Manmohan Singh and Sonia Gandhi came to Chennai for felicitating Karunanidhi for 50 years in legislative assembly. Daynaidhi Maran, who usually accompanies Karunanidhi on every function, discarded the event as a mark of protest. On 13 May, the DMK administrative committee empowered Karunanidhi to remove Dayanidhi from the party. This subsequently led to his resignation from the central ministry. Following his resignation, the IT portfolio was allocated to Raja on 16 May 2007. On 17 October 2008, he submitted his post-dated resignation to the DMK party chief, M. Karunanidhi, in protest of the killings of Tamil civilians in Sri Lanka.
2G spectrum scandal
The 2G spectrum financial scandal involved the alleged corrupt sale in 2008 of telecommunications bandwidth to selected organisations at prices that understated the real market value of the asset. The sale is claimed to have occurred when Raja headed the Telecommunications and IT Ministry; it has been considered the largest political corruption case in modern Indian history, amounting to around ₹1,766.45 billion (US$26 billion) of lost income for the Government of India. It is alleged that the sale should have been put under a transparent auction system.
A first information report filed by the Central Bureau of Investigation (CBI) claims that the allocation was not done as per market prices. The Comptroller and Auditor General (CAG) holds Raja personally responsible for the sale of 2G spectrum at 2001 rates in 2008. In August 2010, evidence was submitted by the CAG showing that Raja had personally signed and approved the majority of the questionable allocations. Although the political opposition was demanding his resignation over the 2G spectrum scam, Raja initially refused to resign, stating his innocence, and this view was backed by his party president M. Karunanidhi. He eventually resigned on 14 November 2010. There will be further criminal investigation and action on Raja with reports being filed by the CAG and the CBI.
In 2011, the results of an investigation by retired judge Shivraj Patil, who was appointed by current telecom minister Kapil Sibal, has also found Raja to have been directly responsible for "procedural lapses" regarding the sale. The CBI and Enforcement Directorate estimate that Raja could have made as much as Rs 30 billion from the alleged bribes.
In January and February 2011, Raja's houses and offices were raided by the CBI, who seized computers as potential evidence. On 2 February 2011, the CBI arrested Raja with his aide, R. K. Chandolia, and Siddharth Behura, the former telecom secretary and placed in Tihar jail. Raja and R.K. Chandolia are heard in conversation with Niira Radia in the released Radia tapes.
Subsequent to his arrest, the DMK supported him on the basis that he was innocent until proven guilty. On 6 June 2012, Delhi court permits Raja to visit Tamil Nadu between 8 and 30 June, on grounds of discharging his previous duties in the state.
On 15 May 2012, he was granted bail by the Supreme court under a condition that he would not visit the Department of Telecommunications nor his home state Tamil Nadu. He stayed in Tihar jail for fifteen months. The Enforcement Directorate grilled Raja on 10 July 2012, for four hours, to ascertain his role in grant of 2G licenses especially to Swan Telecom and Unitech Wireless.
Involvement in real estate
Sadiq Batcha, a close friend of Raja's, shifted his base to Chennai from his hometown of Perambalur, after Raja became a central minister in 2004. He started a real estate firm called Green House Promoters, which had Raja's nephew Paramesh Kumar as joint managing director and Raja's brother A Kaliyaperumal and Raja's wife Parameswari as directors. Paramewari resigned the post on account of investigations. Batcha started another real estate firm in 2008 called Equaas Estates Pvt Ltd, which had Parameswari as a director. The firm had a turn over of 755 crores in two years, mainly attributed to the association of Raja. Batcha was put under the CBI scanner during the 2G Spectrum scam as they believed him to be the conduit for Raja. On 16 March 2011, Batcha was found dead in his Chennai residence. Police found a suicide note that read the reason as the excessive media coverage that maligned his image. Police registered a case under suspicious circumstances under Section 174 of the IPC.
References
Andimuthu Raja Wikipedia
(Text) CC BY-SA