Occupation

Actress, model




Height

1.73 m




Role

Actress




Name

Andie MacDowell




Years active

1977–present








Full Name

Rosalie Anderson MacDowell




Born

April 21, 1958 (age 65) (

1958-04-21

) Gaffney, South Carolina, United States


Children

Margaret Qualley, Rainey Qualley, Justin Qualley


Spouse

Rhett Hartzog (m. 2001–2004), Paul Qualley (m. 1986–1999)




TV shows

Jane by Design, The Secret of the Sahara


Movies

Groundhog Day, Four Weddings and a Fu, Magic Mike XXL, Sex - Lies - and Videotape, Greystoke: The Legend o


Similar People

Margaret Qualley, Rainey Qualley, Hugh Grant, Rhett Hartzog, Bill Murray
Andie macdowell and daughter rainey qualley
Rosalie Anderson "Andie" MacDowell (born April 21, 1958) is an American actress and fashion model. She made her film debut in 1984's Greystoke: The Legend of Tarzan, Lord of the Apes, before receiving critical acclaim for her role in Sex, Lies, and Videotape (1989). Since then she has appeared in several notable films, including Groundhog Day (1993) and Four Weddings and a Funeral (1994). She has also starred in Green Card (1990), Short Cuts (1993), Michael (1996) and Multiplicity (1996). From 2013 to 2015, she starred in the drama series Cedar Cove.
Contents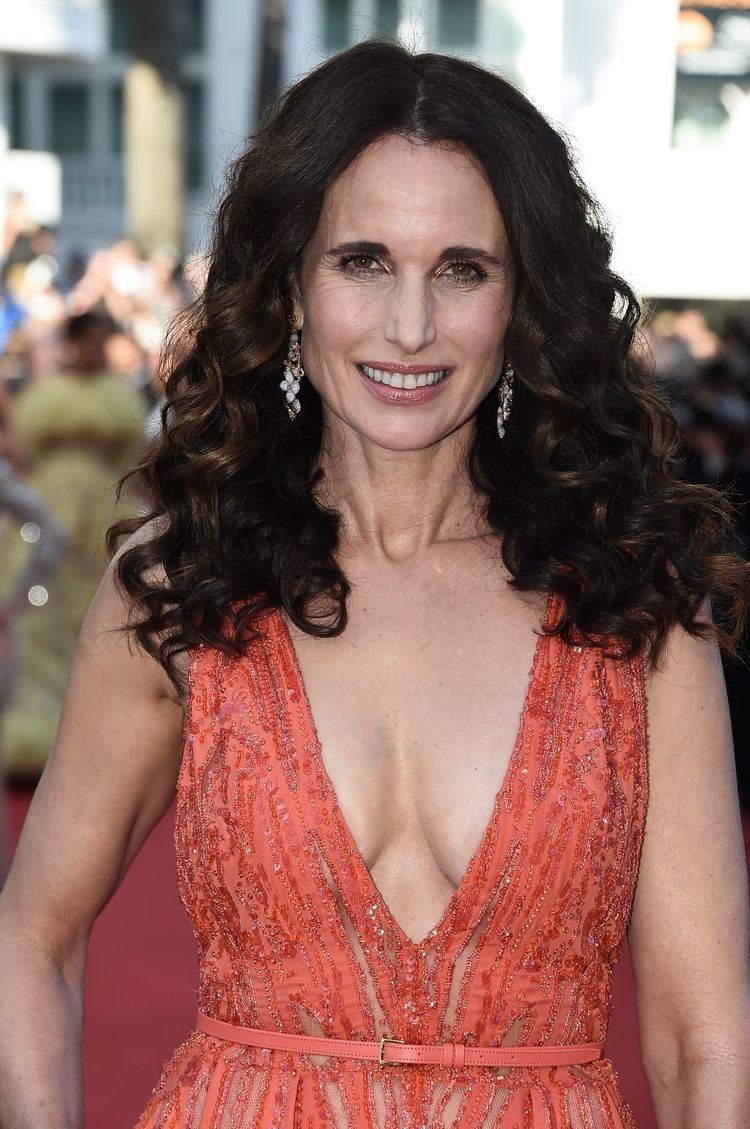 She has modeled for Calvin Klein Inc. and has been a spokeswoman for L'Oréal since 1986, celebrating 30 years with the company in 2016.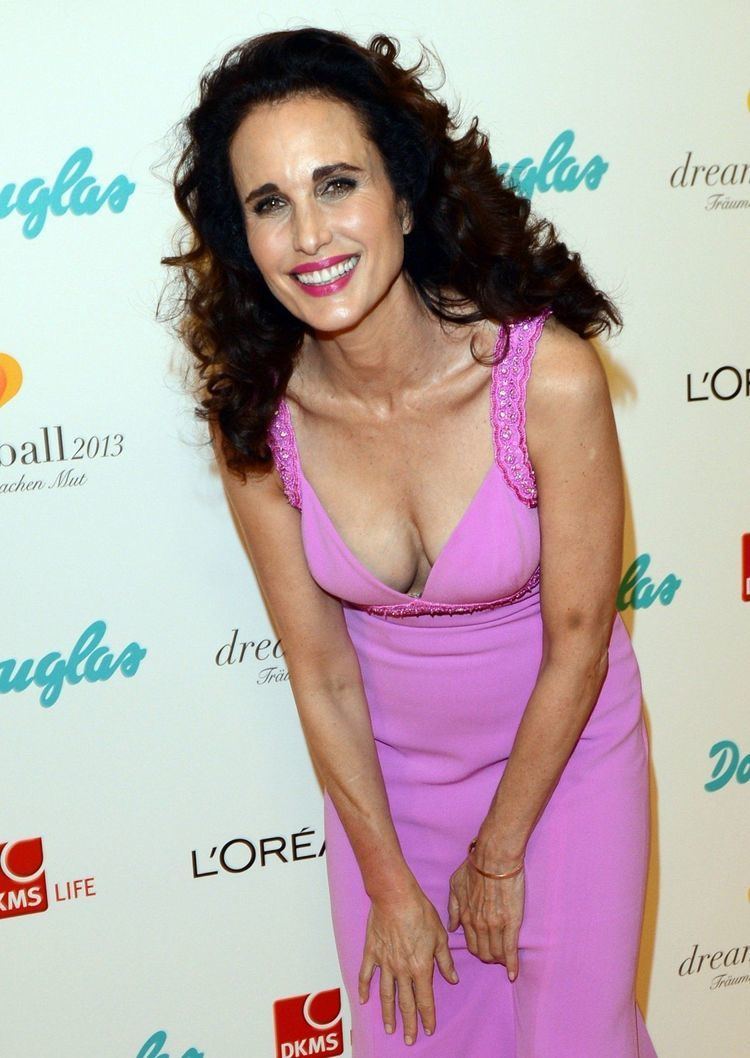 Andie macdowell wiki videos
Early life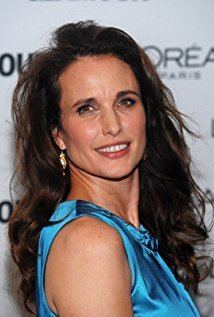 Andie MacDowell was born in Gaffney, South Carolina, the daughter of Pauline "Paula" Johnston (née Oswald), a music teacher, and Marion St. Pierre MacDowell, a lumber executive. Her ancestry includes English, French, Scottish, Irish, and Welsh. Her family owned an antebellum period summer house in Arden, North Carolina, which has since been made into a bed-and-breakfast named the Blake House Inn. Graffiti from her childhood visits are preserved in an upstairs bedroom closet. She attended Winthrop University for two years before moving briefly to Columbia, South Carolina. She was initially spotted by a rep from Wilhelmina Models while on a trip to Los Angeles before she would later sign with Elite Model Management in New York City in 1978.
Career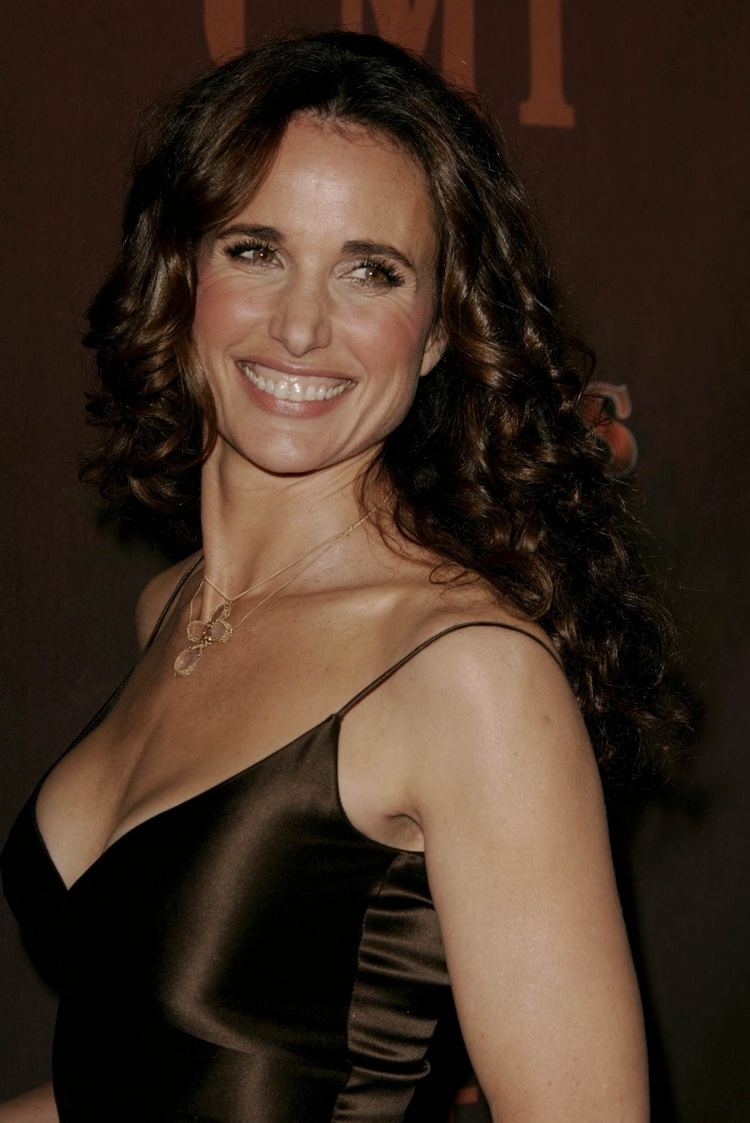 In the early 1980s, MacDowell modelled for Vogue magazine and appeared in ad campaigns for Yves Saint Laurent, Vassarette, Armani perfume, Sabeth-Row, Mink International, Anne Klein and Bill Blass. A series of billboards in Times Square and national television commercials for Calvin Klein drew attention to her and led to her 1984 film debut in Greystoke: The Legend of Tarzan, Lord of the Apes, a role in which her lines were dubbed by Glenn Close because her Southern accent was too pronounced for her to play the role of an Englishwoman. In 1985, she had a supporting part as a doctor in St. Elmo's Fire.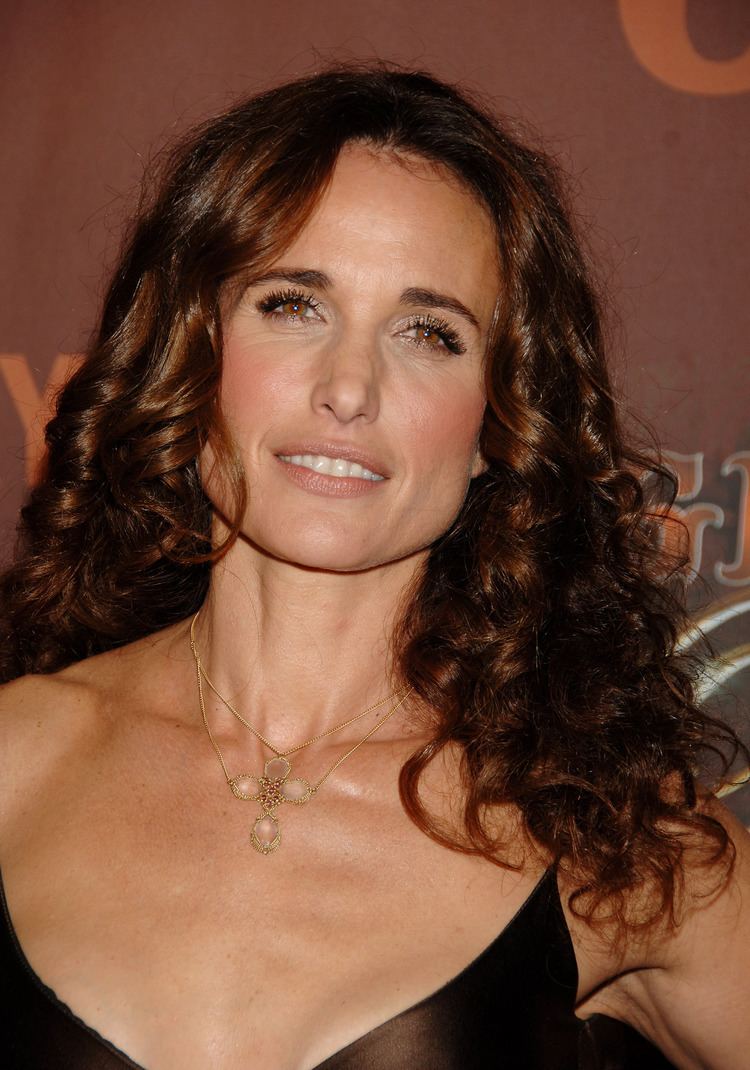 MacDowell studied method acting with teachers from the Actors Studio, in addition to working privately with the renowned coach Harold Guskin. Four years later, director Steven Soderbergh cast her in the independent film Sex, Lies, and Videotape (1989). Her performance earned her an Independent Spirit Award, a Los Angeles Film Critics Association Award for Best Actress, several other award nominations and led to a series of starring roles in films such as Green Card, The Object of Beauty, and Short Cuts. In the 1990s, MacDowell achieved stardom due to the box office success of director Harold Ramis's 1993 comedy, Groundhog Day, and Four Weddings and a Funeral (1994), opposite Hugh Grant.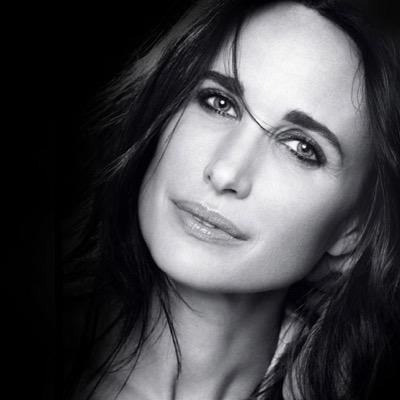 Since 1986, MacDowell has appeared in print and television advertisements for the cosmetic and haircare company L'Oréal. In later years she has acted primarily on television and in independent films. In 2012 she co-starred in the short-lived ABC Family series Jane by Design. From 2013 to 2015, she starred in the Hallmark Channel family series Cedar Cove.
Personal life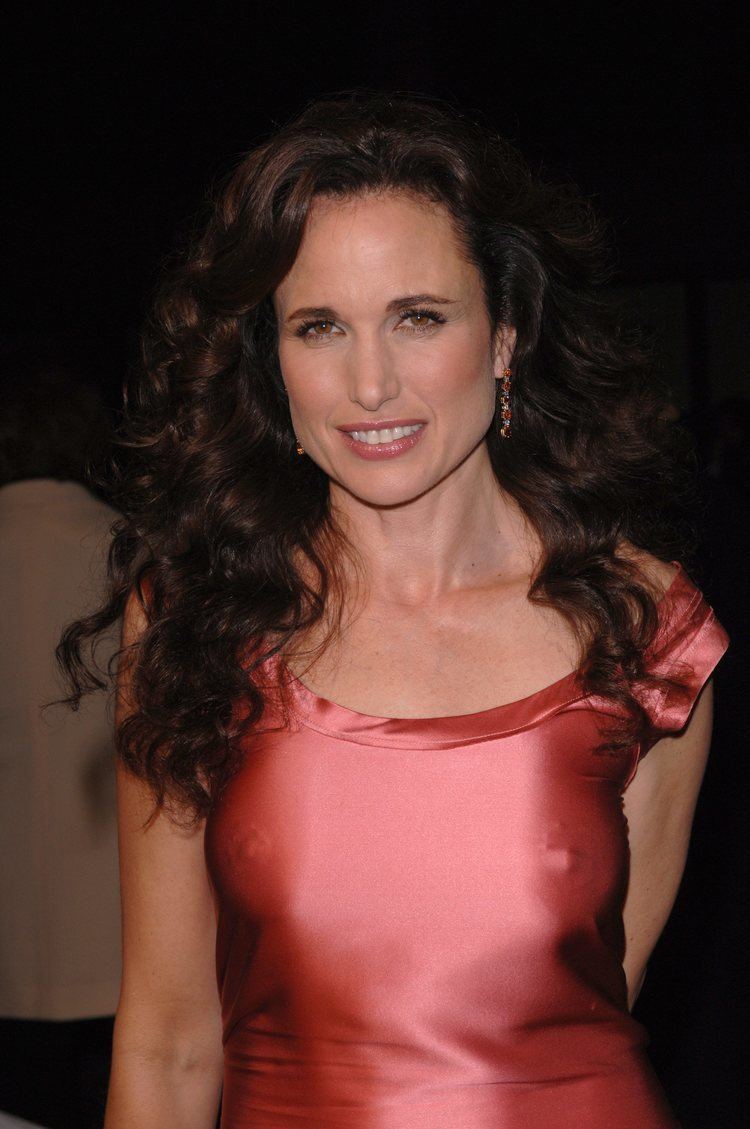 MacDowell married rancher and fellow former model Paul Qualley in 1986. The two met while both were posing for Gap ads. They had a son, Justin (born 1986), and two daughters, Rainey (born 1990, named Miss Golden Globe 2012) and Sarah Margaret Qualley (born 1994), an actress. They divorced in 1999. She was married to businessman Rhett Hartzog from November 10, 2001, until their divorce in October 2004.
As of 2013, MacDowell resides in Marina del Rey, California.
Filmography
Actress
-
Red Right Hand (post-production)
as
Big Cat
-
The Other Zoey (post-production)
as
Connie MacLaren
2023
The Way Home (TV Series)
as
Del Landry
- Not All Who Wander Are Lost (2023) - Del Landry
- The Day the Music Died (2023) - Del Landry
- Lovefool (2023) - Del Landry
- The End of the World as We Know It (2023) - Del Landry
- Building a Mystery (2023) - Del Landry
- Don't Dream It's Over (2023) - Del Landry
- What's My Age Again? (2023) - Del Landry
- I Don't Want to Miss a Thing (2023) - Del Landry
- Scar Tissue (2023) - Del Landry
- Mothers and Daughters (2023) - Del Landry
2022
Good Girl Jane
as
Ruth Rosen
2022
Along for the Ride
as
Victoria
2021
Maid (TV Mini Series)
as
Paula Langley
- Snaps (2021) - Paula Langley
- Sky Blue (2021) - Paula Langley
- Bear Hunt (2021) - Paula Langley
- String Cheese (2021) - Paula Langley
- M (2021) - Paula Langley
- Thief (2021) - Paula Langley
- Sea Glass (2021) - Paula Langley
- Ponies (2021) - Paula Langley
- Dollar Store (2021) - Paula Langley
2021
Mr. Mayor (TV Series)
as
Andie MacDowell
- Brentwood Trash (2021) - Andie MacDowell
2020
Dashing in December (TV Movie)
as
Deb Burwall
2020
Wireless (TV Mini Series short)
as
Elaine Braddock
- 10% (2020) - Elaine Braddock
- 20% (2020) - Elaine Braddock
- 40% (2020) - Elaine Braddock (credit only)
- 50% (2020) - Elaine Braddock
- 60% (2020) - Elaine Braddock
- 70% (2020) - Elaine Braddock
- 80% (2020) - Elaine Braddock
- 90% (2020) - Elaine Braddock
- 100% (2020) - Elaine Braddock
2020
The Dress Up Gang (TV Series)
as
Andie
- The Club/Cory From Beyond (2020) - Andie
- Ding Dong Ditcher (2020) - Andie
- Big League/Cory's Truck (2020) - Andie
- Donny's Dinner Date/Toothpick (2020) - Andie
- Sigourney Weaver/Finding Frankie (2020) - Andie
- Burger Buddies/New Look Day (2020) - Andie
2019
Lovestruck (TV Movie)
as
Lily
2019
Four Weddings and a Funeral (TV Mini Series)
as
Mrs. Howard
- We Broke (2019) - Mrs. Howard
2019
One Red Nose and a Wedding (TV Short)
as
Carrie
2019
The Last Laugh
as
Doris Lovejoy
2019
Cuckoo (TV Series)
as
Ivy Mittelfart
- Two Engagements and a Funeral (2019) - Ivy Mittelfart
- Divorce Party (2019) - Ivy Mittelfart
- Election (2019) - Ivy Mittelfart
- Macbeth (2019) - Ivy Mittelfart
- Weed Farm (2019) - Ivy Mittelfart
- Ivy Nanny (2019) - Ivy Mittelfart
- Ivy Arrives (2019) - Ivy Mittelfart
2018
Paper Year
as
Joanne Winters
2018
The Beach House (TV Movie)
as
Lovie
2017
Christmas Inheritance
as
Debbie Collins
2017
Only the Brave
as
Marvel Steinbrink
2017
At Home in Mitford (TV Movie)
as
Cynthia Coppersmith
2017
Love After Love
as
Suzanne
2017
Trial & Error (TV Series)
as
Margaret Henderson
- The Verdict (2017) - Margaret Henderson
2016
Model Woman (TV Series)
as
Bertie Geiss
2013
Cedar Cove (TV Series)
as
Olivia Lockhart
- Getting to Know You: Part Two (2015) - Olivia Lockhart
- Getting to Know You: Part One (2015) - Olivia Lockhart
- Engagements (2015) - Olivia Lockhart
- The Good Fight (2015) - Olivia Lockhart
- Runaway (2015) - Olivia Lockhart
- Batter Up (2015) - Olivia Lockhart
- Civil War (2015) - Olivia Lockhart
- Guess Who's Coming to Dinner (2015) - Olivia Lockhart
- Something's Gotta Give (2015) - Olivia Lockhart
- A Helping Hand (2015) - Olivia Lockhart
- Hello Again (2015) - Olivia Lockhart
- Resolutions and Revelations (2014) - Olivia Lockhart
- Stand and Deliver (2014) - Olivia Lockhart
- Secrets and Lies (2014) - Olivia Lockhart
- Point of No Return (2014) - Olivia Lockhart
- Something Wicked This Way Comes (2014) - Olivia Lockhart
- One Day at a Time (2014) - Olivia Lockhart
- Trials and Tribulations (2014) - Olivia Lockhart
- Starting Over (2014) - Olivia Lockhart
- Old Wounds (2014) - Olivia Lockhart
- Relations and Relationships (2014) - Olivia Lockhart
- Letting Go: Part 2 (2014) - Olivia Lockhart
- Letting Go: Part 1 (2014) - Olivia Lockhart
- Homecoming (2013) - Olivia Lockhart
- A New Life (2013) - Olivia Lockhart
- Stormfront (2013) - Olivia Lockhart
- Conflicts of Interest (2013) - Olivia Lockhart
- Old Flames, New Sparks (2013) - Olivia Lockhart
- And the Winner Is- (2013) - Olivia Lockhart
- Help Wanted (2013) - Olivia Lockhart
- Free Spirits (2013) - Olivia Lockhart
- For the Sake of the Children (2013) - Olivia Lockhart
- Suspicious Minds (2013) - Olivia Lockhart
- Reunion (2013) - Olivia Lockhart
- A House Divided (2013) - Olivia Lockhart
- Cedar Cove: The Beginning (2013) - Olivia Lockhart
2015
Magic Mike XXL
as
Nancy Davidson
2013
Breaking at the Edge
as
Dr. Gohzland
2012
Jane by Design (TV Series)
as
Gray Chandler Murray
- The Bonus Check (2012) - Gray Chandler Murray
- The Sleepover (2012) - Gray Chandler Murray
- The Backup Dress (2012) - Gray Chandler Murray
- The Online Date (2012) - Gray Chandler Murray
- The Second Chance (2012) - Gray Chandler Murray
- The Surprise (2012) - Gray Chandler Murray
- The Celebrity (2012) - Gray Chandler Murray
- The Replacement (2012) - Gray Chandler Murray
- The End of the LIne (2012) - Gray Chandler Murray
- The Getaway (2012) - Gray Chandler Murray
- The Wedding Gown (2012) - Gray Chandler Murray
- The Teen Model (2012) - Gray Chandler Murray
- The Image Issue (2012) - Gray Chandler Murray
- The Look Book (2012) - Gray Chandler Murray
- The Finger Bowl (2012) - Gray Chandler Murray
- The Birkin (2012) - Gray Chandler Murray
- The Runway (2012) - Gray Chandler Murray
- Pilot (2012) - Gray Chandler Murray
2012
Mighty Fine
as
Stella Fine
2012
30 Rock (TV Series)
as
Claire Williams
- Leap Day (2012) - Claire Williams
2010
Lone Star (TV Series)
as
Alex
- Small Time - Alex
- Unveiled - Alex
2010
Daydream Nation
as
Enid Goldberg
2010
Happiness Runs
as
Victor's Mother
2010
The Front (TV Movie)
as
Monique Lamont
2010
At Risk (TV Movie)
as
Monique Lamont
2010
The 5th Quarter
as
Maryanne Abbate
2009
The Six Wives of Henry Lefay
as
Kate
2008
The Prince of Motor City (TV Movie)
as
Gertrude Hamilton
2008
Inconceivable
as
Charlotte 'Lottie' Louise Du Bose (as Andie Macdowell)
2007
Insatiable (TV Series)
2006
Barnyard
as
Etta the Hen (voice)
2005
Tara Road
as
Marilyn Vine
2005
Riding the Bus with My Sister (TV Movie)
as
Rachel Simon
2005
The Last Sign
as
Kathy Macfarlane
2003
The Practice (TV Series)
as
Grace Chapman
- Les Is More (2003) - Grace Chapman
2001
Dinner with Friends (TV Movie)
as
Karen
2001
On the Edge (TV Movie)
as
Lisa Waverly (segment "Reaching Normal")
2001
Town & Country
as
Eugenie
2000
Harrison's Flowers
as
Sarah Lloyd
1999
The Muse
as
Laura Phillips
1999
Muppets from Space
as
Shelley Snipes
1998
Just the Ticket
as
Linda Palinski
1997
The End of Violence
as
Paige Stockard
1996
Michael
as
Dorothy Winters
1996
Multiplicity
as
Laura Kinney
1995
Unstrung Heroes
as
Selma Lidz
1994
Bad Girls
as
Eileen Spenser
1994
Four Weddings and a Funeral
as
Carrie - Wedding One (as Andie Macdowell)
1993
Short Cuts
as
Ann Finnigan
1992
The Player
as
Andie MacDowell
1991
Women & Men 2: In Love There Are No Rules (TV Movie)
as
Emily (segment "A Domestic Dilemma")
1991
Hudson Hawk
as
Anna Baragli
1991
The Object of Beauty
as
Tina (Oates)
1989
Sex, Lies, and Videotape
as
Ann
1988
Spenser: For Hire (TV Series)
as
Maggie
- McAllister (1988) - Maggie
1988
Secret of the Sahara (TV Mini Series)
as
Anthea
- Episode #1.4 (1988) - Anthea
- Episode #1.3 (1988) - Anthea
- Episode #1.2 (1988) - Anthea
- Episode #1.1 (1988) - Anthea
1985
St. Elmo's Fire
as
Dale Biberman
1984
Greystoke: The Legend of Tarzan, Lord of the Apes
as
Miss Jane Porter
Producer
2023
The Way Home (TV Series) (executive producer - 10 episodes)
- Not All Who Wander Are Lost (2023) - (executive producer)
- The Day the Music Died (2023) - (executive producer)
- Lovefool (2023) - (executive producer)
- The End of the World as We Know It (2023) - (executive producer)
- Building a Mystery (2023) - (executive producer)
- Don't Dream It's Over (2023) - (executive producer)
- What's My Age Again? (2023) - (executive producer)
- I Don't Want to Miss a Thing (2023) - (executive producer)
- Scar Tissue (2023) - (executive producer)
- Mothers and Daughters (2023) - (executive producer)
2023
My Happy Ending (executive producer)
2020
Dashing in December (TV Movie) (executive producer)
2018
The Beach House (TV Movie) (executive producer)
2017
At Home in Mitford (TV Movie) (executive producer)
2013
Cedar Cove (TV Series) (executive producer - 35 episodes)
- Getting to Know You: Part Two (2015) - (executive producer)
- Getting to Know You: Part One (2015) - (executive producer)
- Engagements (2015) - (executive producer)
- The Good Fight (2015) - (executive producer)
- Runaway (2015) - (executive producer)
- Batter Up (2015) - (executive producer)
- Civil War (2015) - (executive producer)
- Guess Who's Coming to Dinner (2015) - (executive producer)
- Something's Gotta Give (2015) - (executive producer)
- A Helping Hand (2015) - (executive producer)
- Hello Again (2015) - (executive producer)
- Resolutions and Revelations (2014) - (executive producer)
- Stand and Deliver (2014) - (executive producer)
- Secrets and Lies (2014) - (executive producer)
- Point of No Return (2014) - (executive producer)
- Something Wicked This Way Comes (2014) - (executive producer)
- One Day at a Time (2014) - (executive producer)
- Trials and Tribulations (2014) - (executive producer)
- Starting Over (2014) - (executive producer)
- Old Wounds (2014) - (executive producer)
- Relations and Relationships (2014) - (executive producer)
- Letting Go: Part 2 (2014) - (executive producer)
- Letting Go: Part 1 (2014) - (executive producer)
- Homecoming (2013) - (executive producer)
- A New Life (2013) - (executive producer)
- Stormfront (2013) - (executive producer)
- Conflicts of Interest (2013) - (executive producer)
- Old Flames, New Sparks (2013) - (executive producer)
- And the Winner Is- (2013) - (executive producer)
- Help Wanted (2013) - (executive producer)
- Free Spirits (2013) - (executive producer)
- For the Sake of the Children (2013) - (executive producer)
- Suspicious Minds (2013) - (executive producer)
- Reunion (2013) - (executive producer)
- A House Divided (2013) - (executive producer)
2012
Mighty Fine (co-producer)
2010
Before the First Pitch (Documentary short) (executive producer)
1998
Just the Ticket (executive producer)
Writer
2008
Inconceivable (devised in collaboration with - as Andie Macdowell)
Soundtrack
1998
Just the Ticket (music: "Big Date")
1996
Michael (performer: "Sittin' by the Side of the Road")
Thanks
2019
Hugh Grant: A Life on Screen (TV Movie documentary) (thanks)
2017
Kevyn Aucoin: Beauty & the Beast in Me (Documentary) (special thanks)
2002
Groundhog Day: The Weight of Time (Video documentary short) (special thanks)
Self
2010
Live with Kelly and Mark (TV Series)
as
Self - Guest / Self
- Live's After Oscar Show - 2023 (2023) - Self
- Guest Co-Host Anderson Cooper/Zach Braff/Andie MacDowell (2014) - Self - Guest
- Episode dated 7 April 2010 (2010) - Self - Guest
2023
The Oscars (TV Special)
as
Self - Presenter
2008
Entertainment Tonight (TV Series)
as
Self
- Episode #42.155 (2023) - Self
- Episode #41.17 (2021) - Self
- Episode #38.296 (2019) - Self
- Episode dated 26 June 2015 (2015) - Self
- Episode dated 21 May 2015 (2015) - Self
- Episode dated 9 April 2008 (2008) - Self
2023
The Jennifer Hudson Show (TV Series)
as
Self
- Andie MacDowell/Tinashe (2023) - Self
2019
The Late Late Show with James Corden (TV Series)
as
Self - Guest / Self
- Andie MacDowell/Billy Porter/Stacey Ryan (2023) - Self
- Andie MacDowell/Rudi Dharmalingame/Calum Scott (2021) - Self - Guest
- Michael Moore/Andie MacDowell/Why Don't We (2021) - Self - Guest
- Jeff Goldblum/Andie MacDowell/Bishop Briggs (2019) - Self - Guest
- Claire Foy/Andie MacDowell/Freya Ridings (2019) - Self - Guest
2015
Made in Hollywood (TV Series)
as
Self
- Missing/Alice, Darling/The Way Home (2023) - Self
- Terminator: Genisys/Magic Mike XXL/Jackie & Ryan (2015) - Self
2023
The Kelly Clarkson Show (TV Series)
as
Self
- Andie MacDowell/Whitney Peak/Brad Meltzer/Scarlett Johansson/Deon Cole (2023) - Self
2019
Today (TV Series)
as
Self - Guest
- Episode dated 10 January 2023 (2023) - Self - Guest
- Episode dated 5 October 2021 (2021) - Self - Guest
- Episode dated 22 August 2019 (2019) - Self - Guest
2021
L'Oreal Paris Women of Worth (TV Special)
2021
In Creative Company (Podcast Series)
as
Self
- MAID with Molly Smith Metzler, Margaret Qualley, Andie MacDowell, and more! (2021) - Self
2021
The Late Show with Stephen Colbert (TV Series)
as
Self - Guest
- Andie MacDowell/Lana Del Rey (2021) - Self - Guest
2021
The Graham Norton Show (TV Series)
as
Self - Guest
- Andie MacDowell/Jodie Comer/Billy Porter/Daisy Haggard/Texas (2021) - Self - Guest
2021
IMDb on the Scene - Interviews (TV Series)
as
Self
- Maid (2021) - Self
2021
Access Hollywood (TV Series)
as
Self
- Episode #26.14 (2021) - Self
2021
Attack of the Hollywood Cliches! (TV Special documentary)
as
Self - Actor, Four Weddings and a Funeral
2021
Leute heute (TV Series documentary)
as
Self
- Episode dated 8 July 2021 (2021) - Self
2021
The Drew Barrymore Show (TV Series)
as
Self - Guest
- Jameela Jamil/Marcus Samuelsson/Andie MacDowell (2021) - Self - Guest
2020
Women of Worth (TV Special)
as
Self
2020
Wim Wenders: Desperado (Documentary)
as
Self
2019
Let the Games Begin: The Making of Ready or Not (Video documentary short)
as
Self
2019
Hugh Grant: A Life on Screen (TV Movie documentary)
as
Self
2019
Días de cine (TV Series)
as
Self - Interviewee
- Episode dated 11 October 2019 (2019) - Self - Interviewee
2019
Inside of You with Michael Rosenbaum (Podcast Series)
as
Self
- Andie MacDowell (2019) - Self
2011
The Talk (TV Series)
as
Self - Guest
- Brigitte Nielsen/Andie MacDowell (2019) - Self - Guest
- Guest Co-Hostess Wanda Sykes/Andie MacDowell/Kevin Frazier/Sean Valentine/Chef Eric Greenspan (2015) - Self - Guest
- Episode #1.83 (2011) - Self - Guest
2019
Afrika Cafe with Andie MacDowall (Video documentary short)
as
Self
2019
Unstrung with Andie MacDowall (Video documentary short)
as
Self
2019
The One Show (TV Series)
as
Self
- Episode dated 14 March 2019 (2019) - Self
2018
Last Call with Carson Daly (TV Series)
as
Self - Guest
- Andie MacDowell/Hot Snakes/Josh Dallas/Melissa Roxburgh (2018) - Self - Guest
2018
Larry King Now (TV Series)
as
Self - Guest
- Andie MacDowell on ageism in Hollywood, fame, & forest protection (2018) - Self - Guest
2018
Something in the Air (Video documentary short)
as
Self
2017
Home & Family (TV Series)
as
Self
- Andie MacDowell/Bailee Madison/Joely Fisher/David Codney (2018) - Self
- Andie MacDowell/Lindsay Wagner/Cristine Prosperi & Jordan Rodrigues (2017) - Self
2015
Good Morning America (TV Series)
as
Self - Guest
- Episode dated 30 March 2018 (2018) - Self - Guest
- Episode dated 12 August 2015 (2015) - Self - Guest
2018
The Chew (TV Series)
as
Self - Guest
- Spring Fling! (2018) - Self - Guest
2018
Off Camera with Sam Jones (TV Series)
as
Self
- Andie MacDowell (2018) - Self
2017
Extra (TV Series)
as
Self
- Episode #24.83 (2017) - Self
2017
Access Daily (TV Series)
as
Self
- Episode dated 17 August 2017 (2017) - Self
2017
Kevyn Aucoin: Beauty & the Beast in Me (Documentary)
as
Self
2017
AFI Life Achievement Award (TV Series)
as
Self - Audience Member
- AFI Life Achievement Award: A Tribute to Diane Keaton (2017) - Self - Audience Member (uncredited)
2017
RuPaul's Drag Race (TV Series)
as
Self - Guest Judge
- Gayest Ball Ever (2017) - Self - Guest Judge
2016
Gylne tider (TV Series documentary)
as
Self
- Gylne tabber og tilbakeblikk (2016) - Self
2016
Hollywood Film Awards (Video)
as
Self
2013
The View (TV Series)
as
Self - Guest
- Guest Co-Hostess Michelle Collins/Jazz Jennings & Jeanette Jennings (2015) - Self - Guest
- Episode dated 3 October 2013 (2013) - Self - Guest
2015
Up Close with Carrie Keagan (TV Series)
as
Self - Guest
- Episode dated 4 July 2015 (2015) - Self - Guest
2015
Reel Junkie (TV Series)
as
Self
- Magic Mike XXL (2015) - Self
2014
Talk Stoop (TV Series)
as
Self - Guest
- Fall Preview (2014) - Self - Guest
2014
The Queen Latifah Show (TV Series)
as
Self - Guest
- Actress Andie MacDowell, "True Blood's" Rutina Wesley, and Survivors of Discovery's "Naked and Afraid" (2014) - Self - Guest
2014
HuffPost Live Conversations (TV Series)
as
Self
- Episode #1.15 (2014) - Self
2013
Close Up (TV Series documentary)
as
Self - Interviewee
- Andie MacDowell (2013) - Self - Interviewee
2013
Wiener Strudel (Documentary short)
as
Self
2013
Hollywood Health Report (TV Series)
as
Self - Guest
- Hollywood Health Report: Andie MacDowell Reveals Beauty Secrets (2013) - Self - Guest
2013
DouroAzul: Ceremonia Baptismo AmaVida e Queen Isabel (Video)
as
Self
2012
Everybody Cut: The Stars of 'Footloose' (Video documentary short)
as
Self
2012
Jump Back: Re-Imagining 'Footloose' (Video documentary short)
as
Self
2011
Weihnachten auf Gut Aiderbichl (TV Series)
as
Self
- Weihnachten auf Gut Aiderbichl (2011) - Self
2011
Hollywood at Home (TV Movie documentary)
2010
The Bonnie Hunt Show (TV Series)
as
Self - Guest
- Episode dated 15 April 2010 (2010) - Self - Guest
2005
The Late Late Show with Craig Ferguson (TV Series)
as
Self - Guest
- Episode #6.134 (2010) - Self - Guest
- Episode #2.186 (2006) - Self - Guest
- Episode #1.51 (2005) - Self - Guest
2009
Save the World Awards (TV Special)
as
Self - Host
2009
The 2009 Independent Spirit Awards (TV Special)
as
Self - Presenter
2009
Festival Updates (TV Special)
as
Self
2008
AFI's 10 Top 10: America's 10 Greatest Films in 10 Classic Genres (TV Special)
as
Self
1998
Caiga quien caiga (TV Series)
as
Self
- Episode dated 9 March 2007 (2007) - Self
- Episode dated 12 April 1998 (1998) - Self
2007
Film Independent's 2007 Spirit Awards (TV Special)
as
Self - Presenter
2006
Utter Talent: Voices of Barnyard (Video documentary)
2006
CMT Giants (TV Series)
as
Self
- Reba (2006) - Self
2005
Corazón de... (TV Series)
as
Self
- Episode dated 12 October 2005 (2005) - Self
2005
The Making of 'Tara Road' (TV Movie documentary)
as
Marilyn
2005
The CMT Music Awards (TV Special)
as
Self
2005
The Oprah Winfrey Show (TV Series)
as
Self - Guest
- Episode dated 25 March 2005 (2005) - Self - Guest
2005
The Ellen DeGeneres Show (TV Series)
as
Self - Guest
- Episode #2.131 (2005) - Self - Guest
2005
Tsunami Aid: A Concert of Hope (TV Special)
as
Self
2004
Die Lugners (TV Series)
as
Self
- Episode #2.3 (2004) - Self
2004
2nd Irish Film and Television Awards (TV Special)
as
Self - Presenter
2004
CQC Chile (TV Series)
as
Self
- Episode #3.1 (2004) - Self
2004
10th Annual Screen Actors Guild Awards (TV Special)
as
Self
2003
Wetten, dass..? (TV Series)
as
Self
- Wetten, dass..? aus Karlsruhe (2003) - Self
2002
V Graham Norton (TV Series)
as
Self - Guest
- Episode #1.18 (2002) - Self - Guest
1998
Cannes Film Festival (TV Series)
as
Self - Presenter
- Cérémonie de clôture du 55ème Festival international du film de Cannes (2002) - Self - Presenter
- Cérémonie de clôture du 51ème festival de Cannes (1998) - Self - Presenter
1994
Late Night with Conan O'Brien (TV Series)
as
Self - Guest
- Andie MacDowell/Tracy Morgan/Cracker (2002) - Self - Guest
- Andie MacDowell/Tony V./Myles Berkowitz (1999) - Self - Guest
- Andie MacDowell/Ewen Bremner/Jill Sobule (1996) - Self - Guest
- Andie McDowell/Jeff Garlin/David Wilcox (1994) - Self - Guest
1996
The Rosie O'Donnell Show (TV Series)
as
Self - Guest
- Episode dated 1 April 2002 (2002) - Self - Guest
- Episode dated 16 February 1999 (1999) - Self - Guest
- Episode #1.26 (1996) - Self - Guest
1993
Late Show with David Letterman (TV Series)
as
Self - Guest
- Episode dated 12 March 2002 (2002) - Self - Guest
- Episode dated 18 August 1999 (1999) - Self - Guest
- Episode dated 17 February 1999 (1999) - Self - Guest
- Episode dated 8 September 1998 (1998) - Self - Guest
- Episode dated 11 September 1997 (1997) - Self - Guest
- Episode dated 17 December 1996 (1996) - Self - Guest
- Episode dated 18 July 1996 (1996) - Self - Guest
- Episode dated 12 September 1995 (1995) - Self - Guest
- Episode dated 6 April 1994 (1994) - Self - Guest
- Episode dated 1 October 1993 (1993) - Self - Guest
2002
Groundhog Day: The Weight of Time (Video documentary short)
as
Self - Interviewee
2002
The 59th Annual Golden Globe Awards (TV Special documentary)
as
Self - Presenter
2001
Crush: Behind the Scenes (Video documentary short)
as
Self / Kate
2001
Making of Harrison's Flowers (Video documentary)
as
Self
2001
The Daily Show (TV Series)
as
Self - Guest
- Andie MacDowell (2001) - Self - Guest
1993
The Tonight Show with Jay Leno (TV Series)
as
Self - Guest
- Episode #9.130 (2001) - Self - Guest
- Episode #7.119 (1999) - Self - Guest
- Episode #6.114 (1998) - Self - Guest
- Episode #4.194 (1996) - Self - Guest
- Episode #4.57 (1995) - Self - Guest
- Episode #3.74 (1994) - Self - Guest
- Episode #2.54 (1993) - Self - Guest
2000
Comme au cinéma (TV Series documentary)
as
Self
- Episode dated 17 May 2001 (2001) - Self
- Episode dated 30 March 2000 (2000) - Self
2001
Nulle part ailleurs cinéma (TV Series)
as
Self
- Episode dated 9 May 2001 (2001) - Self
2000
Nulle part ailleurs (TV Series)
as
Self
- Episode dated 12 May 2000 (2000) - Self
1999
Frostrup on Sunday (TV Series)
as
Self
- Episode dated 13 June 1999 (1999) - Self
1999
Crónicas marcianas (TV Series)
as
Self - Guest
- Episode dated 6 April 1999 (1999) - Self - Guest
1999
The 71st Annual Academy Awards (TV Special)
as
Self - Presenter (uncredited)
1999
The 14th Annual IFP/West Independent Spirit Awards (TV Special)
as
Self - Presenter
1998
Siskel & Ebert (TV Series)
as
Self
- Godzilla/Fear and Loathing in Las Vegas/Bulworth/The Horse Whisperer (1998) - Self
1998
Bravo Profiles: The Entertainment Business (TV Mini Series documentary)
1998
Muppets Tonight (TV Series)
as
Self
- Andie MacDowell (1998) - Self
1997
Canary of the Ocean (Documentary)
as
Narrator
1997
The Directors (TV Series documentary)
as
Self
- The Films of Nora Ephron - Self
1997
Clive Anderson All Talk (TV Series)
as
Self
- Episode #2.12 (1997) - Self
- Episode #2.11 (1997) - Self
1997
Die Harald Schmidt Show (TV Series)
as
Self - Guest
- Show #345 (1997) - Self - Guest
1997
Ciné6 (TV Series)
as
Self
- Episode dated 11 May 1997 (1997) - Self
1997
Le journal de 20 heures (TV Series)
as
Self
- Episode dated 7 May 1997 (1997) - Self
1997
The 1997 IFP/West Annual Independent Spirit Awards (TV Special)
as
Self - Presenter
1997
Die goldene Kamera 1997 (TV Special)
as
Self
1997
La nuit des Césars (TV Series documentary)
as
Self - César d'honneur
- 22ème nuit des Césars (1997) - Self - César d'honneur
1996
Cinema 3 (TV Series)
as
Self - Interviewee
- Episode dated 15 November 1996 (1996) - Self - Interviewee
1993
Maury (TV Series)
as
Self - Guest
- Episode dated 14 October 1996 (1996) - Self - Guest
- Episode dated 22 October 1993 (1993) - Self - Guest
1996
Studio Gabriel (TV Series)
as
Self
- Episode dated 10 September 1996 (1996) - Self
1996
The Big Breakfast (TV Series)
as
Self - Special Guest
- Episode dated 2 September 1996 (1996) - Self - Special Guest
1995
Film '72 (TV Series)
as
Self
- Episode dated 30 October 1995 (1995) - Self
1995
The World of James Bond (TV Movie documentary)
as
Self
1995
The 67th Annual Academy Awards (TV Special)
as
Self - Presenter
1993
Four Weddings and a Funeral: Production Featurette (Video documentary short)
as
Self / Carrie
1993
Luck, Trust & Ketchup: Robert Altman in Carver Country (Documentary)
as
Self
1993
Cinefile: Made in the USA (TV Movie documentary)
as
Self
1993
The 65th Annual Academy Awards (TV Special)
as
Self - Presenter
1984
Late Night with David Letterman (TV Series)
as
Self - Guest
- Episode dated 9 February 1993 (1993) - Self - Guest
- Episode dated 3 May 1991 (1991) - Self - Guest
- Episode dated 8 August 1989 (1989) - Self - Guest
- Episode dated 10 May 1984 (1984) - Self - Guest
1992
Sex, Lies and Holes in the Skies (TV Movie documentary)
as
Self - Host
1990
The Tonight Show Starring Johnny Carson (TV Series)
as
Self - Guest
- Jay Leno (guest host), Andie MacDowell, Will Smith, Helen Shaver (1991) - Self - Guest
- Episode #28.195 (1990) - Self - Guest
1991
The 48th Annual Golden Globe Awards 1991 (TV Special)
as
Self - Nominee
1989
Saturday Night Live (TV Series)
as
Self - Host / Various
- Andie MacDowell/Tracy Chapman (1989) - Self - Host / Various
Archive Footage
2008
Entertainment Tonight (TV Series)
as
Self
- Episode #42.156 (2023) - Self
- Episode #41.18 (2021) - Self
- ET Exclusives (2019) - Self
- Episode #38.274 (2019) - Self
- Episode dated 19 September 2015 (2015) - Self
- Episode dated 27 June 2015 (2015) - Self
- Episode dated 23 May 2015 (2015) - Self
- Episode dated 3 September 2008 (2008) - Self
2021
Inside Edition (TV Series documentary)
as
Self
- Rise of the Moors (2021) - Self
2019
Le fantastique Mr Murray (TV Movie documentary)
as
Self
2019
Milk (Documentary)
as
Self
2019
The Movies (TV Mini Series documentary)
as
Ann
- The Eighties (2019) - Ann
2018
The Bill Murray Stories: Life Lessons Learned from a Mythical Man (Documentary)
as
Self (uncredited)
2014
Video Games AWESOME! (TV Series)
as
Rita
- Harold Ramis Is AWESOME! Show and Trailer Tribute! (2014) - Rita
2013
Welcome to the Basement (TV Series)
as
Rita
- Bedazzled (2013) - Rita
2012
Final Cut: Ladies and Gentlemen
2010
Comedy Lab (TV Series)
as
Self
- MovieMash (2010) - Self
2009
Die Lugners (TV Series)
as
Self - Wiener Opernball, 2004
- Episode dated 7 December 2009 (2009) - Self - Wiener Opernball, 2004
2008
Del corto a Hollywood (TV Movie documentary)
as
Self (uncredited)
2008
60/90 (TV Series)
as
Carrie
- L'home a la lluna i Claudia Schiffer (2008) - Carrie
2007
El orfanato llega a Hollywood (TV Special documentary)
as
Self (uncredited)
2006
La rentadora (TV Series)
as
Self
- El Nadal (2006) - Self
2006
Cannes 2006: Crónica de Carlos Boyero (TV Movie)
as
Self
2005
Magacine (TV Series)
- Episode dated 16 September 2005 (2005)
2005
Saturday Night Live: The Best of Jon Lovitz (TV Special)
as
Self (uncredited)
2002
Heart of the Festival (TV Movie)
as
Self
1997
Muppets Tonight (TV Series)
as
Self
- The Best of Muppets Tonight! (1997) - Self
1994
Troldspejlet (TV Series)
as
Self - Actress
- Bad Girls (1994) - Self - Actress
References
Andie MacDowell Wikipedia
(Text) CC BY-SA