Covid-19
Anarkali is a 2015 Indian Malayalam-language romantic-thriller film written and directed by Sachy. The film was released on 13 November 2015. The film stars Prithviraj Sukumaran, Miya George, Priyal Gor, Biju Menon, Sudev Nair, Kabir Bedi and Samskruthy Shenoy. The film began shooting in February 2015 and was shot mostly in Kavaratti, Bangaram and Agatti in Lakshadweep.
Shanthanu who was a navy officer pines over a girl whom he loved 15 years ago and had to leave the navy because of his affair with her.Since the girl (Nadira) whom he loved was underage (15 years), both of them agree to wait to show their love is true, to the Nawabi father (Jaffer), who is also Shanthanu's Commanding Officer and Flag officer. Shanthanu lost touch with Nadira for 2 years, his search for her lead him to Kavaratti, Lakshadweep. The rest of the story forms from lives around Kavaratti and depressed Shanthanu's attempts to reach to Nadira.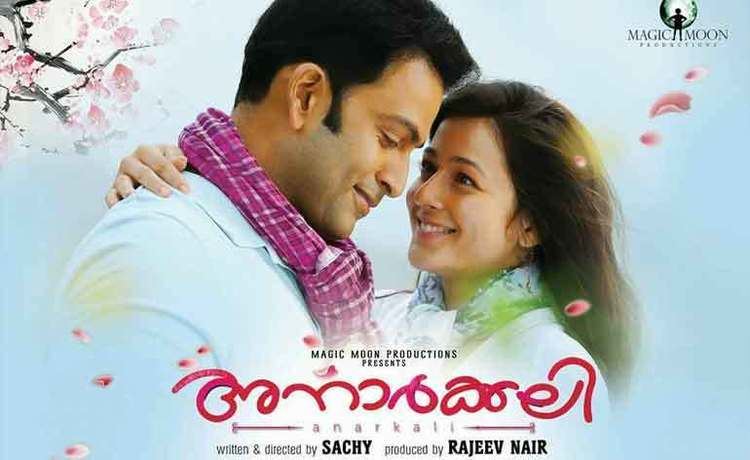 Prithviraj Sukumaran as Sub-Lt. Shanthanu Varma, a former Indian Naval Officer who now works as diving instructor in Lakshadweep.
Biju Menon as Lt. Zachariah, a former Indian Naval Officer who has the responsibilities of light house in Lakshadweep.
Kabir Bedi as Rear Admiral Jaffer Imam, a former Indian Naval Admiral.
Priyal Gor as Nadira Imam, a Sufi teacher settled in Ajmer. She is the daughter of Jaffer Imam.
Miya George as Dr. Sherin George, medical superintendent of Kavaratti, Lakshadweep.
Suresh Krishna as Aatta Koya, Sports Secretary of Kavaratti, Lakshadweep.
Arun as Rajeev, Programme Director of All India Radio.
Sudev Nair as Sub-Lt. Naseeb Imam, an Indian Naval Officer. He is the son of Jaffer Imam.
Samskruthy Shenoy as Dhuva Miyan Koya, an MBBS student who stopped studying due to an affair. She is the sister of Aatta Koya.
Anu Shitara as Athira
Shyamaprasad as Commodore Madhavan Nair
Major Ravi as Capt. Rajan Jose, a Navy Officer.
Jayaraj Warrier as Chettuva Shah Jahan Sahib Avarkal, a reputed Ghazal singer.
Assim Jamal as Inspector Jamal Majnu, Sub-Inspector of Kavaratti Police Station.
Renji Panicker as Pappan
Madhupal as Madhu
Manju Sathish as Shanthi
Chembil Ashokan as DYSP Ahmed Kutty
V. K. Prakash as Dr. David, a psychiatrist. (Cameo)
Deepak Kamath as Navy officer (cameo)
Priyal Gor and Miya George were signed for the lead female roles. While the former would play the main lead as Nadira Imam, teenage daughter of a Rear Admiral in the Indian Navy, the latter's role is that of a supporting character, Dr. Sherin Mathew, who works in Kavarathi. Story of the film is based on two Naval officers, Prithviraj and Biju Menon in the Indian Navy. Bollywood actor Kabir Bedi was cast as Nadira's father, Jaffer Imam, who is a commanding officer of base hailing from Lucknow and Sachi said that both Kabir and Priyal would speak mostly in Hindi and English in the film. Director Shyamaprasad was selected for a pivotal role and his character Commodore Madhavan Nair was said to be crucial to the film. Samskruthy Shenoy was later chosen to portray Duvha, a "Pucca Muslim woman" from Lakshwadweep, who is an medical student who left her studies shy of 1 year, due to a love affair and works as a physician assistant. Other supporting roles were given to directors Major Ravi, Renji Panicker and Madhupal. Sujith Vassudevv and Vidyasagar were signed as the cinematographer and music director, respectively.
The film collected ₹1.11 crore (US$170,000) on its release day, ₹2.71 crore (US$420,000) in 3 days, and ₹ 4.5 crore within 5 days. It grossed ₹6.42 crore (US$1.0 million) in 10 days and ₹7.74 crore (US$1.2 million) in 14 days of release.
The soundtrack was released on 23 October 2015 with songs composed by Vidyasagar and lyrics written by Rajeev Nair and Manoj Muntahir.The 'over and over' song was written by Radhika Nair and composed by Srivalsan Menon
Anarkali (2015 film) Wikipedia
(Text) CC BY-SA