Anand Narain Kapoor (born August 11, 1973) is an Indian entrepreneur based in Dubai. He is the founder and vice-chairman of the Midcom Group, a trans-national conglomerate with business interests primarily in Africa. He has been named as one of the top 100 Indian leaders in the Arab World by Forbes Middle East every year since 2013.
Kapoor was born in 1973 in Kanpur, an industrial town in Northern India. He is one of three children and the only son of Surya Narain Kapoor, a businessman, and Mrs. Indu Kapoor, a homemaker.
Kapoor attended the Seth Anandram Jaipuria School, in Kanpur. After finishing High school, he completed his Undergraduate degree from Christ Church College in Kanpur. He later enrolled for an MBA degree in Finance at the Jaipuria Institute of Management in Lucknow, Uttar Pradesh.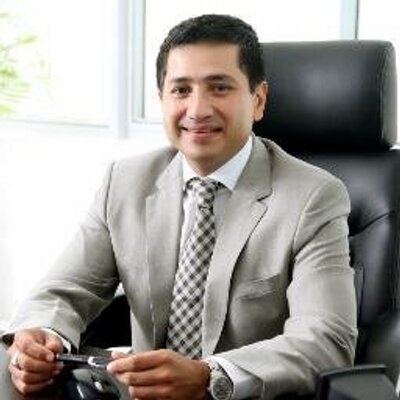 Kapoor started his professional career as a banker in Uganda in 1995. Two years later, his first business opportunity came in the form of a forex business. Kapoor also owns a 40-acre rose farm on the banks of Lake Victoria that exports cut roses to clients across the world.
By 2003, Kapoor acquired Rainbow International School and forayed into the education sector. Over the last few years, Rainbow International School has been conferred with many awards and recognitions and is regarded as a premier British curriculum school in Uganda. Both Kapoor and his wife Anvita Kapoor (nee Bhasin) are on the board of directors of the Rainbow International School.
In 2004, Kapoor set up his flagship enterprise Midcom, a dedicated telecommunications distribution firm focused on the Sub-Sahara African market. Midcom secured the distribution rights for Nokia phones for Rwanda in 2004. In a span of ten years, Midcom became one of the largest distributors of Nokia (now Microsoft devices) mobile phones in Africa. The telecommunications division now has a presence in more than 17 countries across Africa, the Middle East and the far east.
Kapoor also invested in the dairy business and set up the Pearl Dairy Plant in Mbarara, a milk-surplus but remote region of western Uganda in 2012. The dairy follows a co-operative model of business and is managed out of a processing plant with a handling capacity of over 240,000 liters per day. This business has a retail presence in East Africa through its LATO milk brand, which launched in 2014.
The Midcom Group led by Kapoor also formalized a strategic partnership with Samsung electronics to assemble and distribute Consumer electronics in Nigeria. The factory, located in Lagos, opened its doors in July 2014. In addition to assembly and distribution, Midcom also operates a chain of Samsung brand retail shops under the MStore brand in Nigeria.
Kapoor also has plans to set up, in the near future, the very first university of fashion in the Middle East with a focus on islamic fashion and design. The university is slated to open doors in the latter half of 2015.
Kapoor lives with his wife Anvita and two daughters in Dubai. He is also an avid golfer who regularly participates in corporate golfing tournaments. He also won the Chairman's cup golfing tournament of the Emirates Golf Club in 2012.
Awarded Quality Leadership Award 2015 at the Asian Quality Leadership Awards for his excellence in leadership
Top 100 Indian Leader in the Arab World by Forbes Middle East – 2015
Awarded Distinguished Alumnus Award for Entrepreneurship 2015 by Jaipuria Institute of Management, Lucknow
Inducted into the Indian Super 100 - 2014 list of business leaders from the Middle East
Speaker at the African Global Business Forum 2014
Top 100 Indian Leaders in the Arab World by Forbes Middle East 2014
Top 100 Indian Leaders in the UAE by Forbes Middle East – 2013
Times Now Award for Non Resident Indian entrepreneur of the Year UAE - 2013
Xponent Media's Top 25 Next Gen Indians – 2012