Terry Allen Goodin (born December 31, 1966) is a Democratic member of the Indiana House of Representatives, representing the 66th District since 2000. State Representative Terry Goodin was first elected to the Indiana House of Representatives in 2000. Terry represents the citizens of Indiana House District 66 at the Statehouse in Indianapolis.
When not engaged in his legislative responsibilities in Indianapolis or back in Indiana House District 66, Terry serves as superintendent of Crothersville Community Schools and raises beef cattle on the family farm. Terry is married to Darcie—they have two children: a daughter, Grace; and a son, Berley.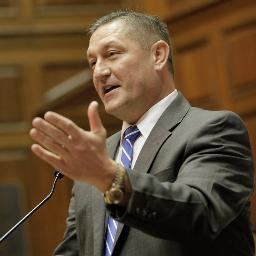 State Rep. Goodin is a member of the Indiana Farm Bureau, the Indiana Association of Public School Superintendents, the National Association of Basketball Coaches and the National Rifle Association. He is also a member of the F. & A. M. Scott Lodge #120, the Indiana Beef Cattle Association, the National Cattlemen's Beef Association, and the Austin Church of God.
Terry is a graduate of Austin High School, earned his Bachelor of Arts and Master of Arts degrees from Eastern Kentucky University, and received his Doctor of Education degree from Indiana University.
State Rep. Goodin has been called "the hardest-working representative at the Statehouse." By bringing the ethic of hard work he learned on the farm to the Statehouse, Rep. Goodin has helped make Indiana a better place to live, work and raise a family, thus truly living up to the phrase, "He's a Goodin."