7.6

/

10

Alchetron

7.6

Rate This





Country

United KingdomUnited States








Release date

August 21, 1981 (1981-08-21)

Initial release

August 21, 1981 (United Kingdom)

Film series

An American Werewolf film series

Cast

Lila Kaye

(Barmaid),

Joe Belcher

(Truck Driver)




Similar movies

Harry Potter and the Goblet of Fire

,

Snow White and the Seven Dwarfs

,

Shrek the Third

,

Saving Private Ryan

,

Harry Potter and the Order of the Phoenix

,

Once Upon a Time in the West



An american werewolf in london 2 10 movie clip werewolf attack 1981 hd
An American Werewolf in London is a 1981 horror comedy film written and directed by John Landis and starring David Naughton, Jenny Agutter and Griffin Dunne. Two young American men, David Kessler (Naughton) and Jack Goodman (Dunne) are attacked by a werewolf on a backpacking holiday in England. With Jack killed, David is taken to a London hospital, where disturbing apparitions of his deceased friend inform him that he is a werewolf and will transform at the next full moon. Filming took place in London, Surrey and Wales.
Contents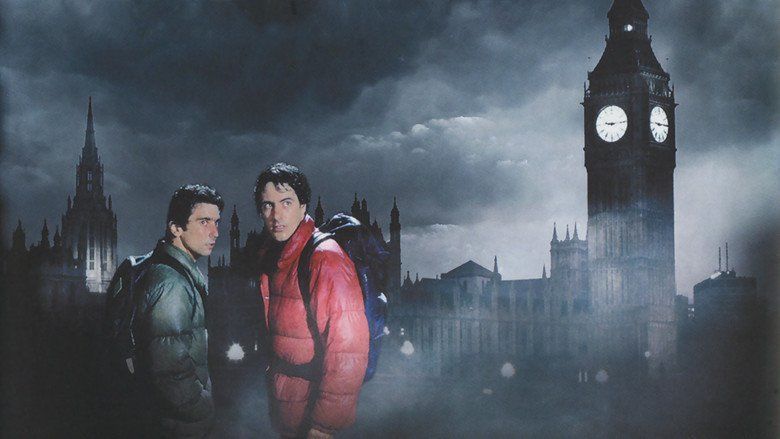 Released in the United States on August 21, 1981, it received positive reviews regarding Rick Baker's make-up special effects, and grossed $30.56 million at the box office. From Baker's effects, the film won the 1981 Saturn Award for Best Horror Film and the inaugural Academy Award for Best Makeup. The film was one of three high-profile wolf-themed horror films released in 1981, alongside The Howling and Wolfen. Since its release, it has become a cult classic.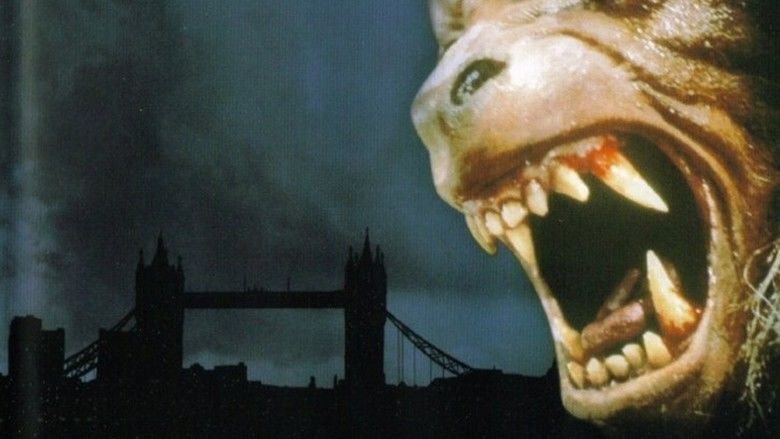 The film was followed by a 1997 sequel, An American Werewolf in Paris, which featured a completely different cast and none of the original crew, and was distributed by The Walt Disney Company's Hollywood Pictures.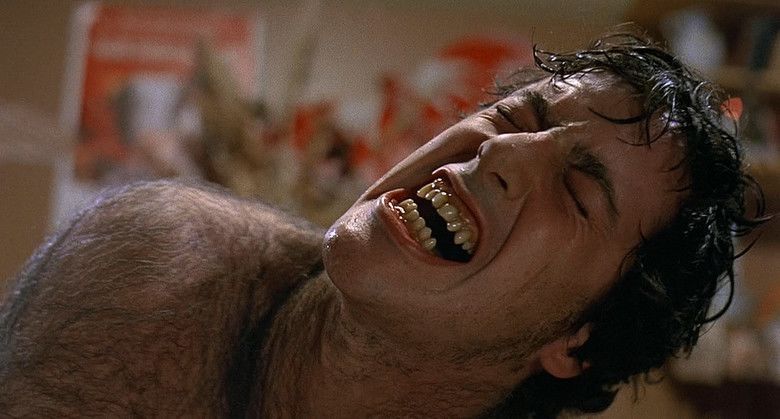 An american werewolf in london 9 10 movie clip london massacre 1981 hd
Plot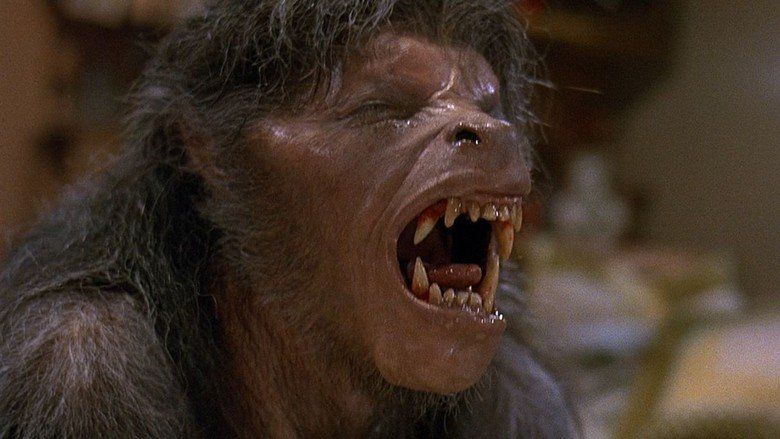 Two American backpackers, David Kessler and Jack Goodman, backpack across the moors in Yorkshire. As darkness falls, they stop for the night at a pub called the "Slaughtered Lamb". Jack notices a five-pointed star on the wall. When he asks about it, the pubgoers stop talking and become hostile. The pair decides to leave, although the pub landlady insists they "can't let them go". Instead of changing their minds, the local clients only warn them to keep to the road, stay clear of the moors and beware of the full moon. While talking, David and Jack end up wandering off the road onto the moors. Jack and David hear sinister howls, which seem to be getting closer. They start back to the Slaughtered Lamb but realize that they are now lost. The boys are attacked by a large wolf-like animal and Jack is killed. The attacker is shot by some of the pubgoers but instead of a dead animal, David sees the corpse of a naked man lying next to him. David survives the mauling and is taken to a hospital in London.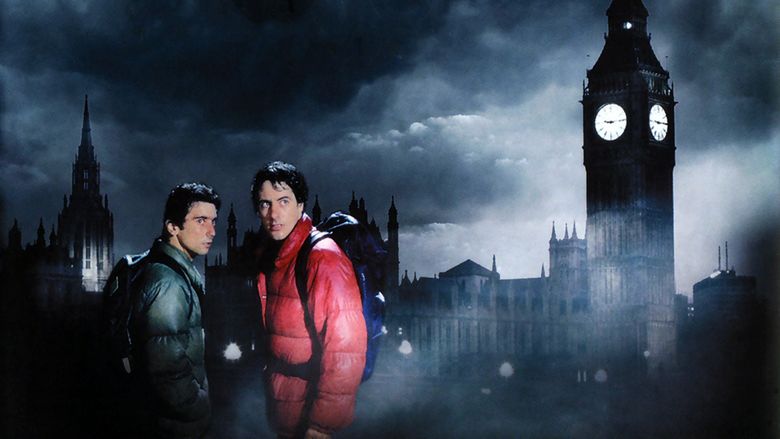 When David wakes up three weeks later, he does not remember what happened. He is interviewed by police Inspector Villiers who tells him that he and Jack were attacked by an escaped lunatic. David insists that they were actually attacked by a large dog or wolf. Jack appears to David as a reanimated corpse to explain that they were attacked by a werewolf, and that David is now a werewolf. Jack urges David to kill himself before the next full moon, not only because Jack is cursed to exist in a state of living death for as long as the bloodline of the werewolf that attacked them survives, but also to prevent David from inflicting the same fate on anyone else. Unfortunately, David doesn't believe him. Meanwhile, Dr. Hirsch takes a trip to the Slaughtered Lamb to see if what David has told him is true. When asked about the incident, the pubgoers deny any knowledge of David, Jack or their attacker. However, one distraught pubgoer speaks to Dr. Hirsch outside the pub and says that David should not have been taken away, and that he and everyone else will be in danger when he changes, but he is cut off by a fellow pubgoer.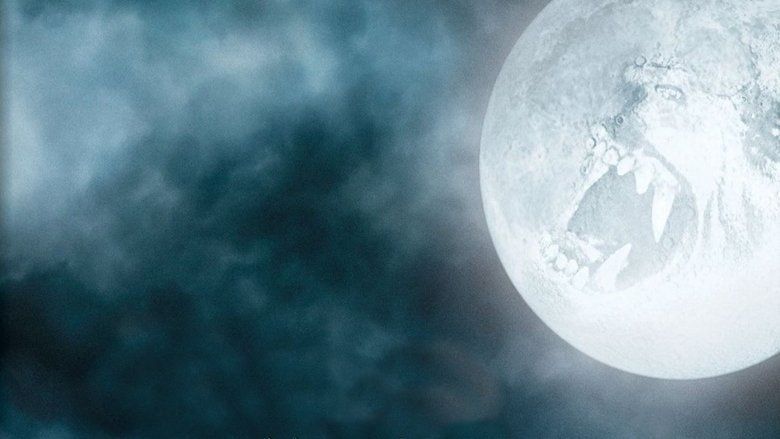 Upon his release from the hospital, David moves in with Alex Price, a pretty young nurse who grew infatuated with him in the hospital. He stays in Alex's London apartment, where they later have sex for the first time. Jack, in an advanced stage of decay, appears to David to warn him that he will turn into a werewolf the next day. Jack again advises David to take his own life to avoid killing innocent people, but David still doesn't believe him and urges him to go away. When the full moon rises, David strips off his clothes and painfully transforms into a Werewolf. He then begins to prowl the streets and the London Underground, slaughtering six Londoners in the process. When he wakes up in the morning, he is naked on the floor of the wolf enclousure at London Zoo, having no recollection of his activities and is unharmed by the resident wolves.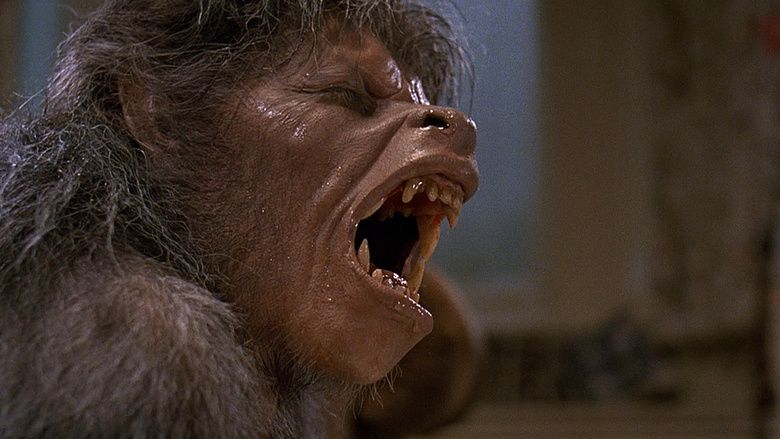 Later upon going to Piccadilly Circus, David realizes that Jack was right about everything and that he is responsible for the murders the night before. After failing to get himself arrested, David runs off from Alex. He is then seen calling his family to say he loves them followed by attempting to slit his wrists with a pocket knife, but is unable to bring himself to do so. David then sees Jack, in a yet more advanced stage of decay, outside an adult cinema. Inside, Jack is accompanied by David's victims from the previous night, most of whom are furious at David. They all then insist that he must commit suicide before turning into a werewolf again. While talking with them as they try to offer him the least painful way to kill himself in a comedic way, David transforms and goes on another killing spree. After bursting out of the cinema and biting off Inspector Villiers' head in the process, David wreaks havoc in the streets, causing various vehicular accidents & deaths. He is then ultimately cornered in an alley by the police and Alex runs down the alleyway in an attempt to calm him down by telling him that she loves him. Though he is apparently placated for a moment with some recognition of Alex in his eyes, he is shot and killed when he lunges forward; he returns to human form in front of a grieving Alex as he lies dead. The final shot of the film is his naked and bloodied corpse, before the film abruptly cuts to the end credits with the song "Blue Moon" playing.
Cameos and bit parts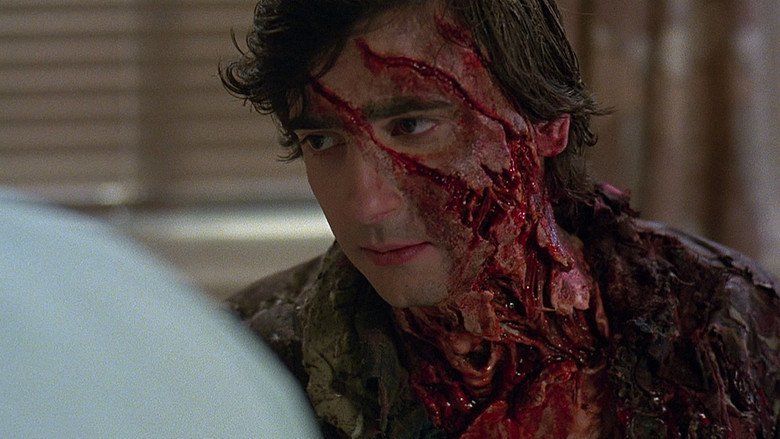 In the Piccadilly Circus sequence, the man hit by a car and thrown through a store window is Landis himself.
Stuntman Vic Armstrong plays the bus driver who swerves to avoid the werewolf in Piccadilly Circus. A special rear wheel rig was created that used air rams to fire a set of wheels positioned 90 degrees from the bus's normal rear axle down onto the pavement, lifting up the bus's real rear wheels to cause a 180-degree skid. Armstrong also drove the car that knocked director Landis through a shop window and performed a head-on collision with another stunt driver's car, both men driving at 15 mph to minimize the 30-mph impact, which injured Armstrong's wrists for three weeks after forgetting to take his hands off the steering wheel before impact.
As in most of the director's films, Frank Oz makes an appearance: first as Mr. Collins from the American Embassy in the hospital scene, and later voicing Miss Piggy in a dream sequence, when David's younger siblings watch a scene from The Muppet Show.
Actors in bit parts who were already—or would become—more well-known include the two chess players David and Jack meet in the pub, played by the character actor Brian Glover and then-rising comedian and actor Rik Mayall, star and co-writer of The Young Ones and Bottom. One of the policemen helping to chase and kill the werewolf is John Altman, who would later achieve fame as "Nasty" Nick Cotton in EastEnders. Alan Ford—later to appear in Lock, Stock and Two Smoking Barrels and Snatch—plays a taxi driver. The policeman in the cinema is played by John Salthouse and the policeman in Trafalgar Square is played by Peter Ellis. Both Salthouse and Ellis appeared in police drama The Bill. David Schofield, known as Mercer from the Pirates of the Caribbean film series, plays the dart player at the Slaughtered Lamb and assists Dr. Hirsch in his investigation of David's attack.
The player throwing darts in the match on TV in Alex's apartment is Rab Smith. Smith's opponent is Cliff Lazarenko.
Production
John Landis came up with the story while he worked in Yugoslavia as a production assistant on the film Kelly's Heroes (1970). He and a Yugoslav member of the crew were driving in the back of a car on location when they came across a group of gypsies. The gypsies appeared to be performing rituals on a man being buried so that he would not "rise from the grave." This made Landis realize that he would never be able to confront the undead and gave him the idea for a film in which a man would go through the same thing.
Landis wrote the first draft of An American Werewolf in London in 1969 and shelved it for over a decade. Two years later, Landis wrote, directed, and starred in his debut film, Schlock, which developed a cult following. Landis developed box-office status in Hollywood through the successful comedy films The Kentucky Fried Movie, National Lampoon's Animal House and The Blues Brothers before securing $10 million financing from PolyGram Pictures for his werewolf film. Financiers believed that Landis' script was too frightening to be a comedy and too funny to be a horror film.
According to Entertainment Weekly, the real star of this film is the Oscar-winning transformation effects by Rick Baker, which changed the face of horror makeup in the 1980s. The various prosthetics and robotic body parts used during the film's extended werewolf transformation scenes and on Griffin Dunne when his character returns as a bloody, mangled ghost impressed the Academy of Motion Picture Arts and Sciences so much that the film won the Best Makeup in the category's inaugural year.
Filming
The moors were filmed around the Black Mountains in Wales, and 'East Proctor' is in reality the tiny village of Crickadarn, about six miles southeast of Builth Wells off the A470. The 'Angel of Death' statue was a prop added for the film, but the red phone box is real – though the Welsh road signs were covered by a fake tree.
Some scenes from the film were shot on Hampstead Heath, Well Walk and Haverstock Hill, London. St. Stephen's Church, Rosslyn Hill is featured. Harry and Judith are killed in Hampstead Heath, behind the Pryors on East Heath Road. Before David kills them, Harry and Judith get out of the taxi on East Heath Road at Well Walk.
The pub shown in the film known as the "Slaughtered Lamb" was actually a cottage located in Crickadarn, and the interior scenes were filmed in the Black Swan, Old Lane, Martyr's Green in Surrey.
Alex's flat is located next to St Luke's Church, Redcliffe Gardens in Earl's Court
A reference to Landis' National Lampoon's Animal House is shown at the end credits, which congratulate Prince Charles and Diana Spencer on their marriage, end with a promo card for Universal Studios urging viewers to "Ask for Babs". The disclaimer in the end credits, typical of fictional films, is altered to read: "All characters and events in this film are fictitious. Any similarity to actual events or persons, living, dead, or undead is purely coincidental."
Music
The film's ironically upbeat soundtrack consists of songs which refer to the moon. Bobby Vinton's slow and soothing version of "Blue Moon" plays during the opening credits, Van Morrison's "Moondance" as David and Alex make love for the first time, Creedence Clearwater Revival's "Bad Moon Rising" as David nears the moment of changing to the werewolf, a soft, bittersweet ballad version of "Blue Moon" by Sam Cooke during the agonizing wolf transformation and the Marcels' doo-wop version of "Blue Moon" over the end credits. On the DVD commentary, David Naughton and Griffin Dunne said they were unsure why Landis did not obtain rights to Warren Zevon's "Werewolves of London" as they felt the song would have been more appropriate for the film.
The score was composed and conducted by Elmer Bernstein and recorded at Olympic Studios in London, engineered by Keith Grant. Bernstein's score can be heard during David's nightmares, when Dr. Hirsch drives through the moors to East Proctor, and when Alex confronts David in the alley. Though Bernstein wrote and recorded music to accompany the transformation scene, the director chose not to use it. The three-minute passage was eventually released by Bernstein under the title "Metamorphosis".
The official soundtrack album by Meco was called Impressions of An American Werewolf in London and included versions of music heard on the film. The album was released by PolyGram Records.
Box office
The budget of An American Werewolf in London was reportedly $10 million. The US box office totaled $30,565,292.
Critical reception
On the review aggregation website Rotten Tomatoes, the film has an approval score of 89% and an average rating of 7.8/10 based on reviews from 47 critics. The critical consensus states: "Terrifying and funny in almost equal measure, John Landis' horror-comedy crosses genres while introducing Rick Baker's astounding make-up effects." Kim Newman of Empire magazine praised the film, saying "carnivorous lunar activities rarely come any more entertaining than this". Tom Huddleston from Time Out also gave the film a positive review, saying the film was "not just gory but actually frightening, not just funny but clever".
Halliwell's Film Guide described the film as a "curious but oddly endearing mixture of horror film and spoof, of comedy and shock, with everything grist to its mill including tourist Britain and the wedding of Prince Charles. The special effects are notable and signalled new developments in this field."
Roger Ebert's review was less favourable; he stated that "An American Werewolf in London seems curiously unfinished, as if director John Landis spent all his energy on spectacular set pieces and then didn't want to bother with things like transitions, character development or an ending."
Accolades
Academy Award – Academy Award for Best Makeup and Hairstyling (1982) (Won)
Saturn Award – Saturn Award for Best Horror Film (1982) (Won)
Saturn Award – Saturn Award for Best Make-up – Rick Baker - (Won)
Saturn Award – Saturn Award for Best Actress – Jenny Agutter (Nomination)
Saturn Award – Saturn Award for Best Writing – John Landis (Nomination)
At the 54th Academy Awards, An American Werewolf in London won the first-ever awarded Academy Award for Best Makeup. During the 1982 Saturn Awards, the film won for Best Horror Film and Best Make-up and nominated for Best Actress and Best Writing.
An Empire magazine poll of critics and readers named An American Werewolf in London as the 107th greatest film of all time in September 2008.
Sequel
The film was followed by a sequel 16 years later, An American Werewolf in Paris (1997), which featured a completely different cast and crew, and was distributed by Disney's Hollywood Pictures. According to Paris, David impregnated Alex during their sex scene and soon after the events of London, Alex gave birth to Serafine, a main character in the sequel. This is directly stated in a deleted scene of Paris and also suggests that the werewolf who bit David was a survivor of the same society of which the antagonists are a part.
Radio adaptation
A radio adaptation of the film was broadcast on BBC Radio 1 in 1997, written and directed by Dirk Maggs and with Jenny Agutter, Brian Glover and John Woodvine reprising the roles of Alex Price, the chess player (now named George Hackett, and with a more significant role as East Proctor's special constable) and Dr. Hirsch. The roles of David and Jack were played by Eric Meyers and William Dufris. Maggs's script added a back-story that some people in East Proctor are settlers from Eastern Europe and brought lycanthropy with them. The werewolf who bites David is revealed to be related to Hackett, and has escaped from an asylum where he is held under the name "Larry Talbot", the name of the title character in The Wolf Man.
Halloween Horror Nights
On August 15, 2013, the Universal Orlando Resort announced it would use the film as the basis for its seventh maze during that year's annual Halloween Horror Nights event. The maze was so popular, it became part of the 2014 Halloween Horror Nights event at Universal Studios Hollywood. On August 26, 2015, Universal Orlando announced the return of the maze for their 25th annual Halloween Horror Nights event after its popularity at both parks in previous years.
Remake
In June 2009, it was announced that Dimension Films was working with producers Sean and Bryan Furst on a remake of the film. This has since been delayed due to other commitments. In August 2016, several reports suggested that Max Landis (son of director John Landis) was considering remaking the film. In November 2016, the website Deadline.com reported that Max Landis would write and direct a remake.
Home media
The film was first released in 1981 on VHS and Betamax under the MCA Videocassette Inc. label and on Laserdisc and CED under the MCA Videodisc label. In 1984, MCA Home Video released it on Laserdisc. This would be the last time Universal would release the movie on home video for 17 years. The following year, Vestron Video acquired the video rights from MCA/Universal and released it on VHS, Betamax and Laserdisc in 1985. It was released again on Laserdisc in 1989 (under Image Entertainment through Vestron) and 1995 (under LIVE Entertainment), and again on VHS in 1990 under the Video Treasures label and 1991 and 1994 from Vestron Video (through LIVE Home Video).
The film was first released on DVD in December 1997 by LIVE Entertainment according to a LIVE DVD Advertisement. It was presented in a non-anamorphic widescreen transfer and contained the film's theatrical teaser trailer. Universal would eventually get the video rights back and released a 20th anniversary "Collector's Edition" DVD on September 18, 2001, making it the first time Universal released the film on home video since 1984. It included an audio commentary with actors David Naughton and Griffin Dunne, interviews with John Landis and Rick Baker, a 1981 promotional featurette, silent outtakes, storyboards and production photographs. A coinciding VHS was released on the same day. The high-definition version of the film was first released on HD DVD by Universal on November 28, 2006. A high-definition Blu-ray Disc and 2-disc standard-definition Region 1 DVD release of the film titled An American Werewolf in London – Full Moon Edition was released by Universal on September 15, 2009. The Region 2 DVDs and Blu-ray were released on September 28 and are known as An American Werewolf in London – Special Edition. No DVD or Blu-ray version at present contains the film's original mono audio track.
The region 2 DVD release does not include a scene that is fully intact on the Region 1 release and all previous region 1 and 2 releases. The scene takes place near the end of the film where the character of David phones his parents from a public telephone box. All but the end of this scene had been cut from the Region 2 release because the distributors felt that use of a public phone box, as opposed to a mobile phone, would date the film.
As of October 2009, Universal said that they were scrapping all existing faulty stock and issuing replacement DVDs. All Blu-ray releases, however, are intact.
In 2016, Universal re-released the film on Blu-ray as An American Werewolf in London – Restored Edition to commemorate the 35th anniversary of the film.
An american werewolf in london 1 10 movie clip the slaughtered lamb 1981 hd
An american werewolf in london 10 10 movie clip let me help you 1981 hd
References
An American Werewolf in London Wikipedia
(Text) CC BY-SA
An American Werewolf in London IMDb
An American Werewolf in London Rotten Tomatoes
An American Werewolf in London Metacritic
An American Werewolf in London themoviedb.org