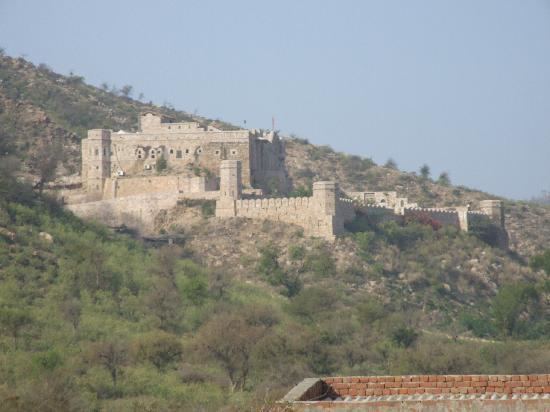 Alwar dates back to 1000 AD. The king of Amer (old seat of Jaipur state) ruled the area in the eleventh century and his territory extended up to the present city of Alwar. He founded the city of Alpur in 1106 Vikrami samvat (1049 AD) after his own name which eventually became Alwar. From time to time, Different sub-clans of Rajputs ruled Alwar. Such as Khanzada Rajputs, Nikumbh Rajputs, Badgujar Rajputs and Last was Naruka (Kachwaha) Rajputs who took the control over this area. Marathas and Jats of Bharatpur also ruled this region for very short period. A brave Rajput Partap Singh took the Alawar Fort from Jat Raja of Bharatpur on an agreement and laid down the foundation for modern Alwar.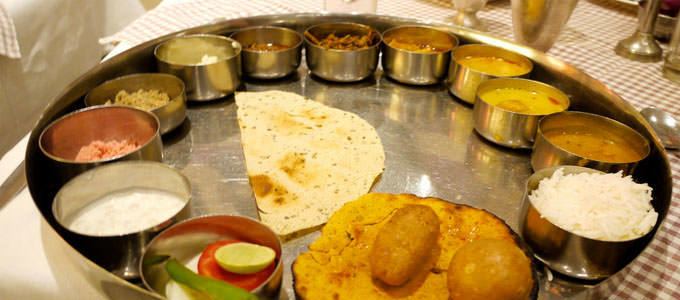 Great Hindu King Hemu also born into a Brahmin family in Machari (a village in Alwar) was, a Hindu emperor of North India during the 16th century, a period when the Mughals and Afghans were vying for power in the region. Hemu acceded to the throne of Delhi on 7 October 1556 after defeating Akbar's Mughal forces in the Battle of Delhi in the Tughlakabad area in Delhi, and became the de facto king. He won twenty-two battles in succession and became the last Hindu emperor of India. He is sometimes known as the Napoleon of India. He died on 5 November 1556.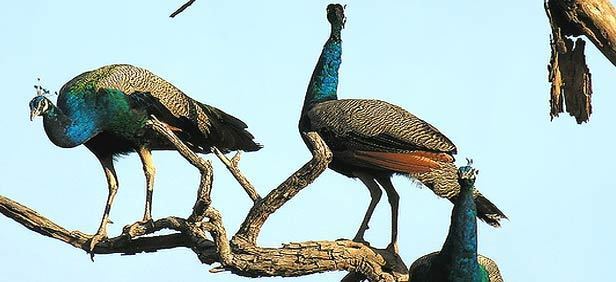 The princely state of Alwar was ruled by Pratap Singh, a Rajput of the Kachwaha lineage, in 1770. He was earlier jagirdar of "dhai Gaon" means two and half villages near macheri. A few years later, His successor Bakhtawar Singh ventured an armed incursion into neighbouring Jaipur, the senior Kachwaha state, and the erstwhile overlord of his predecessor. He was defeated; a fresh engagement was made with him by the East India Company, prohibiting him from political intercourse with other states without British consent.
Alwar acceded unto the dominion of India following the independence of India in 1947. On 18 March 1948, the state merged with three neighbouring princely states (Bharatpur, Dholpur and Karauli) to form the Matsya Union. On 15 May 1949, it was united with neighbouring princely states and the territory of Ajmer to form the present-day Indian state of Rajasthan.
After merging the princely state in Independent India, Rao Jaidyal Yadav developed the area and played an important role in bringing western education facilities to the grassroots level.
The Residents of Alwar are from different communities. Alwar was a part of Matsya region. The principal communities are the Meenas, Rajputs, Ahirs, Meos, Vaish and Gujjars. The Naruka Sub-clan of Kachwaha Rajputs ruled Alwar till 1947. In past also, Nikumbh Rajputs ruled this region. As per Gazetteer of Ulwar published by Britishers, Alwar used to be divided in four regions as per dominance of castes/tribes.
Rath Area(Now Behror and Neemrana) – Ruled by Chauhan Rajputs who were the ancestors of Prithvi Raj Chauhan.
Wai Region(Now Thanaghazi and Bansur) – Shekhawat Zamindars were prominent local ruling clan at village levels.
Rajawat- Naruka Territory(Narukhand)(Now Rajgarh, Lachmangarh etc.) – This region was dominated by Naruka Rajputs and gave Kings to Alwar State.
Mewat Region – This region had maximum population of Mev Muslim caste
Alwar is famous for its Kalakand (Milk-Cake), a world-famous dessert. This is a special dessert made of milk. Its demand from all over the world has given Alwar a special name on the map of world. Some other special shops for different items are as under-
Chole-Kulche : Bhagat ji Chole Wale at Kashiram Circle, Must try mutka kulfi with rabri at mangha ram (kulfiwala) and some other shops situated at Tripolia
Alwar is famous for variety of Ayurvedic and Unani Medicinal Products.
Local Attraction
*Baba sweet shop
*Mega Trade Fair
*Karni mata
*Moti Dungri
*Pandupol
*Jagarnath Nath Mela
*Jyoti Art Centre
*Company Bagh
*Nehru Garden
*Gurukripa Carrier Institution
*Cross Point Mall
*Wonder Mall
*Ganta Ghar
*Pizza Hut And Domino's
*Bherubakhs Sweet Shop
*Sheela General Store
Alwar is located at 27.57°N 76.6°E / 27.57; 76.6. It has an average elevation of 271 m (889 ft). The Ruparail River is a major river near the city. Alwar is fairly rich in mineral wealth. It produces marble, granite, feldspar, dolomite, quartz, lime stone, soap stone, barites, copper clay, copper ore and pyrophylite.
Alwar was reputed to be the place where, on 10 May 1956, India's record high temperature of 50.6 °C (123.1 °F) was recorded, until the record was broken in May 2016 by Phalodi.
A 180-km Metro Rail route between Alwar and Delhi has been approved by the Board. Keeping in view the industrial importance of Alwar district, approval in principle was given to the Rs285 crore drinking water projects for the seven towns of Alwar district.
The first major city to come from Delhi is Alwar who welcomes you to the entry in Rajasthan. Its past is big gorgeous. The fort of Alwar, known as Bala fort, is about 595 meters high. It was constructed in the tenth century, so it is the oldest building in the city. Despite being one of the princely states of Rajputana, the rulers here had left no stone unturned in building many forts. Seeing the fort of Baala, there is an impression that sometimes it would have been a very inaccessible fort, where there would have been many turret, large gate, temple and residential area. There is a state museum in the City Palace, where there is a rare collection of miniature paintings. Near the corner are Mousi's umbrella, Vinay Palace, Vijay Mandir Palace and Moti Dungri. In other tourist spots, the lake is situated in Silasedh Lake and Jaisamand Lake. Sariska, which is at a distance of 36 kilometers, after rain, for its green trees and greenery of bushes, is seen differently. In its beautiful valley, visions are visible with blue cow, chital, wild pig, other animals. Sariska is counted in old Tiger-projects. It is a sad fact that due to poaching now the tiger's view has become rare here. Do not be discouraged but go Sariska, which is still full of beautiful natural scenery and colorful birds. Historical significance of the nearby Biratnagar or Barrath, is due to the stupa and established inscription made by Emperor Ashoka the Great. According to legendary belief, Pandavas spent some time in their ignorance here. There is a large number of religious devotees on the Pandupole-Bhardhari Loktirtha. You can also experience unlimited peace by traveling here. Alwar is also famous for its famous sweet kalakand (Mauva of Alwar), this milk made from milk is not only nearby but also famous. The items made of paper-potter are also very much appreciated here.
Alwar contains a number of historical monuments, such as 'Deewan ji ki lal haweli', which was built in 1754 and owned by Rajendra Kumar jain. The city has a lake and a valley. The military cantonment of Itarana lies on the outskirts of Alwar. Hill Fort Kesroli, now a heritage hotel, is also near by. Raj Rishi College has existed in Alwar for over a hundred years.
The Sariska Tiger Reserve is located in the Aravali hills only a few kilometres away from Alwar. The sanctuary, which is a Project Tiger reserve, also has other species, including rare birds and plants.
Bhangarh Fort is 4th most haunted palace in the world & Asia's 1st most haunted palace. Bhangarh Fort is a fort in the area, and the Archaeological Survey of India has put up a board on the fort gate that it is prohibited for tourists to stay inside the fort area after sunset and before sunrise.
Bharthari temple is dedicated to the king of Ujjain turned Saint and is commonly known as Baba Bharthari. He is sometimes identified with Bhartṛhari, a 7th-century poet. He is revered and prayed and this temple is visited by the local population and a fair is also organised known as 'Bharthari Baba ka Mela' every year.
The Fairy Queen is the oldest working locomotive engine in the world and a national treasure (cultural artifact) of India. The engine was built in 1855 and acquired by the Eastern Indian Railways from a British firm. The luxury train operates tourist journeys between Delhi and Alwar.
Mega Trade Fair
Mega trade is the occasional fair in deshera ground near cross point mall. It has attracted local people of alwar to a great extent.
Neelkamal
Famous Hollywood movie Shakespeare Wallah was shot in City palace, Alwar
Superhit film Karan Arjun was shot at Sariska palace and Bhangarh village.
Saajan Chale Sasural was shot at Sariska palace and near by area.
Maharaja (1998 film) was shot at Alwar.
Talaash: The Hunt Begins... The Alwar - Ramgarh route was allotted by the RTDC for the shoot.
Trip to Bhangarh was shot at Alwar.
The nearest airport to Alwar city is Indira Gandhi International Airport Delhi is 143 km away and Jaipur International Airport is 150 km away. The international and cargo Airport is also sanctioned in Bhiwadi that is 90 km away from Alwar city.
Delhi-Jaipur railway line passes through Alwar city.The railway network connects Alwar with Delhi, Mumbai, Jaipur, Agra, Jodhpur, Ajmer, Chandigarh, Amritsar, Katra and other important tourist cities of India.
A 180-km metro rail route between Alwar city and New Delhi has been approved by the National Capital Region Planning Board (NCRPB). As per the proposal, the route will connect Alwar to Delhi via Gurgaon and Rewari. Over Rs37,600 crore will be spent on this route. The travel time will be faster as the line will be connected to the Metro under regional rail rapid system giving better transport facilities to the locals. It will take 104 minutes to reach Alwar to Delhi.
Alwar vahinis & E-riksha play an important role in public transport in Alwar city. Alwar is well connected by roads from all the major cities of Rajasthan and nearby states. Alwar city is reached from New Delhi Gurgaon-Sohna-Alwar highway that is being widened to six lanes.
Rahul Yadav, Ex CEO Housing.com
Sakshi Tanwar (Actress)
Pran Sukh Yadav (1802–1888), a strong military commander, a revolutionary of the Indian Rebellion of 1857
Nathuram Modi : An unsung freedom fighter.
Alwar has an important place in Agriculture production in Rajasthan. Total geographical area of the district is 7,83,281 hectares which is about 2.5 per cent of the State. In 2010–2011 the net cultivated area is 5,07,171 hecters from which about 83 per cent area viz. – 4,51,546 is irrigated and remaining 17 per cent area viz. – 82,903 is unirrigated. Double cropped area is 252 hectares of which 32,230 hecter (12%) area is irrigated and remaining 2,19,819 hecter (88%) area is unirrigated. Thus, the total cropped area of the district is 8,12,873 hecters. In Kharif season Bajra, Maize, Jowar, Kharif pulses, Arhar, Sesamum, Cotton, Guar etc. are sown in about 3,29,088 hectare (42%) and in Rabi season Wheat, Barley, Gram, Mustard, Taramira, Rabi pulses etc. are sown in about 4,52,527 hectare (58%). The main source of irrigation are wells and Tube Wells. By 26064 Tube Wells about 192861 hectare area is being irrigated and by 57196 Wells about 265169 hectares area is irrigated. By other sources like canals, tanks about 404 hectares area is irrigated. About 35470 electric motors and 66502 Diesel pump sets are being used for Irrigation purposes. The normal rainfall for the district is 657.3 mm. The average rainfall in last ten years in the district is 724 mm. The rainfall distribution in the district is uneven and scattered which resulted some times flood problems and some time draught position which affect the Agriculture production as well as cropping pattern in Kharif & Rabi season. Thus, the Agriculture in the district by and large depends on rainfall distribution. The average rainfall in 2016 up to September is 217 mm.
Alwar has become a major education hub of Rajasthan these days. Along with numerous government colleges providing Arts, Sciences, and Commerce education, a number of private educational institutes have also opened up. Establishment of Matsya University, Alwar was announced in budget speech of 2012-13 by Hon'ble chief minister of Rajasthan. In the last few years many coaching institutes have become established in the city for the preparation of IAS, RAS, JEE, PMT, AIIMS, and other competitive exams. The coaching class movement started for multiple high quality institutions for IIT JEE and PMT preparation. Those students who follow coaching institutes no longer migrate to other major cities, like Delhi, Jaipur and Kota.
Knowledge City School, Alwar
Adarsh Vidhya Mandir, Alwar
Kendriya Vidyalaya Moti dungari, Alwar
Kendriya Vidyalaya Itarana, Alwar
Lord's International School, Chikani, Alwar
Silver Oak Public School
Alwar Public School
Chinar School
V.L.M. School
D.P.S. World School
St. Anselm's Senior Secondary School
M.G.M. Public School
Army Public School
Happy Public School
Central Academy
Mount Litera Zee School
National Academy
R BALIYAN PUBLIC SCHOOL
Santos
Bal Bharti School
Vardhaman Academy, Laxmangarh
Penti Coastal Public School, Daudpur
eurokids pre school
Gopal Academy Sr. Sec. School
Step by Step public school
Shri Oswal Jain senior secondary school
ESIC Medical College and Hospital, Alwar (non-functional)
Yuvraj Pratap Singh Memorial Homoeopathic Medical College, Alwar
Modern Institute of Technology & Research Centre.
KCRI College of Science & Commerce
KCRI IT College
Laxmi Devi Institute of Engineering and Technology, Chikani, Alwar
Institute of Engineering and Technology College
Alwar Institute Of Engineering and Technology
Siddhi Vinayak College
Northern Institute of Engineering & Technology
dev internation pg college Alwar
Presidency College
Raj Rishi Government College
Babu Shobha Ram Government Arts College
Gauri Devi Government College
Government Polytechnic College
Govt. Commerce College
Government Law College
modern institute of technology and research center
♦ Source: ♦ Source:
According to 2011 census the population of Alwar is 1,015,310. city population of Alwar in 2011 is 341,422.
Main community living in Alwar are Yadav(Ahir), Rajput, Jat and Meo. Yadav(Ahir) comprises 35% of Alwar, dominating mainly northern and central part of the Alwar; further Rajput have 10% population in Alwar found mainly in southern Alwar and Jat in mainly the east of Alwar, with 5% population.
Alwar district has 16 tehsils:
Alwar
Bansur
Behror
Govindgarh
Kathumar
Kishangarh Bas
Kotkasim
Laxmangarh
Mundawar
Rajgarh
Ramgarh
Thanagazi
Tijara
Neemrana
Reni
Malakhera
Palawa
Gundpur, Anshaz Panwar