Occupation

Actor/comedian/writer




Years active

1989–present




Full Name

Allen Stephen Covert

Born

October 13, 1964 (age 59) (

1964-10-13

)

Parents

Stephen Covert, Elizabeth Ann Duhy

Movies

Grandma's Boy, The Wedding Singer, Happy Gil, Little Nicky, Mr Deeds




Similar People

Adam Sandler

, Peter Dante, Nick Swardson, Tim Herlihy, Jack Giarraputo




Profiles



Youtube presents nick swardson allen covert
Allen Stephen Covert (born October 13, 1964) is an American comedian, actor, writer, and producer. Best known for his starring role in the 2006 comedy film Grandma's Boy, he is also a frequent collaborator with actor and friend Adam Sandler with prominent roles in such films as Happy Gilmore (1996), The Wedding Singer (1997), Big Daddy (1999), Little Nicky (2000), Mr. Deeds (2002), Anger Management (2003), 50 First Dates (2004), and the Happy Madison Productions film Strange Wilderness (2008).
Contents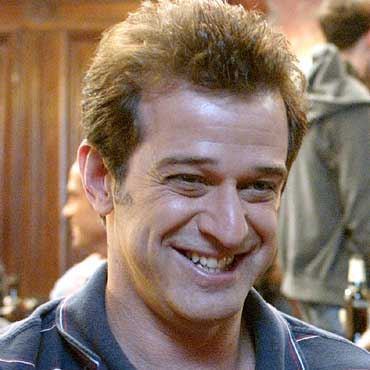 Allen covert on conan 1998 02 19
Personal life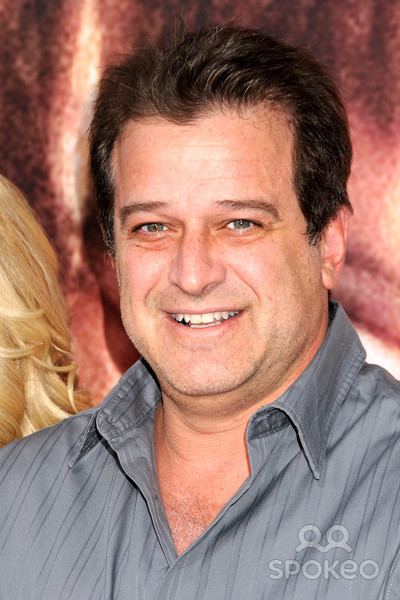 Covert was born in West Palm Beach, Florida, the son of Elizabeth Ann (née Duhy) and Stephen Covert. He studied theater at New York University, where he was a classmate of Adam Sandler. Covert has served as a performer, writer, and/or producer for almost every film and comedy album Sandler has ever released. Covert currently resides in California.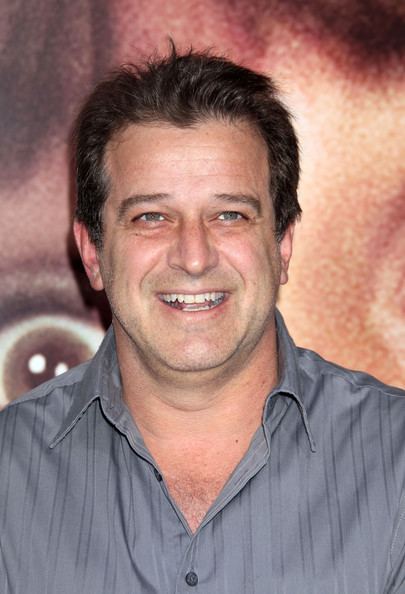 Covert's father was Jewish and his mother was a Southern Baptist; Covert identifies as Jewish. Covert describes himself as a political conservative.
Career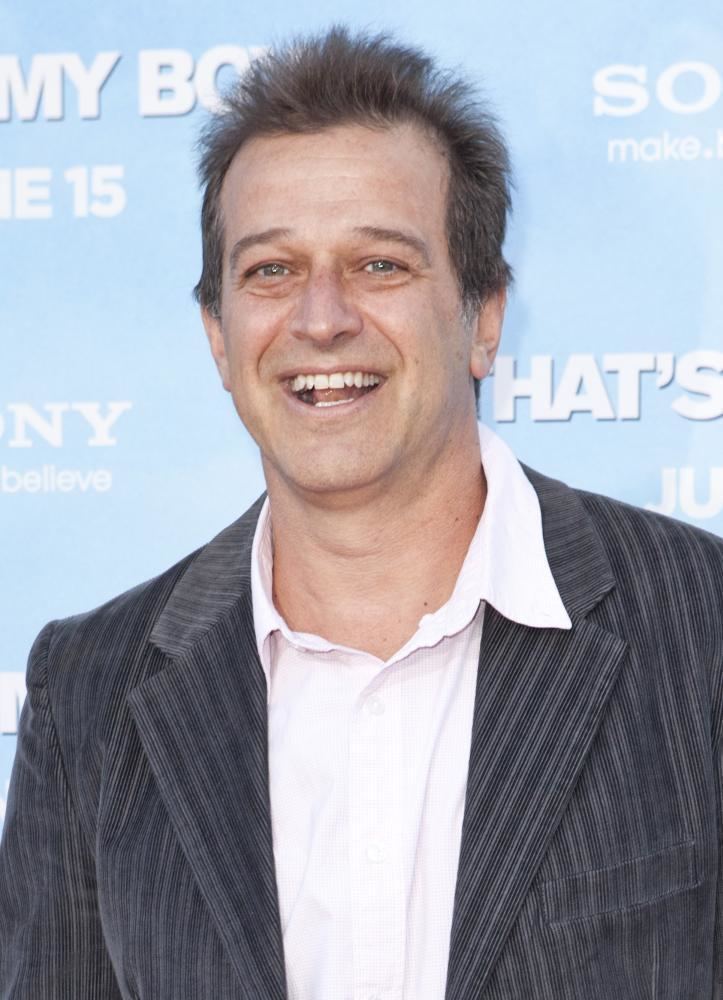 Covert's first film role, as a bartender, was in Sandler's 1989 film Going Overboard. He had minor parts in several subsequent Sandler films before his first prominent role in 1998's The Wedding Singer alongside Sandler and Drew Barrymore. Covert would continue to have fairly large roles in Sandler's next four films, including one in Little Nicky for which he gained 40 pounds. He eventually settled back into smaller walk-on and single-scene appearances in Sandler's films beginning with 50 First Dates in 2004. However, in 2006 Covert starred in the comedy film Grandma's Boy, his first (and only) lead role. Sandler didn't act in that film but served as an executive producer. Covert has also had small roles in three films that neither star or are produced by Sandler: Never Been Kissed, Late Last Night, and Heavyweights.
Although Covert's on-screen presence has been reduced in recent years, he has continued to serve an active role in Adam Sandler's movie production company, Happy Madison Productions, where Covert is an executive producer and sometimes co-writer on most of the company's films. In addition, Covert has contributed heavily to Sandler's many comedy albums, and frequently receives co-songwriting credits on the original songs that Sandler performs in many of his films.
Covert also appeared as himself, along with Adam Sandler, in an episode of the television series Undeclared. The show's creator, Judd Apatow, is another friend and former college classmate of Covert and Sandler.
Covert is also a cofounder of Cherry Tree Books, a publisher of eBooks for children.
Filmography
Actor
2022
Home Team
as
Referee Covert
2020
Hubie Halloween
as
Zombie Movie Dad
2020
The Wrong Missy
as
Bank Employee
2019
Murder Mystery
as
Tourist Dad
2018
Father of the Year
as
Trey's Dad
2015
Hotel Transylvania 2
as
Candle Cake Monster (voice)
2015
Pixels
as
Abusive Citizen
2013
Grown Ups 2
as
Hippie Teacher
2012
Hotel Transylvania
as
Additional Voices (voice)
2011
Mobsters (TV Series)
as
Harry
- Weed Like to Talk to You (2011) - Harry
2011
Bucky Larson: Born to Be a Star
as
Pornstore Clerk (uncredited)
2011
Just Go with It
as
Soul Patch
2010
Pretend Time (TV Series)
as
Larry
- Blah Blah Blah Main Street (2010) - Larry
2009
Leisure Suit Larry: Box Office Bust (Video Game)
as
Big Anus / Little Anus
2007
Slacker Cats (TV Series)
as
Trevor / Trevor Dagdale
- Buckley on the Run (2009) - Trevor (voice)
- The Wood (2007) - Trevor Dagdale (voice)
2009
Paul Blart: Mall Cop
as
Jerky Security Guy
2008
Bedtime Stories
as
Ferrari Guy
2008
The House Bunny
as
Waiter #2 (unconfirmed, uncredited)
2008
Strange Wilderness
as
Fred
2007
I Now Pronounce You Chuck & Larry
as
Steve
2004
The King of Queens (TV Series)
as
Matthew Klein / Towel Guy
- Mild Bunch (2007) - Matthew Klein
- Multiple Plots (2004) - Towel Guy
2005
The Longest Yard
as
Referee
2004
50 First Dates
as
Ten Second Tom
2003
Anger Management
as
Andrew
2002
Eight Crazy Nights
as
Old Lady / Bus Driver / Mayor's Wife (voice)
2001
Undeclared (TV Series)
as
Allen Covert
- The Assistant (2001) - Allen Covert (uncredited)
2000
Little Nicky (Video Game)(voice)
1999
Deuce Bigalow: Male Gigolo
as
Vic
1999
Freaks and Geeks (TV Series)
as
Greasy Clerk
- Beers and Weirs (1999) - Greasy Clerk
1999
The Peeper (Video short)
as
The Boyfriend (voice)
1999
Late Last Night (TV Movie)
as
Coked Guy (as Alan Coert)
1999
Big Daddy
as
Phil D'Amato
1999
Never Been Kissed
as
Roger in Op-Ed
1998
The Wedding Singer
as
Sammy
1996
Bulletproof
as
Detective Jones
1993
The Ben Stiller Show (TV Series)
as
Waiter #1
- A Few Good Scouts (1993) - Waiter #1
1991
Ferris Bueller (TV Series)
as
Steve
- A Night in the Life (1991) - Steve
1991
Roseanne (TV Series)
as
Man #1
- Vegas Interruptus (1991) - Man #1
1989
Going Overboard
as
Bartender
Producer
2023
Leo (executive producer)
2023
The Out-Laws (producer - produced by)
2023
Murder Mystery 2 (producer - produced by)
2022
Hustle (producer - produced by)
2022
Home Team (producer - produced by)
2020
Hubie Halloween (producer)
2020
The Wrong Missy (producer - produced by)
2019
Murder Mystery (producer - produced by)
2018
Adam Sandler: 100% Fresh (TV Special) (producer)
2018
Father of the Year (producer - produced by)
2018
The Week Of (producer)
2017
Sandy Wexler (producer - produced by)
2016
The Do-Over (producer)
2015
The Ridiculous 6 (producer - produced by)
2015
Hotel Transylvania 2 (executive producer)
2014
Blended (executive producer)
2013
Grown Ups 2 (executive producer)
2012
Hotel Transylvania (executive producer)
2012
That's My Boy (producer)
2011
Jack and Jill (executive producer)
2011
Bucky Larson: Born to Be a Star (producer)
2011
Just Go with It (executive producer)
2010
Grown Ups (executive producer)
2008
The House Bunny (producer)
2007
I Now Pronounce You Chuck & Larry (co-producer)
2006
Grandma's Boy (producer)
2005
The Longest Yard (executive producer)
2003
Anger Management (executive producer)
2002
A Day with the Meatball (Short) (producer)
2002
Eight Crazy Nights (producer)
2002
Mr. Deeds (associate producer)
2000
Little Nicky (Video Game) (producer)
2000
Little Nicky (associate producer)
1999
The Peeper (Video short) (producer)
1999
Big Daddy (associate producer)
1996
Adam Sandler: Steve Polychronopolous (Music Video short) (producer)
Writer
2011
Jack and Jill (second rewrite - uncredited)
2011
Bucky Larson: Born to Be a Star (written by)
2009
Leisure Suit Larry: Box Office Bust (Video Game)
2006
The Benchwarmers (written by)
2006
Grandma's Boy (written by)
2002
Eight Crazy Nights (written by)
2000
Saturday Night Live: The Best of Chris Farley (TV Special documentary) (uncredited)
1999
Saturday Night Live: The Best of Adam Sandler (TV Special documentary) (uncredited)
1999
The Peeper (Video short) (co-writer)
1996
Adam Sandler: Steve Polychronopolous (Music Video short)
1994
Saturday Night Live (TV Series) (1 episode)
- Sara Gilbert/Counting Crows (1994) - (uncredited)
Soundtrack
2010
Grown Ups (writer: "Stan the Man")
2007
Saturday Night Live in the '90s: Pop Culture Nation (TV Special documentary) (writer: "Lunch Lady Land")
2004
50 First Dates (writer: "Forgetful Lucy")
2002
Eight Crazy Nights (producer: "Davey's Song", "Patch Song", "Long Ago", "Technical Foul", "Intervention Song", "Bum Biddy", "Grand Finale/It's Your Moment, Whitey!", "The Chanukah Song Part 3") / (writer: "Long Ago", "Technical Foul", "Intervention Song", "Bum Biddy", "Grand Finale/It's Your Moment, Whitey!")
2000
Saturday Night Live: The Best of Chris Farley (TV Special documentary) (writer: "Lunch Lady Land" - uncredited)
1999
Saturday Night Live: The Best of Adam Sandler (TV Special documentary) (writer: "Lunch Lady Land")
1999
Big Daddy (producer: "The Kangaroo Song") / (writer: "The Kangaroo Song")
1994
Saturday Night Live (TV Series) (writer - 1 episode)
- Sara Gilbert/Counting Crows (1994) - (writer: "Lunch Lady Land" - uncredited)
Script Department
2007
I Now Pronounce You Chuck & Larry (script revisions - uncredited)
2004
50 First Dates (script revisions - uncredited)
Miscellaneous
2003
Night of Too Many Stars (TV Special) (production consultant)
1989
Going Overboard (production assistant)
Thanks
2004
Talkin' Pidgin: Hawaiian Slang (Video short) (special thanks)
2003
Skull Session: The Making of 'Anger Management' (Video documentary short) (special thanks)
Self
2021
Reza Rifts (Podcast Series)
as
Self
- Allen Covert (2021) - Self
2011
Red Eye w/Tom Shillue (TV Series)
as
Self - Guest Panelist
- Episode dated 10 February 2011 (2011) - Self - Guest Panelist
2008
The Girls Next Door (TV Series)
as
Self - Producer
- House Bunnies (2008) - Self - Producer
2008
Up Close with Carrie Keagan (TV Series)
as
Self
- Episode dated 1 February 2008 (2008) - Self
- Episode dated 29 January 2008 (2008) - Self
2008
Deep Inside (TV Series)
as
Self
- Strange Wilderness (2008) - Self
1998
Late Night with Conan O'Brien (TV Series)
as
Self - Guest
- Paul Giamatti/Allen Covert/Tom Papa (2006) - Self - Guest
- Eric McCormack/Allen Covert/Blur (2000) - Self - Guest
- Patricia Arquette/Allen Covert/Seal (1999) - Self - Guest
- Rob Schneider/Tim Russert/Allen Covert (1998) - Self - Guest
2005
The Tonight Show with Jay Leno (TV Series)
as
Self
- Episode #13.220 (2005) - Self
2004
The Dating Scene (Video documentary short)
as
Self
2003
My Buddy Jack (Video documentary short)
as
Self
2003
Skull Session: The Making of 'Anger Management' (Video documentary short)
as
Self
2002
Reel Comedy (TV Series)
as
Self / Host
- The Benchwarmers - Self / Host
2002
HBO First Look (TV Series documentary short)
as
Self
- Adam Sandler's 8 Crazy Nights (2002) - Self
2000
Comedy Central Canned Ham (TV Series)
as
Self
- Mr. Deeds (2002) - Self
- Canned Ham: Little Nicky (2000) - Self
2001
Adam Sandler Goes to Hell (Video documentary short)
as
Self
2001
Satan's Top Forty (Video documentary short)
as
Self
Archive Footage
2022
FRO Thizzle Reviews (TV Series)
as
Self
- Grandma's Boy (2022) - Self
2016
The Sandlerverse (Short)
as
Various
2013
The Improv: 50 Years Behind the Brick Wall (TV Special documentary)
as
Self
References
Allen Covert Wikipedia
(Text) CC BY-SA