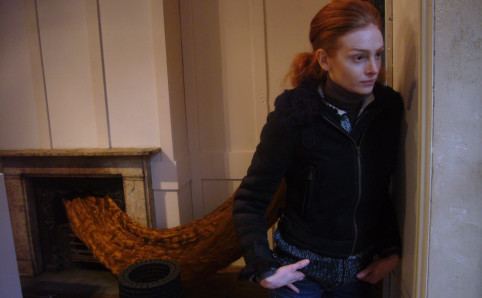 Alice Anderson's process-driven practice is an exploration of memory in the context of the digital world via COR-TEN steel and thread sculptures, drawings and performances. Through the transformation of virtual data into tactile forms, Anderson creates a new physical relationship with objects and spaces through ritual performance.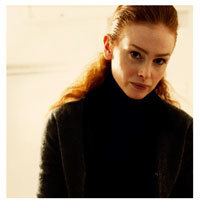 Anderson's practice began primarily with video. In 2011, this took a new direction following her personal exhibition at the Freud Museum in London, where she worked on Anna Freud's loom and initiated geometrical works of lines and grids. This is also when Anderson began to use copper-coloured wire in her studio. 'I took objects apart and put them back together again, and during one of these dismantling sessions I came across an alarm clock with a bobbin of copper wire inside it'.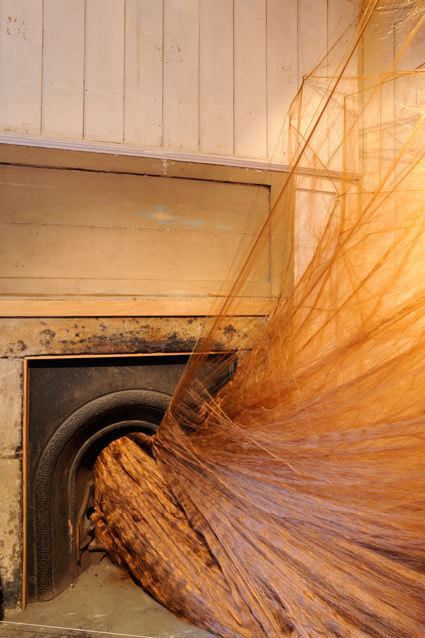 Anderson began to memorise objects from her London studio with copper-coloured wire. On her relationships to objects, Anderson says, "I always worry about breaking or losing an object, therefore I have established rules: When one of the object around me is likely to become obsolete or is lost in the stream of our lives, I memorise it with wire before it happens. If an object breaks, I encapsulate it in steel, I leave it outside for few weeks until it rusts, then I perform a ritual and when the dance is over, everything is repaired. The broken relation is healed".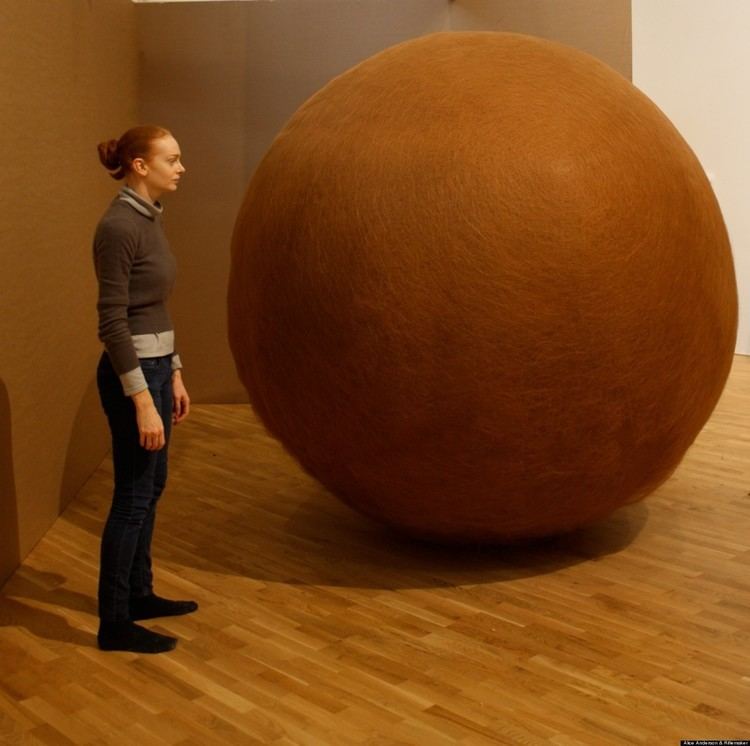 Desiring to encourage collective discussions and human exchanges, Anderson invited people to join in her actions, expressing art as a powerfully charged communal ritual. This experience was going to initiate the basis of her new practice aiming to memorise objects and keep physical DATA.
In 2015 she exhibited her objects '[1]' in copper wire at the Wellcome Collection in London. Jonathan Jones of The Guardian described the work as "glutinous in the memory. The reason it works is because she takes the whole thing so stupendously seriously. This is passionate, obsessive, intensely concentrated work." Visitors were asked to help the artist record a Ford Mustang in wire through a collective sculpture. Anderson also uses rough material such as recycled steel and works with metallic meshes to create sculptures from repetitive gestures
Anderson's work explores alternative ways of memorising objects and places in 3D in the age of digital technology. The digital world gives us information, freedom, creativity, and at the same time it fundamentally changes the process of our memorisation. Permanently immersed in millions of informations that machines 'memorize for us', Anderson responds to the idea that our memories live exclusively 'online' and questions the 'how' and 'what' to remember.
To do so she has developed a process of movements around the objects and expressed strong interests between Art and Science, Colliding Worlds: Hans Ulrich Obrist and Martin Rees. The digital evolution is a fascinating process that is going to turn out as decisive for the mechanisms of human memory as the invention of writing was.
Anderson's works make prevalent use of copper wire, a signature material which originated from the artist being drawn to copper wire's 'shiny, hypnotic' properties which triggered the thought that copper could represent the connectivity of a digital world and provide a means of 'memorising' objects. Anderson's first large-scale project using copper thread was to bind the façade of the Freud Museum with 3000 metres of thread in 'Housebound' (2011), which replicated the entire length of digital cables found within the site. Abstracting the innards of architecture to its digital nervous system, Anderson proceeded to apply this action to foundational structures within architecture: replicating, deconstructing and appropriating transitional structures such as stairs, windows and lifts housed within the host building. Through the process of 'memorising' the structures with copper wire, the elements are printed, contorted and displaced, often to points beyond immediate recognition. This body of works within Anderson's practice is termed 'Architectures Data'.
Anderson was drawn to extend the application of copper thread from large-scale architectures to objects. In the artist's words, "I always worry to break or lose an object, therefore I have established rules: when one of the objects around me is likely to become obsolete or is lost in stream of our lives, I 'memorise' it with thread before it happens." Anderson has 'memorised' all manner of objects from the complete 'weaving' of objects in her studio to a car, remembering the physicality of an object through the exploration of its materiality and physical extremities. The process of winding wire around objects takes Anderson into a meditative and rhythmic space of repetition, with movements akin to dance. Anderson connects with the objects in two ways: first, as substitutes for human interaction as she says that in her childhood she had "a very hard time connecting with people, and most of the time, my emotions weren't tied up with the person I had in front me, but rather with the objects associated with the moment of my relation with them"; secondly, this process is a way of recording and charging objects by printing them with the signature of her movement. It is, in that sense, practical rather than nostalgic. This body of work is termed 'Memorised Objects'.
In Alice Anderson's constant explorations of alternative ways of memorising, she has previously worked on recording objects in 3D through a physical interaction with thread. More recently the artist has pursued the idea of "recording" significant "broken" objects whereby the object lies within a COR-TEN steel that creates dynamically-charged capsules.
The artist engages with the idea that an archive of the future can be created to generate other forms of preservation that can co-exist alongside digital memory.
The resulting sculptures: totem-like - conceptual and minimal - take their size and shape from the objects they contain.
Anderson's practice is concerned with the transformation of virtual data into tactile forms to create new physical relationships with object and space through ritual performance. Using primitive instinctual and repetitive gestures, her lived performances stimulate a vital energy that replaces the energy that is drained through everyday interaction with the digital world. [2]
In September 2012, Anderson founded Alice Anderson's Travelling Studio after a debut performance at the Whitechapel Gallery in London. Set-up as a performance lab, the Travelling Studio is defined as an 'itinerant space' containing a studio, an archive with its ongoing collection (sometimes done with guest performers or public), a physical archive, an exhibition space inviting curators, historians, scientists to establish connections between people, worlds and communities that questions objects witnessing our time. If it evokes Andy Warhol's factory, for Anderson it has to be understood as a place producing solidarity bound to objects. These objects are therefore intended to become contemporary 'archeologies'. Addressing multiple aspects of our societies, the ritual objects have no aesthetic value, only that of the performance.
The itinerant space creates the conditions for an immersive experience anywhere; black walls, intense lighting, repetitive movements and the sound of bobbins hitting the floor, engage each participant in a ritualistic action. These conditions produce strong collective expressions and result in a common creative force, similar to the collective vital energy between the people and objects, that reminds of ritual dances or qi science.
Without particular rules or methods, participants are enabled to contribute to a collective sculpture. Utilising copper-coloured wire, each participant must formulate their own gestures around their object, they also must realise individual understandings of those actions. Small objects generate an intense concentration, resulting in faster motions. Whilst larger objects demand slower movements and collaboration with others. In both cases, the performative objects are 'magically charged'. They carry the collective energy and the identity of each participant. Objects produced collectively are authored by the 'invited performers' with their names and details.
In 2013, Alice Anderson's sculptures were featured at the 55th Venice Biennale. In 2013/2014, Anderson's work was shown at London's Freud Museum in a group exhibition Parallels have also been drawn between Anderson and the Post Minimalism movement. In 2015 Anderson participated in solo exhibitions at Wellcome Collection London and Espace Culturel Louis Vuitton, Paris. In 2016 Anderson installed a series of permanent sculptures at the Eiffel Historical Building in Paris, as well as a series of large-scale sculptures in a group show at the Saatchi Gallery, in London.