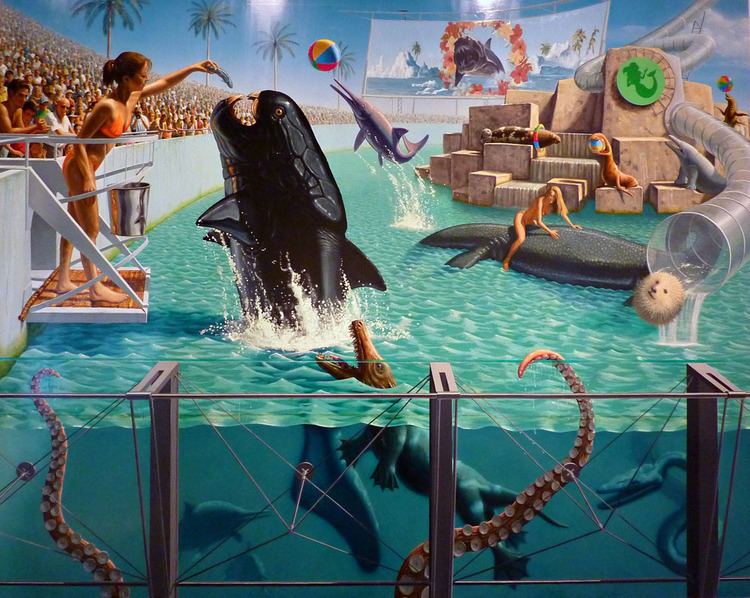 Rockman was born and grew up in New York City. Rockman's stepfather, an Australian jazz musician, brought the family to Australia frequently. As a child, Rockman frequented the American Museum of Natural History in New York City, where his mother, Diana Wall, worked for anthropologist Margaret Mead. Rockman has a particular fascination with cockroaches and rats, and admires their ability to shadow human civilization.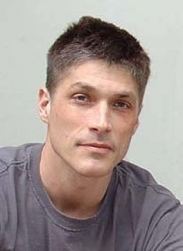 Growing up, Rockman had an interest in Natural History and Science, and developed fascination for film, animation, and the arts. From 1980 to 1982, Rockman studied animation at the Rhode Island School of Design, and continued art studies at the School of Visual Arts in Manhattan, receiving a BFA in fine arts in 1985.

Aside from his art career, Rockman has taken on requests from conservation groups, including the Riverkeeper project, which has fought against pollution of the Hudson River. He lives in the West Village with his partner, Dorothy Spears, and her two sons, Alex and Ferran Brown.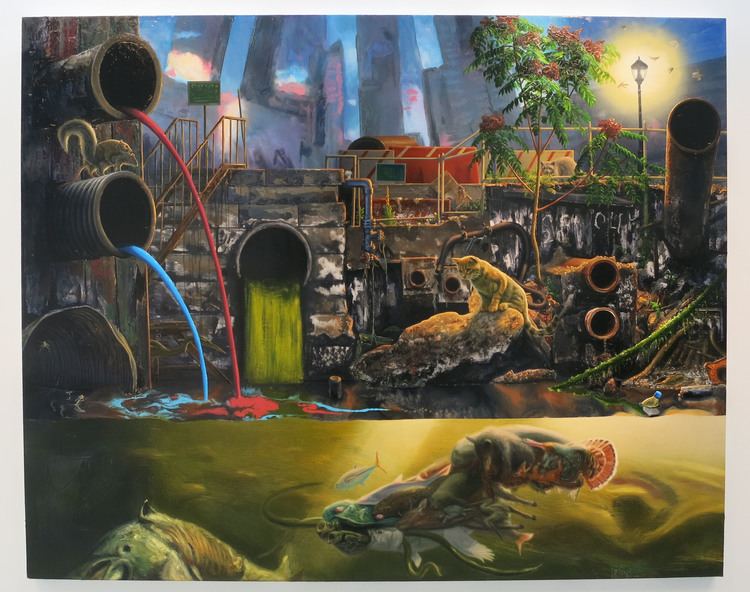 In the mid and late-1980s, Rockman began exhibiting his work at the Jay Gorney Modern Art Gallery in New York City in the East Village and relocated to SoHo in 1988. Rockman also had exhibitions at galleries in Los Angeles, Boston, and Philadelphia in the late 1980s. In Phylum, Rockman draws upon the work of Ernst Haeckel, a proponent of Darwinism. In 1992, Rockman painted his first mural, Evolution.
A series of works by Rockman in the early 1990s, including Barnyard Scene (1990), Jungle Fever (1991), The Trough (1992), and Biosphere: Laboratory (1993), use dark humor in depicting different species mating with one another. In Barnyard Scene, Rockman depicts a raccoon mating with a rooster, and Jungle Fever shows a praying mantis mating with a chipmunk. In the Biosphere series of paintings, Rockman alludes to the Biosphere 2 project in Arizona and envisions a situation where the Earth has become too toxic for human life, so life only exists in strangely mutated forms inside geodesic-dome structures. Biosphere uses references from science fiction cinema, particularly the opening scene of the 1971 film Silent Running', as well as Stanley Kubrick's 2001, and Ridley Scott's Alien. Biosphere: The Ocean (1994), influenced by H. R. Giger's work, depicts a shark with a long, bionic sawfish beak, suited for tearing through its food.
In 1993, Rockman created Still Life, a still life depiction of a pile of fish and marine specimens, evoking reference to 1935 horror James Whale film Bride of Frankenstein and films by Luis Bunuel. In Still Life, Rockman alludes to the Wunderkammer, placing "aberrant contents" amidst a Baroque still life scene, which traditionally is abundant with wealth and goods from Dutch and Spanish colonies.
Many of Alexis Rockman's works have been inspired by his travels around the world, including to Costa Rica, Brazil, Madagascar, Guyana, Tasmania, and Antarctica. Rockman traveled to Guyana in 1994 with fellow artist Mark Dion, resulting in numerous paintings of the flora and fauna that he observed. For the 1994 trip, he strictly painted works that depicted what he saw, with particular interest in various types of insects. Neblina (1995), one of the last works resulting from the Guyana trip, was painted after the collapse of a tailings dam at the Omni gold mine in Guyana, resulting in cyanide leaking into the waterway. Neblina shows wildlife huddled together high in tree branches. Rockman returned to Guyana in 1998, and his works from that trip focused on aspects of ecotourism. Rockman traveled to Antarctica in 2008 with Dorothy Spears, and works resulting from this voyage were featured in the "Badlands: New Horizons in Landscape" exhibit at the Massachusetts Museum of Contemporary Art.
Rockman's interest in science lead to a book collaboration with scientist and author Peter Douglass Ward called "Future Evolution", which was published in 2001. Rockman and Ward collaborated, with Ward writing the text and Rockman creating the images. Rockman and Ward portray the future as abundant with plants and animals, but they are descendants of weedy species or feral domestics.
Rockman's painting The Farm was exhibited at the Exit Art Gallery in New York City in 2000, as part of the "Paradise Now" exhibition. The work depicts various animals and plants in a soybean field, and how they may appear in the future, as a result of genetic engineering. For this work, Rockman consulted with molecular biologist Rob DeSalle at the American Museum of Natural History. "The Farm" lead to a residency and a body of work of four other 8x10' paintings called "Wonderful World", which was shown at the Camden Art Center in London in 2004.
In 2004, the Brooklyn Museum featured Manifest Destiny, an 8-by-24-foot oil-on-wood mural by Rockman as a centerpiece for the second-floor Mezzanine Gallery and marking the opening of the renovated Grand Lobby and plaza at the museum. Manifest Destiny portrays the Brooklyn waterfront amidst tropical vegetation and absent any humans, in the year 5004, after climate change has caused catastrophic sea level rise. Rockman sketched out initial ideas for the mural in January 2000, and Brooklyn Museum director Arnold L. Lehman officially commissioned the mural in 2002. Rockman began work on the mural in March 2003, consulting with experts in various fields, including Peter Ward and scientists at Columbia University's Goddard Institute for Space Studies, as well as architects Diane Lewis and Chris Morris. Rockman shows the outcome 3000 years in the future, depicting tropical plants, mutated fish and sea creatures glowing with radioactivity amidst the ruins of buildings, the Brooklyn Bridge, the wrecks of a Dutch sailing ship and a 20th-century submarine. Rockman's project suggests what the remote geological, botanical, and zoological future might bring, predicting the ecosystem of the area thousands of years ahead. This mural was exhibited from April 2004–September 2004 at the Brooklyn Museum of Art.
Cincinnati's Contemporary Arts Center featured works by Rockman and Tony Matelli in the 2007 exhibition, "Baroque Biology". In Romantic Attachments, Rockman portrays, in an allegorical manner, a male Homo georgicus together with a female human in a romantic encounter. The Homo georgicus dates from 1.8 million years ago, intermediate in the evolutionary timeline between Homo habilis and H. erectus. In Romantic Attachments, Rockman references Gian Lorenzo Bernini's sculpture Ecstasy of Saint Theresa, depicting the torch-bearing male Homo georgicus in place of Bernini's spear-bearing male angel towering over a female, who in both Bernini's and Rockman's work is portrayed in a sexual manner. Sculptor and paleoartist Viktor Deak created two reference models for Rockman of a male Homo georgicus.
From November 2010 to May 8, 2011, Alexis Rockman: A Fable for Tomorrow, was featured at the Smithsonian American Art Museum The exhibition, the first to survey Rockman's career, presented 47 paintings and works on paper by Rockman. The title of the exhibition refers to the title of the first chapter of Rachel Carson's book Silent Spring. As of Autumn Quarter 2011, this exhibition is currently being hosted at the Wexner Center for the Arts at The Ohio State University in Columbus, Ohio, which previously hosted prints of Evolution and Manifest Destiny.
At an October 23 lecture at the College of the Holy Cross, Rockman discussed his involvement in the then upcoming Ang Lee film Life of Pi. He completed several watercolor concept paintings and contributed to several visual sequences, including an underwater transition scene which he claims was inspired by the "Star Gate" sequence in Stanley Kubrick's 1968 film 2001: A Space Odyssey.
In his work, Rockman uses the language of natural history to examine our relationship to it as a culture. He is influenced by the 19th century Hudson River School, and identifies his work as pop art, "using natural history as his iconography". Rockman has sometimes been associated with a New Gothic Art movement.
Hudson River School artists portrayed American landscapes, in a utopian way, as a haven for Europeans escaping oppression. Rockman turns this idea upside down, depicting apocalyptic scenes, while incorporating realism of the Hudson River School. Influences include Albert Bierstadt's Storm in the Rocky Mountains, Mt. Rosalie, which depicts landscapes of the western United States before the culmination of Manifest Destiny when railroads linked the Pacific and Atlantic coasts. Hudson River School artists Thomas Cole and Frederic Edwin Church also inspired Rockman, particularly Cole's painting The Course of Empire – Desolation.
Other early influences for Rockman included the artwork and dioramas featured at the American Museum of Natural History. He has also spent extensive time studying old field guides and other such material.
Rockman is also influenced by film and animation, and has admiration for the work of various film designers, particularly the science fiction genre. Rockman admires the work of Syd Mead, designer for the film Blade Runner, fantasy art and science fiction illustrator Chesley Bonestell, and Jan Svankmajer; stop motion animators including Willis O'Brien, Ray Harryhausen, Brothers Quay; and various Eastern European avant-garde filmmakers. Jonathan Crary, Columbia University professor, sees similarities between Rockman and artists Piero di Cosimo, Albrecht Altdorfer, Edward Hicks, Theodore Rousseau, Joan Miro (The Ploughed Field or The Hunter), and Yves Tanguy. Crary notes how Rockman combines imaginary and visionary portrayal in an allegorical manner with scientific basis, study of the natural world, and experimental hypothesis.
Rockman also drew inspiration from Chesley Bonestell's 1950 Collier's magazine illustration Atom Bombing of New York City, which depicts Manhattan amidst destruction and a glowing orange aura of an atomic bomb.
People that have influenced Rockman include Stephen Jay Gould, whom Rockman met and later wrote two essays about Rockman's work for the monograph published by Monacelli Press. Charles R. Knight has a special place in Rockman's development, as he almost single-handedly created the genre of reconstructions of extinct ecosystems.
Some of Rockman's more recent works, including paintings featured in the 2008 Rose Art Museum exhibition, featured a more semi-abstract style than some of Rockman's earlier work that give traditional representation, creating some tension between the styles. In reviewing Rockman's 2008 Rose Art Museum exhibition, "The Weight of Air", The Boston Globe art critic Sebastian Smee describes Rockman's work as exhibiting a clash of abstract and his earlier styles, producing "a kind of distraction – a desire in the mind's eye to marry them that is continually frustrated," he though praised Rockman for taking on such subject matter. While Smee found some of Rockman's work overly jarring with clashing styles, Smee praised other pieces, including Wind Regime (2007), describing it as a "stunning painting".
Rush, Michael, ed (2008). The Weight of Air. The Rose Art Museum. ISBN 0-9761593-6-8.
Distel, Matt, ed (2007). Romantic Attachments. Contemporary Arts Center, Cincinnati. ISBN 0-917562-79-8.
Big Weather, American Icons. Leo Koenig Inc.. 2006.
Fresh Kills. Gary Tatintsian Gallery Inc.. 2005. (in English & Russian)
Alexis Rockman. The Monacelli Press. 2004. ISBN 1-58093-118-9.
Manifest Destiny. Gorney Bravin + Lee / Brooklyn Museum. 2004. ISBN 0-87273-151-0.
Wonderful World. Camden Arts Centre. 2004. ISBN 1-900470-32-2.
Mittelbach, Margaret (2005). Carnivorous Nights: On the Trail of the Tasmanian Tiger. Text Publishing. ISBN 978-1-920885-94-6. Rockman's 2004 journeys in Tasmania are recorded in the book Carnivorous Nights, with his accompanying artwork.
Ward, Peter (2002). Future Evolution. Henry Holt & Co. ISBN 0-7167-3496-6. Rockman did the illustrations for the book Future Evolution, by Peter Douglas Ward.
Dioramas. Contemporary Arts Museum, Houston. 1997.
Dion, Mark; Alexis Rockman (1997). Concrete Jungle: A Pop Media Investigation of Death and Survival in Urban Ecosystems. Juno Books. ISBN 0-9651042-2-2.
Guyana. Twin Palms Publishers. 1996. ISBN 0-944092-41-1.
Blinderman, Barry, ed. Second Nature. University Galleries of Illinois State University. ISBN 0-945558-23-6.
Evolution. Sperone Westwater. 1992.
Blau, Douglas (1992). Alexis Rockman. Jay Gorney Modern Art, New York and Thomas Solomon's Garage.
Decter, Joshua (1991). Alexis Rockman. John Post Lee Gallery.