Name

Alejandra Pizarnik





Role

Poet






Died

September 25, 1972, Buenos Aires, Argentina




Education

University of Buenos Aires (1954–1957)




Parents

Elias Pizarnik, Rejzla Bromiker




Awards

Guggenheim Fellowship for Creative Arts, Latin America & Caribbean




Books

La condesa sangrienta, A Musical Hell, Exchanging Lives, Arbol de Diana, El deseo de la palabra




Similar People

Juan Gelman, Olga Orozco, Alberto Manguel, Susan Bassnett
A gray barn rising alejandra pizarnik
Alejandra Pizarnik (April 29, 1936 – September 25, 1972) was an Argentine poet.
Contents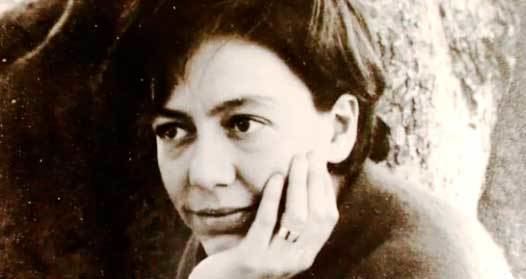 Breve biografia de alejandra pizarnik
Early life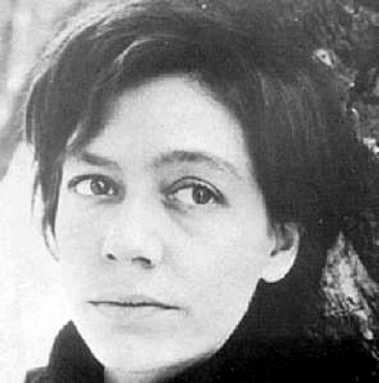 Alejandra Pizarnik was born on April 29, 1936, in Avellaneda, a city in Buenos Aires Province, Argentina, to Jewish immigrant parents from Rowno (now Ukraine). She had a difficult childhood, struggling with a marked stutter, acne and self-esteem issues. She also had a marked habit of gaining weight. These contingencies seriously undermined her self-esteem. Because of her negative body image and her continual comparisons to her sister, Alejandra's life became even more complicated. For this same reason, it is possible that she began to take amphetamines --the same drugs that she became strongly addicted to--, which caused long periods of sleeping disorders such as euphoria and insomnia.
Career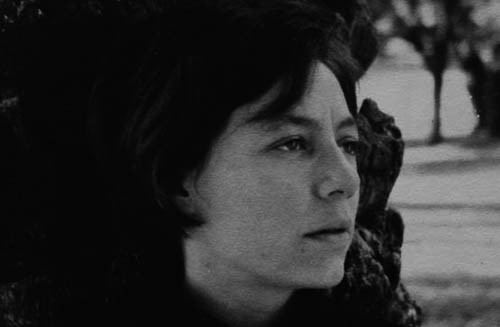 A year after entering the department of Philosophy and Letters at the Universidad de Buenos Aires, Pizarnik published her first book of poetry, La tierra más ajena (1955). She took courses in literature, journalism, and philosophy at the university, but never received her degree. Soon after, she studied painting with Juan Batlle Planas. Pizarnik followed her debut work with two more volumes of poems, La última inocencia (1956) and Las aventuras perdidas (1958).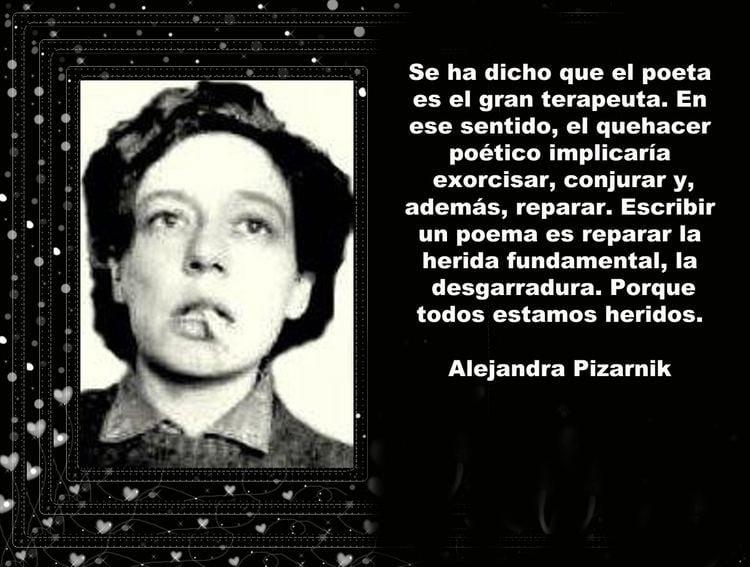 She was a profound reader of many dignified authors during her lifetime. From the novels read she delved into more literature with similar topics to learn from different points of view. Doing this sparked an interest early on for literature and also for the unconscious, which in turn gave her interest in psychoanalysis.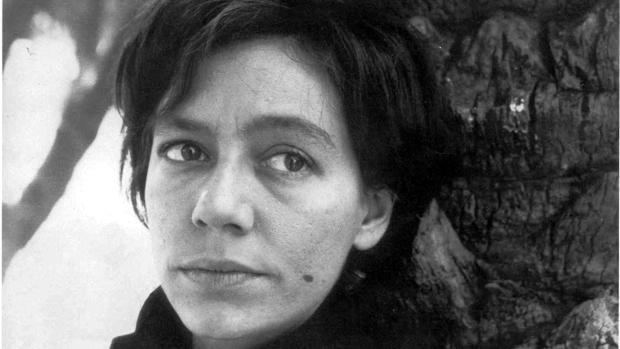 Pizzarnik was firmly uninvolved with politics, instead her lyricism was influenced by Antonio Porchia, French symbolists--especially Arthur Rimbaud and Stephanie Mallarme--, the spirit of romanticism and for the surrealists. She wrote poetic books of notary sensitivity and formal restfulness for insinuating imagery. The topics of her books focused on loneliness, childhood, pain, and more than anything, death.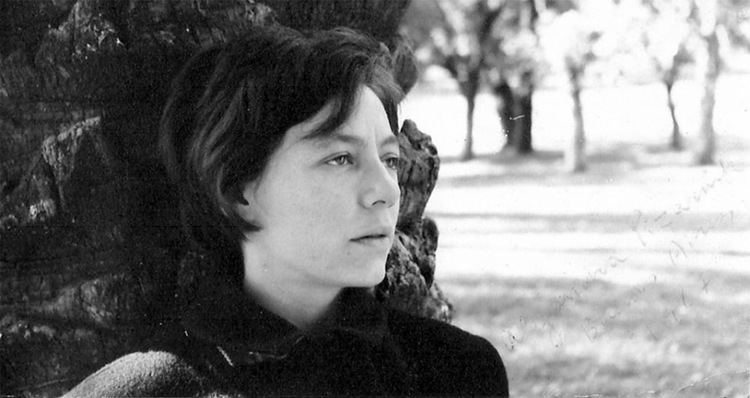 Between 1960 and 1964 Pizarnik lived in Paris, where she worked for the magazine Cuadernos and other French editorials. She published poems and criticism in many newspapers, translated for Antonin Artaud, Henri Michaux, Aimé Césaire, Yves Bonnefoy and Marguerite Duras. She also studied the French religious history and literature in the Sorbonne. There she became friends with Julio Cortázar, Rosa Chacel and Octavio Paz. Paz even wrote the prologue for her fourth poetry book, Árbol de Diana (1962), which showed how much she had matured in Europe as an author. She returned to Buenos Aires in 1964, and published her most well-known books of poetry: Los trabajos y las noches (1965), Extracción de la piedra de la locura (1968) and El infierno musical (1971).
She was awarded a Guggenheim Fellowship in 1968, and in 1971 a Fulbright Scholarship.
Death
Pizarnik ended her life on September 25, 1972 by taking an overdose of Secobarbital sodium at the age of 36. She is buried in Cementerio La Tablada, Buenos Aires, Argentina.
Books
The Most Foreign Country (La tierra más ajena) (1955)
translated by Yvette Siegert (Ugly Duckling Pressẽ, October 2015)
The Final Innocence (La última inocencia) (1956)
translated by Yvette Siegert (Ugly Duckling Pressə, October 2016)
The Lost Adventures (Las aventuras perdidas) (1958)
Diana's Tree (Árbol de Diana) (1962)
translated by Yvette Siegert (Ugly Duckling Pressẻ, October 2014)
Works and Nights (Los trabajos y las noches) (1965)
translated by Yvette Siegert (in Extracting the Stone of Madness: Poems 1962-1972, New Directions, September 2015)
Extracting the Stone of Madness (Extracción de la piedra de locura) (1968)
translated by Yvette Siegert (in Extracting the Stone of Madness: Poems 1962-1972, New Directions, September 2015)
A Musical Hell (El infierno musical) (1971)
translated by Yvette Siegert (New Directions, July 2013; reprinted in Extracting the Stone of Madness: Poems 1962-1972 by New Directions, September 2015)
The Bloody Countess (La condesa sangrienta) (1971)
Exchanging Lives: Poems and Translations, Translator Susan Bassnett, Peepal Tree, 2002, ISBN 9781900715669
References
Alejandra Pizarnik Wikipedia
(Text) CC BY-SA