Alberto Luigi Sangiovanni-Vincentelli (born June 23, 1947) is an academic researcher, teacher, entrepreneur, technical advisor and business man. He is a co-founder of the two companies in the Electronic design automation (EDA) space: Cadence Design Systems and Synopsys, Inc.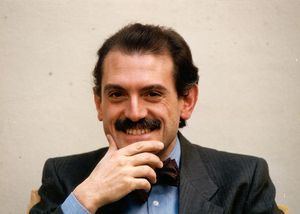 Born in Milan, Italy, he received his engineering master of science degree at the Politecnico di Milano university in 1971. In 1976 he moved to University of California Berkeley, where he currently is a full professor in the Department of Electrical Engineering and Computer Science, holding the Edgar L. and Harold H. Buttner Chair.
Alberto Sangiovanni-Vincentelli received the 1995 IEEE Graduate Teaching Award, the 2001 Phil Kaufman Award and the 2009 IEEE/RSE Wolfson James Clerk Maxwell Award. In 1983, he became IEEE Fellow and in 1998 he was elected to member of the U.S. National Academy of Engineering. He was awarded an Honorary Doctorate by University of Aalborg (Denmark) in 2009 and one by KTH (Stockholm, Sweden) in 2012.
He was elected fellow of Association for Computing Machinery (2014) for contributions to electronic design automation.