Covid-19
Alasdair Gray




Writer








Alasdair Gray 28 December 1934 (age 81) Glasgow, Scotland (

1934-12-28

)


Novelist, artist, playwright, academic, teacher, poet




Science fiction, dystopianism, surrealism, realism




Lanark: A Life in Four Books 1982, Janine Poor Things The Book of Prefaces




Eden and after, The white dog, Erics watching television




Glasgow School of Art, Whitehill Secondary School




Guardian Fiction Prize, Costa Novel Award




Locus Award for Best First Novel




Lanark: A Life in Four Books, Poor Things, Unlikely stories - mostly, 1982 - Janine, The Book of Prefaces




James Kelman, A L Kennedy, Edwin Morgan, Irvine Welsh, Iain Banks




Postmodern literature



Alasdair Gray (born 28 December 1934) is a Scottish writer and artist. His most acclaimed work is his first novel, Lanark, published in 1981 and written over a period of almost 30 years. It is now regarded as a classic, and was described by The Guardian as "one of the landmarks of 20th-century fiction." His novel Poor Things (1992) won the Whitbread Novel Award and the Guardian Fiction Prize. He describes himself as a civic nationalist (albeit one deeply critical of English immigration into Scotland) and a republican.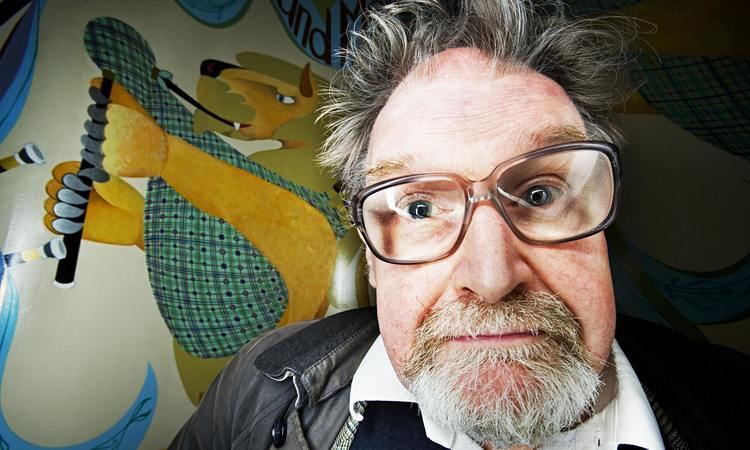 Gray's works combine elements of realism, fantasy, and science fiction, plus clever use of typography and his own illustrations. He has also written on politics, in support of socialism and Scottish independence, and on the history of English literature. He has been described by author Will Self as "a creative polymath with an integrated politico-philosophic vision", and as "a great writer, perhaps the greatest living in this archipelago today" and by himself as "a fat, spectacled, balding, increasingly old Glasgow pedestrian". His artwork is held by museums including Kelvingrove & The Viktor Wynd Museum of Curiosities, Fine Art & Natural History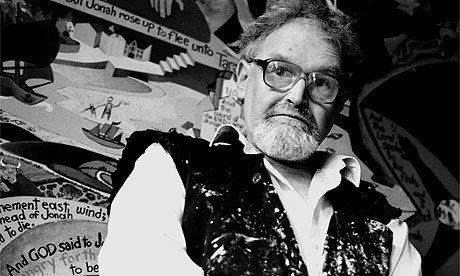 Gray was born in Riddrie, east Glasgow. His father had been wounded in the First World War and worked at the time in a factory, while his mother worked in a shop. During the Second World War, Gray was evacuated to Perthshire and then Lanarkshire, experiences which he drew on in his later fiction. The family lived on a council estate, and Gray received his education from a combination of state education, (at Whitehill Secondary School), public libraries, and the BBC: "the kind of education British governments now consider useless, especially for British working class children", as he later commented. He studied at Glasgow School of Art from 1952 to 1957, and taught there from 1958 to 1962. It was as a student that he first began what would become the novel Lanark. The artist crossed paths with a later student at Glasgow School of Art, Stewart Bowman Johnson.
After his graduation, Gray worked as a scene and portrait painter, as well as an independent artist and writer. His first plays were broadcast on radio and television in 1968. Between 1972 and 1974, he participated in a writing group organised by Philip Hobsbaum, which also included James Kelman, Liz Lochhead, Tom Leonard, Aonghas MacNeacail and Jeff Torrington. From 1977 to 1979, he was Writer in Residence at Glasgow University. In 2001, he became, with Tom Leonard and James Kelman, joint Professor of the Creative Writing programme at Glasgow and Strathclyde Universities.
Gray illustrates his books himself, and has produced many murals as well as paintings. One of his longest-lasting murals can be seen in the Ubiquitous Chip restaurant in the West End of Glasgow, and more recently in the Hillhead subway station.
In 2001, he stood as the candidate of the Glasgow University Scottish Nationalist Association for the post of Rector of the University of Glasgow, but was eventually narrowly defeated by Greg Hemphill. Formerly a supporter of the Scottish National Party and the Scottish Socialist Party, at the 2010 general election he supported his local Scottish Liberal Democrat candidate. He describes himself as a civic nationalist, stating in his 1992 book Why Scots Should Rule Scotland: "The title of this book may sound threatening to those who live in Scotland but were born and educated elsewhere, so I had better explain that by Scots I mean everyone in Scotland who is eligible to vote". Following an essay written in 2012, in which he characterised English people working in Scotland as either long-term "settlers" or short-term "colonists" Gray - though writing with approval about the former - found himself being accused of being anti-English, and a critic of English immigration into Scotland. He disputes this. Gray's full essay was published on the Word Power Books website Gray responded to criticism of his essay by stating that "...many of [his] best friends are English".
He has been married twice: first to Inge Sorenson (1961–1970), and in 1991 to Morag McAlpine. McAlpine died after a short illness in May 2014. He has one son, Andrew, born in 1964. He still lives in the West End of Glasgow.
His ceiling mural for The Auditorium of the Oran Mor arts & entertainment venue on Byres Road in Glasgow is one of the largest works of art in Scotland.
Gray frequently uses the quotation, "Work as if you live in the early days of a better nation", which is engraved in the Canongate Wall of the Scottish Parliament building. He attributes the quote to Canadian author Dennis Lee.
Gray painted the artwork for Scottish band De Rosa's second studio album, Prevention, which was released in 2009.
In June 2015 he was seriously injured in a fall at his home in Glasgow.
Gray has been prolific as an artist since graduating from the Glasgow School of Art in 1957. He was trained in mural painting, and his Glasgow murals include those in the Hillhead subway station and in the Oran Mor, an arts and music venue. His paintings, drawings and prints are well known and widely collected. His works have often sold in the art market, for example by the London auction houses. Examples of his paintings and prints are currently housed in various public collections, including the Victoria and Albert Museum, the Kelvingrove Art Gallery and Museum, the Museum of Modern Art, the Scottish National Gallery of Modern Art, the National Library of Scotland, the Hunterian Museum, and the Arts Council of England collection. His art was celebrated in 2014-2015 with a major retrospective exhibition at Glasgow's Kelvingrove
In 1977-1978 Gray worked for The People's Palace, Glasgow's local history museum, as the city's "artist recorder". The job was make-work employment funded through a job creation scheme set up by the Labour government of the day. While it lasted, Gray produced hundreds of drawings of the city, including portraits of politicians, people in the arts, members of the general public and workplaces with workers. These are now in the collection of Glasgow's Kelvingrove Art Gallery and Museum, and formed a major component of the works on display at the retrospective exhibition.
Cindytalk Wappinschaw (Touched Recordings, 1994) - Gray appears on "Wheesht" reading from Book 2 of Lanark
Future Pilot AKA Secrets From The Clockhouse (Creeping Bent, 2006) - Gray performs on "Equations of Love"
LAN Formatique The Sadness of Distances (Signifier, 2012) - Gray appears on "Mind the Gap" (reading from the poem of the same name), "1st of March, 1990" (reading from the poem of the same name), and "The Stars Are But Thistles" (reading from the poem "Dictators").
(Contributor) Pax Edina: The One O' Clock Gun Anthology (Edinburgh, 2010)
(Contributor) "Elsewhere: Here" (Cargo Publishing/McSweeney's, 2012)
(Contributor) Beacons: Stories for Our Not So Distant Future (Oneworld Publications, 2013)
The Arts of Alasdair Gray, Robert Crawford and Thom Nairn (1991)
Alasdair Gray, Stephen Bernstein (1999)
Alasdair Gray: A Unique Scottish Magus, Joy Hendry (ed.) (2000)
Alasdair Gray: Critical Appreciations and a Bibliography, Phil Moores (ed.) (2001; includes contributions by Gray himself.)
La Scozia di Alasdair Gray, Aurelio Pasini, Mobydick (2001)
Postmodern Strategies in Alasdair Gray's Lanark: A Life in Four Books, Luis de Juan (2003)
Shades of Gray: Science Fiction, History and the Problem of Postmodernism in the Work of Alasdair Gray, Dietmar Böhnke (2004)
Alasdair Gray: The Fiction of Communion, Gavin Miller (2005)
Voices from Modern Scotland: Janice Galloway, Alasdair Gray, Bernard Sellin (coord.) (2007)
Alasdair Gray, le faiseur d'Ecosse, Camille Manfredi, Presses Universitaires de Rennes (2012)
Alasdair Gray: Ink for Worlds, Camille Manfredi (ed.) (2014; includes contributions by Gray himself.)
Alasdair Gray: A Secretary's Biography, Rodge Glass (2008)
A Life in Pictures (2010) (illustrated autobiography)
Alasdair Gray Wikipedia