Nationality

Japanese




Name

Ai Shinozaki




Years active

2006-ongoing




Role

Gravure idol




Home town

Tokyo, Japan




Residence

Tokyo, Japan




Height

1.60 m (5 ft 3 in)










Born

February 26, 1992 (age 31) (

1992-02-26

)

Tokyo, Japan




Occupation

gravure idol, actress, singer, model




Website

http://ameblo.jp/oshino-ai/


Movies

Pantsu no ana the movie: Doutei soushitsu rapusodi, Kotsutsubo




Albums

With AeLL., 4/4 -YON BUN NO YON-, EAT 'EM AND SMILE, M




Similar

Anri Sugihara, Mikie Hara, Risa Yoshiki
Ai Shinozaki Solo Singer Debut
Ai Shinozaki (篠崎 愛, Shinozaki Ai, born February 26, 1992) is a Japanese gravure idol, singer, and a member of "AeLL.", a musical idol group.
Contents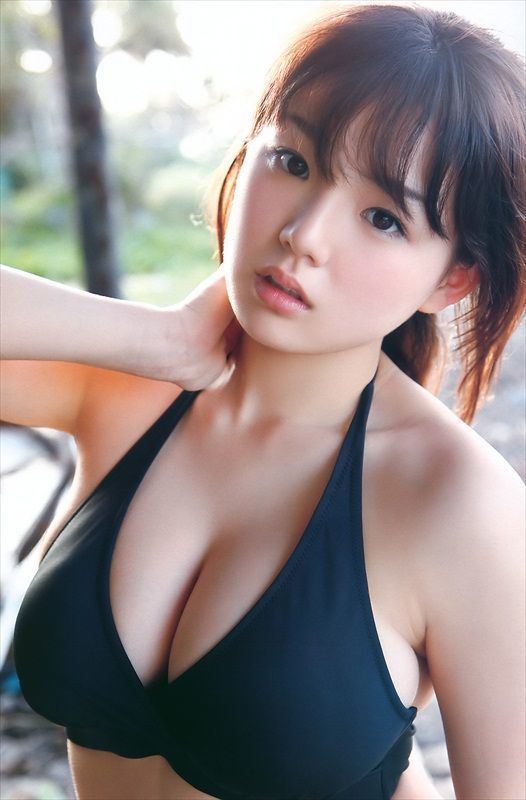 When she started modelling in 2006 at age 14, Shinozaki caused widespread press and Web comment about her having an unusually curvy figure for a Japanese teenager. In 2009, her page on the directory site "Chu-Boh" gave her height and figure as "160 B87 W60 H88" (5 ft 3 in, 34-24-35). She regularly appears on the front page of popular titles, such as Young Animal and Weekly Young Jump. Aside from modelling she has gone on to forge a career as a pop idol.
篠崎 愛 Ai SHINOZAKI - コレクション
Singles
"M" ( 2008, March 26, FOR-SIDE RECORDS ) The Cover of Princess Princess's Famous song.
"A-G-A-I-N" (2015-04-29) Reached 31st place on Oricon's Weekly Singles Chart
"口の悪い女" (August 24, 2016) Reached 22nd place on Oricon's Weekly Singles Chart
Photo albums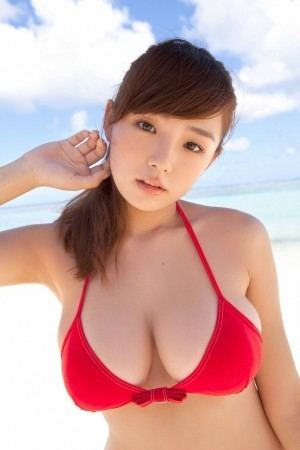 START DUSH!! (July 2006, Saibunkan) ISBN 4-7756-0134-2 Photo by Mitsuhiro Mouri
Bon! Bon! Ai-bomb (December 2007, BUNKASHA ) ISBN 978-4-8211-2688-0 Photo by Ryuuzi Maemura
Milk-colored love (May 2008, Aquahouse Inc ) ISBN 978-4-86046-114-0  Photo by Takayuki Kozuka
Okkina Love (May 12, 2008, Gakken Publishing ) ISBN 978-4-05-403784-7 Photo by Shouta Iizuka
Renai ~Love~ (April 2009, Saibunkan) ISBN 978-4-7756-0388-8 Photo by Sei Kimura
Heartiness (Sabra DVD Mook) (November 2009, Shogakukan) ISBN 978-4-0910-3080-1 Photo by Akihito Saijo
Sakura Saku Toki (May 2010, Saibunkan Publishing Co,Ltd) ISBN 978-4-7756-0479-3 Photo by Koji Inomoto
Love Scenes: Ai Shinozaki (September 2014, Shogakukan) ISBN 978-4-0968-2096-4 Photo by Akihito Saijo
Magazines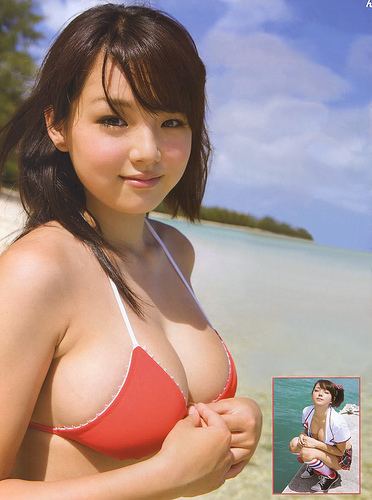 Weekly Young Jump (Shueisha )
Playboy
Chu Boh (Neptune's)
Scholastic (Scholastic Inc.)
Yul Young Champion (Akita Shoten)
Sex Bomb (Publishing Gakken)
i love you (Amit)
DVD
"Shinozaki Ai" (August 25, 2006, Saibunkan) [SBKD-0003]
"Love LOVE YOU" (September 27, 2006, TRAFFIC) [TJCB-10009]
"Peach Pie Love" (November 22, 2006, Air Control) [KQT-081]
"Pure Smile" (February 23, 2007 Takeshobo) [TSDV-41110]
"From the island of Ai ..." (Sun 25 May 2007, GP Museum Soft) [DMSM-7169]
"F-MATES, 15-MATES" (July 20, 2007, Spice Visual) ※ with Ueno Tihiro [MMR-040]
"LOVE-chan" (August 24, 2007, Takeshobo) [TSDV-41142]
"Balloooooon" (November 30, 2007, BUNKASHA) [BKDV-00260]
"ONE" (February 22, 2008, Spice Visual) [MMR-048]
"Milk-colored love" (May 23, 2008, Spice Visual) [MMA-050]
"Ai-Link" (August 22, 2008, Frontier Inetto) [FOEN-031]
"Okkina Love" (December 17, 2008, Gakken publishing) [SSBX-2244]
"Lots of love ~ Ai Ippai"(February 20, 2009, Rainkomyunikeshonzu) [LCDV-40359]
"Love's zephyr ~ Koi Kaze" (February 20, 2009, Rainkomyunikeshonzu) [LCDV-40360]
"'Love' I'm trying hard! ~ Ai Ganbattemasu!" (May 22, 2009, Saibunkan) [SBVD-0036]
"Lady ~ Frau" (August 28, 2009, Takeshobo) [TSDV-41241]
"Soeur ~ Sister" (August 28, 2009, Takeshobo) [TSDV-41242]
"Hokkaido promise long-distance love" (27 November 2009, Frontier Inetto) [ENFD-5176]
"Sunny ..." (November 27, 2009, Frontier Inetto) [ENFD-5177]
"Shinozaki Ai Kakeroma Island Beach Angels in Amami Oshima" (February 24, 2010, bop) [VPXF-75112] Blu-ray Disc * version released simultaneously
"Sakukoro cherry" (May 28, 2010, Saibunkan) [SBVD-0075]
"Rabusupo! ~ Love Sport!" (August 27, 2010, Takeshobo)
"Baito naka!? ~ Doing Part-Time!?" (August 27, 2010, Takeshobo)
"Mountain Girl Moe Tsu loose ..." (September 15, 2010, Pony Canyon)
"Shinozaki Ai FINAL 1/2 ~ Wonderland Love" (20 November 2010, Rainkomyunikeshonzu) [LCDV-40443]
"Shinozaki Ai FINAL 2/2 ~ Loveland Love" (20 November 2010, Rainkomyunikeshonzu) [LCDV-40444]
"Shinozaki Ai Special DVD-BOX" (20 November 2010, Rainkomyunikeshonzu)
"Shinozaki Ai Premium DVD BOX" (February 25, 2011, Grasso)
"Junai Ijou" (April 27, 2011, Inet Frontier) [ENFD-5301]
"Junjou Karen" (April 27, 2011, Inet Frontier) [ENFD-5302]
"Koi nandesu" (July 28, 2011, Ribapūru) [YJLP-1006]. First market-release was 22 December 2011 then Blu-ray Disc version for 18 April 2014
"Amai Kajitsu ~ Sweet Fruit" (September 24, 2011, bamboo study) [TSDV-41376]
"Magical Eyes" (2011, September 24, 2011, bamboo study) [TSDV-41377]
"Love Overflowing! ~ Ai Afuretemasu!" (December 23, 2011, Oh, of digital su Tatari Hikaru) [SBVD-0130]
"Sweet Love" (February 22, 2012) (BOMB-1018]
"Ai no mama ni... ~ Leave the Love..." (May 23, 2012, Ribapūru) [LPDD-72]. Blu-ray Disc version release at 22 November 2013
"Ai Motion" . . . " (June 22, 2012, Ribapūru) [LPFD-247]
"Ai's Origin" (20 September 2013, shining-will) [DV-01]
"Your Ai's Only" (20 March 2014, shining-will) [DV-06]
"篠崎愛 Lovely" (17 October 2014, shining-will) [DV-09]
"HOLIDAY" (29 May 2015, shining-will) [DV-10]
"Reality"(8 October 2015, shining-will)[DV-12]
Filmography
(excluding the acts of AeLL.)
Movie
"Pantsu no ana THE MOVIE Doutei Soushitsu Rhapsody (

"パンツの穴 THE MOVIE 童貞喪失ラプソディ

)(November 2011、as Narumi Ichinose, maincast)
Kotsu Tsubo (Horror movie)
Time Slip Glasses (たいむすりっぷメガネ)(Sci-fi comedy)
Pandora, Dark insects in Tokyo
Alps Jogakuen
TV variety
"2008! Choice Idol Mania! Always break Idol" ( 2007, December 28, NTV )
"Girls On Film" ( Mondo21, 2007)
"Beach Angels" ( TBS Channel, 2009)
"Mountain Girl Moe Tsu loose!" (July 29, 2010, Kansai )
TV drama
24 Eyes (October 2007 to March 2008, TBS TV )
Stage
"MOTHER Mother – The story of a mother bird Hama Tome suicide" (December 9, 2009 – June 13, the New National Theater Small Theater)
"MOTHER Mother – The story of a mother bird suicide Tome Hama ~" [replay] (26 to 30 May 2010, Galaxy Theatre Tennozu)
"Entertainment Alley" produced "a good day, restructuring" (August 18–22, 2010 Sun, Theater Green)
References
Ai Shinozaki Wikipedia
(Text) CC BY-SA