Agnidevan full malayalam movie mohanlal revathi
Agnidevan (Malayalam : അഗ്നിദേവന്‍ English: The Lord Of Fire) (1995) is an Indian film in Malayalam written by P. Balachandran and directed by Venu Nagavalli, starring Mohanlal and Revathi. A struggle for leadership of the family newspaper causes the family to split apart. This is the main theme of the film, which is of the musical/drama genre. It was one of the most successful films of the year along with the film's music.
Contents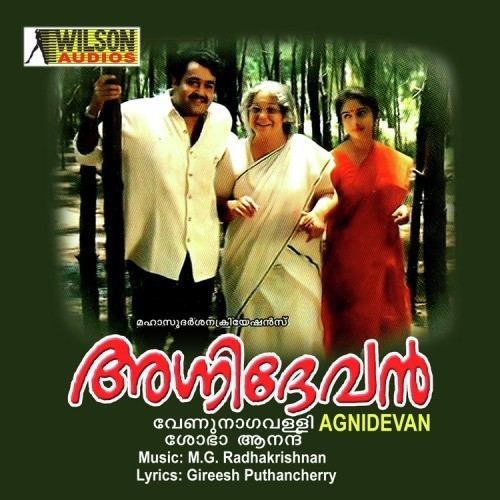 Agnidevan malayalam superhit full movie hd mohanlal revathi
Plot
The story is a family drama about the conflict between two brothers who share the legacy of Ezhuthupura, a newspaper company owned by their family. Their roles as the main writers and publishers of a daily newspaper come to the forefront of their rivalry with each other. While one brother Devan has a clinical, business oriented attitude to growing the newspaper industry that he heads, the younger brother Mohanlal feels very emotional and passionate about the craft of writing and reporting. He gives everything to enriching his relationships and cannot understand how to approach it with business goals because writing, in itself, marks tradition, legacy and so much more in their family of distinguished writers. How the younger brother wins his legacy is the rest of the film.
Cast
Mohanlal as Aniyankuttan (Ravi Varma)
Revathi as Sudarshana
Devan as Appu (Rama Varma)
Bharath Gopi as K. K. Menon
Jagadish as Murukan
Mohan Jose as Company manager
Rohini Hattangadi as Aniyankuttan's Grandmother
Beena Antony as Vasudeva Warrier's Daughter
P. Balachandran as Edakka
T. P. Madhavan
Songs
The film includes songs written by lyricist Gireesh Puthenchery and composed by M. G. Radhakrishnan. The songs became chartbusters especially Nilavinte Neela Bhasmam Sung by M. G. Sreekumar.
References
Agnidevan Wikipedia
(Text) CC BY-SA