Years active

1957-2010




Name

Adrienne Posta





Role

Film actress




Spouse

Graham Bonnet





Born

4 March 1948 (age 75) (

1948-03-04

)

London, England, UK




TV shows

64 Zoo Lane, Alexander the Greatest, Moody and Pegg, Anthony Ant, Don't Ask Me, Angelina Ballerina


Movies

To Sir - with Love, Adventures of a Taxi Driver, Up the Junction, Here We Go Round the Mulbe, Carry On Behind




Similar People

Judy Geeson, Stanley Long, Graham Bonnet, Barry Evans, Suzy Kendall
RARE INTERVIEW Adrienne Posta 2011 talk's about being in the 1967 film "To sir with love"
Adrienne Posta (born Adrienne Luanne Poster, 4 March 1949) is an English film and television actress and singer, prominent during the 1960s and 1970s. She adopted the surname 'Posta' in 1966.
Contents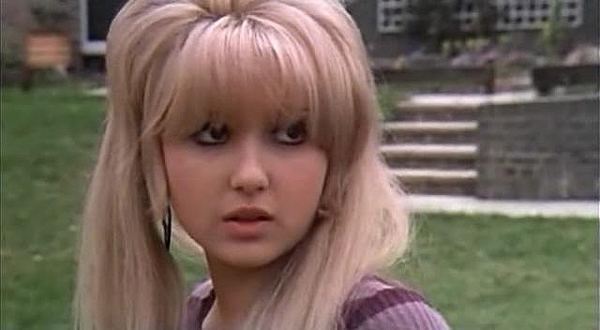 Adrienne posta he doesn t love me
Biography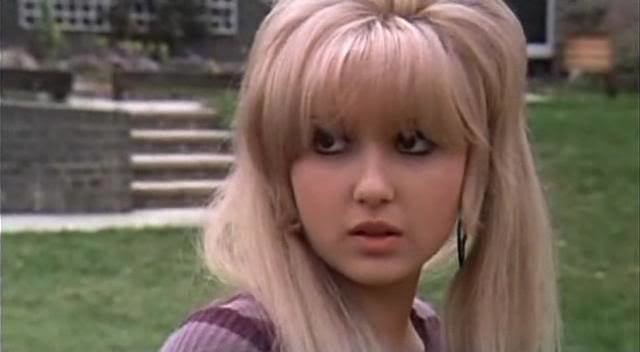 She appeared in a number of films, including To Sir with Love and Here We Go Round the Mulberry Bush (both 1967), Up the Junction (1968) and Spring and Port Wine (1970). She also featured in many TV programmes including the first episode of Adam Faith's series Budgie (1971), where she appeared as a stripper. She appeared throughout the BBC 1 series It's Lulu (1973), singing, dancing and acting alongside her friend Lulu and comedian Roger Kitter.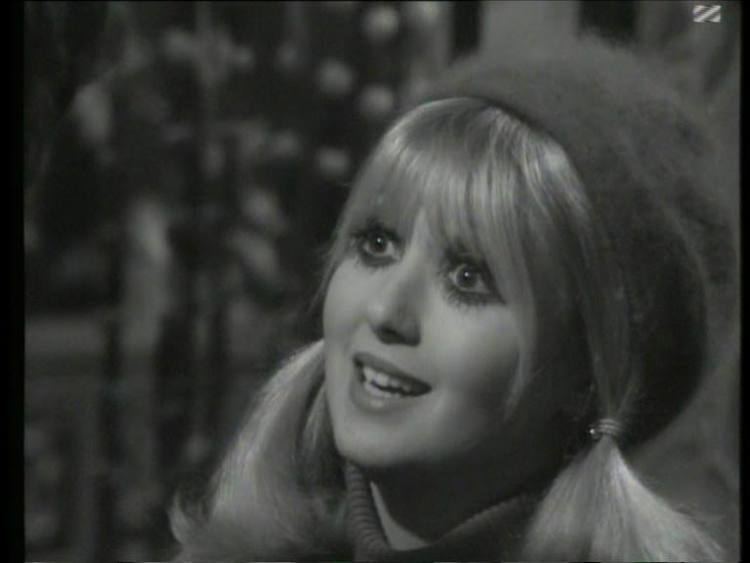 Posta also recorded a number of singles. She is now semi-retired and works as a teacher in the Midlands and at the Italia Conti Academy of Theatre Arts.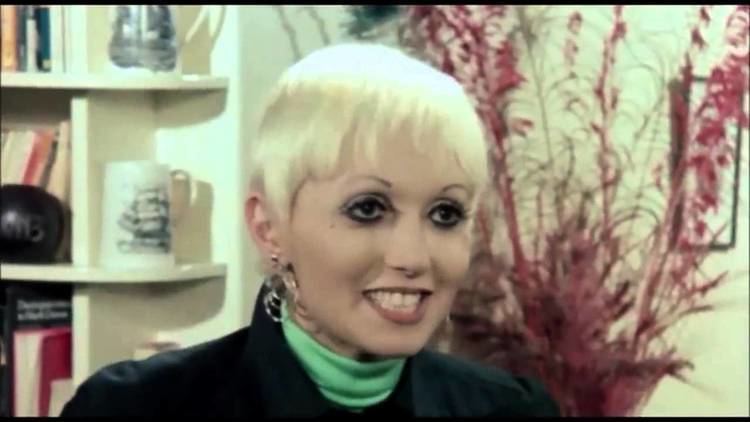 Posta is an honorary patron of the Music Hall Guild of Great Britain and America.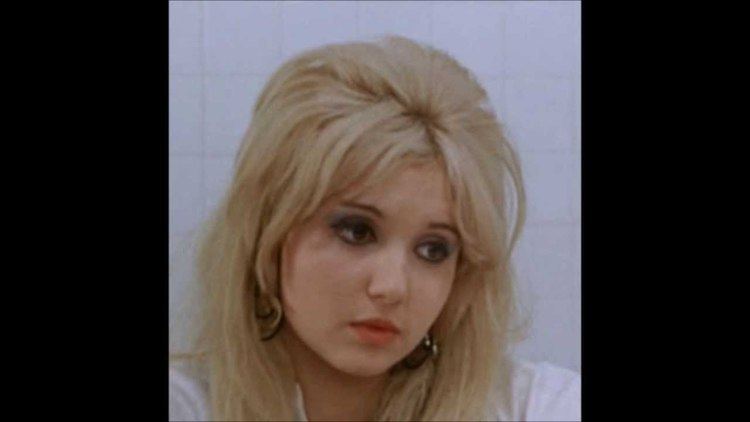 Theatre
Up in the Gallery playing the lead role of Marie Lloyd alongside Jack Douglas and John Altman
Babes In The Wood playing Maid Marion alongside Edward Woodward at the London Palladium.
Piaf playing the role of Edith Piaf circa 1983
Discography
Her first recordings were as Adrienne Poster.
7" single "Only Fifteen" / "There's Nothing You Can Do About That" — Decca F 11797 (1963)
7" single "Shang A Doo Lang" / "When A Girl Really Loves You" — Decca F 11864 (1964)
7" single "He Doesn't Love Me" / "The Way You Do The Things You Do" — Decca F 12079 (1965)
7" single "The Winds That Blow" / "Backstreet Girl" — Decca F 12181 (1965)
7" single "Something Beautiful" / "So Glad You're Mine" — Decca F 12329 (1966)
Subsequent recordings were as Posta.
7" single "They Long To Be Close To You" / "How Can I Hurt You?" — Decca F 12455 (1966)
7" single "Dog Song" / "Express Yourself" — DJM DJS 286 (1973)
7" single "Cruisin' Casanova" / "Sing Me" — President PT 453 (1976)
She also recorded as part of Jonathan King's group, The Piglets:
7" single "Johnny Reggae" / backing track — Bell Records (1971)
Filmography
Actress
1999
64 Zoo Lane (TV Series)
as
Pauline the Pelican / Esmeralda the Snake / Isabel the Flamingo / ...
- The Story of Horace the Hare (2012) - (voice)
- The Story of Tallulah the Toucan (2011) - (voice)
- The Story of Leopoldo the Lama (2011) - (voice)
- The Story of Doris' Precious Things (2011) - (voice)
- The Story of Herbert's Watermelons (2011) - (voice)
- The Story of Zed the Hero of Africa (2011) - (voice)
- The Story of the Baby Bison (2011) - (voice)
- The Story of the Best Christmas Tree Ever (2010) - (voice)
- The Story of Thelma the Whale (2010) - (voice)
- The Story of the Together Stones (2010) - (voice)
- The Story of Patsy the Porcupine (2010) - (voice)
- The Story of Jazz the Carnival King (2010) - (voice)
- The Story of the Jungle Pie (2010) - (voice)
- The Story of Joey's Sleepover (2010) - (voice)
- The Story of Melanie's Little Helpers (2010) - (voice)
- The Story of the Play and Splash Pool (2010) - (voice)
- The Story of Snowbert's New Friend (2010) - (voice)
- The Story of the Puffin's Treasure (2010) - (voice)
- The Story of Ronald's Swimming Lesson (2010) - (voice)
- The Story of Jamie the Littlest Puffin (2010) - (voice)
- The Story of Toby's New House (2010) - (voice)
- The Story of the Big Billabong Wave (2010) - (voice)
- The Story of Lily's Little Brother (2010) - (voice)
- The Story of Nelson's Nephew Nigel (2010) - (voice)
- The Story of Herbert's Peaceful Day (2003) - (voice)
- The Story of the Hyena's Holiday (2003) - (voice)
- The Story of Victor the Crocodile (2003) - (voice)
- The Story of Melanie's Birthday Present (2003) - (voice)
- The Story of Boris the Bear (2003) - (voice)
- The Story of the Monster in the Forest (2003) - (voice)
- The Story of Joey's Camping Trip (2003) - (voice)
- The Story of Cousin Chuckles (2003) - (voice)
- The Story of Georgina's Bumbleberry Soup (2003) - (voice)
- The Story of Gary's Best Friend (2003) - (voice)
- The Story of Seamus the Stork (2003) - Pauline the Pelican (voice)
- The Story of Casper the Chameleon (2002) - (voice)
- The Story of Ronald and Rosie (2002) - (voice)
- The Story of the Important Visitor (2002) - Esmeralda the Snake (voice)
- The Story of Alan the Aardvark (2002) - (voice)
- The Story of Herbert and the Watermelon of Doom (2001) - (voice)
- The Story of Isabel the Flamingo (2001) - Isabel the Flamingo / Annabelle the Flamingo (voice)
- The Story of Kevin's Magic Trick (2001) - (voice)
- The Story of the Dawn Chorus (2001) - (voice)
- The Story of Hercule Moustache (2001) - (voice)
- The Story of Phoebe the Koala (2001) - (voice)
- The Story of Reginald's Big Sleep (2001) - (voice)
- The Story of Herbert's Birthday Party (2001) - (voice)
- The Story of Eddie's Big Adventure (2001) - Esmeralda the Snake (voice)
- The Story of Doris the Duck (2001) - (voice)
- The Story of Melanie the Moose (2001) - (voice)
- The Story of Ronald and the Tic-Tic Bird (2001) - (voice)
- The Story of Annie the Anaconda (2000) - (voice)
- The Story of the Puffins of Mossy Bay (2000) - (voice)
- The Story of Victor's Bad Teeth Day (2000) - (voice)
- The Story of the Jungle Clearing (2000) - (voice)
- The Story of Wally the Wombat (2000) - (voice)
- The Story of Gary the Dromedary (2000) - (voice)
- The Story of Pauline the Pelican (1999) - Pauline the Pelican (voice)
- The Story of Adam the Armadillo (1999) - (voice)
- The Story of Kevin the Crocodile (1999) - (voice)
- The Story of Nelson the Elephant (1999) - (voice)
2010
Gray Matter (Video Game)
as
Mrs. Dalton (voice)
2001
Angelina Ballerina (TV Series)
as
Grandma Mouseling / Sophia Mouseling / Madame Zizi
- Sammy's Club/The Anniversary Party (2003) - Sophia Mouseling (voice)
- The Gymnastics Championship/Angelina's Baby Sister (2002) - Grandma Mouseling (voice)
- Angelina's Valentine/The Royal Banquet (2002) - (voice)
- The Cheese Ball Cup Final/Angelina and Anya (2002) - (voice)
- Angelina the Mouse Detective/Angelina and Grandma (2002) - Grandma Mouseling (voice)
- Angelina in the Wings/Arthur the Butterfly (2001) - Madame Zizi (voice)
2001
Ivor the Invisible (TV Movie)(voice)
1999
Pablo the Little Red Fox (TV Series)
as
Various
- The Last Apple (2000) - Various
- Abracadabra Pablo! (2000) - Various
- The Abominable Drain Monster (2000) - Various
- The Kite (2000) - Various
- Pablo and the Tin of Sardines (2000) - Various
- A Cub in a Tangle (2000) - Various
- The Post Office (2000) - Various
- The Growling Toy (2000) - Various
- Sticky Paws (2000) - Various
- Who's the Best? (2000) - Various
- Smile (2000) - Various
- A Nest for Four (1999) - Various
- The Balloon Trip (1999) - Various
- The Painter's Studio (1999) - Various
- Rattling Bones (1999) - Various
- Midnight Clearing (1999) - Various
- The Sound of Music (1999) - Various
- Pumpkins's BIG Voice (1999) - Various
- City Lights (1999) - Various
- Changing Rooms (1999) - Various
- How Does It Grow, Pablo? (1999) - Various
- What's This? (1999) - Various
- Pumpkin Measures Up (1999) - Various
- Sleepy Head (1999) - Various
- Happy Twelve Moons (1999) - Various
- The Snow Fox (1999) - Various
- Fooled You (1999) - Various
- Pablo the Lifeguard (1999) - Various
- The Train Journey (1999) - Various
- Hide and Seek (1999) - Various
- Buried Treasure (1999) - Various
- Sky High (1999) - Various
- Me and My Shadow (1999) - Various
- The Storm (1999) - Various
- 3 Wishes (1999) - Various
- An Icy Day (1999) - Various
- The Football Match (1999) - Various
- Bath Time (1999) - Various
- A New Home for Helena (1999) - Various
- Moving Out (1999) - Various
- At the Supermarket (1999) - Various
- Umbrella Day (1999) - Various
- Pablo's Playground (1999) - Various
- Footprints in the Snow (1999) - Various
- In the Balance (1999) - Various
- The Lost Bear (1999) - Various
- The Big Bed (1999) - Various
- Pumpkin to the Rescue (1999) - Various
- Market Day (1999) - Various
- Gone Hunting (1999) - Various
- Fishing for Dad (1999) - Various
- On Top of the World (1999) - Various
2000
Lucy Sullivan Is Getting Married (TV Series)
as
Charlotte's Mum
- Over the Dry Cleaners (2000) - Charlotte's Mum
1999
Anthony Ant (TV Series)
as
Billy Bedbug / Witch Weevil / Nate
- The Circus/The Big Flood (1999) - Billy Bedbug / Witch Weevil / Nate (voice)
1998
Archibald the Koala (TV Series)
- The Dragon (1998) - (voice)
1998
Real Women (TV Series)
as
Babs
- The Hitch (1998) - Babs
- The Hangover (1998) - Babs
1998
Enid Blyton's Enchanted Lands (TV Series)
- The Chair Clowns About (1998) - (voice)
- The Magician's Party (1998) - (voice)
- The Disappearing Islands (1998) - (voice)
- The Land of Dreams (1998) - (voice)
- Poor Lost Jigs (1998) - (voice)
- The Ho Ho Wizard (1998) - (voice)
- The Grabbit Gnomes (1998) - (voice)
1997
Red Dwarf (TV Series)
as
Flight Announcer
- Ouroboros (1997) - Flight Announcer (voice)
1994
The Bill (TV Series)
as
Molly
- Full Contact (1994) - Molly
1988
Cue Gary (TV Series)
- Party Special (1988)
1987
Boon (TV Series)
as
Maxine
- Paper Mafia (1987) - Maxine
1987
Cannon and Ball (TV Series)
- Anything But the Truth (1987)
1984
The Gentle Touch (TV Series)
as
Elaine Campbell
- Appearances Can Be Deceptive (1984) - Elaine Campbell
1982
Tenebrae
as
Various (English version, voice, uncredited)
1981
The Olympian Way (TV Series)
as
Eva
- Happy Birthday (1981) - Eva
1980
In Loving Memory (TV Series)
as
Sister Joanna
- The Angels Want Me for a Sunbeam (1980) - Sister Joanna
1980
Minder (TV Series)
as
Jenny
- All About Scoring, Innit? (1980) - Jenny
1979
Diary of a Nobody (TV Series)
as
Little girl
- Episode #1.9 (1979) - Little girl
1978
Shadows (TV Series)
as
Candy
- Honeyann (1978) - Candy
1978
That's the Way the Money Goes (TV Series short)
as
Cathy
- Buying a Dream- (1978) - Cathy
- A Foot in Your Door (1978) - Cathy
- Service with a Smile? (1978) - Cathy
- Never, Never? (1978) - Cathy
- Good as New? (1978) - Cathy
- Food for Thought? (1978) - Cathy
- Be Reasonable! (1978) - Cathy
- Money Back? (1978) - Cathy
1977
Adventures of a Private Eye
as
Lisa Moroni
1976
Bar Mitzvah Boy (TV Movie)
as
Lesley Green
1976
Play for Today (TV Series)
as
Lesley Green
- Bar Mitzvah Boy (1976) - Lesley Green
1976
Get Some In! (TV Series)
as
Julie
- Crush (1976) - Julie
1976
Adventures of a Taxi Driver
as
Carol
1975
Carry on Behind
as
Norma Baxter
1974
Moody and Pegg (TV Series)
as
Iris
- Roland's Ladies (1975) - Iris
- She - The Diplomat (1974) - Iris
- His or Hers? (1974) - Iris
1975
Edward the King (TV Mini Series)
as
Marie Lloyd
- The Years of Waiting (1975) - Marie Lloyd
1974
It's Not the Size That Counts
as
P.C. 217 'Iris'
1974
Till Death Us Do Part (TV Series)
as
Millie
- Party Night (1974) - Millie
1973
The Witches' Brew (TV Series)
as
The Pink Witch
- Episode #2.14 (1973) - The Pink Witch
- Episode #2.13 (1973) - The Pink Witch
1973
Black and Blue (TV Series)
as
Jacki Darr
- The Middle-of-the-Road Roadshow for All the Family (1973) - Jacki Darr
1973
Once Upon a Time (TV Series)
as
Cinderella
- Buttons (1973) - Cinderella
1971
A Christmas Night with the Stars (TV Series)
as
Actress - Look, Mike Yarwood! segment
- Christmas Night with the Stars 1972 (1972) - Actress - Look, Mike Yarwood! segment
- Episode dated 25 December 1971 (1971) - Actress - Look, Mike Yarwood! segment
1972
Dixon of Dock Green (TV Series)
as
Marina Fairhead
- Ada (1972) - Marina Fairhead
1972
The Alf Garnett Saga
as
Rita Rawlins
1971
Alexander the Greatest (TV Series)
as
Renata Green
- Renata's Secret Affair (1972) - Renata Green
- Sam Leaves Home (1972) - Renata Green
- The 21 Year Itch (1972) - Renata Green
- Kicking the Filthy Habit (1972) - Renata Green
- Israel Needs You (1972) - Renata Green
- The New Policy (1972) - Renata Green
- Charity Ends at Home (1972) - Renata Green
- Happy Anniversary (1971) - Renata Green
- The Disengagement of Murray and Renata (1971) - Renata Green
- The Match (1971) - Renata Green
- The All Night Party (1971) - Renata Green
- The Third World Starts Tonight (1971) - Renata Green
- A Week to Live (1971) - Renata Green
1968
BBC Play of the Month (TV Series)
as
Doonyasha / Bessie Watty
- The Cherry Orchard (1971) - Doonyasha
- The Corn Is Green (1968) - Bessie Watty
1971
Budgie (TV Series)
as
Charity, The Salford Stripper
- Out (1971) - Charity, The Salford Stripper
1970
All the Way Up
as
Daphne Dunmore
1969
Don't Ask Us - We're New Here (TV Series)
as
Various Characters
1970
Comedy Playhouse (TV Series)
as
Muriel
- Mind Your Own Business (1970) - Muriel
1970
Dear Mother... ...Love Albert (TV Series)
as
Nurse Fleming
- Hearts and Flowers (1970) - Nurse Fleming
1970
Spring and Port Wine
as
Betty Duckworth
1969
The Root of All Evil? (TV Series)
as
Julia Milward
- The Long Sixpence (1969) - Julia Milward
1969
Love Story (TV Series)
as
Judy
- The Dolly Spike (1969) - Judy
1969
Some Girls Do
as
Drummond's Daily
1968
The Jazz Age (TV Series)
as
Lisa Tonn
- Black Exchange (1968) - Lisa Tonn
1968
Journey to the Unknown (TV Series)
as
Girl
- Miss Belle (1968) - Girl
1968
Here We Go Round the Mulberry Bush
as
Linda
1968
City '68 (TV Series)
as
Anthea Somerset
- The Visitors (1968) - Anthea Somerset
1967
Armchair Theatre (TV Series)
as
Petulia
- Compensation Alice (1967) - Petulia
1967
Half Hour Story (TV Series)
as
Veronica
- The Necklace (1967) - Veronica
1967
To Sir, with Love
as
Moira Joseph
1966
The Master (TV Series short)
as
Judy
- Death by Misadventure (1966) - Judy
- World of Disbelief (1966) - Judy
- The Squadron Leader (1966) - Judy
- Behind the Antlers (1966) - Judy
- Totty McTurk (1966) - Judy
- The Yellow Hands (1966) - Judy
1965
Walter and Connie Reporting (TV Series)
as
Barbara Peters
- The Mouse (1965) - Barbara Peters (as Adrienne Poster)
1964
The Human Jungle (TV Series)
as
Hazel Phillips
- Conscience on a Rack (1964) - Hazel Phillips (as Adrienne Poster)
1964
Sergeant Cork (TV Series)
as
Alexandra Chatterton
- The Case of the Pious Patriarch (1964) - Alexandra Chatterton (as Adrienne Poster)
1963
William (TV Series)
as
Twin #2
- William goes Shopping (1963) - Twin #2 (as Adrienne Poster)
- William and the Sleeping Major (1963) - Twin #2 (as Adrienne Poster)
1963
Compact (TV Series)
as
Marge Patterson
- Little Boy Lost (1963) - Marge Patterson (as Adrienne Poster)
1963
Hancock (TV Series)
as
Little Girl
- The Assistant (1963) - Little Girl (as Adrienne Poster)
1962
It's a Living (TV Series)
as
Betty
- Sorry Partner (1962) - Betty (as Adrienne Poster)
- Stock That Clock (1962) - Betty (as Adrienne Poster)
- Plain Brain (1962) - Betty (as Adrienne Poster)
- Mugs Away (1962) - Betty (as Adrienne Poster)
- It's a Living (1962) - Betty (as Adrienne Poster)
1962
Top Secret (TV Series)
as
Maria
- The Second Man (1962) - Maria (as Adrienne Poster)
1961
Harpers West One (TV Series)
as
Cathy Hulls
- Episode #1.8 (1961) - Cathy Hulls (as Adrienne Poster)
1957
No Time for Tears
as
Cathy Harris (as Adrienne Poster)
Soundtrack
1976
Adventures of a Taxi Driver (performer: "Title Song (My Cruisin' Casanova)")
1975
Three for All (performer: "Things Get Better")
1968
Up the Junction (performer: "I Need Your Love" - uncredited)
Self
2011
Lulu: Something to Shout About (TV Movie documentary)
as
Self / Moira Joseph
1972
This Is Your Life (TV Series documentary)
as
Self
- Todd Carty (2000) - Self
- Harry Andrews (1985) - Self
- Dennis Waterman (1978) - Self
- Lulu (1972) - Self
1988
Give Us a Clue (TV Series)
as
Self
- Episode #18.32 (1992) - Self
- Episode #18.1 (1991) - Self
- Episode #17.1 (1991) - Self
- Episode #14.1 (1988) - Self
- Episode #13.2 (1988) - Self
1988
Blankety Blank (TV Series)
as
Self
- Episode #12.10 (1988) - Self
1984
Punchlines (TV Series)
as
Self
- Episode #5.10 (1984) - Self
1983
The Time of Your Life (TV Series)
as
Self
- Vidal Sassoon (1983) - Self
1981
3-2-1 (TV Series)
as
Self - Guest Star
- Melodrama (1981) - Self - Guest Star
1978
Golden Gala (TV Special)
as
Self
1977
Celebrity Squares (TV Series)
as
Self
- Episode #2.22 (1977) - Self
1976
Those Wonderful TV Times (TV Series)
as
Self
- Episode #1.9 (1976) - Self
1974
Don't Ask Me (TV Series)
as
Self
- Episode #2.4 (1975) - Self
- Episode #2.3 (1975) - Self
- Episode #2.2 (1975) - Self
- Episode #2.1 (1975) - Self
- Episode #1.5 (1974)
- Episode #1.4 (1974)
- Episode #1.3 (1974)
- Episode #1.2 (1974)
- Episode #1.1 (1974)
1973
It's Lulu (TV Series)
as
Self
- Episode #3.10 (1973) - Self
- Episode #3.9 (1973) - Self
- Episode #3.8 (1973) - Self
- Episode #3.7 (1973) - Self
- Episode #3.6 (1973) - Self
- Episode #3.5 (1973) - Self
- Episode #3.4 (1973) - Self
- Episode #3.3 (1973) - Self
- Episode #3.2 (1973) - Self
- Episode #3.1 (1973) - Self
1971
Look, Mike Yarwood! (TV Series)
as
Self
1970
The Golden Shot (TV Series)
as
Self
- Episode #2.82 (1970) - Self
1968
Youth Wave (Documentary short)
as
Self
1967
Good Evening! (TV Series)
as
Self
- Marriage (1967) - Self
1964
Juke Box Jury (TV Series)
as
Self - Panellist
- Episode #1.345 (1966) - Self - Panellist
- Episode #1.289 (1965) - Self - Panellist (as Adrienne Poster)
- Episode #1.269 (1964) - Self - Panellist (as Adrienne Poster)
1966
Thank Your Lucky Stars (TV Series)
as
Self
- Episode #9.18 (1966) - Self
1966
Action (TV Series)
as
Self - Presenter
1965
VIIe europese beker voor zangvoordracht (TV Series)
as
Singer
1965
Discs a Go-Go (TV Series)
as
Self - Performer
- Episode #6.12 (1965) - Self - Performer
1965
Gadzooks! It's All Happening (TV Series)
as
Self
- Episode #1.6 (1965) - Self (as Adrienne Poster)
1964
Blackpool Night Out (TV Series)
as
Self
- Episode #1.7 (1964) - Self
1964
Five O'Clock Club (TV Series)
as
Self - Guest
- Episode #1.31 (1964) - Self - Guest
1962
Signpost (TV Series documentary)
- Our New House: Part 3 - Planning the Decorations (1962) - (as Adrienne Poster)
- Our New House: Part 1 - Drawing the Plans (1962) - (as Adrienne Poster)
Archive Footage
2002
The Unforgettable Joan Sims (TV Special documentary)
as
Acting Role (uncredited)
1981
Carry on Laughing (TV Series)
as
Norma Baxter
- Episode #1.13 (1981) - Norma Baxter
1981
The Best of the Adventures (Video)
as
Carol / Lisa Moroni
References
Adrienne Posta Wikipedia
(Text) CC BY-SA