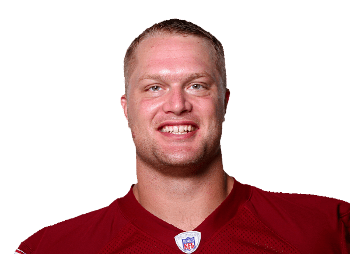 Carriker was born in Hastings, Nebraska. He moved to Kennewick, Washington, at the age of three, and attended Kennewick High School, where he played quarterback and defensive end. He was a three-year starter at quarterback and team captain for three straight years. In his only season at defensive end (his senior season), he recorded 25 tackles, 15 sacks, and four forced fumbles. He was named to First-team All-Big 9 Honors as a quarterback and defensive end. He also played in the Washington State All-Star football game, which his team won. Carriker visited Oregon, Oregon State, Washington State and UCLA, entertaining those as well as other offers from Michigan, Colorado and Texas to play quarterback, before finally deciding to commit and play defensive end at Nebraska. Additionally, Carriker was a three-time All-Conference selection in baseball, leading the conference in home runs all three seasons. He was highly recruited by major league scouts and colleges because of his 95 mph fastball, before he ultimately turned them down to pursue his football career. He also played basketball, earning First-team All-Big 9 Honors in both his junior and senior seasons. He stood out scholastically as well, earning several academic awards.
Carriker redshirted in 2002. In his 2003 freshman season he played extensively and contributed in passing situations. Against the University of Colorado he had three quarterback hurries and ended a CU drive in the third quarter with a nine-yard sack of quarterback Joel Klatt. He played in his first bowl game, the 2003 Alamo Bowl after the regular season. Carriker also earned All-Big 12 Academic honors as well.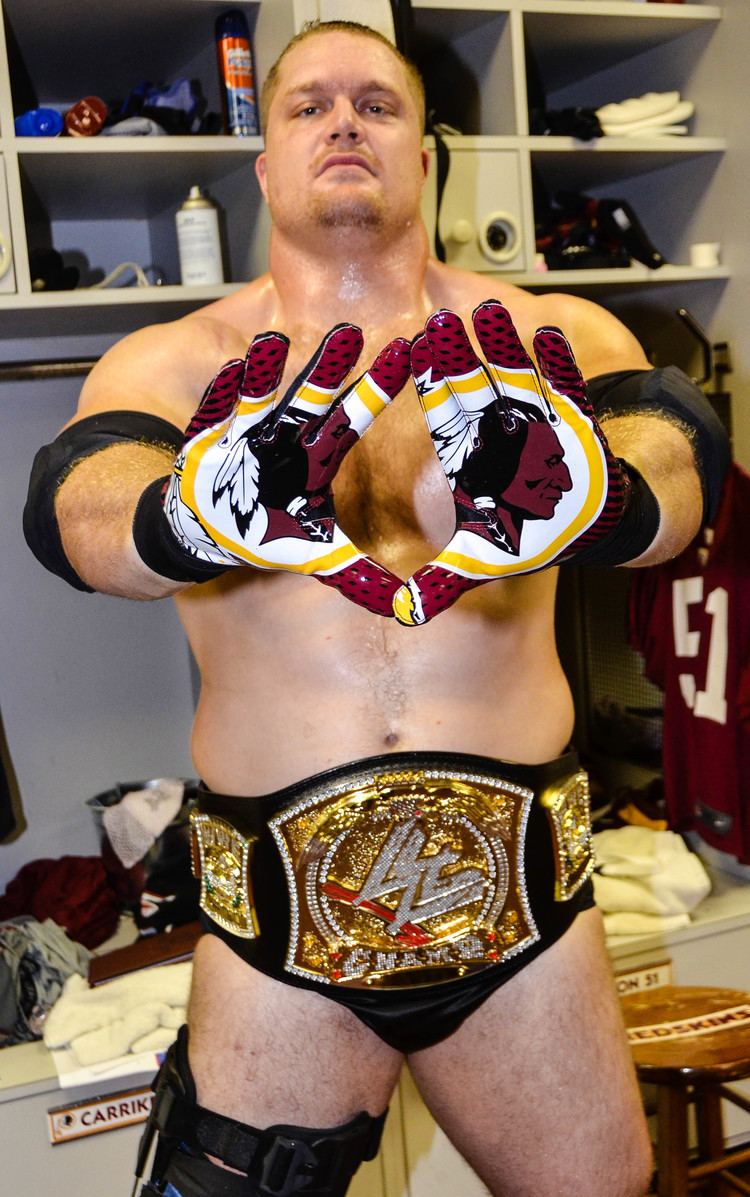 In his 2004 sophomore year Carriker won the highly prestigious "Lifter of the Year" award, which is voted on by his Nebraska teammates. He had eight starts in the 2004 campaign, and finished with 36 tackles, including seven tackles for loss and three sacks for 18 yards. Carriker added seven quarterback hurries during his sophomore season. Carriker earned All-Big 12 Academic honors for the second straight year.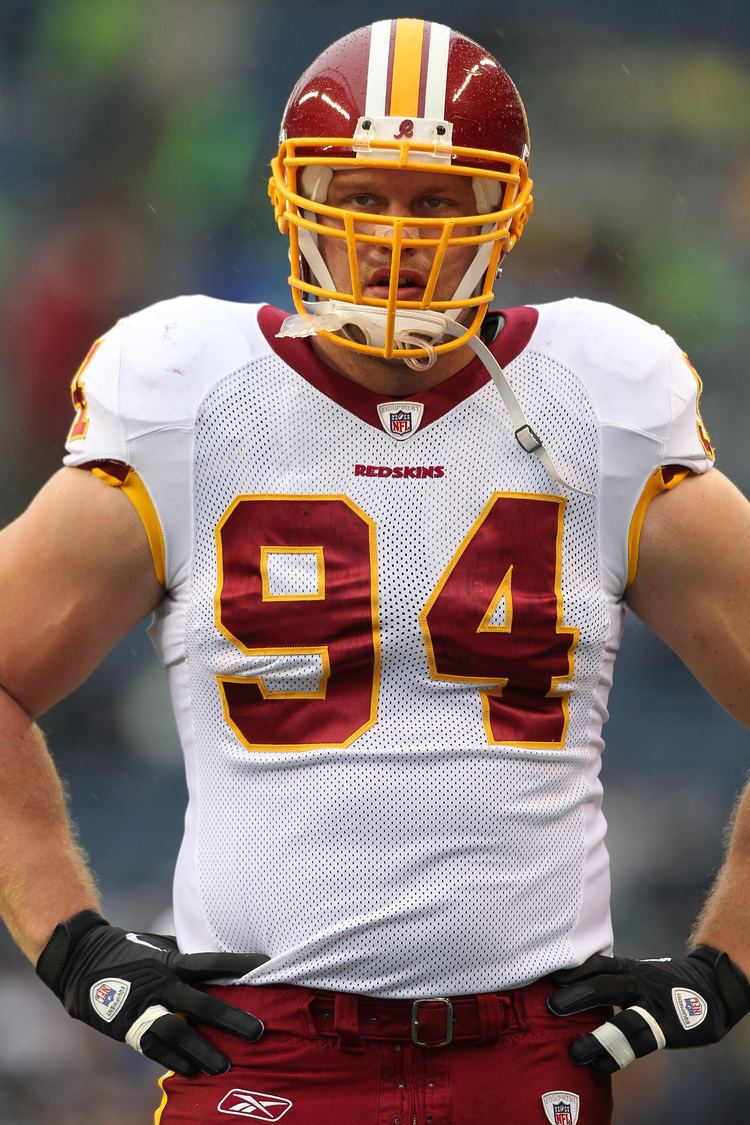 As a junior in 2005 Carriker started all 12 games at the base end spot, and finished with 9.5 sacks for 84 yards and 17 tackles for loss for 96 yards. His 9½ sacks tied the Big 12 Conference lead and ranked 19th nationally. He also led Nebraska with 21 quarterback hurries, 10 more than any other Husker defender. Carriker's 43 total tackles ranked seventh on the team and tied for the most among defensive linemen. He began his junior season by notching two of the Huskers' school-record tying 11 sacks in the team's 25-7 win over Maine, on his way to leading the Huskers in sacks for the season. The Nebraska defense led by Carriker had 50 sacks on the season, which was more than any other team in the entire nation that year. Carriker capped 2005 by earning 1st Team All-Big 12 honors by the Big 12 Coaches and the Associated Press. Adam was voted 2005 Nebraska Defensive MVP. Carriker earned All-Big 12 Academic honors for the third straight year.
As a senior in 2006 Adam Carriker completed a dominant career by earning First-team All-American honors on the Playboy 50th Anniversary All-America team, along with Second-team All-American honors by Rivals as well. Also in 2006, Carriker earned Nebraska's Defensive MVP honor for the second straight season, and was honored as the Big 12 Defensive Lineman of the Year by the league's coaches. Carriker finished the season by leading the Huskers in sacks for the second year in a row, and ranked second on the team with 16 tackles behind the line of scrimmage. His 52 total tackles led all Nebraska defensive linemen, and he also led the Blackshirt defense with 12 quarterback hurries, while registering his first career interception. In addition to his selection as Big 12 Defensive Lineman of the Year, Carriker was a First-team All-Big 12 pick by the Big 12 Coaches and the Associated Press for the second year in a row. Carriker earned his degree in Business Administration, as well as All-Big 12 Academic honors for the fourth straight year.
The strong senior season put Carriker's name in a prestigious position in the NU record books. He finished with 41 career tackles for loss to rank fifth in the program's history. Carriker has 20½ career sacks to rank sixth on the Cornhusker charts. Carriker graduated with a degree in business administration.
Carriker was recently recognized and honored by the Nebraska media, at a school traditionally rich with great defensive linemen, as the "Best Defensive End" to come out of the school in the past 15 years, since the turn of the century in the year 2000.
(* represents NFL Combine; **represents Nebraska Pro Day- March 7, 2007)
Power clean: 405 lbs
Bench press: 550 lbs
Squat: 660 lbs
Dead Lift: 800 lbs
On July 26, 2007, Carriker signed a five-year $14.5 million contract, with guarantees of $9.5 million. He was voted the Rams Rookie of the Year called the Carroll Rosenbloom Memorial Award. This award was voted on by his peers and teammates, expounding on the success of Carriker in his rookie season.
On April 20, 2010, Carriker was traded to the Washington Redskins.
In Week 2 of the 2012 season against the Rams, he suffered a right knee injury early in the first quarter. The next day it was confirmed that he tore quad tendon in his right leg and he would need surgery and would be placed on injured reserve.
On July 25, he was placed on the PUP list after the team announced that he had a third surgery on his right knee and would be out for four or five months.
On December 12, he was placed on injured reserve.
He was released by the Redskins on March 4, 2014.
Carriker was invited to and helped headline the first NFL Veteran Combine. He was considered one of the biggest names to attend the combine and came away drawing by far the most attention of anyone there. Even though his actual time was never announced publicly, it was reported that he ran a faster 40-yard dash than he did eight years earlier when he was coming out of college at the rookie scouting combine. Carriker also performed 40 reps of 225 pounds on the bench press. That's more than anybody did at either the veteran or rookie scouting combines that same year, and as a result captured headlines as well. Immediately following the combine, his agent spoke with over two dozen teams regarding Carriker. It was reported that several teams, including the Atlanta Falcons offered Carriker a contract. But he ultimately never reached a mutual agreement with any of them, and ended up turning them down.
Key
GP: games played
COMB: combined tackles
TOTAL: total tackles
AST: assisted tackles
SACK: sacks
FF: forced fumbles
FR: fumble recoveries
FR YDS: fumble return yards
INT: interceptions
IR YDS: interception return yards
AVG IR: average interception return
LNG: longest interception return
TD: interceptions returned for touchdown
PD: passes defensed
Carriker has used his Business degree and his TV prowess to appear multiple times on Fox News and Fox Business, as a frequently requested business and political analyst.
Carriker has also made multiple public appearances with the Nebraska congressmen in Washington DC.
The WWE has shown recent interest in Carriker when he received a call from Vince McMahon, and Vince extended an open invitation to him, to come and work with the company at his discretion
Carriker also does weekly national writing and radio segments called the "Carriker Chronicles," where he discusses the current state of the NFL. His other weekly show appearances include "Chad Dukes vs The World" on the largest sports station in Washington DC, to discuss his opinion and give his take on the Redskins game every week. In the state of Nebraska he appears every week on "The Bottom Line," the largest sports talk show in the state which is hosted by Mike'l Severe, to give his take on the state of Nebraska football as well.
In April 2012, Carriker began his radio career as co-host of 4th & Pain along with Chuck Carroll. Carriker, an avid WWE fan, touts 4th & Pain as being the only pro wrestling and football radio show hosted by a NFL player and a guy who lost 250 pounds, an homage to his co-host. The show airs weekly online.
The show has gained in popularity and they've interviewed NFL stars such as Robert Griffin III, DeAngelo Hall and Chris Cooley. In June 2012, the show gained notoriety among wrestling fans after Carriker conducted his first interview with WWE wrestler Heath Slater. Since then the show and its audience has continued to grow with interviews of wrestling stars such as Jeff Hardy, Roman Reigns and Bill Goldberg. Goldberg has appeared on the show himself over 20 different times. He has a cited a friendship with Carriker during his interviews on the show as the reason for his frequent appearances. The show also talks Nebraska football from time to time and has had such Husker legends as Eric Crouch and Tommie Frazier join them.
Carriker has also served as a recurring motivational speaker as well.
Carriker recently announced on his Twitter that he is launching a foundation. He initially put in his bio that he was excited to announce there would be more information on his charity coming soon. .