Merchant Marine sailors Joe Rossi (Humphrey Bogart) and Steve Jarvis (Raymond Massey) are charged with getting a supply vessel to Russian allies as part of a sea convoy. When the group of ships comes under attack from a German U-boat, Rossi and Jarvis navigate through dangerous waters to evade Nazi naval forces. Though their mission across the Atlantic is extremely treacherous, they are motivated by the opportunity to strike back at the Germans, who sank one of their earlier ships.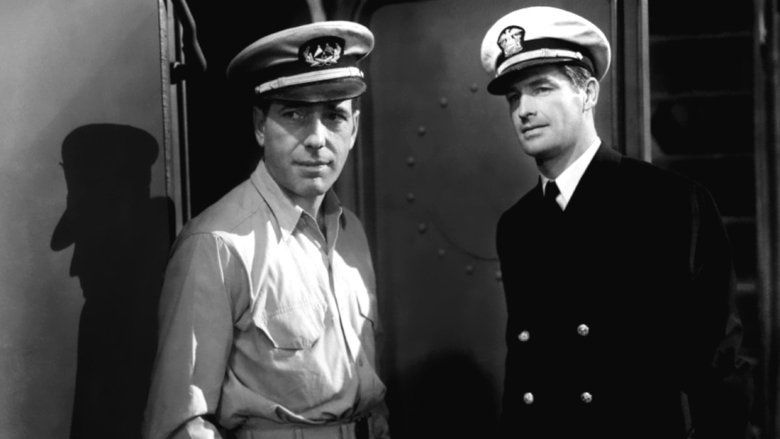 Action in the North Atlantic is a 1943 American war film directed by Lloyd Bacon, featuring Humphrey Bogart and Raymond Massey as sailors in the U.S. Merchant Marine in World War II.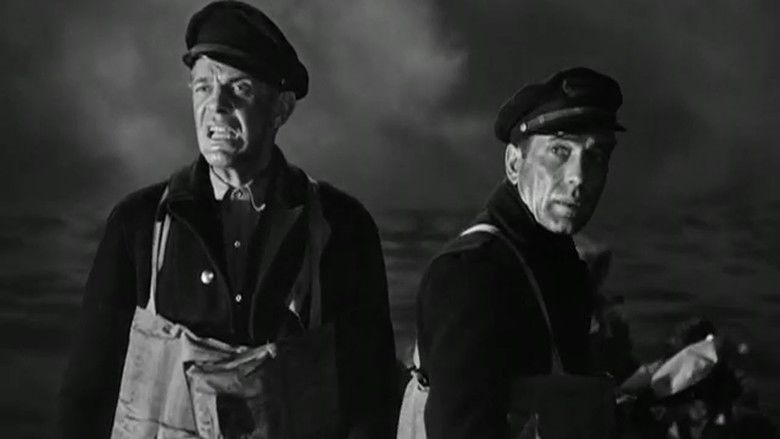 Lieutenant Joe Rossi is 1st Officer on a Liberty Ship in a great convoy bound from Halifax to Murmansk. After German subs crushed the convoy his ship loses the convoy and is heading alone to Murmansk. In spite of attacks by German planes and subs he get the ship safely to Murmansk.
The oil tanker mastered by Capt. Steve Jarvis (Raymond Massey) is sunk in the north Atlantic Ocean by a German U-boat. He and the first officer, his friend Joe Rossi (Humphrey Bogart), make it to a lifeboat along with other crewmen. When the U-boat crew starts filming their plight they respond with rude gestures and are rammed. The men swim to a raft and are rescued after 11 days adrift.
During their brief liberty, Steve spends time with his wife Sarah (Ruth Gordon), while Joe meets and marries singer Pearl ONeill (Julie Bishop). The film cuts to the union hall where merchant seamen—including the survivors of Jarvis last ship—spend their time waiting to be assigned to a new ship. Over a round of poker, Pulaski (Dane Clark) jokes about getting a shore job. When pressed by other seaman, Pulaski reveals his fear of dying at sea. The others shame him into signing along with them for another ship. Another sailor, "Boats" OHara (Alan Hale, Sr.), is tracked down by his wife, whom hes apparently not seen since being rescued. She angrily serves him with a summons. OHara, knowing hes headed back to sea, gleefully tears the summons up, saying "them Liberty Ships are well named". Then it is back to sea on a new Liberty ship, the SS Seawitch, on a convoy carrying vital war supplies to the Soviet port of Murmansk.
Convoy 211 is attacked by a wolfpack, a group of German U-boats that hunt for convoys. There are losses on both sides, but the convoy commander is forced to order his ships to disperse. One persistent U-boat chases after the Seawitch, but loses contact in the night. A pair of Heinkel He 59 seaplanes find the freighter and attack. Both are shot down, but the second crashes into the bow. Steve is shot in the leg during the battle; Joe has to take command. The U-boat sights the ship again and hits her with a torpedo. Joe orders the men to set fires and make smoke so that it appears as if the ship is sinking. When the submarine surfaces to finish her off, Joe rams and sinks it. The Seawitch then limps into Murmansk to a warm Russian welcome.
Humphrey Bogart as First Officer Joe Rossi
Raymond Massey as Captain Steve Jarvis
Alan Hale, Sr. as Alfred "Boats" OHara
Julie Bishop as Pearl ONeill
Ruth Gordon as Sarah Jarvis
Sam Levene as "Chips" Abrams
Dane Clark as Johnnie Pulaski
Peter Whitney as "Whitey" Lara
Dick Hogan as Cadet Ezra Parker
In addition, Robert Mitchum appeared in a one-line role.
Warner Brothers working title for the film was Heroes Without Uniforms, intended to be a two-reel documentary about the Merchant Marine. As the war continued, much combat action footage became available and the project was changed to a feature film with Edward G. Robinson and George Raft initially cast in the starring roles. Technical adviser Richard Sullivan was a 23-year-old Merchant Marine cadet who survived the sinking of his ship by a U-boat. Because war restrictions did not permit filming at sea, the film was shot entirely on Warner Brothers studio sound stages and back lots. According to Bill Collins Presents the Golden Years of Hollywood, the ships sets were built in halves on two sound stages, with the tanker sinking sequence shot first.
Director Lloyd Bacons contract with Warner Brothers expired during production. Jack L. Warner wanted to wait until the film was finished before entering discussions about a new contract, but Bacon wasnt willing to continue without one. Warner fired him and brought in Byron Haskin to complete filming, which ran 45 days over schedule.
According to a news item in the Hollywood Reporter on June 24, 1943, copies of Action in the North Atlantic were provided to the Merchant Marine schools for use in training when the War Shipping Administration judged that technical and educational material in the film would "aid considerably the training program." The studio donated three prints for official use at the U.S. Merchant Marine Academy in Kings Point, New York, and at cadet basic schools in San Mateo, California, and Pass Christian, Mississippi.
This film has a famous back-story; watching their stunt men performing a dive off a burning ship, Bogie and Massey, both a bit intoxicated (being off-duty), started making bets on which stunt man was braver...one thing led to another, until the stars, themselves, made the dive.
Authentic models of German and Soviet airplanes were used in the film, and all dialogue involving non-Americans was in the native tongue of the speaker, both rarities in movies of this era.
San Demetrio London (1943). Alan Hale - Sr and Dane Clark appear in both. The Navy Comes Through (1942). Raoul Walsh directed Action in the North Atlantic and Desperate Journey. Peter Whitney appears in Action in the North Atlantic and The Sea Chase.
The film received an Academy Award nomination for Best Writing (Best Original Story).