Country

Greece




Area

3,272 km2


Region

West Greece




Capital

Patras




Population

309,694




Colleges and Universities

Hellenic Open University (Patras), University of Patras (Rio), Technological Educational Institute of Patras (Patras)



Achaea or Achaia , sometimes transliterated from Greek as Akhaïa (Greek: Achaïa, ), is one of the regional units of Greece. It is part of the region of West Greece and is situated in the northwestern part of the Peloponnese peninsula. The capital is Patras. Since 2001, the population has exceeded 300,000.
Contents
Map of Achaea
Geography

Achaea is bordered by Elis to the west and southwest, Arcadia to the south, and Corinthia to the east and southeast. The Gulf of Corinth lies to its northeast, and the Gulf of Patras to its northwest. The mountain Panachaiko (1926 m), though not the highest of Achaea, dominates the coastal area near Patras. Higher mountains are found in the south, such as Aroania (2341 m) and Erymanthos (2224 m). Other mountain ranges in Achaea are Skollis, Omplos, Kombovouni and Movri. Its main rivers ordered from west to east are the Larissos, Tytheus, Peiros, Charadros, Selinountas and Vouraikos. Most of the forests are in the mountain ranges, though several are in the plains including the extreme west. There are grasslands around the mid-elevation areas and barren lands in the highest areas.
History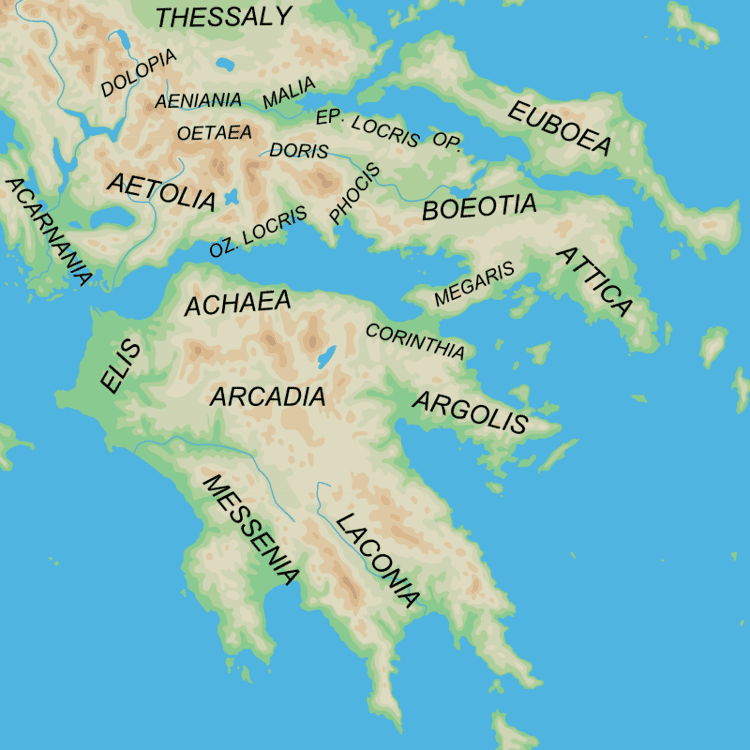 The Achaean League was a Hellenistic-era confederation of city states in Achaea, founded in 280/281 BC. It later grew until it included most of Peloponnese, much reducing the Macedonian rule in the area.
After Macedons defeat by the Romans in the late 2nd century BC, the League was able to finally defeat a heavily weakened Sparta and take control of the entire Peloponnese. However, as the Roman influence in the area grew, the league erupted into an open revolt against Roman domination, in what is known as Achaean War. The Achaeans were defeated at the Battle of Corinth (146 BC), and the League was dissolved by the Romans.
Culture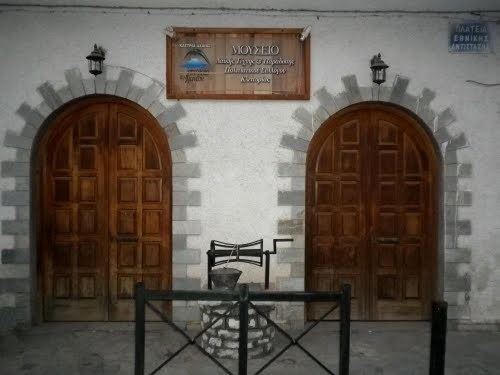 The monastery Agia Lavra is situated a few kilometres west of Kalavryta on the top of a hill. 12 to 20 km east, is Cave Lakes, with lakes inside. The length is around 300 to 500 m.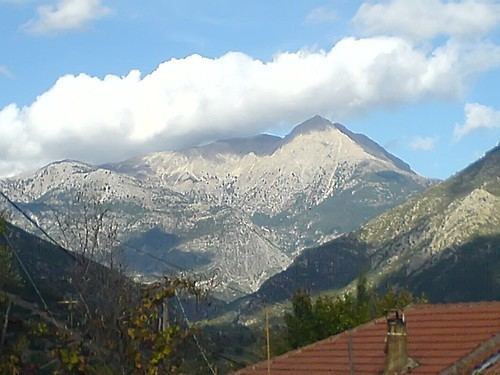 The mountain hosts the most modern Greek telescope, named Aristarchus (after the ancient Greek astronomer - Aristarchus of Samos) and operated by the National Observatory of Athens . A narrow gauge railway track runs for 30 km, mainly as a tourist attraction. The track begins near Kalavryta and ends off Diakopto.
Economy
Patras is one of the main industrial and commerce centers in Greece. Temeni is a place where the spring water Avra (????) is manufactured. It is owned by Tria Epsilon, a division of Coca-Cola Company and a parent. There is a small oil refinery near Rio.
References
Achaea Wikipedia
(Text) CC BY-SA
(,)http://upload.wikimedia.org/wikipedia/commons/3/39/Ancient_Greek_southern_regions.png(,)http://upload.wikimedia.org/wikipedia/commons/8/87/ArchaicGr.jpg(,)http://upload.wikimedia.org/wikipedia/commons/1/17/Ancient_Regions_Mainland_Greece.png(,)http://eleven-thirtyeight.com/wp-content/uploads/2013/08/Athensempire.jpg(,)http://www.albanianhistory.net/graf/images19_1/AH1836map_gr.jpg(,)http://www.ancient.eu/uploads/images/329.jpg%3Fv%3D1344411721(,)http://www.greeceathensaegeaninfo.com/a-greece-travel/a-p-peloponnese-images/peloponnisos1/AchaeaMapPre.gif(,)http://geocitiessites.com/historymech/mapy/r01civilizations.GIF(,)https://aleximreh.files.wordpress.com/2014/07/early-bronze-age.gif
(,)http://maps.maphill.com/greece/peloponissos/akhaia/panoramic-maps/physical-map/physical-panoramic-map-of-akhaia.jpg(,)http://maps.maphill.com/greece/peloponissos/akhaia/maps/gray-map/gray-map-of-akhaia.jpg(,)http://aff.bstatic.com/images/hotel/max500/101/10121317.jpg
(,)http://www.paramythia-online.gr/gallery/albums/album01/ph_festival002.sized.jpg(,)https://frankzumbach.files.wordpress.com/2013/11/5496439399_8749380b52_b.jpg(,)http://sofiescorner.weebly.com/uploads/2/3/8/5/23854719/5943076_orig.jpg(,)https://frankzumbach.files.wordpress.com/2013/11/cu31924028040057_0299.jpg(,)http://api.ning.com/files/ECCzgJ7gh0JpB7eBPp9qwz**pgtqVxy-hpeZBevcEYgrbMpz7w*eJsorrQy76rTMF*7of2kLZu0c7KAvr8nmfDnAWK46LtC4/581492_455837267793205_1557600099_n.jpg(,)https://frankzumbach.files.wordpress.com/2013/11/cu31924028040057_0300.jpg(,)https://frankzumbach.files.wordpress.com/2013/11/cu31924028040057_0293.jpg(,)https://36.media.tumblr.com/e7674dbf4baff555ff7b084e5d016171/tumblr_mc84nw5dF01r2vo64o1_r1_500.jpg
(,)http://mw2.google.com/mw-panoramio/photos/medium/61222038.jpg(,)http://mw2.google.com/mw-panoramio/photos/medium/385048.jpg(,)http://mw2.google.com/mw-panoramio/photos/medium/5208293.jpg(,)http://mw2.google.com/mw-panoramio/photos/medium/65201306.jpg(,)http://mw2.google.com/mw-panoramio/photos/medium/19473476.jpg(,)http://mw2.google.com/mw-panoramio/photos/medium/30801243.jpg(,)http://mw2.google.com/mw-panoramio/photos/medium/30801219.jpg(,)http://mw2.google.com/mw-panoramio/photos/medium/90510008.jpg(,)http://mw2.google.com/mw-panoramio/photos/medium/54405809.jpg
(,)https://fbexternal-a.akamaihd.net/safe_image.php%3Fd%3DAQBMlATgIHoORboD%26w%3D720%26h%3D540%26url%3Dhttp%253A%252F%252Fupload.wikimedia.org%252Fwikipedia%252Fcommons%252Fthumb%252Fe%252Fe2%252FZakintos_-_panorama.jpg%252F720px-Zakintos_-_panorama.jpg(,)http://www.tageo.com/get_map.php%3Flat%3D38.117%26long%3D21.567%26name%3DAno%2520akhaia%26tag%3D1(,)https://fbcdn-sphotos-g-a.akamaihd.net/hphotos-ak-xaf1/t31.0-8/c0.0.851.315/p851x315/461917_316973585065496_1886898309_o.jpg(,)https://fbexternal-a.akamaihd.net/safe_image.php%3Fd%3DAQDdkMcI1Y75Q8rs%26w%3D720%26h%3D973%26url%3Dhttp%253A%252F%252Fupload.wikimedia.org%252Fwikipedia%252Fcommons%252Fthumb%252F3%252F3f%252F2011_Dimos_Kalavryton.png%252F720px-2011_Dimos_Kalavryton.png(,)https://fbexternal-a.akamaihd.net/safe_image.php%3Fd%3DAQB-gM03OcWponTQ%26w%3D720%26h%3D498%26url%3Dhttp%253A%252F%252Fupload.wikimedia.org%252Fwikipedia%252Fcommons%252Fthumb%252F4%252F4f%252F2010_Dimi_Argolidas_numbered.svg%252F720px-2010_Dimi_Argolidas_numbered.svg.png(,)http://images4.mygola.com/3fa25fbe0d0985c54dd6a2057552df4e_1394471817_l.jpg(,)http://www.argyra.org/images/img0018.gif(,)https://fbexternal-a.akamaihd.net/safe_image.php%3Fd%3DAQBzjHVJ1YheOCWc%26w%3D470%26h%3D246%26url%3Dhttp%253A%252F%252Fwww.patrasinfo.com%252Fwp-content%252Fuploads%252F2014%252F08%252Fryanair.jpg%26cfs%3D1%26upscale%3D1