Batting average

.244




Role

Baseball player




Home runs

10




Nationality

Dominican





Runs batted in

48




Weight

93 kg




Name

Abraham Almonte




Salary

295,583 USD (2015)







Current team

Cleveland Indians (#35 / Outfielder)




Similar People

Marc Rzepczynski, Jerry Sands, Zoilo Almonte, Rymer Liriano, Lloyd McClendon
Abraham almonte prospect video
Abraham Almonte (born June 27, 1989) is a Dominican professional baseball center fielder for the Cleveland Indians of Major League Baseball (MLB). He has previously played in MLB for the Seattle Mariners and San Diego Padres.
Contents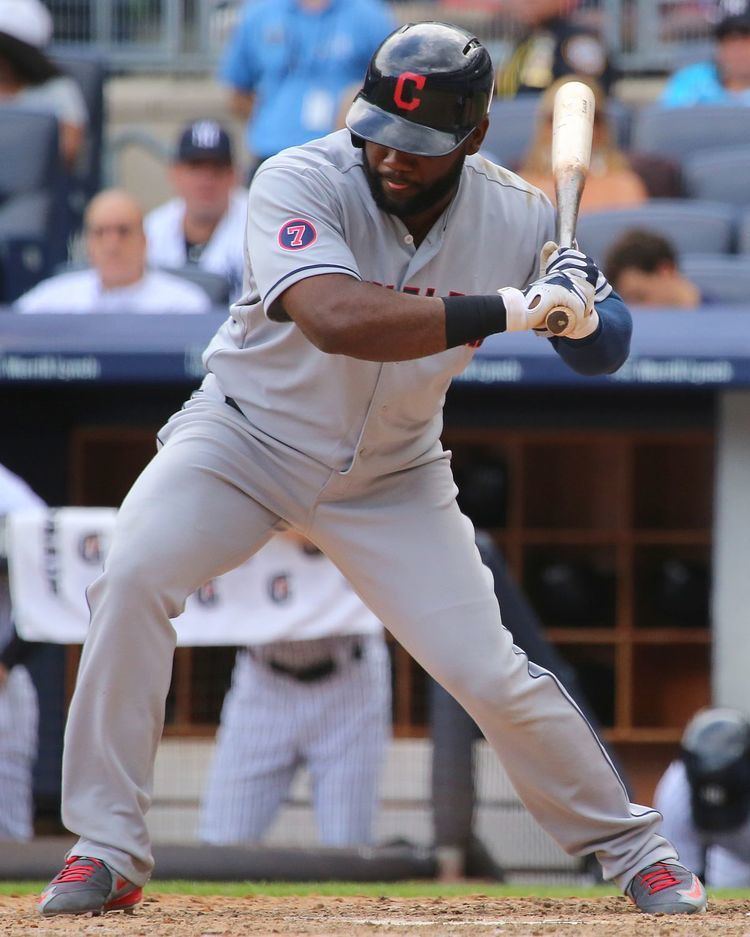 The New York Yankees signed Almonte as a free agent. Before the 2013 season, the Yankees traded Almonte to the Seattle Mariners for Shawn Kelley. He was called up to the Major Leagues on August 30, 2013. The Mariners traded Almonte to the Padres during the 2014 season, and the Padres traded him to the Indians during the 2015 season.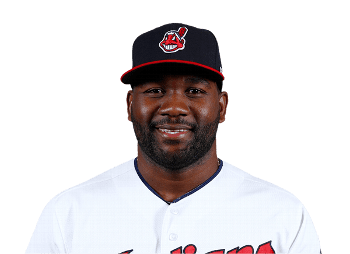 MLB - Player - Abraham Almonte
Early life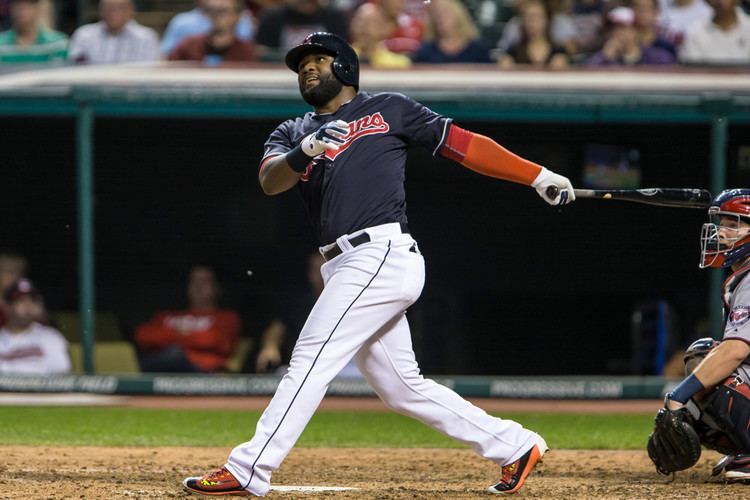 Other than the fact that Almonte was born in Santo Domingo, Dominican Republic, the rest of his early life is relatively unknown. When he was 16, his professional career began with the New York Yankees, as they signed him and brought him to the United States to play baseball.
New York Yankees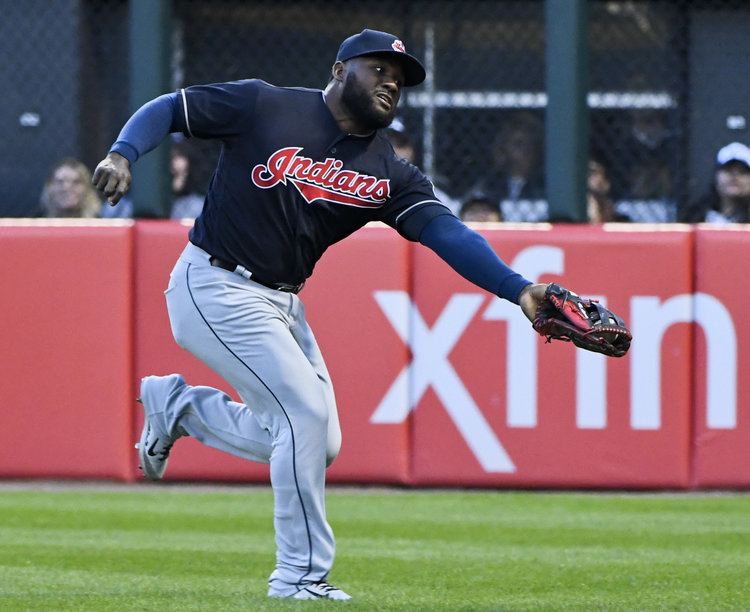 After being signed in 2005, was designated to play in the Dominican Summer League for the Yankees. Almonte started his professional career as a second baseman, but was transitioned to outfield due to his speed and the organization's need for young outfielders. In 63 DSL games, he batted .254 with 26 RBI's, 8 home runs, and boasted a .409 OBP, .450 SLG, and .859 OPS. The following season in 2007, Almonte was upgraded to the Yankees Gulf Coast League team, where he excelled with a .288 batting average in 49 games. Over the next two seasons (2008-2009), played for Single-A Charleston. Excelled at the plate in 2009, batting .288 with 56 RBI's in 115 games. In 2010, shortly after being upgraded to Advanced A-Tampa, played only 15 games before undergoing surgery to repair a torn right labrum. Came back healthy in 2011 for the Tampa Yankees, and reached a 34-game hit streak midseason. Almonte's performance earned the call up to Double-A in 2012, joining the Trenton Thunder. In 78 games, batted .276 with 4 home runs and 25 RBI's. Almonte was traded to the Seattle Mariners on February 13, 2013, for recently optioned relief pitcher Shawn Kelley.
2013 season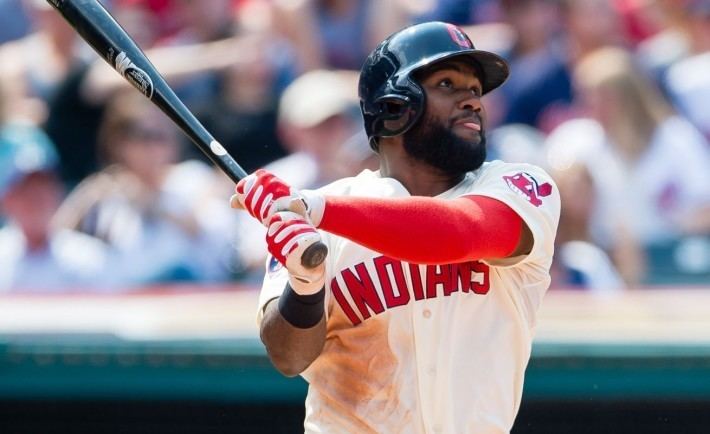 Once becoming a Mariner, Almonte was first sent to AA-Jackson to join the Generals of the Southern League. While there, hit .255 with 18 RBI's and 4 home runs in 29 games before impressing the organization enough to be called up to AAA-Tacoma. Almonte spent the majority of the 2013 campaign with the Tacoma Rainers, playing in 94 games and batting .314 with 50 RBI's, 11 home runs, and a. 403 OBP, .491 SLG and an .894 OPS. These numbers were good enough to give Almonte a shot at the MLB level, as he was called up on August 30, 2013 and made his debut for the Seattle Mariners against the Astros on the road in Houston, Texas.
On September 9, Almonte hit his first major league home run against the Houston Astros' relief pitcher Chia Jen Lo.
2014 season
Almonte impressed new manager Lloyd McClendon in spring training, and began the regular season as the starting center fielder and leadoff hitter for the Mariners. McClendon compared Almonte to Ron Leflore, an outfielder for the Detroit Tigers, Montreal Expos and Chicago White Sox in the 1970s and 1980s who was widely considered to be an energy player. Leflore slapped 16 homers and 30 doubles one season, and had 97 stolen bases in another. "He was a very powerful runner, good power to all fields, a slashing kind of guy that could create runs, produce runs."I think (Almonte) is going to be that type of guy," Mariners skipper Lloyd McClendon said.
Almonte played in 27 games early in the 2014 campaign, and struggled to produce at the major league level, only batting a mere .198 with 8 RBI's, 40 strikeouts and a .248 OBP and .292 SLG. To halt the skid and rejuvenate the Mariners lineup, Almonte was optioned to AAA-Tacoma on May 5, 2014 to work on his game at the plate, and get his confidence back at a lower level of competition. Advanced statistics in baseball are vast, and can help pin down where a player is struggling. For Almonte, these numbers have shown that his 39.5 percent swing rate is considerably below the MLB average. On the occasions that he did swing, putting the ball in play didn't come easily. A 35.4 percent strikeout rate also raised a red flag for the Mariners brass, which contributed to being sent down.
San Diego Padres
On July 31, 2014, the Mariners traded Almonte and Stephen Kohlscheen to the San Diego Padres for Chris Denorfia.
Cleveland Indians
On July 31, 2015, Almonte was traded to the Cleveland Indians for Marc Rzepczynski. On August 8, 2015, Almonte was called up from the Columbus Clippers to start in center field. Almonte was suspended for 80 games on February 26, 2016, after testing positive for boldenone.
Alcohol abuse and sobriety
In 2007 after the passing of his father, Almonte began drinking alcohol on a daily basis to cope with his grief. As a teenager living in New York, Almonte would regularly go out to clubs on weekdays and drink all night prior to his training the next day. His alcohol addiction remained somewhat harmless until 2010. During the start of the Yankees' 2010 Campaign, Almonte was the team's starting second baseman for his minor league club. 15 games into the season Almonte tore his labrum in his right shoulder which would require surgery. With more time away from baseball than ever before, Almonte found more time to drink, which he would do even more frequently. The addiction became something that Almonte was aware of and wanted to put an end to, but the cravings were too strong and he didn't know how to stop them.
It wasn't until 2011 that Almonte was able to address and overcome his addiction. He credits the power of God as the thing that was able to make him realize alcohol was ruining his life. Almonte started regularly attending church and was able to make more time for family and friends. After only a month of sobriety, Almonte lost 30 pounds and rejuvenated his baseball career.
Faith
Almonte has openly claimed that his faith holds the key to his success. "God has something bigger," Almonte said in an interview with The News Tribune. "He is going to keep using me up here in the big leagues. No matter where they send me – big leagues, minor leagues, home, wherever they send me – I know I'm going to do whatever God wants me to do. Baseball or no baseball, if I do it to glorify God's name, I think I'll be OK."
References
Abraham Almonte Wikipedia
(Text) CC BY-SA