Preceded by

Ahmad Zaidi Adruce




Children

12





Name

Abang Salahuddin




Succeeded by

Abdul Taib Mahmud






Preceded by

Tuanku Bujang Tuanku Othman




Born

27 August 1921 (age 94) Kampung Nangka, Sibu, Kingdom of Sarawak (

1921-08-27

)


Spouse(s)

Toh Puan Hajjah Dayang Umi Kalthum (deceased) Toh Puan Hajah Norkiah




Residence

The Astana, Sarawak, Kuching, Malaysia
KENANGAN TOL JAMBATAN TUN DATUK PATINGGI ABANG MUHAMMAD SALAHUDDINN
Tun Pehin Sri Abang Haji Muhammad Salahuddin bin Abang Barieng was the Yang di-Pertua Negeri (Governor) of the Malaysian state of Sarawak from 1977 to 1981 and again from 2001 to 2014. He is the first person to serve as Governor twice. He is also fondly known as Abang Louis, by his old friends and acquaintances, especially in his hometown of Sibu. His term officially ended on 28 February 2014, and he was succeeded by the former Chief Minister, Abdul Taib Mahmud, on 1 March.
Contents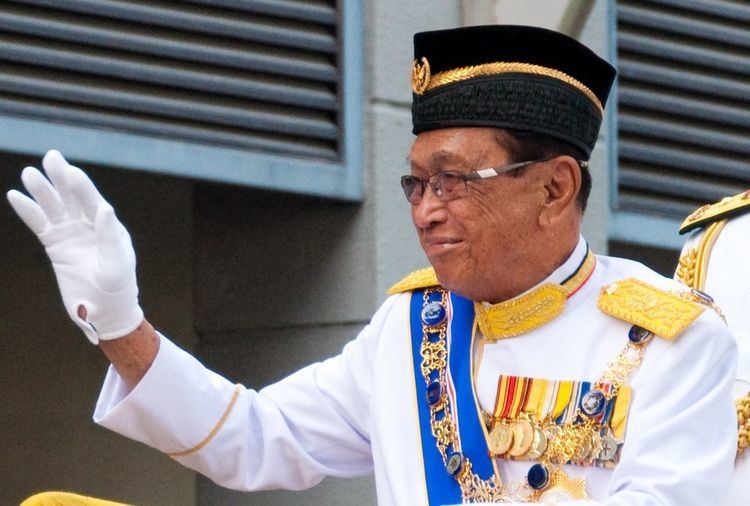 Early life
Born in 1921, Salahuddin, or Abang Louis, is the only son of Abang Barieng bin Abang Anyut, a well-known figure in the Third Division (present-day Sibu Division).
After the Japanese occupation, he worked as Municipal Inspector until 1947 under the new British colonial administration. He continued in the public service under the National Registration Department and the Public Works Department.
Political career
He was active in state politics, helping to form Barisan Pemuda Sarawak (BPS) and Barisan Rakyat Jati Sarawak (BARJASA). Salahuddin acted as representative of the Melanau community to the Cobbold Commission during the years preceding the formation of Malaysia.
In 1963, he contested and won a seat in the state elections. However, he resigned in 1968 and returned to public service. He eventually became Chairman of the State Public Service Commission.
Governorship
In 1977, he was installed as the third Governor of Sarawak and served for a term of four years. In 2000, he became Acting Governor while the Governor Ahmad Zaidi Adruce was ill. Zaidi Adruce died in December 2000, and Salahuddin was reappointed permanently to the governorship in February 2001, and his term officially ended on 28 February 2014.
Awards and recognitions
He has been awarded :
He holds the usual Malay title of "Tun Datuk Patinggi" by combining the highest title of Malaysia and the highest title of Sarawak. But in other parts of Malaysia, he holds other titles. See details below.
Honours of Sarawak
As 3rd & 6th List of Yang di-Pertua Negeri of Sarawak (2 April 1977 – 2 April 1981 & 22 February 2001 – 28 February 2014)
Grand Master of the Most Exalted Order of the Star of Sarawak
Order of the Star of Hornbill Sarawak : Grand Master and Knight Grand Commander (DP) with title Datuk Patinggi
Grand Master of the Order of Meritorious Service to Sarawak
Grand Master of the Most Exalted Order of the Star of Sarawak
Honours of Malaysia
Salahuddin was bestowed the nation's highest award – the Seri Maharaja Mangku Negara which carries the title Tun, by the Yang di-Pertuan Agong on 7 June 1978.
Malaysia
Grand Commander of the Order of the Defender of the Realm (SMN, 1978) with title Tun
Malacca :
Grand Commander of the Premier and Exalted Order of Malacca (DUNM) with title Datuk Seri Utama
Penang :
Knight Grand Commander of the Order of the Defender of State (DUPN) with title Dato' Seri Utama
Perak :
Knight Grand Commander of the Order of the Perak State Crown (SPMP) with title Dato' Sri
Perlis :
Knight Grand Commander of the Order of the Crown of Perlis or Star of Safi (SPMP) with title Dato' Seri
Sabah :
Grand Commander of the Order of Kinabalu (SPDK) with title Datuk Seri Panglima
References
Abang Muhammad Salahuddin Wikipedia
(Text) CC BY-SA