Covid-19
Aalesunds Fotballklubb




10,778




Color Line Stadion




Ålesund, Norway




25 June 1914




AaFK




Reidar Mjelde




Trond Fredriksen




Eliteserien






Tangotrøyene (Tangoshirts), Tango, De oransje og blå (Orange and blue)




Color Line Stadion Ålesund





Twitter

Facebook
Aalesunds Fotballklubb is a Norwegian football club from the city of Ålesund, currently playing in the Norwegian Premier League. The club was founded on 25 June 1914. As of 2004, the football club had 835 members and several teams on both professional and amateur levels. These teams are the 1st and 2nd teams, junior team, and also several age-specific teams.
Aalesunds F.K. played their home matches at Kråmyra Stadium until the 2005 season, when they relocated to the new Color Line Stadium with an approximate capacity of 11,000 people. Boosted by the new stadium, recent success and general increasing attendance in Norway, Aalesund has gone from attracting crowds of approximately 1,000 to regularly selling out their stadium [1] in only a few years. Their average attendance of 9,943 in Adeccoligaen 2006 became the new record for attendances at the second tier of the Norwegian league system.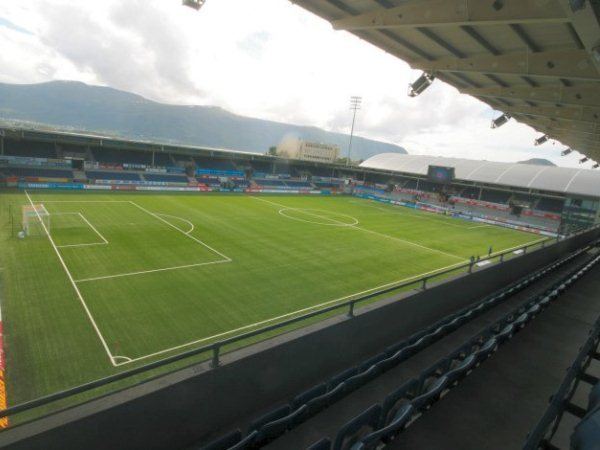 The local supporter club for AaFK is called "Stormen", or "The Storm", with about 2000 members.
In 2009 the club won the Norwegian Cup for the first time in its history. They beat rival Molde FK in the Final, and thereby qualified for participation in the UEFA Europa League. Aalesund also won the 2011 Cup Final, where they beat SK Brann.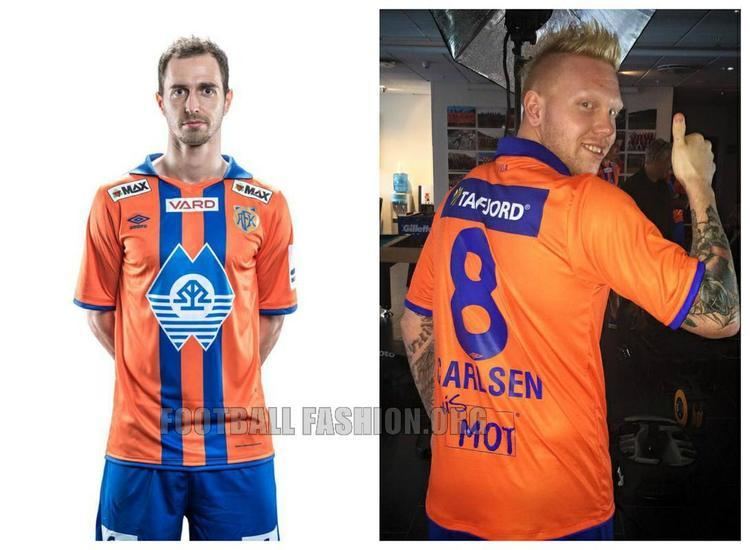 Norwegian Football Cup:
Winners (2): 2009, 2011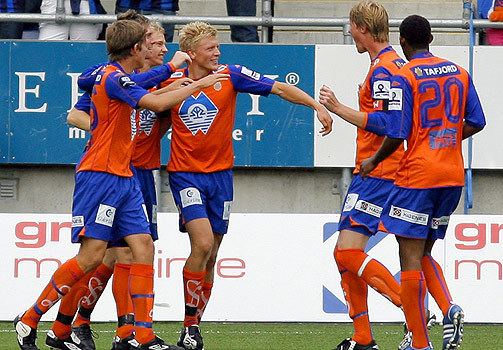 Liverpool, Roma, Fulham and Norway player John Arne Riise started and ended his career in the club, as did his younger brother Bjørn Helge Riise.
West Bromwich Albion goalkeeper and Denmark international Anders Lindegaard played two seasons for the club, in which he won the Norwegian Cup, and made his debut for the Denmark national team
Jonathan Parr played for Crystal Palace and Ipswich Town, and he currently plays for the Norwegian national team.
The club also has several national players for countries such as Finland, Costa Rica, Estonia and Jamaica.
Tor Hogne Aarøy played for the club for nearly a decade (2001–11), and is famous for being the tallest outfield football player in the world, standing at approximately 2.04 m (6 ft 8 1⁄2 in) tall.
Former player and manager Bobby Gould was once signed for the club, but never played because he got signed by Hereford United.
John Arne and Bjørn Helge are now both in the team.
Rival football clubs in the city include Herd, Rollon, Skarbøvik and Spjelkavik, with Molde and Hødd traditionally being the main regional rivals. Hødd has been less competitive with AaFK in recent years, as they have not been in the same division for some time. More recent rivalries have centred on Molde and Strømsgodset, and to some extent Brann.
The club's supporters enjoy a good relationship with supporters of Oslo club Vålerenga, and it is not uncommon for supporters of one club to support the other in competitions where only one team participates. In the 2011 game against Neath in Wales, some supporters of 2010's Europa League opponents Motherwell also made their way to support the club.
As 28 January 2017
Note: Flags indicate national team as defined under FIFA eligibility rules. Players may hold more than one non-FIFA nationality.
For season transfers, see transfers winter 2016–17 and transfers summer 2017.
Head coach: Trond Fredriksen
Assistant coach: Karl Oskar Fjørtoft
Goalkeeper coach: Frank Mathiesen
Physical trainer: Bjørn Erik Melland
Youth coach: Jan Erik Sørnes
Youth coach: Erling Ytterland
Bobby Gould
Egil "Drillo" Olsen (1989)
Eivind Syversen (19??–93)
Knut Torbjørn Eggen (1994–96)
Bård Wiggen (July 1, 1997 – June 30, 1999)
Geir Hansen (2000)
Ivar Morten Normark (Jan 1, 2002 – Dec 31, 2005)
Per Joar Hansen (Jan 1, 2006 – Dec 31, 2007)
Sören Åkeby (Jan 1, 2008 – Aug 31, 2008)
Kjetil Rekdal (Sept 5, 2008 – Nov 26, 2012)
Jan Jönsson (Jan 8, 2013 – Dec 31, 2014)
Harald Aabrekk (Jan 1, 2015 – Apr 28, 2015)
Trond Fredriksen (Apr 28, 2015–)
Aalesunds FK Wikipedia