Aai mata ji new bhajan 2015 shri aai mata amrit ras pave audio jukebox rajasthani new bhajan
Shri Aai Mata ji (1472 to 1561)in Vikram Samvat) is believed to be an incarnation of the goddess, Ambe Maa (Jagdambe Maa, Hindi: आई माता जी का अवतार). Ambe Maa appeared to Shri Aai Mata ji's father, Rao Bika Dhabi, in a dream, informing him that she was going to incarnate as his daughter. After this dream, Shri Aai Mata ji was found by Rao Bika Dhabi in a garden in Ambapur (Gujarat), India. He adopted her and named her jiji, which means "sister." She later came to be known as Aai Mataji, and was famous for her beauty and helpful nature.
Contents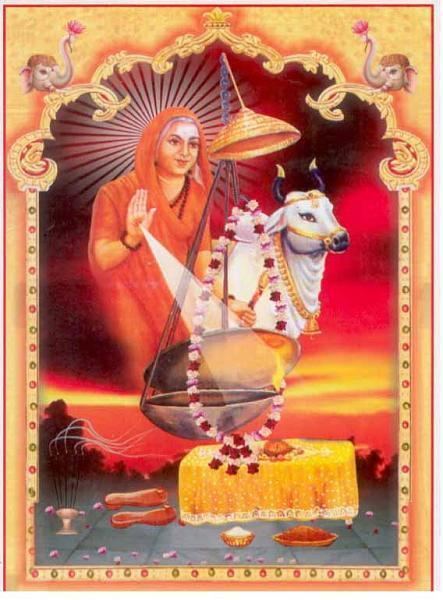 Bhadarva beej special 2016 shri aai mata amrit ras pave aai mata ji hit bhajan rajasthani song
Early life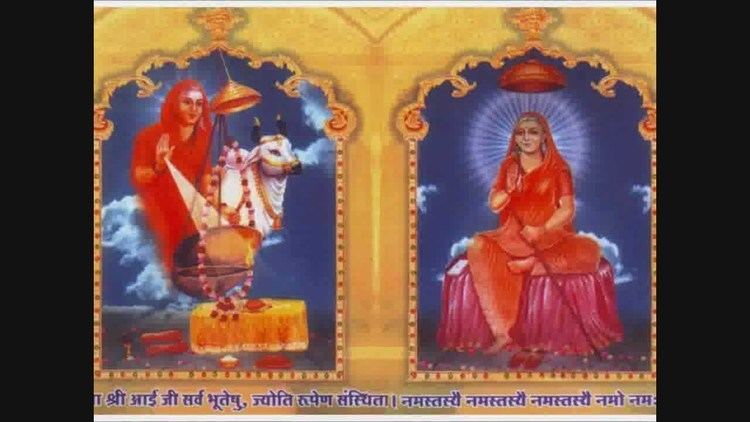 During her childhood, Jiji is said to have miraculously helped people whose lives were in danger and have been revered by all who knew her.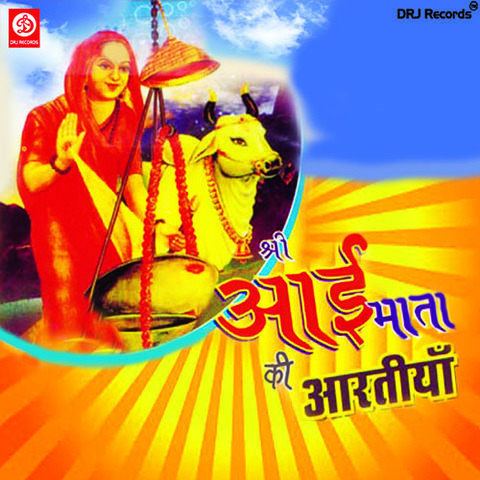 Mahmud Shah Khilji, the Mughal king of Malwa Sultanate (Malwa), heard about the beauty of Jiji and decided he wanted to marry her. Mahmud Shah called Rao Bika Dhabi to request his daughter's hand for marriage. Dhabi reluctantly went to Jiji with Khilji's proposal. Jiji understood the undesirable situation in which Khilji had put her father. She told her father to accept the marriage proposal with the condition that the marriage would follow Hindu tradition and customs. She knew that in Hindu tradition, the bride's family has to arrange feast for all the people who come with the groom. The king was surprised at this and wondered how Dhabi would arrange food for so many people. However, from a small hut, Jiji miraculously arranged all the food for thousands of people. The king was very keen to know her secret. One day, he saw Jiji in the hut, in her original divine form. Shocked, Khilji promised Jiji that he would no longer be a rude king and from then on he would always try to be a good ruler. He then made the large temple of Ambe Maa in Ambapur. Jiji became very famous for her divine miracles. After some years, she started travelling towards Rajasthan with a young bull.
Narlai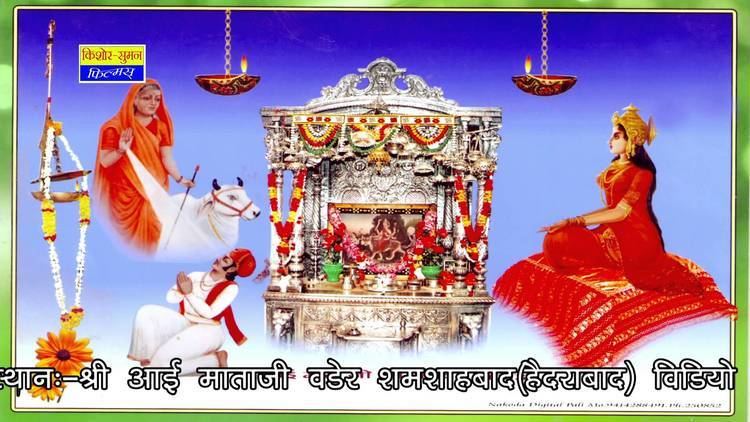 Jiji reached the Jekalji Mahadev Temple in Narlai (in the Pali District of Rajasthan). She stayed there for some time, giving advice about living a good and principled life to the dwellers of Pali district, for the purpose of making their lives happier. She created an opening in a cave on the hills using divine lightning. Inside, Jiji placed a jyoti, a divine lamp of ghee. This jyoti has a continuous flame, which produces kesar (a saffron-coloured soot) instead of kajal (carbon black).
Dailana
After Narlai, Jiji went to Dailana, approximately 28 km from Narlai. One afternoon, she came to a field where some farmers were ploughing. Due to a severe drought, she couldn't find a single tree with a green canopy nearby to give her relief from the sun. She asked the farmers to give her water for her young bull and to arrange some shade. The farmers replied that due to the drought, the river had dried up and there was no water for her bull. However, Jiji insisted the farmers to take her bull, along with their own bulls, to the river for water anyway. The farmers arranged some shade for her by putting some dry grass on their plough and went to the river. Upon their return, the farmers, to their astonishment, saw a large tree in place of their plough. They found two trees on one stem, because the plough was made from Banyan and Rayan trees. After that, the villagers understood that Jiji was the incarnation of a goddess. Just as she had done in Narlai, she placed a Jyoti there too.
Bhesana
Jiji then went to Bhesana, approximately 60 km from Dailana. When she reached the place, she saw a group of shepherds with their water buffaloes resting lazily in a pond. The shepherds thought that her bull would disturb their buffaloes, so they started throwing stones at her and her bull. Because of this, she transformed their buffaloes into stones. The shepherds then realized their mistake and asked her for penance. These stones can be seen at that place even today.
Sehwaj
When Jiji was passing through Sehwaj, approximately 16 km from Bhesana, she met a lady who was selling vegetables. Jiji asked her if she could buy the vegetables to give to her bull. In return, Jiji gave the lady a gold coin. She then proceeded to tell the lady that she was being greedy by selling vegetables instead of relying more on farming. However, the lady was very greedy, and did not want to listen to Jiji, so the next day she again started selling vegetables. While on her way to sell her wares, she saw Jiji in her original divine form. Jiji cursed the woman with a curse that would never allow her descendants to progress in life. After some years, all the villagers realized that they had made mistakes and built a temple so they could worship.
Bilara
After leaving Sehwaj, Jiji was passing Pataliyawas, near Bilara and approximately 45 km from Sehwaj, when suddenly heavy rains started. Due to the low-lying nature of the area, it began to flood. The villagers were scared but Jiji removed her shoe and began to use it to dig. She made a bank from the mud and as a result saved the villagers from the flood.
After this, she went to Bilara, where she met a wealthy merchant named Hambad, a Gotra who was of the Seervi Caste family. This family was well-settled and very proud of their wealth. They had not given any respect to Jiji. She was very unhappy with them so she gave them a curse that caused them to eventually lose their wealth. Later, Jiji reached Janoji Rathod's (a Gotra of the Seervi caste) home. He was Head Minister of the Beelpur (the old name of Bilara) village. Jiji yelled "Madhav ki Maa (Madhav's Mother), please open the door." The Rathod couple was surprised because for a long time, Madhav (Rathod's son) had been missing. Nobody knew about it, so they wondered how anyone could call his name. The Rathods respectfully brought Jiji inside their home and Janoji asked Aai Mata ji about his missing son. Mataji assured him that he would come home soon. A very long time ago, Madhav had gone to Rampura in Mewar (near Udaipur) and was part of a war against the Sisodiya ruler. Due to his good performance, he became Captain of the Army of King Shiva. While he was in the service of the king, there was to be a marriage of a girl who was from a very rich family in Pipar City. The family asked for help from King Shiva's Army for protection. King Shiva asked Madhav to go to Pipar City to protect the family. Bilara was on the way to Pipar, so while he headed back, Madhav stayed at Bilara and met the girl's parents.
Janoji's wife requested Aai Mata ji to call her son Madhav back to her. Aai Mata ji gave her a thread and asked her to tie one knot in the thread every day. Janoji's wife obeyed these instructions. After the eleventh day, Madhav came back. Aai Mata ji took that thread and tied it on the right hand of Madhav. She then tied this same threat, with eleven knots, around the neck of Sodhi. This thread is called "Bel". All followers or devotees of Aai Mata ji tie a cotton thread with eleven knots, males on their right hand and females on their neck. The eleven knots stand for the eleven principles of Aai Mata Ji.
Later, Jiji made her hut (where currently Shri Aai Mataji Temple lies) and started living there and helping people. Nobody knew her name, so everyone in the village started calling her Aai Mata ("Aai" is a word used in Rajasthani when a female is coming and Mother is called "Mata") and worshipped her like a goddess.
Meanwhile, the Hambad family lost all their wealth and property. There was a very religious girl named Sodhi in the Hambad family. One day, she told her family that they had lost their wealth because they had disrespected Jiji. The Hambad family then went to Aai Mata ji to apologize. Aai Mata ji excused them and asked Sodhi to stay with her. She appointed Sodhi's father as "Kotwal", to be in charge of any religious work.
Aai Mata ji helped society in many ways. She also started moving from one village to another in a bullock cart (which is called Aai Mata ji ki Bhel) with Madhav and Sodhi to help her. As they travelled, they spread awareness about the sect. Aai Mata ji called this Aai Panth. All thirty-six main castes (36 Kom) are devotees of Aai Mata ji. The main followers are the Seervi Caste of Rajasthan and Madhya Pradesh. Aai Mata ji, seeing the love between Madhav and Sodhi, asked them to marry. In 1473 (Vikram Sanvat 1530), Sodhi gave birth to a son. They named him Govind. After 15 years, Madhav died.
Diwan
In 1510 (Vikram Samvat 1567), Aai Mata ji declared Govind das ji as a Diwan (Principal Priest). One day, Aai Mata ji told Govind das ji that she wanted to perform meditation (Tapsya) for seven days in a dark room. She warned him not to open the door of her room before that. However, her devotees were unhappy, since they were not taking food before Darshan of Mata ji. After four or five days, they forced Govind to open the door of the room. A light came from Aai Mata ji's seat and merged into a Jyoti, but Aai Mata ji was not there. She had disappeared (आलोप ). Aai Mata ji left her stick, five Big Nariyal (Coconuts), and her shoes.
Temple at Bilara
All of her items are still there in Shri Aai Mata ji's Temple, in Bader, Bilara. A Jyoti is also inside the temple. This Jyoti is changed every year by the Diwan of Bilara with the Head of Pujari on Bhadrapad Shukla Dwitiya of the Hindu Calendar (in August/September).
References
Aai Mata Wikipedia
(Text) CC BY-SA