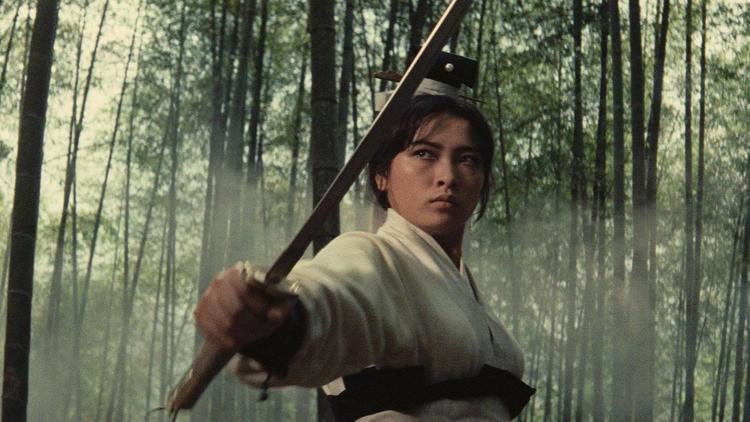 The story is largely seen through the eyes of Gu, who is a well-meaning but unambitious scholar and painter, with a tendency towards being clumsy and ineffectual. A stranger arrives in town wanting his portrait painted by Gu, but his real objective is to bring a female fugitive back to the city for execution on behalf of the East Chamber guards. The fugitive, Yang, is befriended by Gu and together they plot against the corrupt Eunuch Wei who wants to eradicate all trace of her family after her father attempts to warn the Emperor of the eunuch's corruption. His daughter fled, and Abbot Hui intervened to protect them.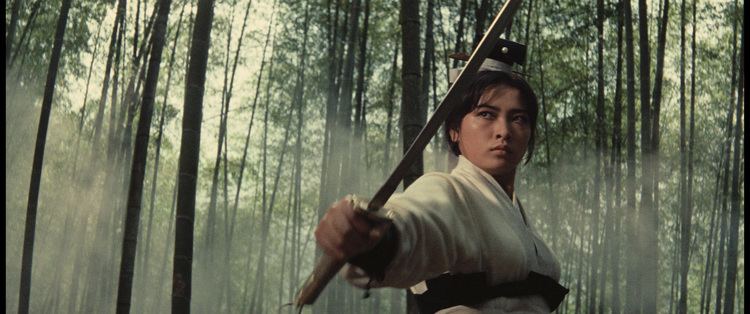 The stranger, Yang and her friends are all superior warriors. The stranger has a special flexible sword that bends and that he can wear within his belt, making him seem unarmed.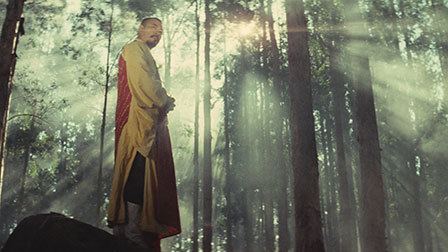 One of the unique aspects of the film is that Gu is a non-combatant all the way through the film and only becomes involved when he sleeps with Yang. Upon doing so, he is no longer the naïve bumbling innocent, but instead becomes confident and assertive, and when Yang's plight is revealed, he insists on being part of it – and even comes up with a fiendish "Ghost Trap" for the East Chamber guards. This is a plan to use a supposedly haunted site to play tricks on the guards to make them believe they are prey to the undead. He first spreads rumours of ghosts, with his mother playing a part. The film then briefly uses split-screen with six separate views to show the spread of these rumours.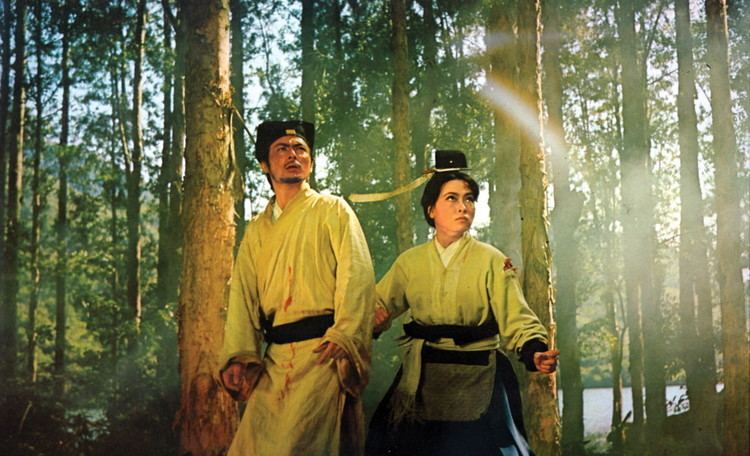 In the aftermath, Gu walks through the carnage laughing at the ingenuity of his plan until the true cost of human life dawns upon him. He sees Abbot Hui and his followers arrive to help bury the dead.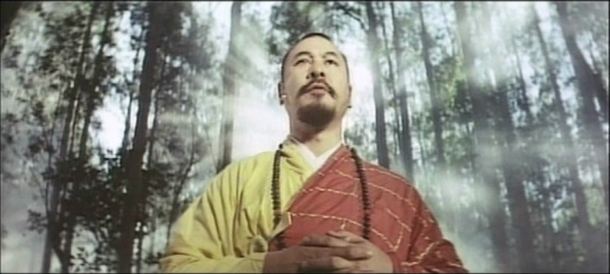 After the battle, Gu is unable to find Yang, who he is told has left him and does not want him to follow her. He tracks her down at the monastery of the saintly and powerful Abbot Hui Yuan, where she has given birth to a child by Gu and become a nun. She tells Gu that their destiny together has ended and gives Gu their child. Later, when Gu and the child are tracked down by Hsu Hsien-Chen, the evil commander of Eunuch Wei's army, Yang and Abbot Hui come to Gu's rescue. In the ensuing battle, Hsu is killed and Yang and Abbot Hui are badly injured (the latter bleeding golden blood). The film famously ends with the injured Yang staggering towards a silhouetted figure, presumably Abbot Hui, seen meditating with the setting sun forming a halo around his head, an image suggesting the Buddha and enlightenment.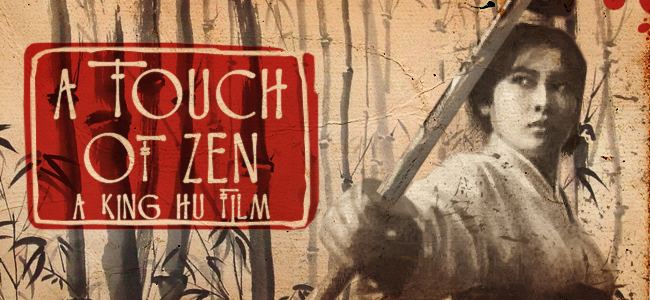 Hsu Feng as Yang Hui-zhen (

楊惠貞

)
Shih Chun (

石雋

;

Shí Juàn

) as Gu Sheng-tsai (

顧省齋

;

Gù Shěngzhāi

)
Bai Ying (

白鷹

) as General Shi Wen-qiao (

石問樵

)
Xue Han (

薛漢

) as General Lu Ding-an (

魯定庵

)
Roy Chiao as Abbot Hui-yuan (

慧圆

)
Tien Peng (

田鵬

) as Ouyang Nian (

歐陽年

)
Cao Jian (

曹健

) as Xu Zheng-qing (

徐正清

), local magistrate
Miao Tien as Nie Qiu (

臬逑

), one of Mun Ta's advisors
Zhang Bing-yu as Sheng-tsai's mother
Wang Rui as Men Da a.k.a Mun Ta (

門達

;

Mén Dá

)
Han Ying-jie as Chief Commander Xu Xian-chun
Wan Zhong-shan (

萬重山

) as Lu Qiang (

魯強

)
Liu Chu as one of the Magistrate's men
Gao Ming as one of the Magistrate's men
Lu Zhi as Mun Ta's guard
Jia Lushi as Yang Lian
Cheung Wen-men as Tao Lung
Jackie Chan (uncredited stuntman)
Long Fei as a guard
Sammo Hung as guard/soldier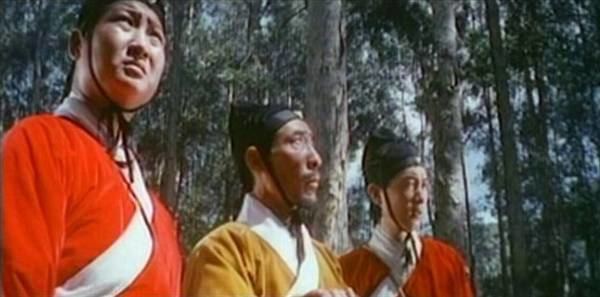 The film has been hailed for its cinematography, editing, and special effects, as well as its unusually thoughtful approach to the genre, with its strong thematic focus on Buddhism. The film makes strong use of symbolism throughout and is famous for its "abstract," open-ended finale. The motif of spiderwebs is often used to symbolize the tangled and sinister nature of the East Chamber and the evil Eunuch and the manipulative nature of Yang. Elsewhere, the film employs a dark, moody tone which enhances the sense of fantasy. Images of nature, the sun, and the use of lens flares are associated throughout with Buddhism and Abbot Hui-yuan's convent. The final battles between Hsu and Hui, which involve a number of mystical events, have been interpreted as a battle between good and evil or as a parable about Buddhist religious virtues, the evils of worldliness, and enlightenment.
The film was awarded the Technical Grand Prize and nominated for the Palme d'Or at the 1975 Cannes Film Festival.
Featuring stunning settings and backdrops, A Touch of Zen was an influence on many subsequent films, including Ang Lee's Crouching Tiger, Hidden Dragon (2000) and Zhang Yimou's House of Flying Daggers (2004).
A Touch of Zen was released on DVD for the North American market on December 10, 2002 by Tai Seng Entertainment, with only King Hu's biography and filmography as extras. The film was also released on PAL DVD for the British market on July 28, 2003 by Optimum Releasing (now StudioCanal UK), as well as for the German market on April 10, 2008 by KSM GmbH as part of their "King Hu Collection". The film was released on PAL DVD in France on September 1, 2004 as simply Touch of Zen by Films sans Frontières (Films Without Borders), which has both French and English subtitles.
After the film's 4K restoration in 2015, the film's first Blu-ray release was by Eureka Entertainment for the Masters of Cinema series, released on January 25, 2016 for the British market, which also includes a DVD edition of the film. Both editions include a select scene commentary by critic Tony Rayns, the film's theatrical trailer, and newly translated English subtitles, as well as a 36-page booklet which features director King Hu's statement from the 1975 Cannes Film Festival, a 1975 interview with the director by Rayns, the short story the film was based on, eight characteristics of "the swordswoman" in King Hu's films, and archival images. A limited-edition version of the Blu-ray and DVD adds a 2012 documentary about King Hu and a new essay by filmmaker David Cairns.
On July 19, 2016, American home video company The Criterion Collection released the film on Blu-ray and DVD using the same 4K restoration also used by the Masters of Cinema release. Both the Blu-ray and DVD include the 2012 documentary about King Hu, new interviews with the actors Hsu Feng and Shih Chun, filmmaker Ang Lee, and film scholar Tony Rayns, the theatrical 4K re-release trailer, and newly translated English subtitles, as well as a leaflet containing a new essay by film critic and theorist David Bordwell and King Hu's notes from the 1975 Cannes Film Festival. The new Blu-ray and DVD cover and interior poster (combined with the leaflet) was illustrated by Greg Ruth and designed by Eric Skillman.