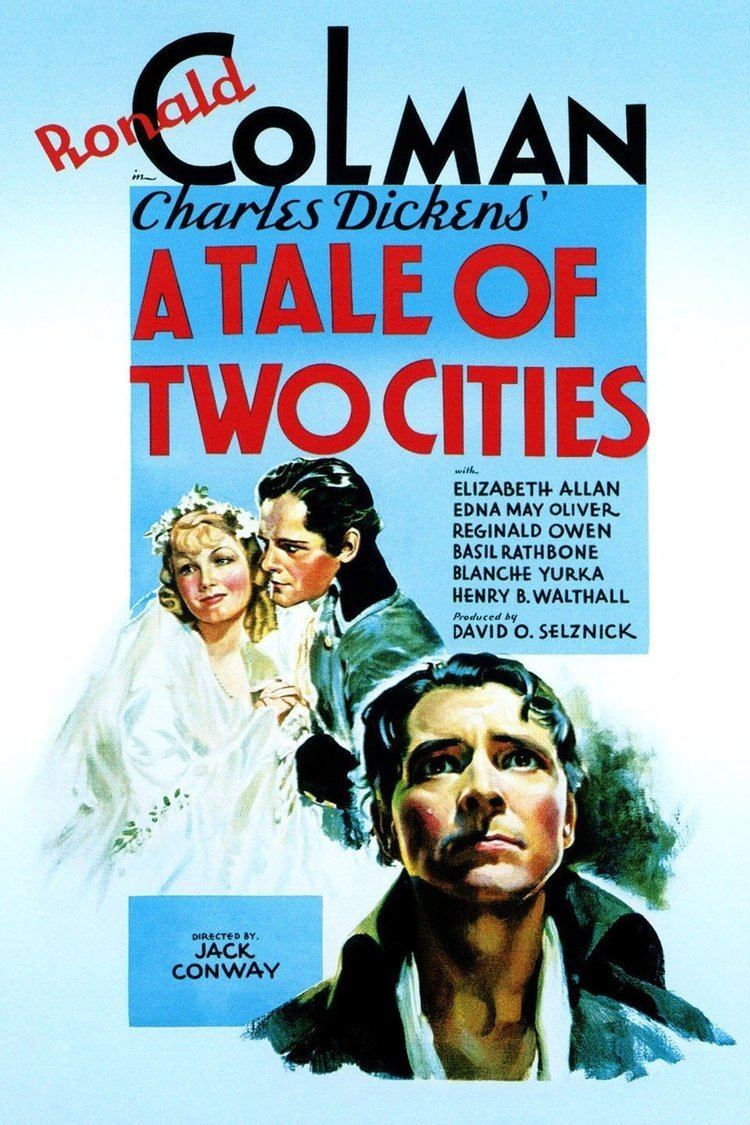 On the eve of the French Revolution, Lucie Manette (Elizabeth Allan) is informed that her father (Henry B. Walthall) is not dead, but has been a prisoner in the Bastille for many long years before finally being released. She travels to Paris to take her father to her home in England. Dr. Manette has been taken care of by a friend, Ernest Defarge (Mitchell Lewis), and his wife (Blanche Yurka). The old man's mind has given way during his long ordeal, but Lucie's tender care begins to restore his sanity.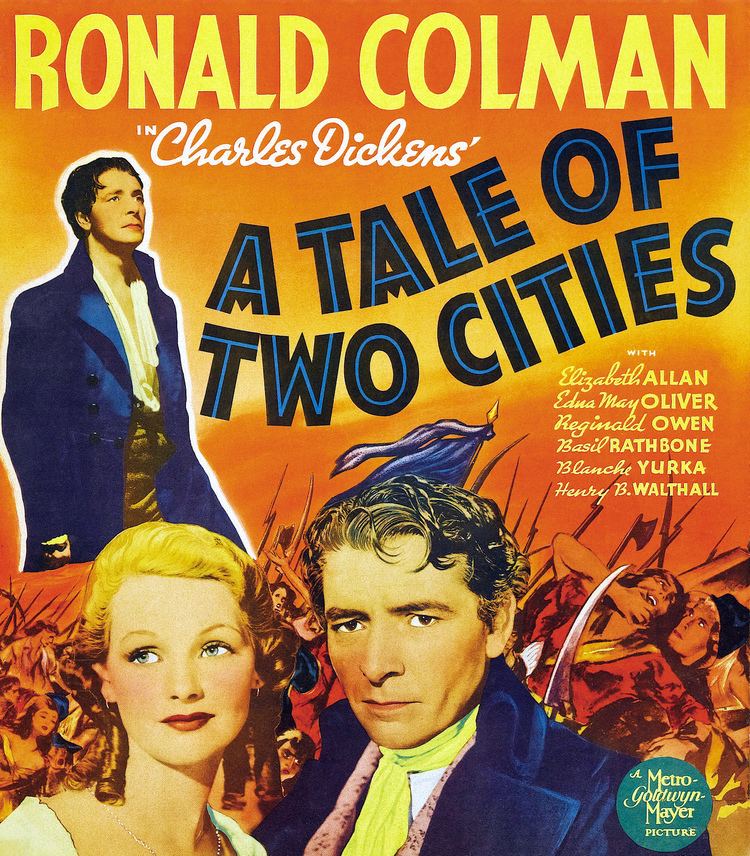 On the trip across the English Channel, Lucie meets Charles Darnay (Donald Woods), a French aristocrat who, unlike his unfeeling uncle, the Marquis de St. Evremonde (Basil Rathbone), is sympathetic to the plight of the downtrodden French masses. Darnay is framed for treason, but is saved by the cleverness of the dissolute lawyer Sydney Carton (Ronald Colman). Carton goes drinking with Barsad (Walter Catlett), the main prosecution witness, and tricks him into admitting that he lied. When Barsad is called to testify, he is horrified to discover that Carton is one of the defense attorneys and grudgingly allows that he might have been mistaken. Darnay is released.
Carton is thanked by Lucie, who had been a witness at the trial. He quickly falls in love with her, but realizes it is hopeless. Lucie eventually marries Darnay, and they have a daughter.
By this time, the Reign of Terror has engulfed France. The long-suffering commoners vent their fury on the aristocrats, condemning scores daily to Madame Guillotine. Darnay is tricked into returning to Paris and arrested. Dr. Manette pleads for mercy for his son-in-law, but Madame Defarge, seeking revenge against all the Evremondes, regardless of guilt or innocence, convinces the tribunal to sentence him to death with a letter Dr. Manette wrote exposing the guilt of Darnay's uncle, Marquis de St. Evremonde.
While trying to comfort the family, Carton knows that they are themselves in grave danger. When Lorry tries to convince him otherwise, Carton tells him that he is aware that Madame Defarge will stop at nothing just to get the vengeance she craves for. This is evident when Carton noticed her behavior in having the Vengeance give Lucie's daughter a miniature guillotine during their trip at Defarge's and which he confiscated. He comes up with a desperate rescue plan to stop her. He first persuades Lucie and her friends to leave Paris by promising to save Darnay. Next he confronts an old acquaintance, Barsad, now an influential man in the French government, to enable him to visit Darnay in jail. When he refuses to cooperate, Carton blackmails him into doing what he asks by threatening to reveal his secret about being a paid spy for the Marquis to the tribunal if he doesn't allow him to see Darnay. There, Carton drugs the prisoner unconscious, switches places with him, and finishes the letter to Lucie to be put in his jacket pocket. Barsad and the guard has Darnay carried out to be reunited with his family.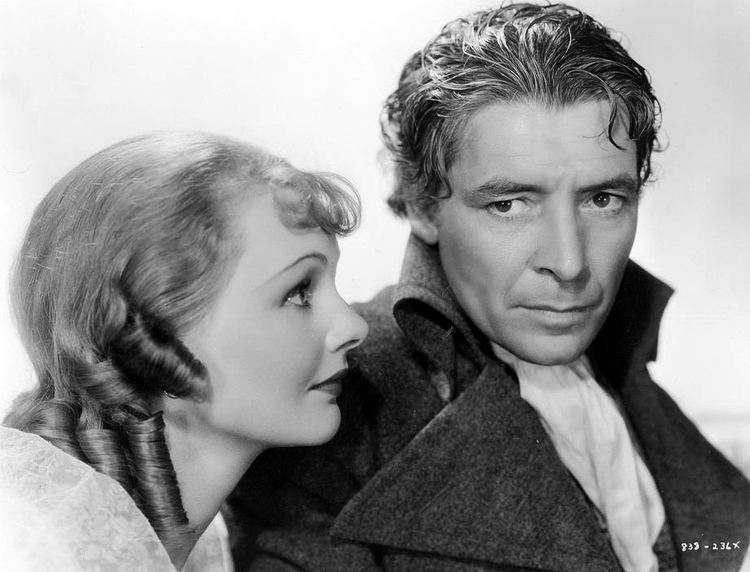 Madame Defarge, her thirst for vengeance still unsatisfied, goes to have Lucie and her daughter arrested, only to find that they have fled with Dr. Manette. When she finds out they're gone after searching the rooms, Madame Defarge tries to flee. She is confronted by Miss Pross (Edna May Oliver), Lucie's devoted servant who locks her inside in an attempt to prevent her from warning the populace. In the ensuing struggle, Madame Defarge is killed by Miss Pross. She clutches her ear and runs from the scene.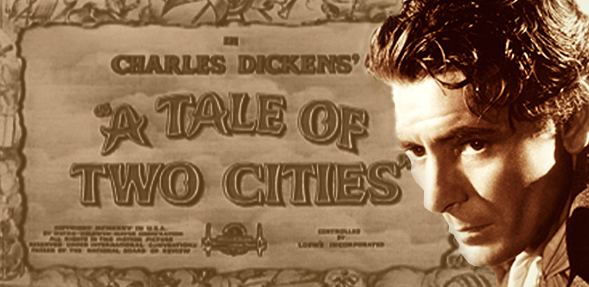 Meanwhile, only a condemned seamstress (Isabel Jewell) notices Carton's substitution, but keeps quiet. She draws comfort in his heroism as they ride in the same cart to the execution place. As the camera rises just before the blade falls, Carton's voice is heard, saying, "It's a far, far better thing I do than I have ever done. It's a far, far better rest I go to than I have ever known."
Ronald Colman as Sydney Carton. Colman had long wanted to play Sydney Carton on film. He was even willing to shave off his moustache.
Elizabeth Allan as Lucie Manette
Edna May Oliver as Miss Pross
Reginald Owen as Stryver
Basil Rathbone as Marquis de St. Evremonde
Blanche Yurka as Madame Therese Defarge
Henry B. Walthall as Dr. Manette
Donald Woods as Charles Darnay
Walter Catlett as Barsad
Claude Gillingwater as Jarvis Lorry
H. B. Warner as Gabelle
Fritz Leiber as Gaspard
Lucille La Verne as The Vengeance
Mitchell Lewis as Ernest Defarge
Isabel Jewell as the Seamstress
Tully Marshall as a Woodcutter
Fay Chaldecott as Lucie Darnay, a child
Billy Bevan as Jerry Cruncher
Eily Malyon as Mrs. Cruncher
Donald Haines as Jerry Cruncher, Jr.
E. E. Clive as Judge in Old Bailey
Robert Warwick as Judge at tribunal
Lawrence Grant as a Prosecutor
Ralf Harolde as a Prosecutor
John Davidson as Morveau
Tom Ricketts as Tellson, Jr.
Barlowe Borland as Jacques
Faye Chaldecott is the last surviving cast member.
Andre Sennwald wrote in the New York Times of December 26, 1935: "Having given us 'David Copperfield', Metro-Goldwyn-Mayer now heaps up more Dickensian magic with a prodigally stirring production of 'A Tale of Two Cities' ... For more than two hours it crowds the screen with beauty and excitement, sparing nothing in its recital of the Englishmen who were caught up in the blood and terror of the French Revolution ... The drama achieves a crisis of extraordinary effectiveness at the guillotine, leaving the audience quivering under its emotional sledge-hammer blows ... Ronald Colman gives his ablest performance in years as Sydney Carton and a score of excellent players are at their best in it ... Only Donald Woods's Darnay is inferior, an unpleasant study in juvenile virtue. It struck me, too, that Blanche Yurka was guilty of tearing an emotion to tatters in the rôle of Madame Defarge ... you can be sure that 'A Tale of Two Cities' will cause a vast rearranging of ten-best lists."
The film is recognized by American Film Institute in these lists:
2003: AFI's 100 Years...100 Heroes & Villains:
The Marquis de St. Evremonde – Nominated Villain