A Man of No Importance is a musical with music by Stephen Flaherty, lyrics by Lynn Ahrens and a book by Terrence McNally, based on the 1994 Albert Finney film, A Man of No Importance. It tells the story of an amateur theatre group in Dublin and their leader, who is determined to stage a version of Salome at his church, despite the objections of church authorities.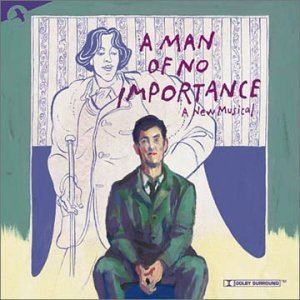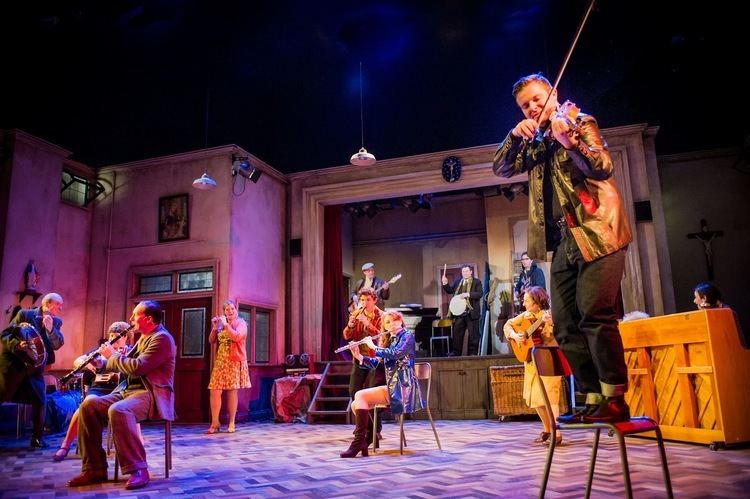 The musical ran from September 12, 2002 to December 29, 2002 in the Mitzi E. Newhouse Theater at Lincoln Center in New York City, as part of the Lincoln Center Theater 2002-03 season. The production was directed by Joe Mantello and choreographed by Jonathan Butterell. It won the 2003 Outer Critics Circle Award for Best Off-Broadway Musical. The original cast included Roger Rees as Alfie Byrne, Jarlath Conroy as Father Kenny, Jessica Molaskey as Mrs. Patrick, Sean McCourt as Sully O'Hara, Luther Creek as Peter/Breton Beret, Faith Prince as Lily Byrne, Sally Murphy as Adele, Ronn Carroll as Baldy, Charles Keating as Carney/Oscar Wilde, and Steven Pasquale as Robbie Fay. A cast album was recorded in 2002 and released in April 2003.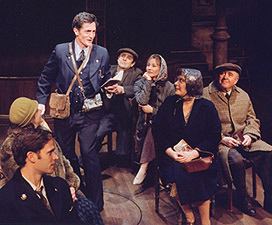 The musical was produced by Acting Up Stage Theatre Company at the Berkeley Street Theatre in Toronto, Ontario, Canada and ran from March 7 to 22, 2008. Alfie was played by Douglas E. Hughes, and Lezlie Wade directed the production.
Regan and De Wynter produced the musical at The Union Theatre, Southwark, where it ran from November 11, 2009 to December 5, 2009. It starred Paul Clarkson as Alfie and Paul Monaghan as Carney/Oscar Wilde. The production received unanimously positive reviews. The show transferred to the Art's theatre in the West End for a limited season, opening on February 10, 2010 following a single preview on February 9, 2010, running until 27 February 2010.
Salisbury Playhouse presented a revival of the musical featuring a cast of actor musicians from April 25, 2013 to May 18, 2013, directed by Gareth Machin and starring Mark Meadows as Alfie and Fra Fee as Robbie.
Renowned amateur company Sedos staged the show from 23–27 July 2013 at the Bridewell Theatre, London. Reviewing this production, Greg Mitchell said, "McNally's script is, as you would expect, masterful."
The Australian Première of the work was performed by the Sydney University Musical Theatre Ensemble at the King Street Theatre, Newtown, from the 5–8 August 2015. Directed by Curtis Goding and Music Directed by Douglas Emery, the show starred Aidan Kane as Alfie, Natasha Stanton as Lily and Robert Boddington as Carney/Oscar Wilde. The sold-out production received strong reviews, described as "pleasant, interesting, riveting and moving" and "a hidden gem".
Act 1
In 1964 in Dublin, Ireland, Alfie Byrne is the director of an amateur theatre troup that has been shut down by Father Kenny. The group, The St. Imelda's Players, is based at the church. Alfie, a bus conductor, wants to stage a production of Oscar Wilde's Salome at his church, despite the objections of church authorities.
As he reflects on events, the actors in the troup become, in effect, a Greek chorus and take him through a typical day of "A Man of No Importance", in the form of a play in which he is not the director but the star. As the "play" unfolds, the people in Alfie's life appear: his sister Lily, a handsome bus driver Robbie Fay, and newcomer Adele Rice. Alfie "performs" by speaking Wilde's words to Adele, impressing the bus passengers (who are members of the acting group). As Alfie prepares dinner for himself and Lily, he tells her that he has met a woman. Lily has delayed marriage with her boyfriend Mr. Carney to take care of Alfie until he marries, and is happy for him ("Burden of Life"). Alfie explains that he is not interested in marriage to Adele – he wants her to act in "Salome". Frustrated, Lily castigates Alfie for wasting his time in amateur theatre. After an evening in a pub, Alfie returns home, confused about his true identity. As he gazes at himself in the mirror, he sees Oscar Wilde in a dream, and admits that he loves Robbie ("Man in the Mirror"). After a rehearsal of "Salome", Lily invites Adele for Sunday dinner, saying that Alfie is hesitant to speak for himself ("Burden of Life" – Reprise). As Alfie is walking her home, Adele tells him that in her home town she has a boyfriend, John, and starts crying. Understanding about secrets, Alfie advises her in the song "Love Who You Love".
When Breton Beret propositions Alfie, Alfie is trapped between his own shame and desire, but Oscar Wilde again advises him that the way to eliminate temptation is by giving in.
Act 2
As Mrs. Patrick sings a hymn ("Our Father"), Alfie is confessing to Father Kenny, as he tells about his minor sins. Alfie hears Robbie in a disembodied voice, but he cannot confess to his feelings ("Confession"). The troup is rehearsing, when Adele suddenly cries and tells Alfie that she is pregnant, then leaves. At an emergency church meeting the play "Salome" is deemed "blasphemous" ("Confusing Times"), Monsignor cancels it and orders that the St. Imelda's Players be ended. Alfie, feeling sad, goes to the pub and propositions Breton Beret. Breton takes Alfie's hand, caresses him, but next punches Alfie. Others beat him and he asks for Robbie. Lily and Carney take Alfie home, but the news spreads that Alfie is gay. Finally, Alfie is alone at St. Imelda's hall and thinks back on his life, coming to know that he can no longer hide ("Welcome to the World"). A ray of sunlight enters the dimly lit room as Robbie walks in. Now a member of the new acting troupe, Robbie reads a passage from Oscar Wilde's "The Ballad of Reading Gaol".
The play won the 2003 Outer Critics Circle Award, Outstanding Off-Broadway Musical and the 2003 GLAAD Media Awards, Outstanding New York Theater: Broadway and Off-Broadway.
The play was nominated for the 2003 Drama Desk Award:
Outstanding Book of a Musical, Terrence McNally
Outstanding Director of a Musical, Joe Mantello
Outstanding Lyrics, Lynn Ahrens
Outstanding Music, Stephen Flaherty
Outstanding Featured Actor in a Musical, Charles Keating
Outstanding Featured Actor in a Musical, Steven Pasquale
Outstanding Musical