Siblings

Ryan Hawk, Brady Hawk

School

Ohio State University






Date of birth:

(1984-01-06) January 6, 1984 (age 32)

Spouse

Laura Quinn Hawk (m. 2007)

Similar People




Profiles



Popular A. J. Hawk & Linebacker videos
Aaron James Hawk (born January 6, 1984) is an American football linebacker for the Cincinnati Bengals of the National Football League (NFL). He was drafted by the Green Bay Packers fifth overall in the 2006 NFL Draft. He played college football at Ohio State, where he earned All-American honors twice and won the Lombardi Award as a senior. A.J. also runs his own podcast called The HawkCast.
Contents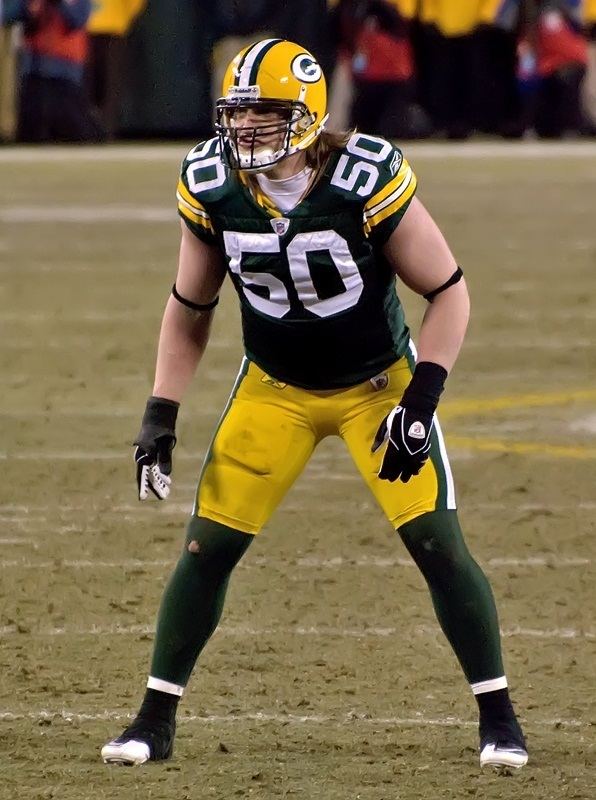 Early years
Hawk was born in Kettering, Ohio, and he grew up in Centerville, Ohio. He attended Centerville High School, near Dayton, Ohio where he was a teammate of current Cincinnati Bengals kicker Mike Nugent on the football team. As a freshman at Centerville High School, Hawk made the Varsity Football team. He holds multiple defensive records and is one of three active NFL players who played for the Centerville Elks high school football team. A. J. Hawk's records include most tackles in a game (31) on three separate occasions. He also has the most career tackles (583). Hawk was a 2-time All-State player in high school (1999 and 2000).
College career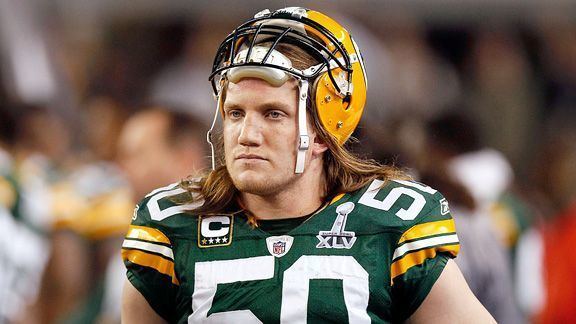 Hawk enrolled in the Ohio State University, and played for coach Jim Tressel's Ohio State Buckeyes football team from 2002 to 2005. During his four-year Buckeye career, he played in 51 games, starting 38 of them. He had 394 tackles with 196 of them solo, 41 of them for losses, 15 and a half sacks, 7 interceptions, and 13 fumbles recovered. He also had two fumble recoveries and three forced fumbles and two touchdowns, one on a blocked punt and one on an interception. His performances earned him first team All Big Ten honors in all three years he started and the Most Valuable Player award for the Tostitos Fiesta Bowl. Following his senior season of 2005, he won the Lombardi Award as the best college football linebacker, and was recognized as a unanimous first-team All-American.
Honoring Pat Tillman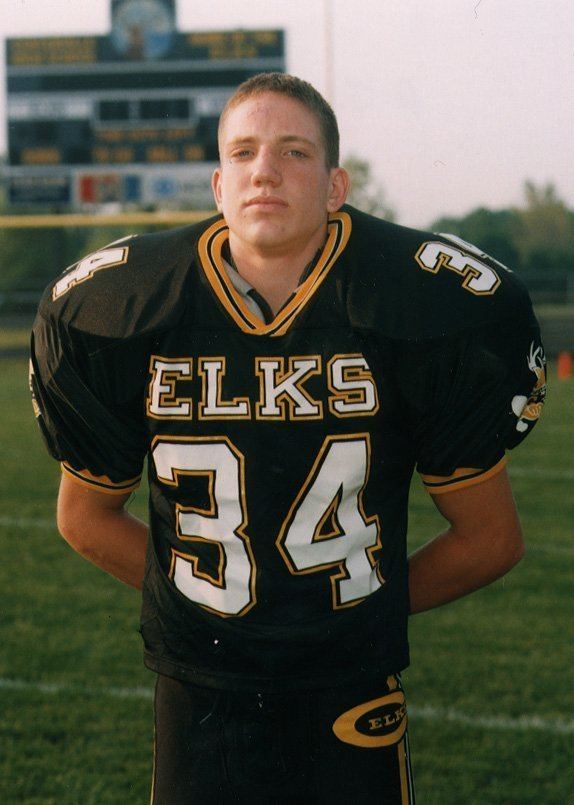 Before the 2005 season for The Ohio State Buckeyes A. J. Hawk along with fellow starting linebackers Bobby Carpenter, and Anthony Schlegel, grew their hair out long to honor Pat Tillman. They made the decision to do so after reading about him in Jim Tressel's 2004 Winners Manual handed out to all the players in the fall. Tillman turned down an NFL contract worth $3.6 Million to join the Army in May 2002, after the outbreak of The War on Terror and was killed in action on April 22, 2004.
Green Bay Packers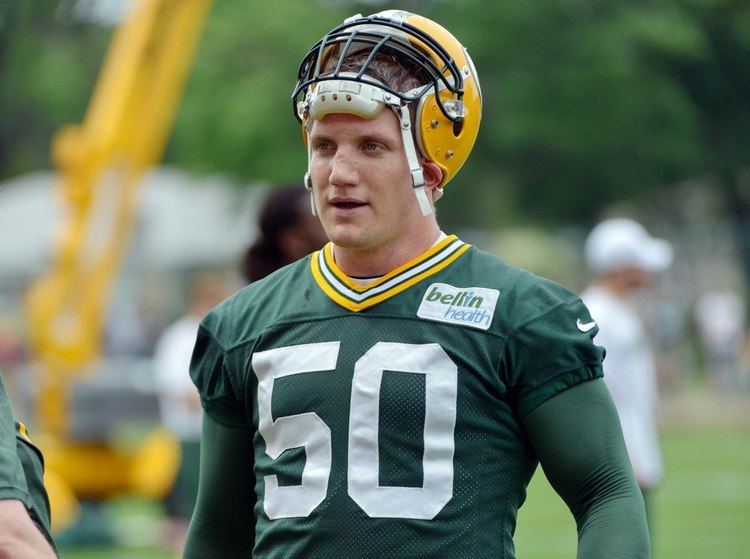 On April 29, 2006 Hawk was drafted in the 1st round of the 2006 NFL Draft by the Green Bay Packers. He was the 5th overall pick of the draft. He signed a 6-year contract with the Packers, worth $37.5 million, on July 28, 2006. He recorded his first NFL sack on September 24, 2006, when he sacked Detroit Lions Quarterback Jon Kitna in the fourth quarter. Hawk was selected the NFL Rookie Of The Week on October 23, 2006, in a win against the Miami Dolphins. He led Green Bay with 12 total tackles in the game and recorded one sack in the Packers' 34–24 victory.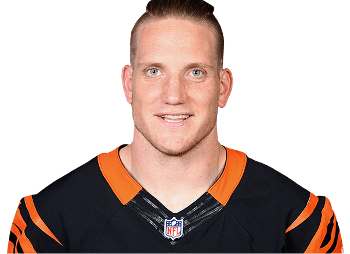 For his effort in the November 12, 2006, 23–17 victory over the Minnesota Vikings, Hawk was selected the NFL Rookie of the Week for the second time. Hawk recorded 13 total tackles and 1.5 sacks, and forced one fumble. Early in the third quarter, Hawk sacked the Vikings quarterback Brad Johnson for a 10-yard loss. He later combined with teammate Nick Barnett for another 10-yard sack.
On December 10, 2006, Hawk recorded his first NFL interception when he picked off Alex Smith during a 30–19 win over the San Francisco 49ers. On December 31, during the Packers' final game of the 2006 season, Hawk recorded his second interception of the season during a 26–7 win over the Chicago Bears.
In his rookie season, Hawk led the Packers' defense with 119 total tackles, 82 of them solo. He also recorded 2 interceptions, 3.5 sacks, 6 passes defended and 1 forced fumble. He was third place in voting for the Associated Press Defensive Rookie of the Year.
In his second season he was second on the team with 105 total tackles, 78 of them solo. He also had one interception, one sack, four passes defended and one forced fumble. During the 2007 postseason he recorded eight tackles and one sack in two games.
In 2008, after spending the first nine games as the Packers' weakside linebacker Hawk was moved to middle linebacker after Nick Barnett tore his ACL. Hawk had 86 tackles and 3 sacks in the full 16 game season he started for Green Bay.
With a Dom Capers' hiring and the preceding switch to the 3-4 defense, Hawk moved to inside linebacker for the 2009 season.
Hawk was released by the Packers on March 2, 2011, then resigned the following day, March 3, 2011, with a new five-year deal.
In 2011, Hawk was fined $10,000 by the NFL after flipping the bird during a game against the St. Louis Rams.
In March 2013, Hawk restructured his contract, reducing his 2013 salary from $5.45 million to $3.6 million. His 2014 salary was reduced by $2.5 million and his 2015 salary was reduced by nearly $3 million. All told, the total value of the remaining three years on Hawk's deal is reduced by about $7 million ($17.85 million to $10.6 million), providing the Packers with more cap space.
On February 25, 2015, Hawk was released by the Packers. Hawk led the team in tackles in five of his nine seasons in Green Bay.
Cincinnati Bengals
On March 10, 2015, Hawk signed a two-year, $3.25 million contract with the Cincinnati Bengals. Hawk recorded his first sack with the Bengals in a Week 10 game against the Houston Texans.
Career statistics
Key
GP: games played
COMB: combined tackles
TOTAL: total tackles
AST: assisted tackles
SACK: sacks
FF: forced fumbles
FR: fumble recoveries
FR YDS: fumble return yards
INT: interceptions
IR YDS: interception return yards
AVG IR: average interception return
LNG: longest interception return
TD: interceptions returned for touchdown
PD: passes defensed
Personal
Hawk is married to Laura Quinn. Laura is the sister of former NFL quarterback Brady Quinn. Hawk's final game with the Buckeyes was the 2006 Fiesta Bowl against Notre Dame, where Quinn was playing at the time. During the game Laura wore a custom made jersey which was half Ohio State and half Notre Dame, combining Brady's number 10 and AJ's Number 47, making the number 17. Hawk managed to sack his future brother-in-law twice during the game and become co-MVP of the bowl which ended with an Ohio State victory. Laura gave birth to the couple's first child, a daughter named Lennon Noel, on December 4, 2010. They welcomed their second child, a son named Hendrix Knight, in January 2013.
References
A. J. Hawk Wikipedia
(Text) CC BY-SA