A Hologram for the King is a 2016 comedy-drama film directed, written and co-scored by Tom Tykwer, based on the 2012 novel of the same name written by Dave Eggers, and starring Tom Hanks as a washed-up corporate salesman, who goes to Saudi Arabia to propose a business deal.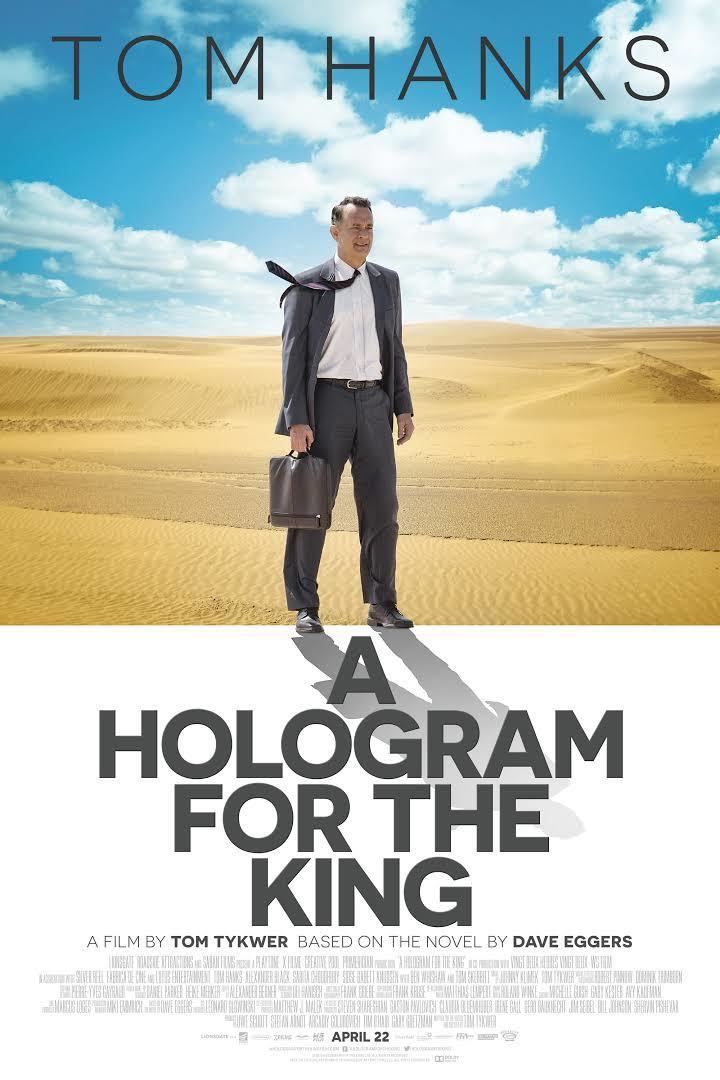 Sidse Babett Knudsen, Tom Skerritt and Sarita Choudhury also star in this international co-production between the United States, Germany, and Mexico. The film was released on April 22, 2016, by Lionsgate, Roadside Attractions and Saban Films. It received positive reviews but was a box-office flop, becoming the lowest-grossing film to feature Tom Hanks in top billing since Every Time We Say Goodbye in 1986.
The film tells the story of a washed-up, desperate American salesman who travels to Saudi Arabia to sell a holographic teleconferencing system to the Saudi government. Set in 2010, before the Arab Spring, American consultant Alan Clay is depressed after losing his house and being divorced by his wife during the Great Recession; he arrives in Jeddah, Saudi Arabia to make a sale in an upcoming development called the King's Metropolis of Economy and Trade (a fictionalized version of King Abdullah Economic City).
Tom Hanks as Alan Clay
Alexander Black as Yousef, Alan's driver
Sarita Choudhury as Zahra
Sidse Babett Knudsen as Hanne
Ben Whishaw as Dave
Tom Skerritt as Ron, Alan's father
Tracey Fairaway as Kit, Alan's daughter
David Menkin as Brad
Khalid Laith as Karim Al-Ahmed
Rolf Saxon as Joe Trivoli
Jay Abdo as Dr. Hadad
Dhaffer L'Abidine as Hassan
On June 12, 2013, Tom Tykwer was reported to be developing an adaptation of 2012 novel A Hologram for the King, written by Dave Eggers. Tykwer wrote and directed the film, which stars Tom Hanks as the lead. The film was made by Playtone, Primeridian Entertainment, and X-Filme Creative Pool. On September 5, 2013, Lotus Entertainment began licensing international rights to the film. On March 6, 2014 it was announced that Sarita Choudhury, Alexander Black, Tracey Fairaway, David Menkin, and Tom Skerritt had joined the cast of the film.
Production was set to begin in first quarter of 2014. Principal photography commenced on March 6, 2014 in Morocco. Filming also took place in Hurghada in Egypt, as well as in Berlin and Düsseldorf in Germany. Shooting wrapped in June 2014.
On Rotten Tomatoes, the film has a rating of 71%, based on 126 reviews, with an average rating of 6.2/10. The site's critical consensus reads, "A Hologram for the King amiably ambles through a narrative desert, saved by an oasis of a performance from the ever-dependable Tom Hanks." On Metacritic, the film has a score of 59 out of 100, based on 30 critics, indicating "mixed or average reviews".
The film grossed $1.1 million in its opening weekend, finishing 11th at the box office. With a total worldwide gross of $8,244,651 (U.S. domestic gross of $4,212,494), it is the lowest-grossing film to feature Tom Hanks in top billing since Every Time We Say Goodbye in 1986.