The story centers on a drifter named Larry "Lonesome" Rhodes who is discovered by the producer (Neal) of a small-market radio program in rural northeast Arkansas. Rhodes ultimately rises to great fame and influence on national television.
The film launched Griffith into stardom, but earned mixed reviews upon its original release. Later decades have seen reappraisals of the movie, and in 2008 it was selected for preservation in the United States National Film Registry by the Library of Congress as being "culturally, historically, or aesthetically significant".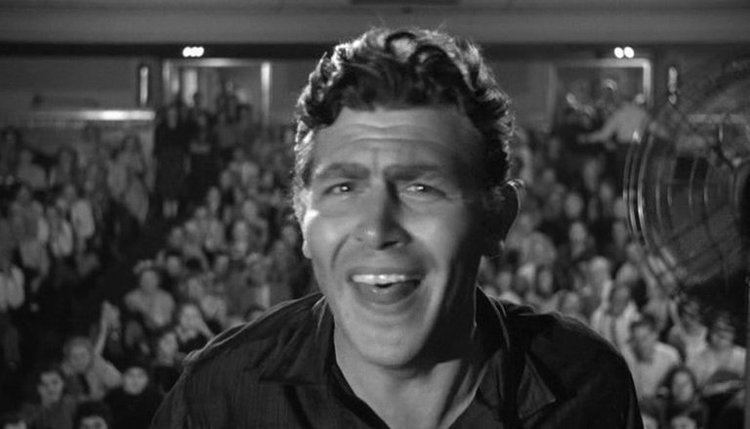 In late 1950s America, a drunken drifter, Larry Rhodes (Andy Griffith), is plucked out of a rural Arkansas jail by Marcia Jeffries (Patricia Neal) to sing on a radio show at station KGRK. His raw voice, folksy humor and personal charm bring about a strong local following, and he lands a television show in Memphis, Tennessee under the stage name "Lonesome" Rhodes, given to him on a whim by Jeffries.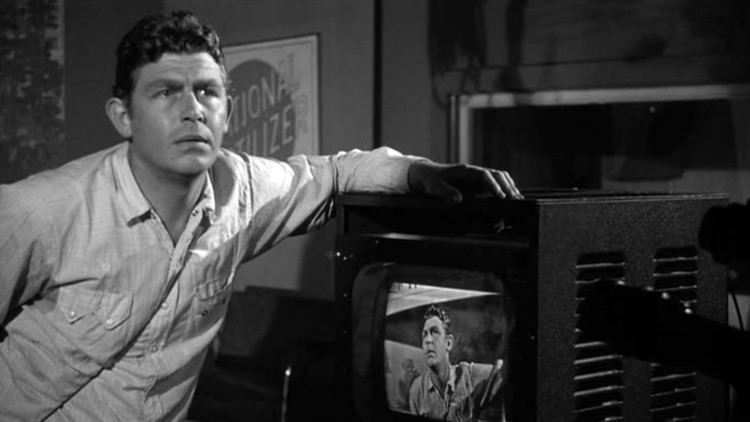 With the support of the show's staff writer Mel Miller (Walter Matthau) and Jeffries, the charismatic Rhodes ad libs his way to Memphis area popularity. When he pokes fun at his sponsor, a mattress company, they initially pull their ads—but when his adoring audience revolts, burning mattresses in the street, the sponsor discovers that Rhodes' irreverent pitches actually increased sales by 55%, and returns to the air with a new awareness of his power of persuasion. Rhodes also begins an affair with Jeffries and proposes to her.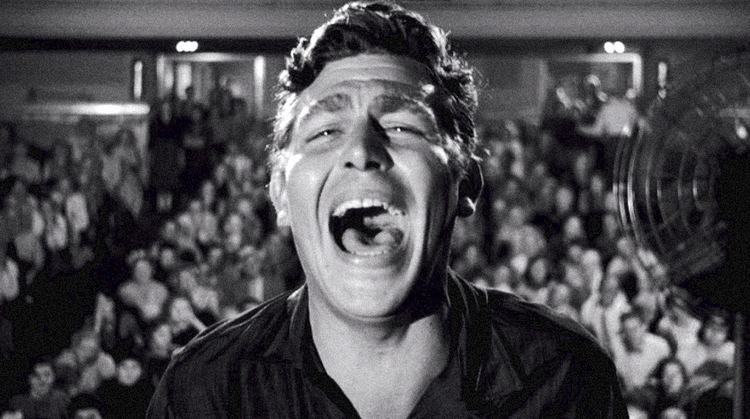 An ambitious office worker at the mattress company, Joey DePalma (Anthony Franciosa), puts together a deal for Rhodes to star in his own show in New York City. The sponsor is Vitajex, an energy supplement which he ingeniously pitches as a yellow pill which will make men energetic and sexually powerful. Rhodes' fame, influence and ego balloon. Behind the scenes, a woman (Kay Medford) turns up claiming to be his legitimate wife, he berates his staff, and betrays Jeffries by eloping with a 17-year-old drum majorette (Lee Remick) whose baton-twirling act he features on his next TV program. The onetime drifter brings his new bride to his luxury penthouse. When Rhodes says he will "give" 10% of his share to Jeffries, she furiously reminds Rhodes that "A Face In the Crowd" was her idea, saying that she should have always been an equal partner, and now she demands to be one, and also demands it all be on paper. Rhodes agrees.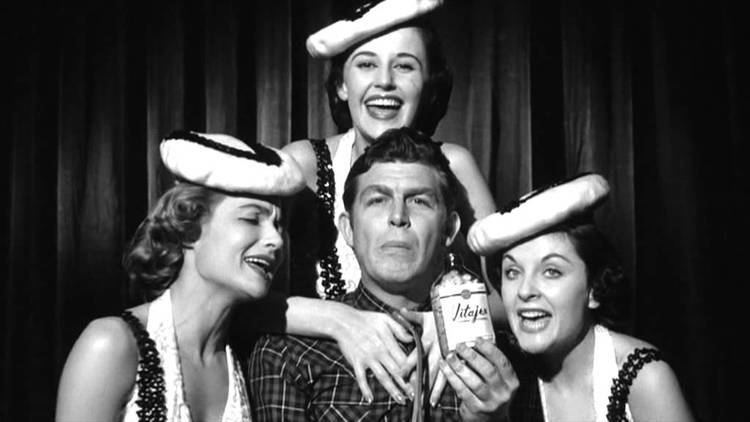 Ultimately, Rhodes' ascent into fame and arrogance begins to turn on him. DePalma threatens to reveal Rhodes' own secrets if the affair with the young wife is made public, claiming that he and Rhodes are now part of the same corruption. Rhodes is stuck with his business partner, but cruelly dumps his cheating wife.
That very night Rhodes runs to Marcia's home for solace and pity, telling her that he has created an organization which he wants Marcia to be a part of called "FIGHTERS FOR FULLER." Rhodes tells Marcia that it was she who had made him a monster. Once he's lolled into a state of comfort, Marcia leaps up and flees her apartment to the studio.
The final blow to his spiraling rise is delivered by the one who has loved Rhodes the most, and has been most injured by his selfishness: Marcia Jeffries. At the end of one of Rhodes' shows, the engineer cuts the microphone and leaves Jeffries alone in the control booth while the show's credits roll. Millions of viewers watch (in what initially is silence) their hero Rhodes smiling and seeming to chat amiably with the rest of the cast. In truth, he is mocking Fuller, then going on a vitriolic rant about the stupidity of his TV audience. In the broadcast booth, Jeffries reactivates his microphone, sending his words and laughter over the air, live. A sequence showing television viewers' reactions to Rhodes' description of them as "idiots, morons, and guinea pigs" foretells his demise.
Still unaware that his words have gone out over the air waves (eliciting thousands of angry calls to local stations and the network headquarters), he departs the television studio in a jovial mood and prophetically tells the elevator operator that he is going "all the way down". As the elevator numbers go down to 0, his popularity is plummeting as well. DePalma is already meeting with a young entertainer who could become Rhodes' replacement.
Rhodes arrives at his penthouse, where he was to meet with the nation's business and political elite. Instead, he finds an empty space except for a group of black butlers and servants, by whom, in desperation, he demands to be loved. When they fail to respond, Rhodes viciously dismisses all of them. Rhodes calls the studio and Jeffries, with Miller holding the phone, listens to him rant as he threatens to jump to his death from the penthouse. Jeffries, who has been silent, grabs the phone and screams at Rhodes to jump, and to get out of her, and everybody's, life.
Miller angrily dares her to face Rhodes and tell him the whole truth. They go to the penthouse and find Rhodes drunk and disconnected from reality. He shouts folksy platitudes and sings at the top of his lungs while his longtime flunky Beanie (Rod Brasfield) works an applause machine—Rhodes' own invention—to replace the cheers, applause, and laughter of the audience that has abandoned him. When he vows to get revenge on the TV studio's engineer, Jeffries admits it was she who betrayed him. She demands he never call her again, and Miller tells Rhodes that life as he knew it is over, and delivers to Rhodes his career coda: Rhodes is not really destroyed at all. Both the public's and the network's need for Rhodes, will, "after a reasonable cooling off period" of remorse and contrition, he predicts, return Rhodes to the public eye, but never to his previous height of power and success. Rhodes ends up screaming from the window of his penthouse for Marcia Jeffries to come back as she leaves in a taxi with Miller, who assures her that Rhodes won't kill himself, while a Coca-Cola sign continuously flashes off and on.
Andy Griffith as Larry "Lonesome" Rhodes
Patricia Neal as Marcia Jeffries
Anthony Franciosa as Joey DePalma
Walter Matthau as Mel Miller
Lee Remick as Betty Lou Fleckum
Percy Waram as Gen. Haynesworth
Paul McGrath as Macey
Rod Brasfield as Beanie
Marshall Neilan as Senator Worthington Fuller
Alexander Kirkland as Jim Collier
Charles Irving as Luffler
Howard Smith as J.B. Jeffries
Kay Medford as First Mrs. Rhodes
Big Jeff Bess as Sheriff Big Jeff Bess
Henry Sharp as Abe Steiner
Cara Williams as Nurse
Bennett Cerf, Faye Emerson, Betty Furness, Virginia Graham, Burl Ives, Mitch Miller, John Cameron Swayze, Mike Wallace, Earl Wilson, and Walter Winchell in cameo appearances as themselves
Most of the film's interiors were shot in New York at the Biograph Studios in the Bronx. This was preceded by location shooting in Memphis and in Piggott, Arkansas, where Rhodes meets Betty Lou.
Contemporary newspapers reported an early 1956 trip by Kazan to Sarasota, Florida to confer with Schulberg. Late in April, columnist Walter Winchell noted that Andy Griffith would depart the cast of his Broadway show No Time for Sergeants at the end of July, vacation for a month, and then begin shooting with Kazan. Kazan and Schulberg spent much of July and August 1956 in Memphis and in Arkansas, and Patricia Neal's involvement would be announced by early August. Both Griffith and Lee Remick made their film debuts in Face.
The most involved location shoot was in Piggott, Arkansas (the fair and baton-twirling competition scenes). Five thousand extras were sought, to be fed and paid $1 hourly for a mid-August day's work. Sixty baton twirlers were rounded up from NE Arkansas and SE Missouri, and musicians from six different high school bands were assembled. Remick reported spending two weeks in Piggott living with teen twirler Amanda Robinson and her family, working on her twirling and local accent. Some of her baton twirling scenes used a double. At the Piggott location shoot some 380 dogs were assembled from Missouri and Arkansas for the scene following Rhodes' first mass-action call on his audience: to take their dogs to the home of a local sheriff who was running for higher office – Rhodes opining that people should first find out if a candidate is worthy of the office of "dog catcher".
Shooting in New York included 61 sets at Biograph Studios as well as some exteriors. Anthony Franciosa, eager to work with Kazan, had turned down a more lucrative offer to appear in MGM's The Vintage. Writer Schulberg remained involved throughout: "I went on a trip in 1955 to scout a location in Arkansas, and I've been on the set every day since shooting started in August [1956]."
In stage performance, Griffith noted, he would work gradually up to his most intense moments, but needed to conjure that up spontaneously when shooting such scenes for Kazan. In some instances, he asked to have a few discarded chairs available to destroy, in order to work up his rage before filming.
Upon its original release, A Face in the Crowd earned somewhat mixed reviews, one of them from Bosley Crowther of The New York Times. Though he applauded Griffith's performance ("Mr. Griffith plays him with thunderous vigor ..."), at the same time, he felt that the character overpowered the rest of the cast and the story. "As a consequence, the dominance of the hero and his monstrous momentum ... eventually become a bit monotonous when they are not truly opposed." Crowther found Rhodes "highly entertaining and well worth pondering when he is on the rise", but considered the ending "inane".
One critic who had only praise for the movie was François Truffaut; in his review in Cahiers du Cinéma, he called the film "a great and beautiful work whose importance transcends the dimensions of a cinema review".
Over the decades critical opinion of the film has warmed considerably. A Face in the Crowd has a 92% "fresh" rating on Rotten Tomatoes, based on 24 reviews.