4D Sports Boxing is a 3D boxing computer game of the 4D Sports series, with motion capture animation, developed by Distinctive Software, Inc. (DSI) from Vancouver under their secondary trade name Unlimited Software. Its first version, 1.0, was published by Mindscape in June 1991. The game was released for PC, Apple Macintosh, Atari ST, Amiga and Fujitsu FM Towns Marty. The Macintosh version has slightly improved graphics, but a smaller screen size.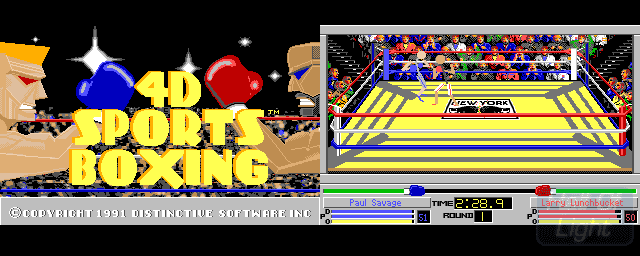 The game features stylized boxers in polygon-based graphics, composed of triangles, some with names suggestive of non-fictional people. All opponent boxers have different fighting styles — some prefer to attack, some to counter-attack. Some (like Smokin' Joe Blow) have great punching power, some have amazing speed; The Champ has nearly perfect attributes. The game is regarded as one of earliest, and possibly first, examples of a 3D head-to-head fighting game. During the game, the player can choose which attributes to improve in his avatar: speed, power or stamina. While fighting, different tactics and strategies can be used, like all-out attacks, counter-attacks, dodging, etc. Sometimes fights end in a unanimous decision, even 15 round fights. Draws and disqualifications are also possibilities.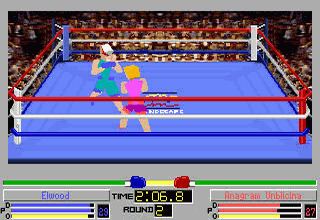 A second version, 2.0, was published in February 1992. Version 2.0 was the "Electronic Arts" version which had different music, introductions, and pupils added to the boxers' eyes. The FM Towns Marty version was based on Version 2 but with higher quality sound.