The title song, "3:10 to Yuma", was by George Duning (music), with lyrics by Ned Washington and was sung at the beginning and end of the film by Frankie Laine. He recorded it for Columbia Records in 1957 (with the Jimmy Carroll Orchestra) and in 1960 (with the Johnny Williams Orchestra). It was also recorded by Sandy Denny in 1967. The film was remade in 2007, directed by James Mangold and starring Russell Crowe and Christian Bale.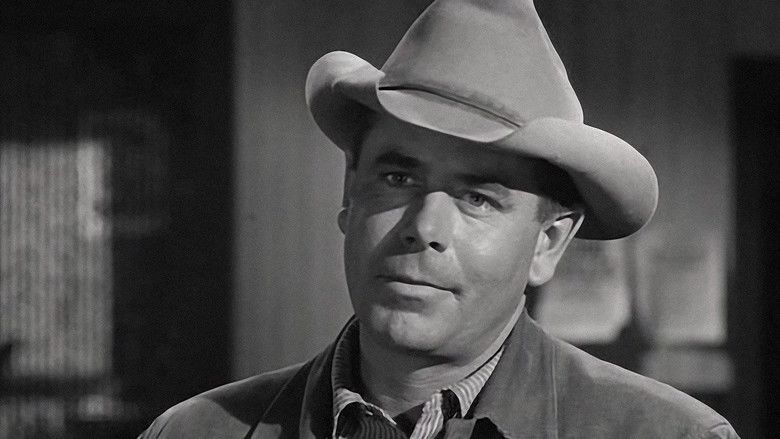 In the Arizona Territory of the 1880s, rancher Dan Evans (Van Heflin) and his young sons witness a stagecoach holdup. The boys want to try to intervene, but their father warns them that it would be useless to act when they are so heavily outnumbered. When the stagecoach driver overpowers one of the robbers and uses him as a human shield, Ben Wade (Glenn Ford), the leader of the gang, callously shoots both men dead.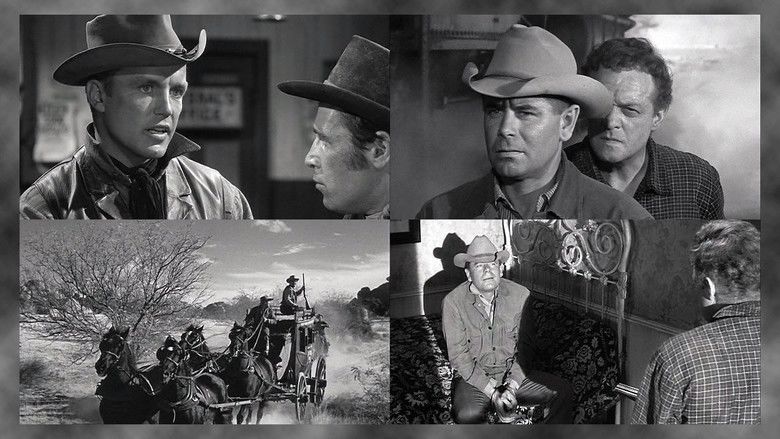 Wade and his men stop at the saloon in nearby Bisbee, Arizona, posing as cowhands. Wade stays to seduce the pretty barmaid, Emmy (Felicia Farr). Contrary to his casual violence toward men, Wade shows real tenderness and affection for the lonely woman. He is captured, but his chief henchman Charlie Prince (Richard Jaeckel) gets away with the news. The local people fear what his men will do, so the town marshal decides to have two volunteers sneak the prisoner to Contention City to catch a train, the 3:10 to Yuma. Mr Butterfield (Robert Emhardt), the stage-line owner, offers $200 for the dangerous job. Desperate for cash after three years of drought and feeling disappointed in himself for not being able to provide his family with a better life, Dan jumps at the opportunity. The only other man interested is the town drunk, Alex Potter (Henry Jones). When no one else steps forward, the marshal reluctantly accepts them.
Wade is placed on a stagecoach, which then stops (in view of some of the gang) for a faked repair; the outlaw is secretly taken off while the stage continues on with an imposter, in the hope that, by the time the outlaws figure out what has happened, it will be too late. Wade is taken to Dan's ranch, where he tries to charm Dan's devoted wife Alice (Leora Dana) while she serves supper to the family and Wade. Dan's sons berate the outlaw, but Alice insists that they show proper hospitality to their "guest". Once again, Wade displays surprisingly genuine appreciation and respect for a hard-working woman.
Dan, Alex and Wade leave under cover of darkness, reaching Contention City at daybreak. Butterfield has reserved the bridal suite at the hotel. While they wait for the train, Wade tries several times to bribe Dan into letting him go, reminding him that he has a fine wife and family waiting for him. Dan is irritated by Wade's inducements, especially Wade's comments about his wife, but he is greatly tempted by his offers of cash that "no one will ever know about". Confident that his men will rescue him before he's taken to the train, Wade never shows anything but calm bemusement to his captor. His interest in Dan seems to go beyond a simple exchange of freedom for cash. The local sheriff is out of town, so Butterfield hires five men to help escort the prisoner to the train.
Things go awry when the slain stagecoach driver's brother, Bob Moons (Sheridan Comerate), barges in unexpectedly, seeking revenge. Dan wrestles his gun away, but in the struggle it goes off. Charlie Prince hears the gunshot and spots Wade in a window. He rides off to fetch the rest of the gang.
The men Butterfield recruited watch as seven outlaws enter the town. Not liking the odds, they retreat, leaving only Dan, Alex and Butterfield. When Alex goes out to reconnoitre he spots one of Wade's men on a rooftop opposite the hotel. Alex calls out, warning Dan, but is shot in the back by Prince. The gang hangs the wounded Alex from the lobby chandelier, killing him. Butterfield decides that Wade is no longer worth the risk, releasing Dan from his obligation, with pay. Alice arrives and also tries to change her husband's mind, but he is committed: "The town drunk gave his life because he believed that people should be able to live in decency and peace together. You think I can do less?"
When the clock strikes three, Dan escorts Wade out a back door. Gang members take shots whenever they can without endangering Wade, but despite their best efforts they cannot stop the pair from reaching the track side, where the train is waiting.
Finally, the outlaws emerge to confront Dan as the train starts to leave. Prince shouts for Wade to drop down to allow them a clear shot at Dan. Instead, Wade unexpectedly tells Dan to jump into the passing baggage car. They leap to safety together. The gang pursues the train, but Dan shoots Prince and the rest give up pursuit. Wade explains that he owed Dan a favour for saving his life when Bob Moons tried to kill him, and he confidently claims he has broken out of the Yuma jail before (implying he can do so again). Alice sees Dan safe on the train as rain pours down on her, breaking the long drought.
Glenn Ford as Ben Wade
Van Heflin as Dan Evans
Felicia Farr as Emmy
Leora Dana as Alice Evans
Robert Emhardt as Mr. Butterfield
Ford Rainey as Marshal of Bisbee
Henry Jones as Alex Potter
Richard Jaeckel as Charlie Prince
George Mitchell as Mac
Robert Ellenstein as Ernie Collins
Woodrow Chambliss as blacksmith (uncredited)
When first released in the summer of 1957, the film became popular among audiences and critics alike for its suspenseful nature and sharp black-and-white cinematography. Ford received particular notice for his against-type villainous performance. The following year 3:10 to Yuma was nominated for the British Academy of Film and Television Arts award for Best Film and the Laurel Award for Top Male Action Star, which went to Van Heflin.
Since its release the film has become a staple of cable television and has gained an audience of several generations. A critically successful remake starring Russell Crowe and Christian Bale and directed by James Mangold was released in 2007.
The film caused "Yuma" to enter the lexicon of Cuban slang: Yumas is a term for American visitors, while La Yuma is the United States.
A region A/1 Blu-ray DVD of the film was released in 2013. A region 1 DVD was released in 2002.