China




835,062 (2000)




Liaoning


3,655.70 km2

Zhuanghe (simplified Chinese: ; traditional Chinese: ; pinyin: ) is one of the three "northern county-level cities", the other two being Wafangdian and Pulandian, under the administration of Dalian, located in the south of Liaoning province, Peoples Republic of China. Its area is 3,655.70 square kilometres (1,411.47 sq mi) and its permanent population as of 2010 is 841,321, making it Dalians most spacious county-level division.
Zhuanghe occupies the northeastern corner of Dalian City on the Liaodong Peninsula, with latitude ranging from 39° 25 to 40° 12 N and longitude ranging from 122° 29 to 123° 31 E. It covers an area of 6,968 square kilometres (2,690 sq mi), 4,073 km2 (1,573 sq mi) of which is land; the natural coastline measures 285 km (177 mi). It borders Donggang City to the east, Pulandian City to the west, Gaizhou City and Xiuyan Manchu Autonomous County to the north, and Changhai County in the Yellow Sea to the south. Elevations increase from south to north, with the northern part of the city being part of the southern Qian Mountains; the highest elevation in Zhuanghe City is 1,130.7 m (3,710 ft).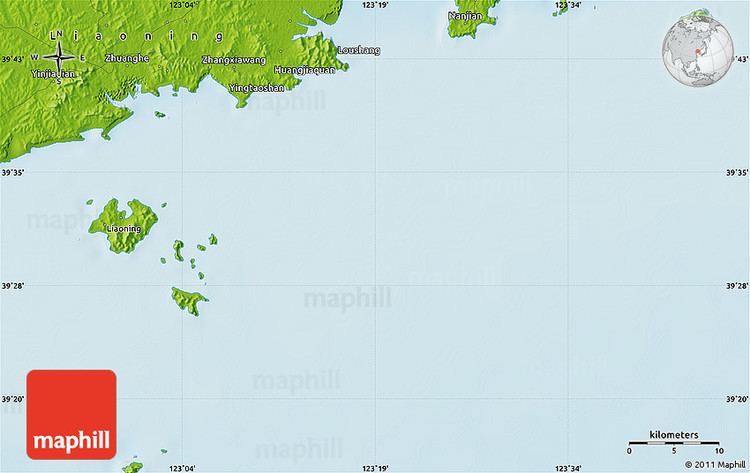 Zhuanghe has a monsoon-influenced humid continental climate (Koppen Dwa), with long, cold, but dry winters, and humid and very warm summers. Due to the location on the Liaodong Peninsula, there is a seasonal delay in spring and summer, and extremes in heat are moderated; however, low temperatures peak in July. The monthly 24-hour average temperature ranges from ?7.3 °C (18.9 °F) in January to 23.6 °C (74.5 °F) in August, and the annual mean is 9.08 °C (48.3 °F). Precipitation is generous but a majority of the annual total falls in July and Average. There is an average 2,415.6 hours of bright sunshine annually, and the frost-free period averages 165 days. Extremes in temperature range from ?29.3 °C (?21 °F) to 36.6 °C (98 °F).
A base of the national commodity grain, Zhuanghe has very abundant agricultural and natural resources. Besides, it is one of the most important fruit bases in eastern Liaodong Peninsula. The Port of Zhuanghe is under construction.
The tourism has gradually developed to be rising support structure in the county.
Chengshan Gucheng (Chengshan Ancient Town)
Binyugou (Binyu Valley): Guilin of northern China
Yinshatan National Forest Park
Buyun Mountain, the highest peak in Dalian, at 1,130 metres (3,710 ft) above sea level, and Buyun Mountain Hot Spring
Zhuanghe Wikipedia
(,)http://www.daliannews.com/images/attachement/jpg/site1/20130908/74d02b31041013964dc510.jpg(,)http://maps.maphill.com/atlas/39n30-123e15/maps/physical-map/physical-map-of-39n30-123e15.jpg(,)http://maps.maphill.com/atlas/39n30-123e15/panoramic-maps/physical-map/physical-panoramic-map-of-39n30-123e15.jpg(,)http://maps.maphill.com/atlas/39n30-123e15/panoramic-maps/shaded-relief-map/shaded-relief-panoramic-map-of-39n30-123e15.jpg(,)http://maps.maphill.com/china/liaoning/zhuanghe/maps/shaded-relief-map/shaded-relief-map-of-zhuanghe.jpg(,)http://maps.maphill.com/china/liaoning/zhuanghe/3d-maps/shaded-relief-map/shaded-relief-3d-map-of-zhuanghe.jpg(,)http://i.ytimg.com/vi/nKQkC-qTqaM/0.jpg
(,)http://media-cdn.tripadvisor.com/media/daodao/photo-s/01/e2/ce/2e/dscn7205.jpg(,)http://media-cdn.tripadvisor.com/media/daodao/photo-s/01/f5/33/c7/caption.jpg(,)http://media-cdn.tripadvisor.com/media/daodao/photo-s/01/e5/ea/44/snv80877.jpg(,)http://media-cdn.tripadvisor.com/media/photo-s/07/cb/49/92/dalian-bingyu-valley.jpg(,)http://media-cdn.tripadvisor.com/media/daodao/photo-s/05/fc/3b/4a/caption.jpg(,)http://exp.cdn-hotels.com/hotels/10000000/9870000/9861500/9861490/9861490_11_z.jpg(,)http://media-cdn.tripadvisor.com/media/daodao/photo-s/04/d7/15/57/caption.jpg(,)http://exp.cdn-hotels.com/hotels/10000000/9870000/9861500/9861490/9861490_5_z.jpg(,)http://exp.cdn-hotels.com/hotels/10000000/9870000/9861500/9861490/9861490_1_z.jpg(,)http://en.visitdl.com/Upload/Images/Scenic/201001231134726535.jpg(,)http://media-cdn.tripadvisor.com/media/daodao/photo-s/04/d7/15/41/caption.jpg(,)http://media-cdn.tripadvisor.com/media/photo-o/03/cc/8e/cf/xiema-resort.jpg(,)http://media-cdn.tripadvisor.com/media/photo-s/03/d0/33/1a/shicheng-island.jpg(,)http://media-cdn.tripadvisor.com/media/daodao/photo-s/05/fc/3b/4c/caption.jpg(,)http://media-cdn.tripadvisor.com/media/daodao/photo-s/04/d6/ce/db/caption.jpg(,)http://media-cdn.tripadvisor.com/media/daodao/photo-s/05/fc/3b/4e/caption.jpg