China




Shandong




977,324 (2000)


1,721.29 km2

Zhangqiu (Chinese: 章丘; pinyin: Zhāngqiū) is a district under the jurisdiction of Jinan, the capital of Shandong province, People's Republic of China. The district has an area of 1721.29 square kilometers, 20 towns, 908 villages and the permanent resident population was 1,064,210 as of 2010 even though its built-up (or metro) area is much smaller. With a GDP of 32 billion RMB in 2008, Zhangqiu is ranked 30 among China's 100 Most Competitive Counties in 2007.
Originally called Zhangqiu County with Mingshui (明水) as its capital, Zhangqiu City was established in August 1992. Located in central Shandong province, Zhangqiu is 50 kilometers to the east of Jinan, the capital of Shandong province. It is 120 kilometers north from Mount Tai and the Yellow River is the north border of Zhangqiu. Jinan Yaoqiang International Airport is situated at Yaoqiang Village of Zhangqiu.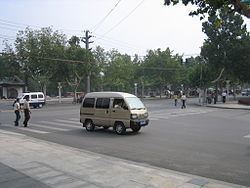 Zhangqiu is the hometown of the famous poet Li Qingzhao in the Song Dynasty, and home to Longshan Culture that existed around 2900~2100 BC. Longshan Culture is known for its black ceramics and the earliest features to late characterize the Shang civilization, scapulimancy and hangtu construction (see Chengziya Archaeological Site).
Zhangqiu is known for its springs and beautiful scenery outside the crowded city of Jinan. The East Jingshi Road and several Province Highways connect Mingshui and Jinan.
Subdistricts:
Mingshui Subdistrict (明水街道), Shuangshan Subdistrict (双山街道), Zaoyuan Subdistrict (枣园街道), Longshan Subdistrict (龙山街道), Bucun Subdistrict (埠村街道), Shengjing Subdistrict (圣井街道)
Towns:
Puji (普集镇), Xiuhui (绣惠镇), Xiangsongzhuang (相公庄镇), Duozhuang (垛庄镇), Shuizhai (水寨镇), Wenzu (文祖镇), Diao (刁镇), Caofan (曹范镇), Baiyunhu (白云湖镇), Gaoguanzhai (高官寨镇), Ningjiabu (宁家埠镇)
Townships:
Guanzhuang Township (官庄乡), Xinzhai Township (辛寨乡), Huanghe Township (黄河乡)
Zhangqiu District Wikipedia