Hindi




Uttar Pradesh




Barabanki




Abdullah Zar-baqsh



Zaidpur is a village and a nagar panchayat in the Barabanki district, Uttar Pradesh, India.

Zaidpur village covers approximately 3 km2 of non-mountainous terrain.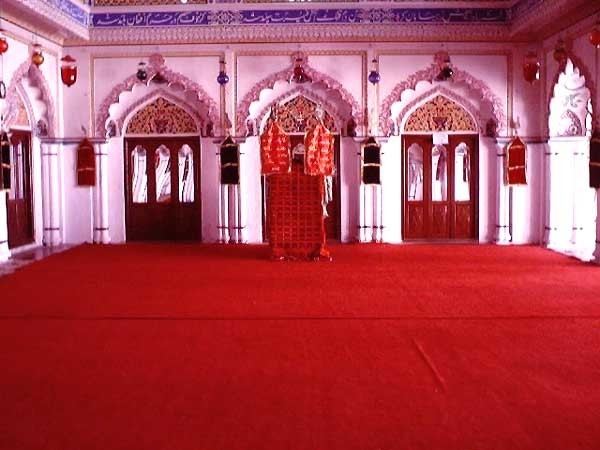 Zaidpur was a Musalman military colony founded in 462 Hijri (1070 AD) by Abdullah Zar-baqsh, an immigrant from Qom, Persia. The settlement was named for Zar-Bakshs only son, Zaid (b. 462 Hijri (1070 AD)).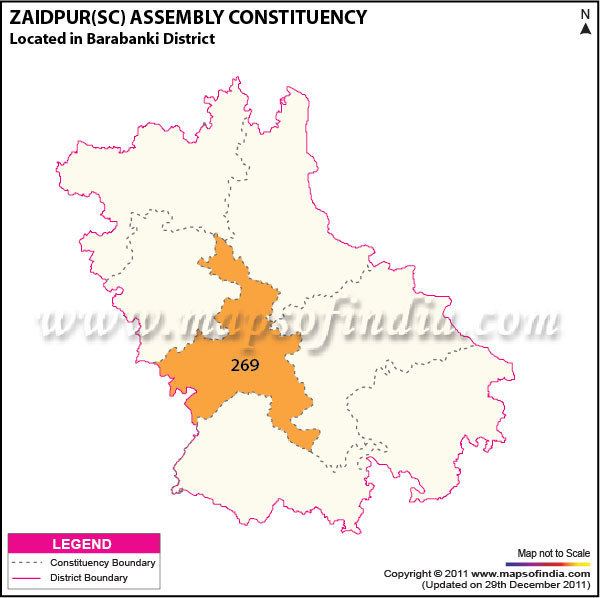 Zar-baqsh was a descendant of the prophet Muhammad through his daughter, Fatimah and her husband, Ali, and thus was of the Rizvi family, in the 14th generation from Muhammad. Zar-baqshs father was Yaqoob and his grandfather was Ahmad (924–969 AD), a naqib (official investigator) of Qom.
The list below describes the descendants of Muhammad to Zaid, after whom Zaidpur was named.
Enterprises in Zaidpur include a postal service; bank; school; an LPG gas agency; sugar cane farming equipment sales; winnowing fan sales; cinema halls; medical services; and small scale textile manufacturing (for example, scarves and cotton stoles from a tradition of hand-loom weaving).
Zaidpur Wikipedia
(,)http://upload.wikimedia.org/wikipedia/commons/d/dc/Azakhana_Wazeer_Un_Nisa_Danishmandan_Amroha.jpg(,)http://www.mapsofindia.com/assemblypolls/uttar-pradesh/zaidpur-sc-constituency-map.jpg(,)http://upload.wikimedia.org/wikipedia/commons/d/d9/Muharram_(Ta%27ziya)_procession_Barabanki_India_(Jan_2009).jpg(,)http://mw2.google.com/mw-panoramio/photos/medium/55590877.jpg(,)http://i.ytimg.com/vi/eQlVtmV2FJM/0.jpg(,)http://i.ytimg.com/vi/Qgc9AiujU7E/hqdefault.jpg(,)http://i.ytimg.com/vi/opNQ6mYGn1k/0.jpg(,)http://i.ytimg.com/vi/sDBocJGOvv4/0.jpg
(,)http://maps.maphill.com/atlas/26n50-81e40/panoramic-maps/physical-map/physical-panoramic-map-of-26n50-81e40.jpg(,)http://maps.maphill.com/atlas/26n50-81e40/panoramic-maps/shaded-relief-map/shaded-relief-panoramic-map-of-26n50-81e40.jpg(,)http://farm4.static.flickr.com/3223/2953896819_e38302ef0c_t.jpg(,)http://mw2.google.com/mw-panoramio/photos/medium/55727593.jpg(,)http://mw2.google.com/mw-panoramio/photos/medium/57407789.jpg(,)http://mw2.google.com/mw-panoramio/photos/medium/48789816.jpg(,)http://mw2.google.com/mw-panoramio/photos/medium/55822648.jpg
(,)http://mw2.google.com/mw-panoramio/photos/medium/68470408.jpg(,)http://mw2.google.com/mw-panoramio/photos/medium/76026860.jpg(,)http://mw2.google.com/mw-panoramio/photos/medium/78383118.jpg(,)https://farm6.static.flickr.com/5449/7426694134_6466d48b7b.jpg(,)http://i.ytimg.com/vi/E3abnUCV8RI/0.jpg(,)http://i.ytimg.com/vi/rXa3WtUsGNs/0.jpg(,)http://mw2.google.com/mw-panoramio/photos/medium/44832789.jpg(,)http://i.ytimg.com/vi/R4CzxGXrTKE/0.jpg(,)http://i.ytimg.com/vi/OKPx1Lw8AD0/0.jpg