4.8

/

10

Alchetron

4.8

Rate This






Initial DVD release

January 22, 2002




Release date

August 31, 1977 (1977-08-31)

Cast

Lisa Reeves

(Carla Wright)




Similar movies

Crossover Dreams (1985)




Tagline

Sometimes when you reach for a dream you have to leave something behind.
Kasey cisyk and didi conn you light up my life from you light up my life 1977
You Light Up My Life is a 1977 American romantic drama film written and directed by Joseph Brooks starring Didi Conn, Joe Silver and Michael Zaslow, and follows a young woman named Laurie (Conn) with dreams of becoming a singer who soon finds herself pressed by young friends to sing and her father, who wants her to be a comic.
Contents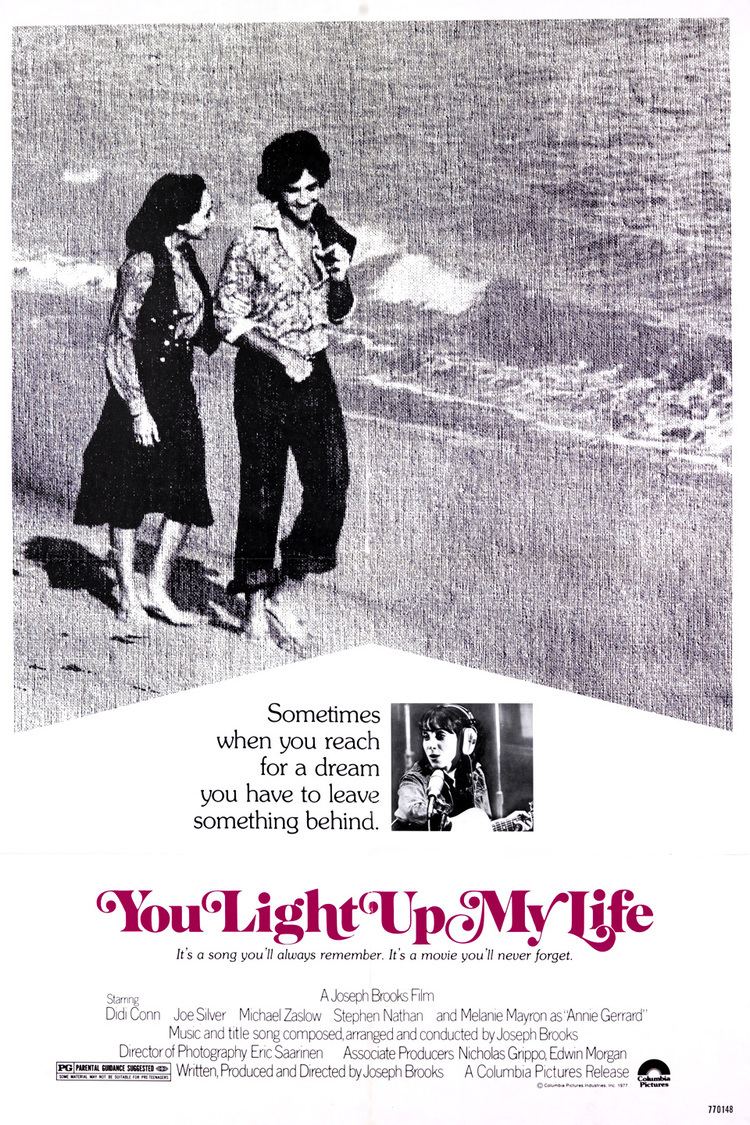 You light up my life 1977
Synopsis
Laurie Robinson (Conn) is a young woman who earns a living by performing in commercials and hosting a children's show on public television, but she would rather concentrate on songwriting and singing than doing comedy with her small-time comedian father Si (Joe Silver). One night, Laurie goes to a restaurant where she meets a young film director, Chris Nolan (Michael Zaslow); she drives him back to his apartment and they spend the night together. The next morning, Laurie confesses to Chris that she is engaged and has to be at her wedding rehearsal. He asks if the previous night was just a final fling before marriage, and she says she cannot see him anymore.
Laurie later meets with her fiancé, Ken Rothenberg (Stephen Nathan), and attends a recording session where she records her song, then sings background vocals and directs the musicians during overdubs. From there, she goes to the wedding rehearsal where Si has arranged an elaborate setup with an old friend who owns the Wedding Palace. The next day, Laurie auditions for a film that needs a singing voice for the leading lady. The director, she discovers, is Chris, who is as surprised as she is. Chris asks to see the songs in her portfolio. Laurie's voice and the orchestra's performance of her song "You Light Up My Life" impresses everyone, and Chris asks her if she would be interested in auditioning for the lead in his movie.
Later, Chris sings "You Light Up My Life" for Laurie at his piano, giving it a more subdued treatment, then takes her for a walk along the beach. Laurie visits her best friend Annie (Melanie Mayron) to confess that she loves Chris, and adds that she may have the lead in his film. Meanwhile, when Laurie meets with Ken to call off the wedding, Chris auditions another girl for his movie and tells her she has the part, then gives his assistant the job of calling Laurie with the bad news. When Laurie asks why Chris did not call himself, the assistant explains that Chris has been in meetings all afternoon, and when she calls Chris's office, the receptionist tells her he is probably at home because he does not have any meetings. Laurie arrives at Chris's apartment as he and his new leading lady are leaving for dinner with friends. He apologizes and tells her she is special enough to get other roles.
Later that night, when Laurie and Si perform at the Family Komedy Hour, her routine falls flat, tears flood her eyes and she walks off. In the dressing room, Laurie tells Si she hates the act because she is not funny, all she wants to do is sing and that Columbia Records is interested in her. She gives Si a cassette tape of her songs and tells him he has to let go of her, because she needs to depend on herself; she is going to New York City alone. They hug and kiss goodbye, and Laurie drives away. Sometime later, Laurie's song "You Light Up My Life" climbs the music charts and reaches number one.
Cast
Didi Conn as Laurie Robinson
Joe Silver as Si Robinson
Michael Zaslow as Chris Nolan
Stephen Nathan as Ken Rothenberg
Melanie Mayron as Annie Gerrard
Jerry Keller as Conductor
Lisa Reeves as Carla Wright
John Gowans as Charley Nelson
Simmy Bow as Mr. Granek
Bernice Nicholson as Mrs. Granek
Ed Morgan as Account Executive
Joseph Brooks as Creative Director (credited as Joe Brooks)
Amy Letterman as Laurie
Marty Zagon as Mr. Nussbaum
Martin Gish as Harold Nussbaum
Ken Olfson as 1st Commercial Director
Title song
The film received the Academy Award for Best Original Song, the Golden Globe Award for Best Original Song as well as the Grammy Award for Song of the Year for the title song "You Light Up My Life." The song was written by Joseph Brooks and sung for the film's soundtrack by Kvitka "Kasey" Cisyk.
The song was later recorded by Debby Boone, and upon its release, it was #1 on the Billboard Hot 100 for a record-setting 10 consecutive weeks, making it the biggest hit of the 1970s. It earned Debby Boone a Grammy Award for Best New Artist.
Soundtrack
The film's soundtrack was composed, arranged and produced by Joseph Brooks with lead vocals provided by Kasey Cisyk.
Reception
The film was widely panned by critics, garnering a 20% fresh rating on Rotten Tomatoes. Some cited Didi Conn's sensitive portrayal and the title song as its most worthwhile features.

The film is recognized by American Film Institute in these lists:
2004: AFI's 100 Years...100 Songs:
"You Light Up My Life" – Nominated
References
You Light Up My Life (film) Wikipedia
(Text) CC BY-SA
You Light Up My Life (film) IMDb
You Light Up My Life (film) themoviedb.org