Occupation

Actor




Years active

1959 - 1992





Name

Yevgeniy Yevstigneyev




Role

Movie actor






Born

9 October 1926 (

1926-10-09

)

Nizhny Novgorod, Soviet Union




Died

March 5, 1992, London, United Kingdom




Spouse

Irina Tsivina (m. 1989–1992), Liliya Yevstigneyeva (m. 1966–1986), Galina Volchek (m. 1957–1964)




Children

Denis Yevstigneyev, Mariya Selyanskaya




Parents

Maria Ivanovna Chernysheva, Aleksandr Mikhailovich Evstigneev




Movies

Heart of a Dog, Welcome - or No Trespassing, Beware of the Car, Pro Krasnuyu Shapochku, The Golden Calf




Similar People

Oleg Yefremov, Galina Volchek, Irina Tsivina, Innokenty Smoktunovsky, Eldar Ryazanov
Popular Videos - Yevgeniy Yevstigneyev
Yevgeniy Aleksandrovich Yevstigneyev (Russian: Евгений Александрович Евстигнеев) (9 October 1926 in Nizhny Novgorod – 4 March 1992 in London) was a prominent Soviet movie and theater actor and one of the founders of Moscow's Sovremennik Theatre. He was a People's Artist of the USSR (1983). Winner of USSR State Prize (1974).
Contents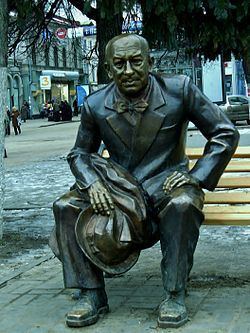 Yevgeniy Yevstigneyev was born on 9 October 1926 in Nizhny Novgorod. A graduate of Gorki Theatrical School (1951) he was an actor of the Vladimir Regional Drama Theatre from 1951 to 1954. In 1956 he graduated the Nemirovich-Danchenko School-Studio at MKhAT. From 1957 to 1970 he was an actor of Sovremennik Theatre and from 1970 he acted on stage of the famous MKhAT.
Yevgeniy Yevstigneyev was among the originators of Sovremennik Theatre, and became one of the key figures in the developing troupe of Yefremov's MKhAT.
Possessing a brilliant gift of a comic and dramatic actor, Yevstigneyev was immensely popular. His appearance in any film or play guaranteed it a success with viewers. Among his unforgettable performances was the portrayal of Professor Preobrazhensky in Heart of a Dog.
Selected filmography
Nine Days in One Year (Девять дней одного года, 1962) as Nikolai Ivanovich
Welcome, or No Trespassing (Добро пожаловать, или Посторонним вход воспрещён, 1964) as Comrade Dynin
Beware of the Car (Берегись автомобиля, 1966) as Acting coach
The Little Golden Calf (Золотой телёнок, 1968) as Koreiko
Zigzag of Success (Зигзаг удачи, 1968) as Ivan Kalachev
The Flight (Бег, 1970) as Korzukhin
All The King's Men (Вся королевская рать, 1971) as Larson
Property of the Republic (Достояние республики, 1971) as Carl Genrikhovich Vitol
Grandads-Robbers (Старики-разбойники, 1971) as Valentin Vorobyov
Seventeen Moments of Spring (Семнадцать мгновений весны, 1973) as Professor Pleischner
Unbelievable Adventures of Italians in Russia (Невероятные приключения итальянцев в России, 1974) as Lame man
About Red Riding Hood (Про Красную Шапочку, 1977) as The Astrologer
Wounded Game (Подранки, 1977) as watchman in a boarding school
The Meeting Place Cannot Be Changed (Место встречи изменить нельзя, 1979) as Ruchechnik
The Old New Year (Cтаpый Нoвый гoд, 1980) as Ivan Adamitch
Do not part with your beloved (С любимыми не расставайтесь, 1980) as Homak
We Are from Jazz (Мы из джаза, 1983) as Papa
Winter Evening in Gagra (Зимний вечер в Гагарах, 1985) as Aleksey Ivanovich Beglov
She with a Broom, He in a Black Hat (Она с метлой, он в чёрной шляпе, 1987) as Raven
Moonzund (Моонзунд, 1987) as Nikolai Essen
Gardemarines ahead! (Гардемарины, вперёд!, 1988) as Alexey Bestuzhev-Ryumin
New Adventures of a Yankee in King Arthur's Court (Новые приключения янки при дворе короля Артура, 1988) as Archbishop
Heart of a Dog (Собачье сердце, 1988) as Professor Philip Philipovich Preobrazhensky
Yolki-palki (Ёлки-палки!, 1988) as Yuri Viktorovich
The Feasts of Belshazzar, or a Night with Stalin (Пиры Валтасара, или Ночь со Сталиным, 1989) as Mikhail Kalinin
Sons of Bitches (Сукины дети, 1990) as Andrey Ivanovich Nanaytsev
Viva gardemarines! (Виват, гардемарины!, 1991) as Alexey Bestuzhev-Ryumin
Gardemarines-III (Гардемарины-III, 1992) as Alexey Bestuzhev-Ryumin
References
Yevgeniy Yevstigneyev Wikipedia
(Text) CC BY-SA