Genre

Indian soap opera




Creative director(s)

Vivek Bahl




Based on

Fiction Characters




Created by

Director's Kut Productions




Written by

Saba Mumtaz Bhavna Vyas Ghazala NargisMunisha Rajpal


Directed by

Romesh KalraRishi MandialRam Pandey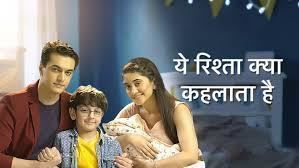 Yeh Rishta Kya Kehlata Hai(English: What does this relationship say) is an Indian Hindi language television drama that premiered on January 12, 2009 and airs every Mon-Fri at 09:30 pm on Star Plus. The show, which focuses on the daily happenings within the household of an Udaipur based Rajasthani family, is produced by Rajan Shahi's Director's Kut Productions. It has become the longest running Hindi series on Indian television by episode count surpassing Balika Vadhu.
Contents
Plot
Yeh Rishta Kya Kehlata Hai is the story of a young couple, Naitik and Akshara Singhania, who live in a Marwari joint family in Udaipur. The story showcases their journey first as a married couple going through adjustment issues, then as parents of young children, and how they learn to love each other and their respective extended families while becoming mature members of their household. Over the course of the series, Akshara and Naitik have a baby boy called Naksh.
4 years leap
Naksh is a grown up child. The family experienced happiness and sadness together. The family went for a trip, but during the trip, Gayatri had an accident and died. After their marriage, they are now focusing on their children, Naksh and Naira, Naksh's childhood to Naira's childhood. Dadaji(grandfather) suddenly dies from a heart attack. Bhabhima blames Akshara and throws her out of the house.
10 years leap
After a leap it shows Naksh and Naira as sensible grown-ups. Akshara, Naitik, Naksh, and Naira live in Cape Town. Naksh returns to Udaipur. He tries to clear the misunderstandings of Bhabimaa. After many days, Akshara is forgiven and is back in the house. Then it shows the family's happiness. The story then focuses on Naksh. It shows how Naksh falls in love with Tara but soon breaks up with her.
7 years later
The show takes another leap which focuses on teenager Naira, who flees from her house and lives in Rishikesh. After finding Naira, the story takes a new twist, creating a love triangle between Kartik, Naitik's employee, Naira and Gayatri, Naitik's niece. Naira and Kartik have feelings for each other, unaware that it is love, and Gayu has a one sided love for Kartik, unaware of the fact that Kartik doesn't love her at all. Recently, the show focuses on Naitik being attacked by his step brother, Naman. Naman kidnaps him and states that he'll release him after a few days, after he gets Naitik's signature on the documents and if they attend a meeting together. He threatens Naitik not to go against him or he'll harm Naitik's family. Later, he is arrested by the police. Naitik and Akshara reunite and spend time together. Meanwhile, Kartik proposes to Naira in Switzerland, and she is confused, not knowing what answer to give him. Naira initially refuses Kartik's proposal, which hurts him deeply. However, Naira realizes later that she loves him. She plans to tell Kartik that she loves him, but she finds out that Gayu also loves Kartik. Mishti tells Akshara and Naitik that Kartik and Naira love each other, and they, along with Gayu and Mishti, unite Kartik and Naira. After Diwali, Kartik and Naira confess their love for each other. Kartik doesn't want to talk about his family as he hates them. Later, his sister, Kirti, turns up with his aunt and uncle. Meanwhile, on Akshara's birthday, everyone goes for a veneration, but apparently Akshara dies in a car accident. Singhanias blames Kartik for Akshara's death, as Kartik was found in a drunk and injured state at the accident spot. Kartik's family shows up and supports Kartik. Later, Naira finds that Kartik is not the culprit and it is someone else. Naira proves Kartik's innocence by finding the real culprit. Naira helps Naitik overcome grief and manage his company again. Kartik doesn't like Manish and Swarna as he thinks they were responsible for his mother's death. He refused to stay at home after marriage, while Naira promises Swarna to stay at Goenka villa after the wedding.
6 months later
The two families agree to Kartik's and Naira's marriage and start making preparations for their marriage. The wedding ceremonies start with tilak being top of the list. This is supposed to be a no women function, but Singhanias and Maheshwaris are unaware and bring their female members along. Karthik's dadi is not pleased seeing this, but agrees when Manish makes her understand that they can't send them away, since they are already here. Karthik and Naira's cousin plan for them to video chat before the tilak ritual could start. Naira notices Karthik's young cousin Kush hiding in a cupboard. Later, Karthik gives his phone to Mishti and Gayu, who keep it on a stand so Naira can see the ritual taking place. Naira notices that Kush is not to be seen. She realizes he is still in the cupboard. Naira tries to call everyone, but they all have kept their phones away so that there is no disturbance in the puja. Having no other option, Naira herself drives to Goenka Villa. She accidentally dashes into a servant mixing red powder with water before entering the house, because of which her foot prints(Lakshmi chaap) come in the house, which lead to her before marriage accidental grah pravesh. Naira manages to Kush. Dadi is not happy about the unannounced grah pravesh and consults a pandit what should be done. The pandit advises a name change for Naira. Karthik's dadi proposes the new name Sumeedha for Naira infront of her family but they strongly disagree. Next day Kartik and Naira come after consulting another pandit from Rishikesh, who told them that they need to keep a number of Nirjal Vrat (fast without having water). Time for Kaira's engagement. Here another twist takes place, Goenkas decide to order a rare blue diamond for Naira's ring, but before they are able to do so, Singhania's have already ordered it and placed it in the ring for Karthik. Karthik's chachi's brother who was responsible for getting the diamond fears and puts a fake diamond in the ring. Goenkas come to know the diamond is fake when there is around half an hour for the engagement to start and have no idea what to do. Since all the press reporters who had heard rumors of Goenkas giving a rare blue diamond to there would be daughter-in-law had come. Naira overhears their problems and manages to exchange the diamonds in both rings. Kirti's husband makes an entry after the ring ceremony is over, seeming to have an evil eye on Naira. After the engagement Karthik and Naira's family tell them about the thrill of arranged marriage. They both meet up and decide not to call, chat or meet each other, so that they get the arranged marriage feeling. Ganpati puja is organized where Karthik gets angry seeing Naira's closeness with Suvarna. However the two soon make up. Singhanias celebrate Makar Sankranti with Goenkas and Maheshwaris. Kaira happily romance in between. Naksh and Naitik go to book a palace for Kaira's wedding but the manager misbehaves with them, which makes Naksh raise his hand. Karthik later goes to the palace manager and handles the situation. Manish gets angry when he knows that Karthik apologized to the manager for Singhanias fault. The two have a heated argument and Karthik asks Manish and Suvarna not to attend his wedding. Kaira's sangeet ceremony takes place the many performances of different cultures, south Indian, Marashtian, Gujrati, Punjabi, by the family members. Kartik gets angry and leaves the venue when Suvarna and Manish come to the sangeet ceremony on Naira's insistence. Naira goes behind Kartik, who has climbed into a truck. The family notices Kaira missing and wonder what to do since Kaira's performance was next, however Kaira manage to give their dance performance through video. Goenkas oraganize at cocktail party at which, Naira's past about fleeing from her house gets revealed in front of the Goenkas and Suhasini calls off the marriage. Kartik explains to his family that similar to when he left his family's house for a couple of years, Naira did something very similar and accusing anyone of doing anything wrong isn't right. The two families make up and Kartik and Naira's marriage is back on track. Kartik finds out that Mansi is the one that run over Akshara. Kartik is intent to inform Naira that Mansi is the real one who ran Akshara over, however he fails to do so. Manish finds out what Mansi has done and upon Manish's request, Akhilesh informs Kartik that he has told Naira. However, they have only stated that Kartik is upset because he's missing his mother. They then continue with the wedding & end up with reception.Naira enters goenka's house with grand welcome by family.
Parallel story arcs
In parallel to Akshara and Naitik's stories, the stories of their respective siblings also form significant story arcs in the series. The past plots have been built around the lives of Naitik's sisters Nandini and Rashmi. The series has also focused on Naitik's step-siblings. The series has continuously paralleled the story of Akshara-Naitik with that of Varsha-Shaurya. Varsha is Akshara's best friend and Shaurya is her older brother. The shows also focus on Naksh (2015–2016), Kartik (2016–), Naira (2016–), Gayatri "Gayu" Deora (2016–) & Tara (2015–2016). Naksh is Naitik & Akshara's son, Gayu, is Nikhil-Rashmi's daughter (Sameer's stepdaughter). Naira is the youngest child and only daughter of Akshara and Naitik, now the main female lead of the show. Kartik is Naitik's employee and Naira's love interest, the new lead of the show along with Naira. Tara was Naksh's fiancée until she leaves him.
Main cast
Shivangi Joshi as Naira Kartik Goenka : Kartik's wife, Naitik-Akshara's daughter, (2016–)(Main Female Lead)
Mohsin Khan (actor) as Kartik Manish Goenka: Naira's Husband. (2016–)(Main Male Lead)
Recurring cast
Parul Chauhan as Suvarna Manish Goenka: Kirti's & Kartik step-mother (2016–)
Sachin Tyagi as Manish Goenka: Kartik's father (2016–)
Vishal Singh as Naitik Raj Shekhar Singhania: Akshara's husband, Naksh-Naira's father (2016-)
Rishi Dev as Naksh Naitik Singhania : Akshara and Naitik's son , Naira's brother (2016-)
Mohena Singh as Kirti Bansal : Aditya's wife, Karthik's sister (2016-)
Swati Chitnis as Suhasini Goenka: Kartik's paternal grandmother (dadi) (2016–)
Ali Hassan as Akhilesh Goenka: Kartik's paternal uncle (chachu) (2016–)
Shilpa Raizada as Surekha Goenka: Akhilesh's wife, Kartik's aunt (chachi) (2016–)
Tia Gandwani as Priyanka: Kartik's maternal aunt (masi) (2017-)
Sandeep Mehta as Raj Shekhar Singhania: Naira's paternal grandfather (dadaji) (2009–)
Kshitee Jog as Devyani Raj Shekhar Singhania: Raj Shekhar's 2nd wife, Naira's paternal grandmother (choti dadi) (2014–)
Medha Sambutkar as Kaveri Mahendra Pratap Singhania: Naira's paternal grandaunt (badi dadi) (2009–)
Priyanka Udhwani as Karishma Naman Singhania: Naman's wife, Naira's aunt (chachi) (2014–)
Aarna Sharma as Mishti Naman Singhania: Naira's cousin, Naman-Karishma's daughter (2015–)
Kanchi Singh as Gayatri Nikhil Deora - Naira's cousin, Rashmi-Nikhil's daughter, Sameer's step-daughter (2016-)
Sanjeev Seth as Vishambharnath Maheshwari: Naira's maternal grandfather (nanu) (2009–)
Lata Sabharwal as Rajshri Vishambharnath Maheshwari: Naira's maternal grandmother (nani) (2009–)
Pooja Joshi as Varsha Shaurya Maheshwari: Naira's maternal aunt (mami) (2009–)
Romit Sharma as Aditya Bansal: Karthik's brother -in-law, Kirti's husband (2017-)
Yash Gera as Shaurya Vishambharnath Maheshwari: Naira's maternal uncle (mamaji) (2013–)
Akshaya Naik as Ananya Ranveer Sharma: Naira's cousin, Varsha-Shaurya's daughter, Ranveer's wife (2015–)
Arjun Kohli as Ranveer Sharma: Ananya's husband (2016–)
Neelima Taddepalli as Sunaina Omkarnath Maheshwari: Naira's maternal grand aunt (choti nani) Akshara's aunt, Omkar's wife, Anshuman's mother (2009–)
Vineeta Malik as Bhairavi Maheshwari: Vishambharnath-Omkarnath's mother, Akshara's grandmother, Naira's maternal great grand mother (badi nani) (2009–)
Nidhi Uttam as Nandini Mohit Agarwal: Kaveri-Mahendra Pratap's daughter, Mohit's wife, Yash-Anmol's mother, Naira's paternal aunt (bua) (2009–)
Shamik Abbas as Mohit Agarwal: Naitik's best friend, Nandini's husband, Naira's uncle (phupaji) (2015–)
Sanchit Sharma as Yash Mohit Agarwal: Naira's cousin, Nandini-Mohit's adopted son, Rose's husband (2015–)
Sippora Zoutewelle as Rose Yash Agarwal: Yash's wife (2016–)
Karan Pahwa as Anmol Mohit Agarwal: Naira's cousin, Nandini-Mohit's son (2016–)
Sunita Rao as Rukmini Agarwal: Mohit's mother (2010–)
Yamini Makwana as Kuhu Shaurya Maheshwari: Naira's cousin, Shaurya-Sneha's daughter (2016-)
Nupur Joshi as Soumya Manish Goenka: Kartik and Kirti's mother, Manish's 1st wife
Anshul Pandey as Naman Raj Singhania: Suresh-Devyani's son, Raj's step son, Muskaan's brother, Karishma's husband, Mishti's father (2014–)
Crossover
Yeh Rishta Kya Kehlata Hai had many crossover episodes with many shows. In 2009, the show had an integration with Sapna Babul Ka...Bidaai. In 2012, the show had a crossover episode with Diya Aur Baati Hum. In 2016, Diya Aur Baati Hum's' lead actress Deepika Singh had made an entry.
Reception and impact
The show is one of the most awarded shows of Indian Television and is India's longest running television series.
Hina Khan participated in the 'Power of 49' campaign in which soap opera actors used their influence to urge women to vote.
Shoma Munshi said the show has "simplicity and highly emotional content" and was noted for placing female characters in the historical tradition of a large joint family.
Adaptations
The show is also broadcast by Urdu 1 and Star Plus sister channel STAR Utsav. The show always maintained the top spot among Indian TV serials that aired in Pakistan. The show was beaten three to four times by Kumkum Bhagya that aired on Geo Kahani but recovered its leading position. The show also recorded one of the highest TRP in Pakistan.
Awards
New Talent Awards
Indian Television Academy Awards
Kalakar Awards
Lions Gold Awards
Star Guild Awards
Garv Indian TV Awards
BIG Star Young Entertainers Awards
FICCI Excellence Awards and Frames Honours
References
Yeh Rishta Kya Kehlata Hai Wikipedia
(Text) CC BY-SA