Name

Yang Lan




Role

Journalist




Movies

So Young








Born

March 31, 1968 (age 47) (

1968-03-31

) Beijing, China


Alma mater

Beijing Foreign Studies UniversityTrinity College, CambridgeColumbia University




Occupation

Cofounder and Chairperson of the Sun Media Group and the Sun Culture Foundation.




Spouse

Bruno Wu (m. 1995), Yibing Zhang


Books

Chinese Fiction of the Cultural Revolution




Education

School of International and Public Affairs, Columbia University (1996), Beijing Foreign Studies University (1990)


Similar People

Bruno Wu, Pan Hong, Zhao Wei
The generation that s remaking china yang lan
Yang Lan (Chinese: 杨澜; pinyin: Yáng Lán; born March 31, 1968) is a Chinese media proprietor, journalist, and talk show hostess. She is the Cofounder and Chairperson of the Sun Media Group and the Sun Culture Foundation. In 2013, she was ranked 100 in the 100 World's Most Powerful Women by Forbes.
Contents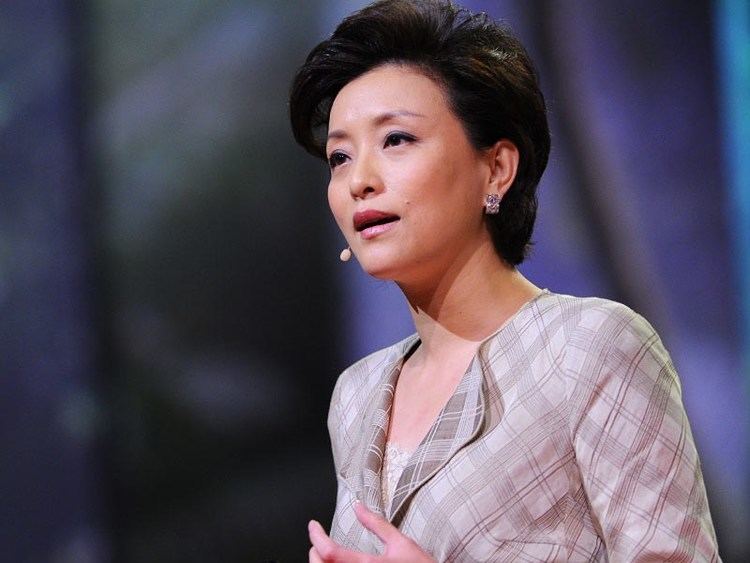 Yang lan one on one with ralph lauren part 1
Early life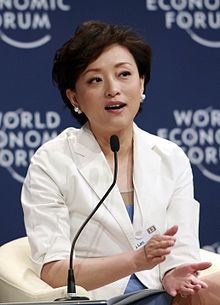 Yang Lan was born in 1968 in Beijing. Yang's mother was a civil engineer, and her father taught English literature at Beijing Foreign Studies University and sometimes served as the official translator for former Chinese Premier Zhou Enlai. In 1980–1986, she studied at the High School Affiliated to Beijing Polytechnic University (now called the High School Affiliated to Beijing Institute of Technology), which is the key high school of Haidian District. In 1986–1990, she studied at the Beijing Foreign Studies University and received her bachelor's degree in English Language & Literature.
At the School of English and International Studies of Beijing Foreign Studies University. Considering for future work, she majored in international economics. In each of her subjects she did well, and was ranked in the top few. She was also elected as the Vice President of the Student Union. She also joined the college amateur Repertory Theatre, and won the title of Best Actress in one English play, in which she portrayed a British woman who was obsessed with psychoanalysis, but finally came to her senses. She also served as hostess in a number of students' shows.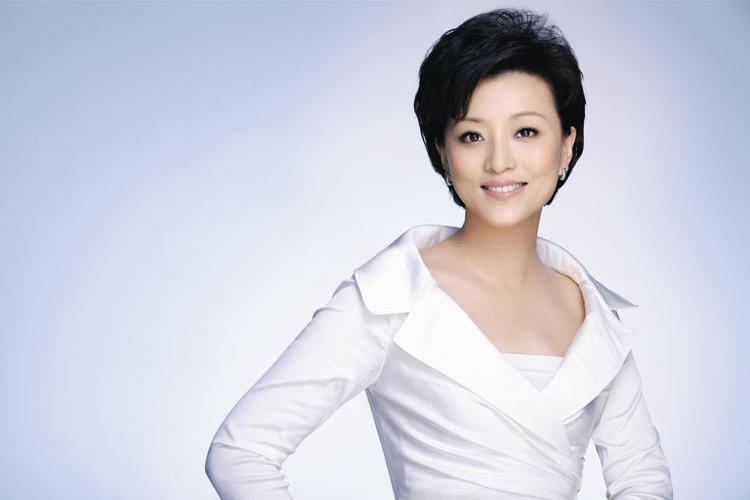 The School library was her favourite place at the university. Yang has mentioned that Romain Rolland's Jean-Christophe is her favourite book.
1990-1994: Zheng Da Variety Show
Just before she graduated, she was offered a position at the China Great Wall Hotel which she declined for Charoen Pokphand of Thailand when they ended cooperation with several local TV stations and turned to cooperated with China Central Television, producing a program called "Zheng Da Variety Show". They decided to pick a female student with college experience to do moderator and when the director Xin Shaoying came to Beijing Foreign Studies University, Yang Lan was recommended by the school. There were more than 30 students participated in the interview. Xin Shaoying frankly said that she hoped to find a "new face", a little innocent would be better. Then, the director let each of the students say a few words. Yang Lan briefly introduced herself, and then said, "Why do you want to find a innocent type television hostess? what we lack is capable and experienced professional women!" Afterwards, Yang Lan reflected that the director did not think her looks was particularly outstanding, but she was thoughtful.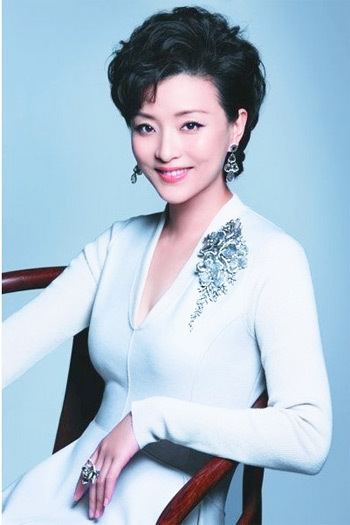 After that, waiting for a long time with no result, finally one day, Yang Lan run out of patience, and asked a director: "When will the result come out?" He hesitated for a moment, but Finally, probably for getting along with her for some time, he felt he should let her know the truth, and he finally told her: Currently she was the best candidate, but some people said that she was not pretty enough, so the crew decided to make a television advertising, to select the hostess from the society again.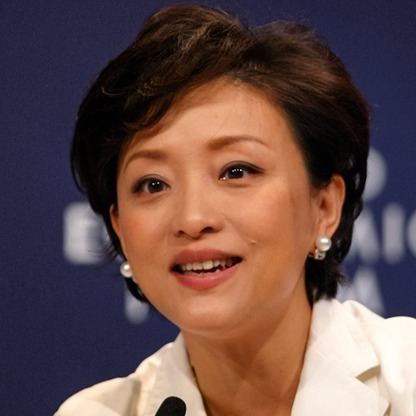 After a few rounds of interviews with some crew in the TV station, Yang Lan was settled to be the hostess, and worked together with Jiang Kun. After Zheng Da Variety Show was aired, Yang Lan received lots of positive reviews. One year later, because of his busy schedules, Jiang Kun resigned from the host position.
The producer told Yang Lan that there would be another host. But when she came back from Daqing, where she did the internship training (after graduating from college, students were asked to work for a year down to the grassroots), she heard that the crew decided to try two group hosts, a group of Fang Shu and Fang Hui sisters, another group was her and Dai Zongxian, a Beijing Second Foreign Language Institute Professor. The crew hoped to pick up one group after a "trial period".
In August 1991, three months later, it seemed that group hosts were not successful. The crew decided to invite Zhao Zhongxiang to be the host, together with Yang Lan.
Working with Zhao for two and a half years, Yang Lan learned a lot from him. For instance, the most important thing for a host was the inner cultivation and healthy personality.
Around the end of 1993, when Mr. Dhanin Chearavanont (Chinese: 谢国民), the CEO of Charoen Pokphand then, came to Beijing to have a dinner with the Zheng Da variety show crew members, he asked Yang Lan: " Are you going to do this forever? Haven't you thought about development in other aspects? […] Haven't you thought about studying abroad? " Yang answered: " If I leave, what about the show? " Dhanin Chearavanont said: " I think a person is more important than a program. " He encouraged her to study abroad and said that he could afford the school fees.
1994-1996: Study in Columbia University
Despite her celebrity, Yang Lan quit the show after four years to go to New York. In 1994, from January to May, she studied at film class in New York University. Leaving the Zheng Da Variety Show, she was wandering how to take the next step. she wanted to get out of the variety show, and do some social and cultural program. So during the time in America, she learned journalism, including TV news, TV documentaries and others, for two years. At the same time, she also cooperated with the Shanghai Dragon Television, to produce a program named Yang Lan sight (Chinese: 杨澜视线), introducing recent American art and film, and the American society. Each episode was twenty minutes.
Then she spent two years earning a master's degree (MIA) from Columbia University's School of International and Public Affairs (SIPA), where she is now a member of the Columbia University International Advisory Council (IAC).
In August 1995, she took advantage of the summer time, back to CCTV, presided over "95 International Collegiate Debate Competition."
January 1996, Yang Lan returned to Beijing to attend the celebration of Zheng Da Variety Show, the three hundred special episode, where she met the old partners: Jiang Kun, Dai Zongxian, Zhao Zhongxiang, and Fang Shu, Fang Hui, Cheng Qian, Yuan Ming, Jiang Feng and Wang Xuechun, also the three Taiwan's "tour guide": Li Xiuyuan, Xiejia Xun, Qu Yanling.
1997-1999: Joining Phoenix Television
In early 1997, Yang took another career risk. She went to work as a public relations representative and spokesperson for Project Hope, China's main charity organization. This took Yang into China's nooks and crannies, from the pockets of growing wealth in the southern coastal provinces to the relentless poverty in the villages of Zhidan county, north of Xi'an. Her conviction grew that her generation needed thoughtful (and entertaining) cultural journalism.
In July 1997, Upon graduation, Yang went back to Hong Kong to join Phoenix Television, which was 45% owned by STAR-TV then, a wholly owned subsidiary of Murdoch's News Corporation, and broadcast general news and entertainment throughout China.
In January 1998, Yang launched her talk show Yang Lan studio (Chinese: 杨澜工作室), which emulated the kind of in-depth interviews pioneered by Barbara Walters and David Frost. Among her interviewees: George Soros on his role in the Asian crisis; Nicholas Negroponte on media and telecom strategies; and Andrew Grove on Intel's business in China.
In April 1998, Yang launched These Hundred Years (Chinese: 百年叱咤风云录), which was based on the joint production of BBC and PBS television series People's Century, showing the history of the century through documentary film clips interspersed with her commentary. In 1999, Yang Lan was honored as one of the Asia 20 social and cultural leaders by Asiaweek. In October, she left the Phoenix Chinese Channel to raise her children.
Running weekly from the end of 1997 until the end of 1999, Yang's two shows consistently generated the largest advertising revenue for Phoenix Television.
2000-present: Sun Media Investment Holdings Ltd
In March 2000, Yang Lan and her husband Bruno Wu, acquired Hong Kong company "LEUNG KEE Holdings Limited" and changed its name to Sun Television Cybernetworks Holdings Limited. Yang was the chairman. Creating Sun TV required plenty of capital. Early that year they took over Leung Kee Holdings, an ailing Hong Kong construction company. Working with the investment bankers Worldsec International, an investment-house affiliate of The Bank of Tokyo-Mitsubishi UFJ, Wu injected SunTV's assets into Leung Kee and used its Hong Kong stock exchange listing to float a new equity issue. The issue raised $28 million in new capital for Sun TV; Yang and Wu injected another $11 million.
On August 8, Sun TV officially launched, which was the first Chinese historical and cultural channel in Greater China. Sun TV had an exclusive agreement with A+E Networks, one of the leading producers of History and Biography programming in the world. Sun TV adapted A&E's History and Biography programs into a localized, Mandarin language format, as well as produces its own Chinese programs, at its well-equipped production centres in the PRC and Hong Kong.
On June 25, 2001, Yang Lan Studio changed name to Yang Lan One On One (Chinese: 杨澜访谈录), addressed the fast changing environment in the PRC but also international concerns in politics, culture, and economy, launched via Sun TV. About the program, Yang Lan said, "As our mission is 'to educate through entertainment, and to illuminate through information', the newly launched "Yang Lan Studio" is different from its former version and other talk show programs in several aspects. All the interviewees are people who create history or influence the world's development. Besides, we have developed our own unique features by no longer focusing on current issues or a profession, instead, using personal experiences, intuition and wisdom as the main theme, the program attempts to describe the individuals, their way of life and character through flesh and blood experiences which reveal the interviewees' wisdom and philosophy."
In 2000 and 2001, Sun TV was twice selected by Forbes as the world's best small businesses.
However, in three years, Sun TV accumulated losses was more than 200 million Hong Kong dollars. In June 2003, Yang Lan announced that Sun TV would sell 70% stake to a mainland Chinese media group, and she was also out of the TV business.
In July 2005, Yang Lan ang her husband Bruno Wu announced they donated Sun Media Group's 51% interest to the society, and established non-profit organization Sun Culture Foundation in Hong Kong, also Yang resigned from all management positions, including Chairman of Sun Media Group.
In 2005 she created "Her Village", a TV talk show geared towards Chinese urban female audience, which was developed into a multimedia community to empower women. To promote cross-cultural communications has been her firm commitment.
In 2007, she and Canadian singer Celine Dion announced in Beijing that they would collaborate on founding a jewelry accessories company in China. Yang Lan's initial idea of cooperating with Celine Dion was born right after she interviewed the superstar backstage at Dion's Las Vegas show at Caesars Palace hotel-casino in May, where both were surprised to find out that they share the same birthday.
Personal life
Yang Lan was formerly married to Zhang Yibin, but they were later divorced. During her New York stay Yang met Bruno Wu. They married in a lavish ceremony at the Plaza Hotel in October 1995. Wu comes from an elite Shanghai family, and his grandfather was China's ambassador to the League of Nations in Geneva in the 1920s; his grandmother was killed by Red Guards during the Cultural Revolution when Wu's parents (and he for a while) were sent to a farm collective for socialist reeducation. With help from François Mitterrand's wife, Wu studied at the University of Savoie in Chambéry in the French Alps before going to America to earn a master's degree in international relations at Washington University in St. Louis, Missouri. He was running his own media consulting firm in New York when he met and married Yang.
Yang and Wu returned to China at the end of 1996. He soon set up shop in Hong Kong, and in 1998 was named the chief operating officer of ATV, one of Hong Kong's two free TV stations. She commuted between Hong Kong and Shanghai and published Enjoy Wind by Seaside (Chinese: 凭海临风) of her essays, travel logs and historical sketches compiled during her time at Columbia. That book had sold 600,000 copies.
Yang Lan One-on-One
As a signature TV talk show, Yang Lan One-on-One focuses on getting to know leading figures from the fields of international politics, business, society and culture. On this program, Yang Lan profiles the guests' life stories, career experiences, and personal insights. Its sixteen-year history has made it one of the most highly regarded and well known in-depth talk shows in China. The talk show's host, Yang Lan, guided by her personal style and unique viewpoint, has over the years conducted interviews with a myriad of international figures and celebrities from around the world. Her guests have included Sophie Marceau, Bill Clinton, Elon Musk, Henry Kissinger, Lee Kuan Yew, Jack Welch, Andrew L. Webber, Tan Dun, Nicole Kidman, Jackie Chan, Kobe Bryant, Hugh Jackman and Michael Phelps.
Awards and recognitions
She was chosen to represent China as the ambassador for Beijing's bid for the 2008 Olympic Games, and was named as Goodwill Ambassador for 2010 Shanghai Expo. Currently she is the Global Ambassador for Special Olympics Movement and the first UNICEF Ambassador in China, and the Co-Chair of Lincoln Center China Advisory Council. Ms Yang was honored with many awards, including "Chinese Women of the Year" award by Women of China magazine, "Top Ten Women Entrepreneurs" award co-organized by China Women's Daily and Chinese socio-economic survey center, "She Made It: Women Creating Television & Radio" award by The Paley Center For Media, "Global Leadership Award" by SIPA of Columbia University, "National Philanthropy Award" by Ministry of Civil Affairs and "Women's Achievement Award" in China.
Books
Enjoy Wind by Seaside (Chinese:

凭海临风

) ISBN 9787532115471
One Question, One World (Chinese:

一问一世界

)
Endorsement
Yang was the spokesperson of Colgate toothpaste (2009), Nanshan Bywise milk powder (2010), Bluemoon hand sanitizer (2010), Masterkong mineralized Water (2013), and Deli stationery (2015).
The Olympics
1993.09 --- Representative for the 2000 Olympics bid delegation team for China
2001.07.13 --- Olympic Goodwill Ambassador & Presentation Speaker
2004.06.09 --- 2004 Athens Olympic torchbearer
2007.01 --- Executive producer and host of "Olympic Songfest," a TV program to select the Olympic songs and music
2007.08.08 --- Host of Beijing 2008 One-year Countdown
2008.05.04 --- 2008 Beijing Olympic torchbearer
2008.08.24 --- Host at the Closing Ceremonies of the 2008 Beijing Olympics
References
Yang Lan Wikipedia
(Text) CC BY-SA