Record

131-107-34




Retired

April, 2011




Role

Sumo Wrestler




Makuuchi rank

Maegashira




Weight

266 kg




Debut

January, 2007




Name

Yamamotoyama Ryuta




Stable

Onoe stable (until 2011)


Height

1.89 m




Education

Nihon University




Born

Yamamoto Ryuichi May 8, 1984 (age 31)Saitama, Japan (

1984-05-08

)


Highest rank

Maegashira 9 (May, 2009)




Championships

1 (Makushita)1 (Jonidan)




Similar People

Miyabiyama Tetsushi, Kaio Hiroyuki, Kotomitsuki Keiji, Asasekiryu Taro, Tochinonada Taiichi
Us sumo open 2016 exhibition yamamotoyama ry ta aka yama fights children
Ryūichi Yamamoto (山本 龍一, Yamamoto Ryūichi, born May 8, 1984), known by his shikona Yamamotoyama Ryūta or simply Yama, is a Japanese retired sumo wrestler from the city of Saitama in Saitama Prefecture. He made his professional debut in January 2007, and reached the top makuuchi division in January 2009. His highest rank was maegashira 9. At 265 kg (584 lb), Yamamotoyama is the heaviest Japanese-born sumo wrestler in history, and is also thought to be the heaviest Japanese person ever. In April 2011, he was told to retire by the Japan Sumo Association after he and several other wrestlers were found to be involved in match-fixing. He now lives in Los Angeles and participates in sumo exhibitions and amateur tournaments, often alongside Ulambayaryn Byambajav.
Contents
Final match of Sumo wrestling from Pro sumo wrestlers Yamamotoyama Ryuta & Byamba Ulambaya
Career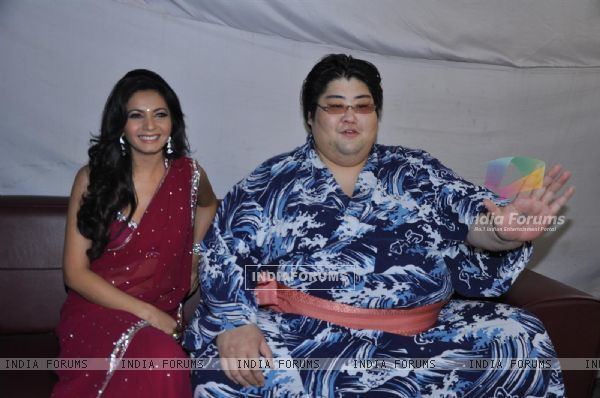 Yamamotoyama won several local, national and world sumo championships before entering Nihon University in 2003. He won a total of five championships at Nihon University. He then entered professional sumo as a member of the Onoe stable. He broke the record for the largest new recruit, weighing in at 233 kg in 2007. The previous record holder, Hokutomori, weighed in at 205 kg when he joined professional sumo in 1994. His shikona or fighting name was created simply by adding the suffix yama (meaning "mountain") to his own surname. This is common for lower ranked wrestlers but it was rather unusual him to keep it even after reaching sekitori status. Yamamotoyama however, shares his name with a well-known producer of Japanese seaweed and tea, with whom he was reportedly keen to secure a sponsorship deal.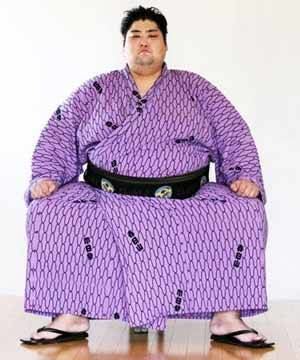 Yamamotoyama rose quickly through the ranks, recording only one make-koshi before reaching the second division of jūryō at the 2008 September tournament. Upon his promotion he posed for photographers with two bags of rice and told reporters that he was aiming for 241 kg in weight, to break the record for a Japanese rikishi then held by Susanoumi. Only two wrestlers have weighed more than him: Hawaiian born Konishiki at 303 kg (668 lb), and Russian sandanme rikishi Orora at 273 kg (602 lb). Yamamotoyama, who admitted that he wanted to eventually get up to 320 kg (710 lb)and become the biggest wrestler in sumo history, once reportedly ate 146 pieces of sushi in a single meal.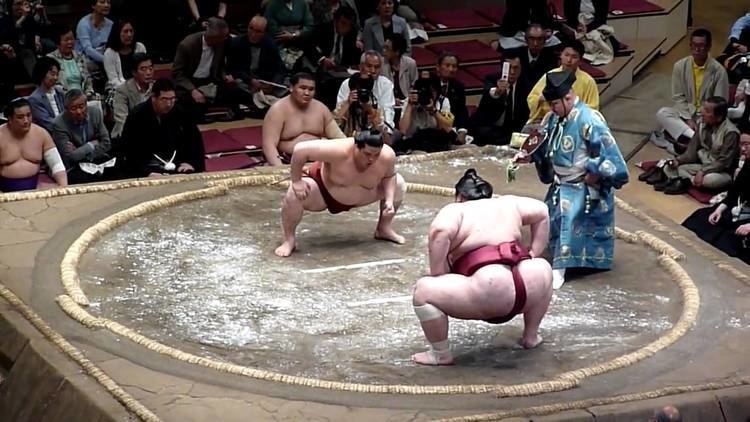 After posting nine wins in consecutive jūryō tournaments, he was promoted to the top makuuchi division for the 2009 January tournament. The twelve tournaments it took him to enter the top division ties him with Tochiazuma, among others, in a group of the second fastest wrestlers to reach this level. He came through with a kachi-koshi winning record of 8-7 in his debut makuuchi tournament, and followed up with another 8-7 in March 2009. He failed to get his kachi-koshi on the final day of the May 2009 tournament, for only the second time in his career.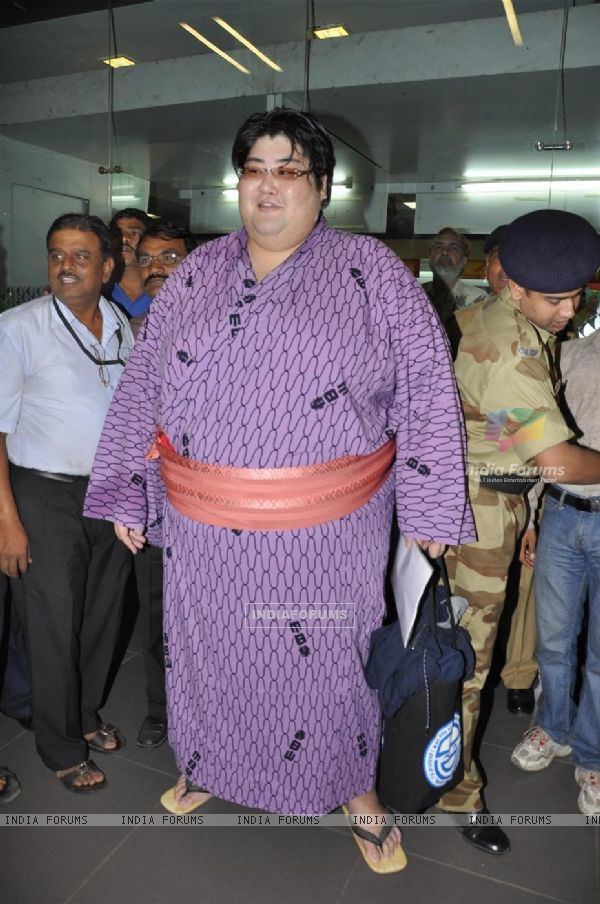 He suffered a muscle pull in his ribcage during the July 2009 tournament after falling to the floor of the dohyo twice in two bouts against Wakakoyu on Day 9 and had to withdraw for the first time in his career. He fell to the jūryō division for the September tournament as a result. He scored 9-6 there, enough for an immediate makuuchi return. However he entered the Kyushu basho in November 2009 in poor condition, having injured his right elbow whilst on tour in October, and he eventually withdrew from the tournament with only two wins, after being diagnosed with influenza. Remaining in the jūryō division, he suffered knee ligament damage on the 11th day of the July 2010 tournament and was forced to withdraw. Still troubled by the injury, he pulled out on the first day of the September tournament, and as a result was demoted to the makushita division. Following his loss of sekitori status, he resumed menial duties at Onoe stable, becoming the head chanko chef. Due to his injury he was unable to do any keiko (training) except walking. After fighting only one bout from the rank of Makushita 13, he withdrew from the November tournament as well. His continuing absence saw him drop to the fourth sandanme division for the (cancelled) March 2011 basho.
Retirement
In April 2011, along with 18 other wrestlers, he was ordered to retire by the Japan Sumo Association (JSA) after an investigation into allegations of bout-rigging prompted by the discovery of text messages on the mobile phone of fellow juryo wrestler Kasuganishiki, which mentioned Yamamotoyama's involvement in throwing matches. He responded angrily to the decision, saying "The JSA made up its mind from the start that I cheated without listening to me." However, on April 5 he visited the Ryōgoku Kokugikan to hand in his retirement papers, alongside stablemates Sakaizawa and Shirononami who were also found guilty. He had a retirement ceremony at the Tokyo Prince Hotel in September 2011, alongside Sakaizawa.
Post-retirement activities
In 2012 he appeared in Season 5 of India's biggest reality show Bigg Boss. Before entering he told reporters that he had already seen the 4th season and he that he loved both the show and Indian culture, despite not knowing Hindi or English. He was given special placards with pictoral representations that helped him to communicate his needs to the housemates. To ensure that Yamamotoyama remains entertained, special activities had been planned during his stay in the house that helped audiences to get some special insights into the life of a professional Japanese sumo wrestler. He entered the house on day 91, as a guest, and bid a farewell after a day of stay there. In their last week Yamamotoyama would teach origami to Bigg Boss 5 inmates.
In 2013 Yamamotoyama participated in a multi-city "Sumo + Sushi" show tour in the United States, co-sponsored by Living Social and USA Sumo. Attendees were shown sumo training exercises and then actual (albeit somewhat restrained) bouts between Yamamotoyama and other sumo stars such as Ulambayaryn Byambajav and Kelly Gneiting. In May 2015, he appeared on the American television program The Bachelorette along with Ulambayaryn Byambajav, and in 2017 starred in the music video for the song "Shape of You" by British artist Ed Sheeran.
Also in 2017 starred in the holliwood motion picture John Wick 2 with Keanu Reeves
Fighting style
Yamamotoyama's most common winning kimarite or technique was yori-kiri, the force out, and he preferred a migi-yotsu, or left hand outside, right hand inside grip on his opponent's mawashi. He also regularly won by oshi-dashi, the push out, and uwatenage, the overarm throw.
References
Yamamotoyama Ryūta Wikipedia
(Text) CC BY-SA